Tungaloy Corporation DoFeed super high feed milling cutters offer high productivity levels
The Tungaloy Corporation DoFeed Series of super high feed milling cutters are said to guarantee remarkable productivity levels when rough machining steel, cast irons, stainless steels and super alloys.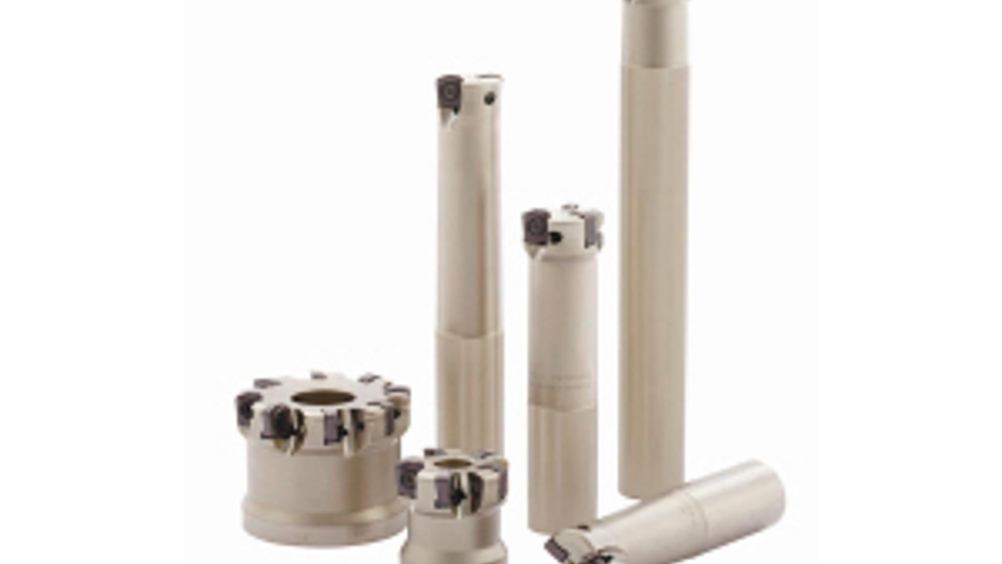 Ideal for applications in the mould and die and general machining industries, the DoFeed Series is available as an indexable endmill shank series with diameters that include 20, 25, 50 and 63 mm and which accommodate two, three, four, five and six inserts, respectively. For deep cavity machining, the endmills are available with an overall length of 150, 200 and 220 mm. The long overhang of the series maintains its rigidity for deep cavity machining at high feed rates. For higher metal removal rates, the DoFeed is also available as a face mill bore-type cutter with 50, 63 and 8 0mm diameters that hold five, six and eight inserts, respectively. The high density inserts that have a large inclination improve chip flow and reduce cutting forces to improve productivity and metal removal rates by over 50%. For deep cavity machining with the face mill series, Tungaloy offers a range of arbors, with lengths including 100, 140, 150, 200 205, 255, 277 and 337 mm. The negative type inserts reduce chatter and cutting forces to enable this new high feed series of cutters to be used on all types of machining centre. With double-sided high density inserts having four cutting edges, the DoFeed offers extended tool life with its MJ & ML type chipbreakers. The MJ chipbreaker makes the DoFeed suitable for general machining applications on steel, cast iron and hard materials, whereas the ML chipbreaker with a large rake angle has high sharpness to reduce cutting forces when machining stainless steel and super alloys. Incorporating Tungaloy's exclusive PremiumTec special surface technology, the new DoFeed is available in Tungaloy's AH725, AH130 and AH120 insert grades, providing both flexibility and capability. This enables the endmill range to conduct shoulder milling, slotting, ramping, small depth plunging and helical feed drilling at "phenomenal" feed rates. Complementing the capabilities of the endmills, the larger face mill range is suitable for shoulder milling, small depth plunging, ramping and helical feed drilling of large holes and cavities. To support the high feed machining of the DoFeed, the series offers through-cutter air holes to remove the chips from the work envelope and ensure cutting edges maintain an optimal temperature during machining.