Additive manufacturing (AM) is different to subtractive, when it comes to the CAM side of things. With subtractive, it's straightforward and well established – get the bar, billet, casting or forging and cut material away. And what's more, upstream CAD understands design features as machined features – bores, pockets, threaded holes, countersinks, and so on. As software giant Autodesk's (01252 456600) senior vice president and chief product officer, Amar Hanspal, said last September at an additive manufacturing conference in Chicago: "We need to bring that same connected workflow to the AM process, and develop techniques that take account of the intricacies of AM. This is why the next generation of design and engineering software, instead of approaching things as CAD, analysis and simulation, manufacturing and drawing, is going to break that mould and have a single integrated experience. The next generation of product development software is not going to distinguish between the means of making and design. Much like desktop publishing, we will get something like 'what you see is what you get', but rather 'what you see is what you build'." (Full article: https://is.gd/nonoga.)
And post-process AM subtractive machining may need to tackle the cutting away of support structures, not just the creation of finished part geometry, for example, and do so in a way that takes account of the release of residual stress, as Mark Forth, Autodesk industry strategy and business development manager, based at Autodesk's Birmingham location (previously Delcam), told Machinery last September at the same event (https://is.gd/ukexep).
Launch of the latest release of Autodesk's Netfabb software was coincident with that September event, in fact. This helps AM professionals "move from CAD design to finished part, efficiently", with the latest release including enhanced simulation capabilities, new hybrid manufacturing functionality and collaborative multi-head 3D printing (for very large parts – see https://is.gd/epekuh).
PREDICTABLE OUTCOME
Autodesk says that the wide-spread adoption of metal AM has been slow historically, due to the lack of predictability in the manufacturing process, as well as the high costs of iteration. Netfabb includes simulation that helps customers to predict and adjust for deformation, "allowing part designers and manufacturing engineers to optimise designs and reduce the number of iterations required for reliable build results".
In the machining area, latest version Netfabb includes solid modelling and near-net shape planning capabilities based on Autodesk (formerly Delcam) PowerShape technology, which supports the optimisation of part geometry for manufacturing (video explanation: https://is.gd/bugana). Says the company: "This new hybrid manufacturing functionality allows users to keep models in solid form and take advantage of solid modelling tools aligned to CAM workflows. It also allows manufacturers to keep sight of the original solid model and easily track the near-net shape as it is built to allow for the subtractive processes [which may require additional material to support finish machining]. With better visibility of the original model and the near-net shape, Netfabb opens a connected workflow between build preparation and post-processing operations." The output of PowerShape is intended for use with sister CAM products PowerMill and FeatureCAM. So a 'bridge' is being created between existing 'Delcam' CAM/modelling tools and Autodesk's AM software tools.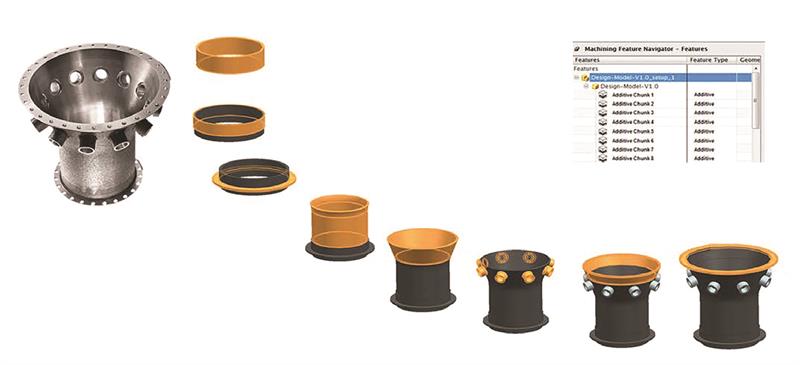 Siemens PLM additive/subtractive solution: automatic and semi-automatic decomposition of parts into features for additive/subtractive operations definition

A major software announcement this year is the rolling out, as of January, of Siemens PLM's (0121 745 0300) new platform for both AM and subtractive machining. A comprehensive design-to-manufacturing software for AM, it marks the beginning of a new generation of manufacturing capabilities, says the company. Important here is the fact that, for 3D printed metal parts, NX provides model preparation for laser metal deposition and NC programming. This includes simulation for hybrid additive/subtractive machine tools, where metal deposition is incorporated with subtractive methods in a single machine tool environment.
The new set of offerings will help companies fully leverage the benefits of the latest AM technology, according to Joachim Hoedtke, CEO, Hoedtke GmbH & Co KG, an innovator in AM and Siemens customer: "In order to make additive manufacturing a true industrial production process, manufacturers need to have seamless digital integration across design, production and automation, including control and monitoring of machine performance. Siemens is bringing together multiple software tools with new technologies focused on additive manufacturing to help companies accomplish this goal." (Full product release review: https://is.gd/edegox).
Prior to this general release, Siemens had been working with DMG Mori (02476 516120), a supplier of hybrid AM/subtractive technology that takes in the former's machining centre-based Lasertec 65 3D and, more recently, its turning centre-based DMG Mori Lasertec 4300 3D.
Dassault Systèmes (02476 857400) is heavily immersed in the AM CADCAM area, although tight integration with subtractive processes is not highlighted by any of its publicly available material. Last September, it announced that Airbus was to extend its use of the French software expert's 3DExperience platform to the aerospace firm's AM programmes, integrating design, simulation and production. Airbus will use Dassault Systèmes' 'Co-Design to Target' approach for the additive manufacturing of tooling, prototyping and parts for test flights, and for production use on commercial aircraft. This "provides Airbus Group with digital continuity to optimise its conceptual designs by virtually validating each phase of the additive manufacturing process".
Says Dominique Florack, senior executive vice president, research & development, Dassault Systèmes: "With the 3DExperience platform, we are delivering an end-to-end solution, including all engineering parameters, for the additive manufacturing of parts inclusive of material science, functional specification, generative design, 3D printing optimisation, production and certification." (Generative design is an approach also adopted by Autodesk and Siemens – this typically results in organic-style structures. See https://is.gd/uhabig for full explanation.) No specific reference relating to subtractive machining of AM parts is made in this announcement, but Machinery has been told that such a connection does fall within Dassault Systèmes software.
Prior to this and further demonstration of end-user need of an integrated solution, again in the aerospace sector, was the initiative spawned in June 2015 between Dassault Systèmes and aerospace focused Safran, a partner in the CFM joint venture with GE for the LEAP-1A engine (Airbus A319neo, A320neo, A321neo aircraft) that makes use of AM-produced fuel nozzles.
The news release at the time said: "This new end-to-end process will address upstream material design and downstream manufacturing processes and testing to provide digital continuity for all engineering parameters necessary for the additive manufacturing of an engine part: material science, functional specification, generative design, 3D printing optimisation, multi-robotic production and certification." No further information is available, Machinery was told.
More recently, in November last year it was revealed that Dassault Systèmes had worked with UK metal AM machine maker Renishaw (01453 524524). Dassault Systèmes 3DExperience platform now supports design, optimisation, simulation and set-up of AM builds directly for production on Renishaw's AM systems.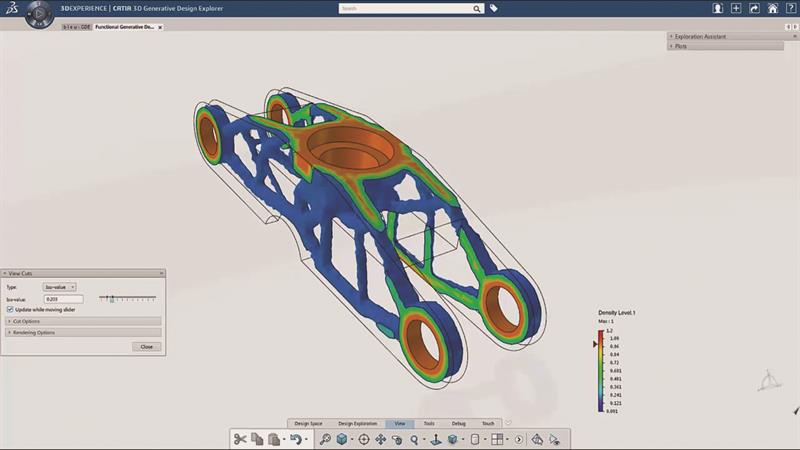 A car hinge part displayed in Renishaw's QuantAM

Dedicated Dassault CATIA applications employed include a range of tools to develop and perform topological optimisation of parts. DELMIA generates the process from build set-up to generation of the necessary laser paths (scan paths). Simulation of the entire AM build, including stress analysis and distortion prediction, is carried out in SIMULIA. This then links to Renishaw's QuantAM AM software for the company's AM platforms, allowing tighter integration into the machine control software and the ability to accurately and rapidly review all build files for Renishaw AM systems, including those created by third-party packages.
QuantAM can also be used as a tool to guide design for additive manufacturing (DfAM). Linkage to subsequent subtractive processes is not highlighted as part of this initiative, however. But clearly, the bringing together of AM and subtractive processes is driving software development within a number of industry players.
This article was published in the March 2017 issue of Machinery magazine.