Coventry-based Hyfore Engineering, a member of the Engineering Technology Group (ETG) since 2002 and sister operation to ETG Workholding (www.machinery.co.uk/141812), is focused on bespoke, predominantly hydraulic, fixturing and also has an automotive industry specialism. The 36-employee operation believes itself to be the largest bespoke fixture-making operation by turnover in the country.
Established in 1988, Hyfore Engineering (024 7636 8412) was snapped up by ETG as ETG saw the benefit in being able to support sales of, in the main at the time, its Chiron machining centres. But things have changed a bit since then, explains Hyfore Engineering managing director Gary Dickenson: "Since 2002, we have expanded our offering in line with ETG's range of machine tools, focusing mainly on machining centres. We do support Nakamura-Tome turning centres but that sort of work tends to fall into ETG Workholding's area of competence."
That said, it is the minority of business that comes via ETG's new machine tool sales. "The majority of our business is with historical customers of the group that have bought, say, 20 machines that we tooled up originally and who now require retooling [see box, p10], or companies using non-ETG-supplied machines, and that takes in a very wide range," he adds.
The focus on hydraulic workholding is backed by the company's own design of space-efficient, high power hydraulic clamps that it manufactures in-house and which it has been producing for more than 20 years. These were developed in order to maximise available working area on multi-spindle, typically vertical, machining centres, which is a further area of speciality for the company (Chiron supplies such machines). "With spindle centre distance fixed, there isn't any way of gaining more room, while making our own hydraulic clamps gives us a cost advantage, too," Dickenson expands, although adds that standard clamps may also sometimes be used.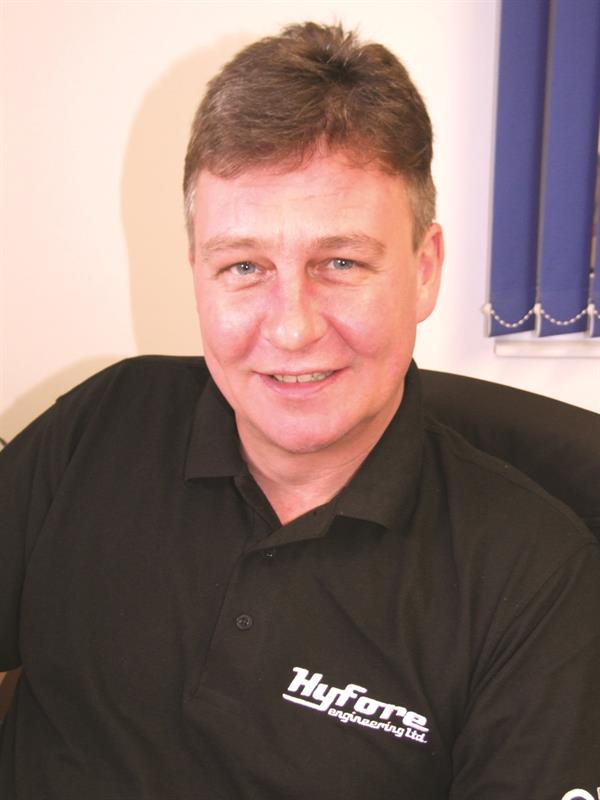 Hyfore Engineering managing director Gary Dickenson says in-house manufacturing is a key ingredient in the company's offering
A key strength of Hyfore in its chosen area is that it manufactures everything in house. Says the managing director: "The only things we subcontract are heat treatment and special surface finishes. We do buy in standard fixture cubes, because there are people who specialise in that and can produce them more cost-effectively than us – we only make in quantities of ones or twos – but everything else we make.
SPECIALIST MACHINES
"We have all the specialist machines we need, including deep-hole drillers, large jig borers and large grinders. Some of our competition will either design it [a fixture], make a bit and assemble it, or subcontract out various elements. We design and manufacture from start to finish – design, manufacture, measure and test. And that gives us control. We are able to quote more accurately and, therefore, more competitively, plus we can be more accurate on lead time to delivery.
"And even with those processes that are subcontracted, because everything else is performed in house, we can play 'catch-up', if necessary. One thing we very definitely do not do is mislead customers. If we say it's going to be 16 weeks, it's going to be 16 weeks. We will not 'pretend' we can deliver it faster, because you can only get away with that once."
With this in-house manufacturing focus, skills are a key issue for the company.
As Dickenson explains, people able to use the manual machine tools that might more reasonably be seen as required for a one- and two-off environment are not coming through. "We have CNC machine tools on our shopfloor not because we make anything in volume, but because the skills are not coming through to support conventional machines – miller, turners, grinders and borers. We do have four apprentices that we are training up here, but we have invested a lot of time, effort and money into making sure we can produce one-offs competitively on CNC machine tools.
"It has taken us five years of trial and error to get to where we are now, based on CADCAM software and a mix of personnel. We program using OneCNC software [01902 373054] that employs 3D models generated by our Autodesk Inventor software [01252 456600] that we have had for about seven years, set up the machine and press the button. The apprentices we are training can undertake all of those tasks, in fact. So we have to design it, program it, including importing solid models of fixtures to support the manufacturing process, and press the button and, within reason, have it run. Standing by a machine tool and programming it didn't work; a skilled guy using a conventional knee-mill would have made it and be having a coffee before the tools for the CNC machine had been found."
SKILLS SHORTAGE ACTION
The skills issue was identified as critical a few years back, explains the managing director. As the firm was facing capacity pressure, joint managing director Darren Underhill visited 20-odd potential local subcontracting firms with a view to placing work with them. Noting the age profile of the employees in those companies, he said that if Hyfore didn't do something, "the shelf life of Hyfore will be no more than five to seven years; we'll have nobody that can use the machines that we have".
Emphasises Dickenson: "The experience of Hyfore's workforce is a major part of our success; the company has an incredibly low turnover of staff."
That was the point at which the move to CNC started, because, as he says: "We were led to believe that CNC operators were bountiful, knowledgeable and able to do anything, but it didn't work out like that.
"As for apprentices, we had taken some before, but that didn't work out, simply because we took them straight from school and they didn't realise what engineering was all about.
"So we changed tack to advertising and talking to MGTS [Midlands Group Training Services – www.mgts.co.uk] about people of 19 or 20 years old. We didn't get the benefit of grants or government support, but we were able to find people who had held down a job and had demonstrated a work ethic in whatever it was they were doing – bartending, restaurant work, shelf stacking etc. In addition to that, they mostly demonstrated some sort of engineering bent.
"For example, Aiden Compton bought and restored an old mini; Craig Maughan's father is an engineer, so he had an understanding of the nature of the work, and Sam Chadwick was so enthusiastic we took him on, with his initial college reports bearing out our decision. He has taken over from a guy that retired last year, without any problems. We took on four, Sam Chadwick has finished his apprenticeship and three are still going through."
Apprentices are put through a four-year, full NVQ 3 or HNC qualification route and the company aims to continue with this into the future.
BOX ITEM
Trusted supplier
During 2015, Hyfore delivered 54 bespoke hydraulic fixtures to the Amtek Group for the holding of castings during machining on several single spindle horizontal machining centres at Amtek's Witham, Essex-based operation where aluminium die-casting (400 to 2,700 kg) and machining take place. Hyfore is also a major workholding and fixturing supplier to Amtek's fellow group member King Automotive Systems, based in Coventry.
The two organisations supply a wide range of components, such as knuckles, aluminium bed plates, link shafts, conrods, oil-pans, cam caps, hubs and transmission housings, for OEMs and Tier 1 customers, including Jaguar Land Rover. Around 45% of output is for direct export.
The Witham facility produces mostly powertrain engine and transmission components, offering customers a fully integrated die-casting and machining facility, with components delivered in assembly-ready condition.
Working with production engineers in Witham, Hyfore has designed fixturing that covered the spectrum from cubes and tombstones to multi-part fixtures. Additionally, it has supplied fourth-axis, bridge plate-type multi-part fixtures to suit both single- and twin-spindle ETG-supplied Chiron vertical machining centres.
As Amtek production engineer Jeff Marshall explains: "We have worked with Hyfore [staff] very successfully for a number of years and they are our predominant workholding supplier. We involve them from the very early stages. Once we have a casting specification, they design and prove out the prototype before taking the project to a production fixture. We are always looking to optimise our machine shop's capabilities, so it is important there is a lot of trust between the two parties, which is the case."
This feature was first published in the tooling and workholding supplement of the May 2016 issue of Machinery magazine.