So, what's changing?
PowerMill, PowerShape, and PowerInspect are becoming part of the Fusion 360 family of products, alongside Fusion 360, Fusion 360 Team, and number of "extensions" inside Fusion 360 – unlocking the most advanced manufacturing tools offered by Autodesk today.
Crucially, the new Fusion 360 with PowerMill Ultimate offering is now the same price as the previous PowerMill Premium version, yet it contains additional advanced functionality for high-end machining.
Manage CAD data easily
A common problem that affects many contract manufacturers and job shops is last-minute design revisions from the end customer. This often then puts the manufacturer under immense stress, potentially leading to corners being cut and increased chances of mistakes.
However, the AnyCAD capabilities within Fusion 360 can effectively display the native CAD file. So, when changes are made, Fusion 360 instantly knows and can inform the user, allowing them to decide how best to proceed. The changes can then be pushed through the rest of the manufacturing model (e.g. updating a fixture to adjust to the new design it's supposed to hold) to minimise the amount of manual re-modeling work.
Once the CAD model is fully updated, the choice is whether to use Fusion 360 CAM programing tools or to return to PowerMill to access more advanced 5-axis capabilities.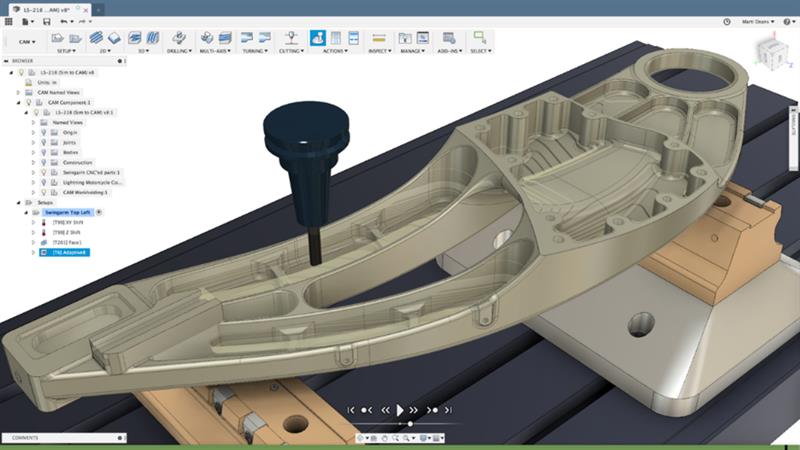 Collaboration between remote teams
The collaborative capabilities of Fusion 360 Team play a major part in this update. For example, a PowerMill CAM programmer can create annotated views to flag a problem, which is then shared with relevant stakeholders using Fusion 360 Team. With Fusion 360 Team accessible on mobile devices, stakeholders are notified immediately, allowing them to react quickly, even if they're not sat at their desks. This means important decisions can be made quickly and avoids unnecessary delays that could impact production schedules.
More machining options
Users can now opt for either "Fusion 360 with PowerMill Standard" or "Fusion 360 with PowerMill Ultimate". The version you choose depends on your specific application and CNC machinery. If you own 3-axis CNC machinery, you'll almost certainly be using the "Standard" version. Whereas if you're driving 5-axis machines, industrial robots, or wanting to create NC code for machining more advanced geometry (like blades, blisks/IBR rotors, ports and manifolds) you're probably best off going for the "Ultimate" version.
Enhanced simulation studies
Those already using PowerShape will be familiar with its range of modeling for manufacture tools. What's interesting is how the combination of Fusion 360 with PowerShape expands the overall design capabilities on offer.
Fusion 360 provides a range of mechanical and thermal simulation tools that can be used to check how a part will cope with the stresses and strains expected during its life in service. Simulation studies can be used to analyse static and non-linear static stress, as well as identifying modal frequencies and buckling modes. Studies can also be used to compare the performance of different materials.
Since Fusion 360 runs on the cloud, simulation results can be calculated faster, whilst freeing up desktop computers for other tasks. Simulations also reduce the need to produce physical prototypes, allowing for design problems to be identified and resolved earlier, saving time and resources.
Next generation manufacturing
Autodesk has already repackaged its FeatureCAM product under Fusion 360, and this latest development sees even more of its advanced manufacturing products joining the Fusion 360 family. These changes simplify the choices offered by Autodesk, yet provide manufacturers with access to next generation technology to make it easier for companies to maximise productivity and boost future business growth.
For more information on the range of Autodesk advanced manufacturing software visit www.autodesk.com/make