Germany-headquartered Trumpf (UK, https://is.gd/bogocu) is one of the world's largest machine tool makers, focusing on the sheet metalworking area, although recently having moved into the additive manufacturing sphere, too. It boasted a turnover of €2.81 billion (£2.49 billion) for 2015/16 (to 30 June) and employs 5,626. Sales rose 3.4%; order intake fell by 1%.
The company's UK subsidiary's managing director, Annette Doyle, reports that, although there was also a fall in order intake here in 2015/16, to below £38 million, the company has rebounded and expects 2016/17 to deliver a figure of
£55 million. Regarding the Brexit vote, she observes that sterling had devalued and that, therefore, machine prices had increased. But customers are not walking away, she says, adding "customers just get on with business". On the other side of that coin, she says: "There is a chance to boost manufacturing, as the UK can't import so much," adding that she hoped "this connection would reach people in power".
The managing director went onto explain that there had been a top management focus on customer service for 16 weeks, and that the UK set-up had been changed. "Our main goal is customer satisfaction and even enthusiasm, not only for the Trumpf product, but also for our services. This requires us to be close to the customers, to understand their demands and expectations and to meet or exceed them during every interaction.
"Rather than having a remote, Luton-based service management team, Trumpf service now has regional managers. They are former service engineers and are based in the region they are supervising. They seek very close customer relationships and handle first-level escalations independently. They are backed up by a strong internal support team and central management.
GREATER IN-THE-FIELD SUPPORT
"The number of service engineers in the field and in house has been increased to provide faster response times to the customer, both on the phone and onsite. For customers running machines extended hours, a fully staffed [USA] technical call centre is now available until midnight to trouble shoot, dial into the machines and solve technical problems."
Although crucial, customer service operations are less headline-grabbing news than latest technology revelations, and Doyle was keen to highlight some UK firsts over the preceding few months. The first TruMatic 1000 – a fibre laser machine upgradeable to a combination laser-punch –was installed in Bedfordshire, at subcontractor Islebest (p20); the first TruBend Center 5030 panel bender was installed, in Shropshire; a TruPrint 1000 additive manufacturing machine has been installed at additive powder maker LPW in Cheshire; and the first 16 kW TruDisk laser (for welding) is running at the Sheffield city region's Advanced Manufacturing Research Centre with Boeing – the highest power TruDisk laser in the UK, she offered.
In terms of forthcoming developments, Doyle drew attention to the new 'High Speed Eco' cutting process for laser profilers, the TruBend Center 7030 fully automatic panel bender and the next step in automation, the TruLaser Center 2D laser profiler – although the latter will not be available to order in UK until late next year.
Taking these in turn, Highspeed Eco is an advance on Trumpf's Highspeed nitrogen gas-supported fusion cutting process. The latter can reduce gas consumption by up to 40%, but the new technology boosts that to 70%. This feat is achieved by having a consumable plastic sleeve maintaining contact between the nozzle and cut surface. The process can be used when cutting mild or stainless steel sheets at least 4 mm thick (video: https://is.gd/evidup). Highspeed Eco and Highspeed can be used on TruLaser Series 5000 machines having an 8 kW solid-state disk source (6 kW soon). Highspeed features on TruLaser Series 3000 fitted with 6 kW solid-state lasers. But many relatively new machines can be retrofitted, says Trumpf.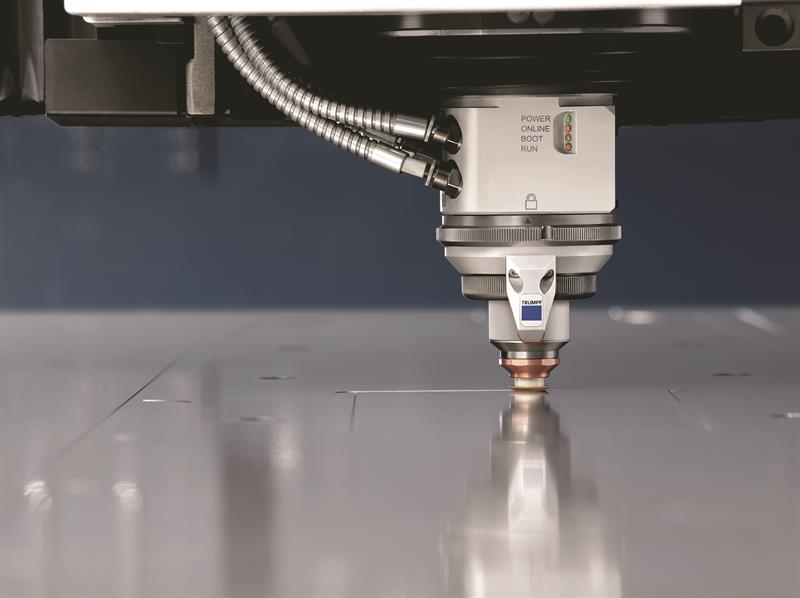 Highspeed Eco is an advance on Trumpf's Highspeed nitrogen gas-supported fusion cutting process
The TruBend Center 7030 fully automatic panel bender improves on the 5030 model, offering "the highest degree of part flexibility and fastest offline programming on the market, and [is] fitted with highly accurate ACB angle measurement technology". Using the new rotary part manipulator, it can bend parts fully automatically. When positioning smaller parts, a patented 2-axis part manipulator works with the rotary axis, delivering fully automatic panel bending and allowing an unusually large degree of freedom to shape components.
Aluminium up to 4 mm thick, mild steel up to 3 mm thick, or stainless steel up to 2.2 mm thick can be processed by the TruBend Center 7030. As to fast programming, TecZone Fold automatically creates bending programs in a few seconds, as well as provide 3D simulations complete with collision monitoring.
Turning to the TruLaser Center 7030, this new concept was conceived in 2012, with development starting in 2014. Drawing on a team of more than 100 people, savings of 15-30% in machining costs were targeted, with every solution measured against that. The upshot is a fully automatic 6 kW TruDisk, fibre-delivered laser machine with X, Y and Z travels of 3,000, 1,500 and 120 mm, respectively, that, versus a 6 kW solid-state laser machine, offers lead times reduced by up to 55% and costs slashed by 35% (full specification: https://is.gd/bozeya).
There are several machine features that enable this: the table moves in X and the laser head in Y (and Z), providing fast positioning; a LoadMaster unit loads sheet to the machine; novel sheet support; SmartGate that directs small parts (plus scrap) of maximum 160 by 160 mm into several stillages below the machine; SmartLift, which lifts processed sheets holding larger components and has 150 pins that push those parts out; SortMaster Speed with its 2,500 mini suction devices, which picks up those parts (2,000 by 1,500 mm maximum) and sorts them; and a separate table to hold the sheet skeletons.
Box item
The UK's first Trumpf 'Trumatic 1000 fiber' laser-punch
Installed at Luton-based Islebest, the machine is achieving cycle-time reductions of 35% against stand-alone laser and punching machines. The machine replaces the company's two existing Trumpf punching machines and its oldest laser, releasing floor space for the 48-employee firm where two Trumpf pressbrakes have taken up residence.
Explains managing director Paul Burchmore: "We needed to upgrade our oldest Trumpf laser machine after 20 years of service. Although it was still cutting well, we needed more output to keep up with orders. We were also finding that our two punching machines were not required as much as the lasers and, as we were getting tight on floor space, decided to sell the punching machines and our oldest laser and replace it with the TruMatic 1000 fiber."
The 3 kW TruMatic 1000 fiber is a laser profiler that also punches holes, bends flanges and forms threads. It is available as such or, if preferred, can be supplied with punching technology alone (TruPunch 1000) and upgraded to a punch-laser machine.
It can automatically sort finished parts measuring up to 180 by 180 mm.
Adds Burchmore: "At first we just looked at a new 2D laser machine, but that didn't bring anything extra to our capacity. The TruMatic fiber offers so much more, with its marking, folding and tapping capabilities. Furthermore, it is a lot quicker on thinner materials and uses far less electricity [than CO2 lasers]."
Installed at the end of April 2017, work at the thinner end of Islebest's range, typically around 1.5 mm, is tackled. Some components are threaded, eliminating secondary operations.
The fibre laser now allows the company to process reflective materials, such as copper and brass, while it is also evaluating a new product that features a rolled depression that the TruMatic fiber 1000 will be able to handle.
TruTops Boost has been installed to program the machines. This is an all-in-one solution for 3D component design and programming for Trumpf's laser, punching and bending machines. Users have the option of using the 'Boost' button for automatic programming or 'TecZone' for interactive programming.
First published in Machinery, July 2017