It was following major sheet metalworking technology show EuroBLECH 2010 that Machinery published a feature suggesting that we were at the tipping point for fibre laser application (
here
). The pace following that show accelerated. Indeed, at EuroBLECH two years later, Bystronic CEO Ferdi Toengi said that his company has had a new competitor in this sector every two weeks in the last two years – with the total standing then at around 70. Following that edition of the show, Machinery said that the received wisdom used to be that fibre laser machines would be the choice, if you were only cutting thin material – up to, say, 4 mm – and that anyone regularly cutting a range of thicknesses would opt for a CO2 system. Now it seems that the tipping point has moved into medium thicknesses – maybe 7 mm, 8 mm, or even more. Well, just over half a year later, with its major launch at Stuttgart's BlechExpo exhibition in September, Trumpf unveiled the latest innovation in the fibre laser technology area, with this boosting the process's thickness/quality credentials further. From mild steel to stainless steel, through to highly reflective materials such as copper and aluminium, and from 1 to 25 mm sheet thickness, all components can now be produced on one single laser machine. The new 'TruLaser 5030 fiber' with BrightLine fiber function, unveiled to the UK press in December, is hailed as a breakthrough in 2D laser cutting, giving manufacturers the best of both worlds – maximum productivity and excellent quality in cutting thin sheet, and exactly the same attributes for thick sheet."We regard this as a universal machine," says area sales manager Gavin McNab, adding: "This machine has totally changed the arguments for fibre or CO2." Adds Scott Simpson, UK managing director: "This is a technology change; this is a turning point for fibre machines."
UK SALES SUCCESS
And Trumpf UK sales for November underline the change: of 13 2D laser sales, nine were for fibre technology, of which six were BrightLine; four of the laser machine sales were CO2 – contributing to a record month for the Luton-based company, in fact. And at the BlechExpo, one Spanish customer bought 11 of the BrightLine machines to replace his CO2 models, Mr Simpson reveals. Incidentally, BrightLine for CO2 machines is an existing option of some years' standing and which improved edge quality on thicker materials, so stainless steel fusion cutting up to 20 mm is made possible, for example. But the TruLaser 5030 fiber with 5 kW laser and BrightLine fiber can process all common material types at high quality, setting a new benchmark for all-purpose solid-state laser machines. Although the TruLaser 5030 fiber with solid-state laser was previously capable of cutting stainless steel up to 20 mm thick and mild steel up to 25 mm thick, secondary finishing was sometimes required. No more, says Trumpf. That requirement has been completely eliminated through the introduction of BrightLine fiber, with edge quality and process reliability now assured. And, additionally, the machine's cutting capacity for aluminium and stainless steel has increased to 25 mm. BrightLine fiber also eases the removal of parts, as they are easier to extract from the scrap skeleton, saving time during manual unloading, while increasing process reliability during automated unloading. The BrightLine function is automatically brought into play, as called by the Trumpf data tables (in-built process parameters that are automatically employed). Pivotal in BrightLine technology is the use of different diameter glass fibre cables to deliver the laser beam (this approach is already employed in its welding units, in fact), but there is also patented technology that may slow down others looking to replicate Trumpf's latest move. Mr McNab underlines that this new breakthrough will be particularly interesting to subcontractors who tackle a wide range of materials and where material quality can also be a variable, leading to edge quality issues. "With BrightLine Fiber, we can control that far, far better, delivering a much more stable cutting technology."
FINER CONTOURING
Further, a new multi-stage piercing process offers additional advantages when cutting stainless steel. This prevents slag from forming when the laser beam pierces the sheet, which means the machine no longer needs to give the cutting point a wide berth and can therefore execute even finer contours. For example, the TruLaser 5030 fiber can pierce a 1 mm diameter hole when cutting stainless steel that is 12 mm thick – previously this would have been a 10 mm diameter hole.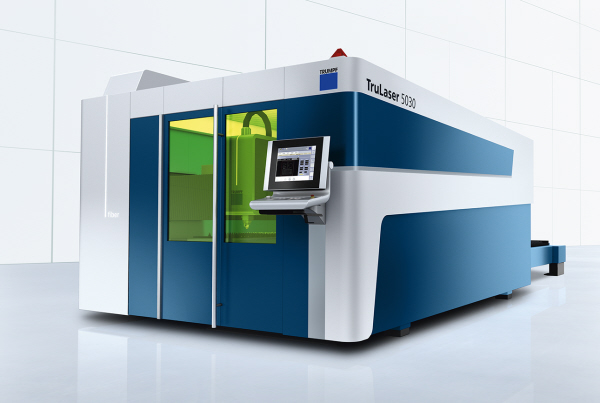 The 5030 Fiber machine with BrightLine technology has moved the goalposts for fibre laser cutting capability
But while fibre lasers continue their march into what was previously CO2 territory, managing director Scott Simpson says there will remain a market for CO2 lasers, particularly in high power, exotic material and other areas. And in parallel with the Trulaser 5030 Fiber, the company also unveiled a new Trulaser 5030 with CO2 laser source, with this also sporting some technological improvements, one of which pushes back at the fibre laser in the area of electrical efficiency. The energy-efficient 6 or 8 kW TruFlow CO2 laser sources, a new feature of these machines, further reduce operating costs, thanks to an innovative high temperature cooling system. Largely compressor-free, power consumption is reduced substantially, with direct heat exchange between hot cooling water and the ambient air. The total energy saving, compared to the predecessor, is around 30%, which, says the company, makes the Trumpf TruFlow lasers "the most energy-efficient CO2 lasers available worldwide". The new TruLaser 5030 is the company's CO2 flagship, all-purpose cutting machine. It cuts mild steel up to 25 mm, stainless steel up to 50 mm and aluminium up to 25 mm, with excellent edge quality throughout the whole spectrum. The Trulaser 5040 extends these same benefits to plate measuring 4 by 2 m. TruLaser 5030 and 5040 have additional functions to enhance the reliability of manufacturing processes and minimise non-productive times. The new, smart nozzle automation option provides nozzle inspection (via a camera); there's an automatic nozzle changer, plus automatic beam alignment and LensLine – the latter checking lens condition, which enables the machine to detect nozzle and lens status and take or advise appropriate action. For example, it can replace the nozzle or notify the machine operator when the lens needs to be cleaned. Additionally, a new function on the nozzle changer centres the beam, while DetectLine adjusts the focal position. As a result, the TruLaser 5030 and 5040 support automation, with the machine performing all lens and nozzle adjustment tasks automatically, while any remaining manual tasks, such as setting up the nozzle changer, are easy to plan, due to component status display. Another productivity-boosting feature on the new machines is simultaneous cutting head positioning. An extra control module pre-plans the cutting head path, minimising travel distances for complex contours, which, in conjunction with simultaneous axis speeds of up to 300 m/min, reduces processing times. Also, the 8 kW laser has a mirror cutting head as standard; the 6 kW machine has it as an option. This sees mirrors replace lenses in the cutting head, with this also extending the range of material thickness that can be cut. The 6 kW will now cut up to 30 mm stainless steel, the 8 kW up to 50 mm stainless steel, for example. Other technology available for the CO2 laser machines includes the RFID lens available on 3000 and 5000 series units. With a chip built into the lens, information is saved to a chip, regarding cleaning cycles data, with Trumpf suggesting that there'll be a 40% time saving, due to reduced lens set-up/cleaning. Finally, a new MobileControl app transfers the standard, control panel user interface on any model in the new TruLaser 5000 Series to an iPad touch screen. The facility gives operators complete freedom when monitoring and controlling the 2D laser machine, allowing them to oversee the production process, while they are doing other tasks away from the fixed control panel. Users can view and change process parameters, and there is also an option for a camera built into the latest generation machines to stream the production process in real time to the iPad.
Box item 1
Water-jet profiler chooses Bystronic from the start
Waterjet Profilers of Basildon, Essex, opened its doors in 2010 with a Bystronic Byjet Classic twin-head machine (0844 848 5850), offering water-jet cutting to a wide variety of market sectors. With over 20 years' experience, managing director Richard Connelly is one of the UK's most highly qualified water-jet cutting machine users, with in-depth knowledge of all aspects of the technology and a comprehensive business background, from operating to managing. Explains Mr Connelly: "When we were researching the market for our first water-jet machine, as a subcontractor we were looking for a high level of versatility, so we could produce all batch sizes economically, from one-offs to full production runs. "We were keen to develop a varied customer base, so we needed to be able to change over from one material type to another, with minimum downtime. On a daily basis, we can switch from, say, 0.4 mm brass to 120 mm aluminium. "We also wanted to utilise lights-out operation to maximise production output, 24 hours a day, 7 days a week." The Bystronic Byjet Classic suited all of these needs, allowing Waterjet Profilers to offer a two- to three-day turnaround on most orders, while the machine's 4 metre by 3 metre bed size enables most standard sheet sizes to be cut. Recent projects range from producing Airbus parts to a 7.5 m diameter interlocking foam floor for Ant and Dec's Saturday Night Takeaway.
Box item 2
Industry news and product developments on the web
[] Bricsys V14 now supports sheet metal unfolding in the BricsCAD Platinum edition, and development has commenced on one-click 'Export to Jetcam' that will provide the Jetcam Expert nesting system with all the information required to automatically tool and nest the component.
Here
[] Radan is becoming much more than an isolated CADCAM system: that was the message delivered to more than 300 sheet metal manufacturers who attended a series of user group meetings around the UK.
Here
[] Japanese machine tool builder Amada is forecasting sales of some £1.5 billion (¥242 billion) for the period April 2013 to March 2014. The figure represents growth of more than 27% on the previous 12-month period.
Here
[] German sheet metal and laser machine tools specialist Trumpf has taken a 72% stake in Chinese machine tool producer Jiangsu Jinfangyuan CNC Machine Company Ltd (JFY).
Here
[] Sheet metalworking machine and laser expert Trumpf completed the purchase of Italian firm Codatto, a manufacturer of panel bending machines, last November.
Here
[] LVD has introduced the Dyna-Press (right), a compact, portable, high speed electric press brake for cost-efficient bending of small parts. Rapid acceleration and deceleration of the electrical servo-driven ram delivers bending speeds up to 25 mm/sec, and the unit is capable of handling maximum bend lengths up to 835 mm and 12 ton bending force. The electric ram drive is designed for energy-efficient, power-optimised operation.
Here
[] Kerf Developments has developed the CombiCut mid-range machines for oxy-fuel and plasma cutting to fill a void at the entry level of the market between quality approved second-hand equipment, and its premium brand RUR and RUM high definition plasma cutting machine tools.
Here
[] ESAB Cutting Systems' has introduced EPP-202 and EPP-362 next generation Precision Plasmarc power sources for the m3 Plasma cutting and marking system.
Here
[] Water Jet Sweden's ultra high pressure 5-axis water-jet cutting head, the Beveljet 60, boasts ±400 C-axis and ±91º B-axis movements for uninterrupted processing of contours and corners down to 60º.
Here
First published in Machinery, February 2014