Some 250 dignitaries, local businessmen, MCMT consortium members, partners, staff, media and, of course, apprentices gathered at the Stanmore Industrial Estate in Bridgnorth, Shropshire, facility on 10 November to witness the official opening of a £4 million operation that will boost apprentice training.
The 36,000 ft2 building itself was previously a storage facility for MCMT consortium member Grainger & Worrall, which is located on the same business park, and has been completely refurbished over the past few months to present a large modern training space equipped with kit both purchased by MCMT and loaned by technology partners. There are two other industrial consortium members: Classic Motor Cars and Salop Design & Engineering.
Image caption: Heading up MCMT and a prime mover in its realisation, managing director Matthew Snelson (left) already has plans for expansion, offering students with learning challenges places and expanding MCMT to become an Institute of Technology, linking to universities. An engineering club that for a monthly fee of £2,000 opens up MCMT's facilities for use by local firms has already been launched. On the right, Philip Dunne, MP for Ludlow, who officially opened MCMT
Grainger & Worrall is an automotive castings specialist; Classic Motor Cars, right next door to MCMT, restores classic cars; and Shrewsbury-headquartered Salop Design & Engineering is a leading manufacturer of pressings and assemblies for many sectors. These three industrial consortium members are joined by a fourth, training expert In-Comm, headquartered in Shrewsbury.
The £4 million investment benefited from government Growth Deal funding via the Marches Local Enterprise Partnership (LEP) and backing from Shropshire Council that totalled £1.9 million. The centre is equipped with over £2 million of state-of-the-art equipment, including dedicated fabrication, foundry, lathe, metrology, milling, robotics and vehicle trimming sections. There is also a 200-seat auditorium, as well as smaller break-out classrooms.
Philip Dunne, MP for Ludlow, Shropshire, and Minister for Health, officially opened the facility and indicated how important it was by linking it with the government's national ambition of "creating three million apprenticeships during this parliament". In addition, he hailed MCMT as a "a UK first, with the public sector and the private sector coming together, leveraging their talents and skills" and having "equipment that is not available in other engineering training centres; available because of this partnership between public and private sectors, where the private engineering companies are using their commercial expertise and relationships with equipment suppliers who are providing equipment that is used in factories to make real kit for people to train on – something, to my mind, which is unique". And he added that in his four years with the MoD, he never saw equipment of MCMT's standard for first-year apprentices in any of the company training facilities that he visited.
Indeed, a key partner in MCMT venture is Engineering Technology Group (ETG – https://is.gd/yovuyo), which has supplied seven machines, taking in CNC lathes and vertical machining centres. Five have been purchased by the centre – three Hardinge Bridgeport GX480 vertical machining centres and two GS150 Hardinge CNC lathes – and two are on loan as part of an agreement between ETG and MCMT, which will be changed on a regular basis. Currently, a Hardinge Bridgport V1000 plus a Chiron DZ15W Magnum high speed vertical machining centre are in residence.
MCMT is an SME-focused initiative. There are some high profile apprentice training set-ups associated with the High Value Manufacturing Catapult centres such as the Advanced Manufacturing Research Centre with Boeing in the Sheffield City region and also at the Coventry-headquartered Manufacturing Technology Centre, but these, suggests In-Comm managing director Gareth Jones, have limited engagement with SMEs. EEF also has training facilities, with a modern apprentice training centre located in Aston, West Midlands, but again it is larger OEMs that are the target, he offers.
As for training colleges, these typically produce generalists, Jones points out, while MCMT tailors its offering to the firms that employ the apprentices the facility trains.
In spelling out MCMT's regional context, Graham Wynne, OBE, chairman of the Marches LEP, effectively underlined this SME focus. Of the 30,000 registered businesses within its area, some 7% are manufacturing firms employing 27,800 in total (an average of 14 employees/firm), and they collectively generate £2.8 billion for the local economy. They are dispersed across an area of 2,300 square miles, making the Marches LEP one of the UK's largest such bodies by geographical area. Said Wynne: "At the LEP, we recognised that local manufacturers and those engaged in advanced engineering and manufacturing needed improved training facilities. Facilities that could train staff on the latest equipment, using current technologies and ensure a smooth transition from training to the workplace."
And further underscoring the new facility's critical importance, at £1.9 million, MCMT represents the major part of a £2.8 million investment that Marches LEP has made in developing advanced manufacturing skills. Concluded Wynne: "MCMT is a key project for the Marches LEP. It will help to transform the quality and the range of advanced engineering skills here in the Marches. I look forward to the centre achieving its target of over 700 apprentices [and learners per year] completing their training by 2020." Training kicked off in September and there are 21 apprentices (15 engineering; six light vehicles) currently engaged on their 18-month off-site training from eight companies – another 10-15 were to join in November. Those 21 are undertaking a variety of the new Trailblazer Apprenticeship Standards in machining, technical support, mechatronics, maintenance and light vehicles.
So, both nationally and regionally, MCMT's positioning can be understood. But it is also part of something else, a drive collectively by ETG and In-Comm, in collaboration with other industry partners, in the setting up of several centres of apprenticeship training or engineering upskilling, within which MCMT is counted. Skills shortages are holding back investment, says ETG managing director Martin Doyle, who adds that investing companies sometimes ask his company to source operators able to run machines.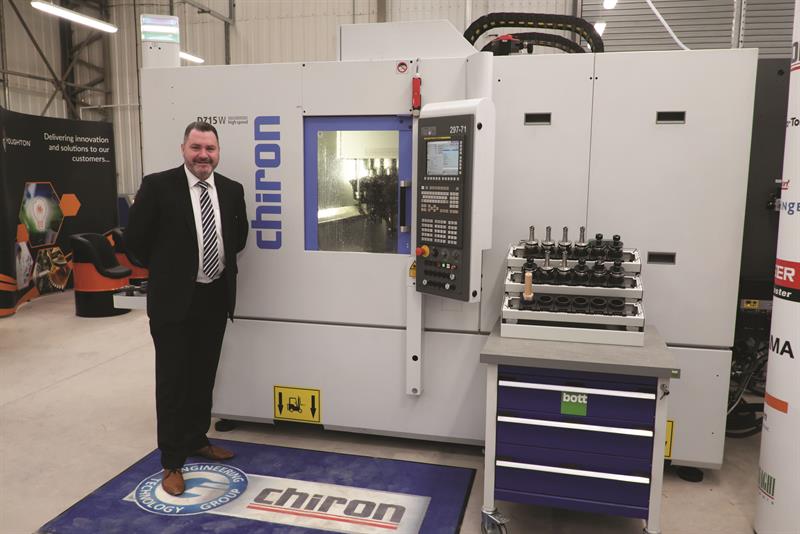 Martin Doyle, MD of Engineering Technology Group, in front of one the machines that is placed there by his company. MCMT is one of 14 planned facilities that ETG will be present in (see main text)
In fact, Machinery reported on the opening of one of these in its September issue (p19 or https://is.gd/ojequg), in conjunction with Norton Motorcycles. And prior to that we noted that ETG had established a machine tool presence at Guhring's new home in Birmingham (June, p20 or https://is.gd/azoxog). ETG's Wellesbourne, Warks, headquarters and its facility in Ireland, in Newbridge, County Kildare, are another two, while In-Comms' facilities in Shrewsbury and Aldridge, West Midlands, are a further pair. A total of 14 facilities are planned across the UK and Ireland.
There are three types of set-up: Technical Centre (a showroom for ETG and partner technology); Academy (offers both apprenticeships and other training courses); and Technical Academies (offers training courses but not apprenticeships). According to current details, Academies and Technical Academies are both also Technical Centres. So, MCMT is an Academy, while the Norton, Guhring and ETG sites are Technical Academies. Partnering companies across the current set-up include: Blum, Bott, CIMCO, Filtermist, Guhring, Halter, Houghton, Hydrafeed, Mastercam and Hyfore.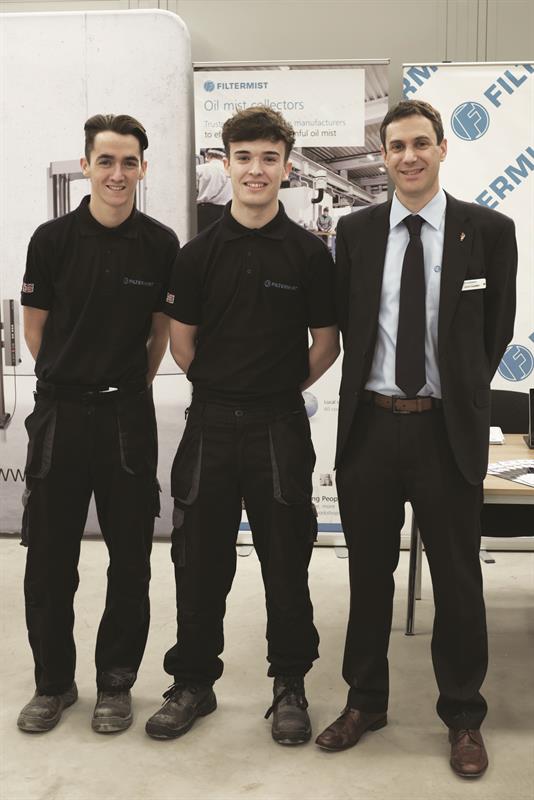 Filtermist is a supporting partner and has sent two apprentices to MCMT; it did not train apprentices prior to this. L-R Filtermist apprentices Billy Mabbott and James Lloyd with Filtermist MD James Stansfield
The industrial credentials of this effort cannot be in any doubt, but what of In-Comm? Top man Jones is keen to set out his company's strengths. For a start, it has 35 years' experience, initially delivering Engineering Industries Training Board (EITB) courses and continuing to use those materials upon expiration of the respected EITB in 1991 (from where Semta, p14, draws its heredity), he explains. But of today Jones says: "Rated by Ofsted as 'Outstanding' across the board, that means we are in the top 8% in the country. And In-Comm is now one of the UK's leading providers training and business services, working across more than 10 sectors and with over 250 different companies." Apprenticeship training is one of seven areas of activity, all headed by a sector lead and, he stresses: "Everybody that works for In-Comm has come from industry. We take them out of industry and teach them to be teachers."
In-Comm managing director Gareth Jones
The organisation is strictly employer led. "We exist because industry exists, so we have to give them the leg-up to achieve their growth strategy. We do that by delivering consultancy, qualifications and courses. All of our apprenticeships are now to the new Apprenticeship Standards – we only deliver Trailblazer Apprenticeships. A lot of other providers haven't got there yet; there is a two-year grace period until you have to deliver Trailblazer Apprenticeships, but that's all we are doing." And In-Comm's success in the apprenticeship area is well above average, the organisation claiming a 90% success rate for its apprentices – 27% above the national average.
IN FROM THE START
In-Comm is in at the start of the apprentice recruitment process. Explains Jones: "We identify employer need and fill in an apprenticeship requirement proforma – this is the strength in our delivery, really. You have to have a stringent recruitment process to make sure you have got the right candidate in the right job at the right company. So, for example, Filtermist; we place adverts and then have candidates into our centre where we skills test them on literacy and numeracy, and then we do an aptitude test for engineering, then we formally interview them, and then, if they pass all of that, we pass them on to Filtermist. They are employed from day one, if successful, with the various parties signing an agreement." Today, Grades A-C in maths, English and science subjects are the typical entry requirement, but there is flexibility; "different things turn different people on at different times", Jones offers, but the entry bar has been raised for apprentices, no doubt, he adds.
In highlighting the around-18-month, off-site apprenticeship training timeline operating at MCMT, he suggests that industry needs to change its perspective. "Companies have got used to sending apprentices to college one day a week, with them becoming an engineer; they are coming here full time for 18 months, so you work out the day ratio for that. We have a responsibility to educate industry, to say 'that doesn't work'. We are not getting the robust skills out into the economy and industry because people are cutting corners. We need to stop people cutting corners."
And for others not wishing to cut corners, MCMT, it is suggested, offers a blueprint.
Box item
MCMT's first customers
Employers with apprentices at MCMT are: Caterpillar; Filtermist; Grainger & Worrall; Bridgnorth Aluminium; Torus Group; HL Smith; Classic Motor Cars; and Billinghams MOT. Six from ETG will join in January.
First published in Machinery, December 2017