Marking the start of a £6 million investment programme, the first of 15 UK Technical Academies has been opened by ETG (https://is.gd/yovuyo). The initiative, which is the company's direct response to how the growing skills gap is hitting manufacturing's ability to grow, will ultimately provide a network of facilities offering the opportunity to upskill, access cutting-edge technologies and, in certain centres, a full apprenticeship curriculum.

Developed in collaboration with a dozen like-minded technical partners, and with its training provision supplied by the Ofsted 'outstandingly rated' In-Comm Training, seven academy locations have already been confirmed: Norton Motorcycles (Derbyshire), MCMT Bridgnorth (Shropshire), Tayside Machinery (Scotland), Guhring (Birmingham), ETG Wellesbourne (Warwickshire), In-Comm Training (Shropshire), and ETG Newbridge (Ireland). More are to be announced shortly in Northern Ireland, Lincolnshire, the North East, South West, Thames Valley and South East. All will be located on the site of a strategic manufacturing partner, thus providing the potential for training on latest CNC machining technology.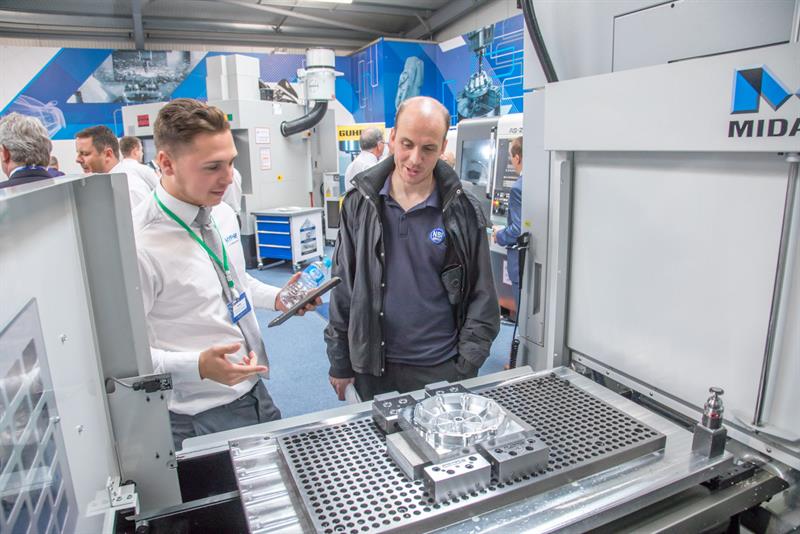 The Bridgeport XR1000H vertical machining centre at the Technical Academy

The first Technical Academy is fittingly located at the home of Norton Motorcycles, a company with a rich heritage of pioneering spirit. Says Martin Doyle, group managing director at ETG: "Our first academy marks the next important step in a journey that first started two years ago, when we decided that we had to start taking control of bridging the UK skills gap. To put it bluntly, the education and training system is failing manufacturing and we can no longer wait for government to put forward all the answers. We must act now, if we want to remain globally competitive."

To face up to the challenge, Doyle sat down with his team to see what ETG could bring to the table, subsequently widening the discussion to include customers and a number of established technical partners in complementary technology areas.
"This needed to be more than just an ETG approach, and I'm delighted to say that the response we received was fantastic," he adds, continuing: "This initiative sees the opening of UK-wide Technical Academies supported by world-leading machine tool companies, sector-specific partners and nationally-recognised training providers, all set within real world engineering environments. These facilities will resolve a multitude of issues, not least closing the skills gap by developing the highest calibre of trained engineers. We see it as our corporate and social responsibility to enhance the image of engineering to UK youngsters and encourage apprenticeships and upskilling through an advanced training curriculum. Only this way can we ensure future wealth creation for our manufacturing industries."

KITTED OUT NICE
The 250 m2 Technical Academy at Norton comprises six machine tools supplied by ETG. These include a Chiron FZ15W Baseline vertical machining centre with a 10,000 rpm/14 kW/90 Nm spindle and 40 m/min rapids. Milling operations are further supported by a Quaser MF500US 5-axis trunnion machining centre with 360° C-axis and 30-120° A-axis, a Quaser MV184EH 3-axis vertical machining centre and a Bridgeport XR1000H vertical machining centre.

A Nakamura-Tome AS200LMYF turn-mill machine is also located at the Technical Academy, which boasts 65 mm bar capacity, a C-axis for the main spindle and ±41 mm Y-axis. The sixth machine on site is a Hardinge GS200 lathe that has 457 mm of swing, live tooling and C-axis. Parts up to 284 mm diameter and 406 mm length can be turned on the GS200.

Says Doyle: "The Technical Academies will serve several purposes. Not only are they for firms looking to train their staff in advanced manufacturing, they will also help technical partners looking to demonstrate their innovations to customers."
Current technical partners include Blum Novotest (https://is.gd/uxafes), Bott (https://is.gd/amaciy), Cimco (sold by ETG), Filtermist (https://is.gd/eyepoh), media firm Formation, Guhring (https://is.gd/olukit), Halter (an ETG principal), Houghton (https://is.gd/oqutuc), Hyfore (https://is.gd/ifugaz), LNS (https://is.gd/jexete), Mastercam (https://is.gd/zurayo), Nikken (https://is.gd/sexuco) and WNT (https://is.gd/urinet).

PLATFORM FOR EVENTS
"Open days, product launches and best practice seminars are further events that the academies will stage," he adds. "Norton, which was the first manufacturer to come forward and pledge its support for the scheme, also intends to use the facility as a prototyping cell, where the company can quickly trial the manufacture of new parts."

All of the training will be provided by In-Comm Training, whose managing director is Gareth Jones: "We have to do something different to address the skills gap in UK manufacturing and this network of academies is a bold and ambitious solution to the issue. Engineers and apprentices will have access to cutting-edge technology, with training delivered by an Ofsted 'Outstanding' provider. The ingredients are all here to ensure we can train the most technically advanced manufacturing professionals in the world."

Stuart Garner, CEO of Norton Motorcycles, adds: "We are very proud of our British heritage and the reputation UK manufacturing carries across the world. However, in order for us to remain competitive, we have to take it into our own hands and do something about bridging the skills gap. Working in partnership with ETG, we are proud to launch the first Technical Academy and look forward to using it to improve the skills of our workforce and support the wider supply chain in embracing advanced manufacturing."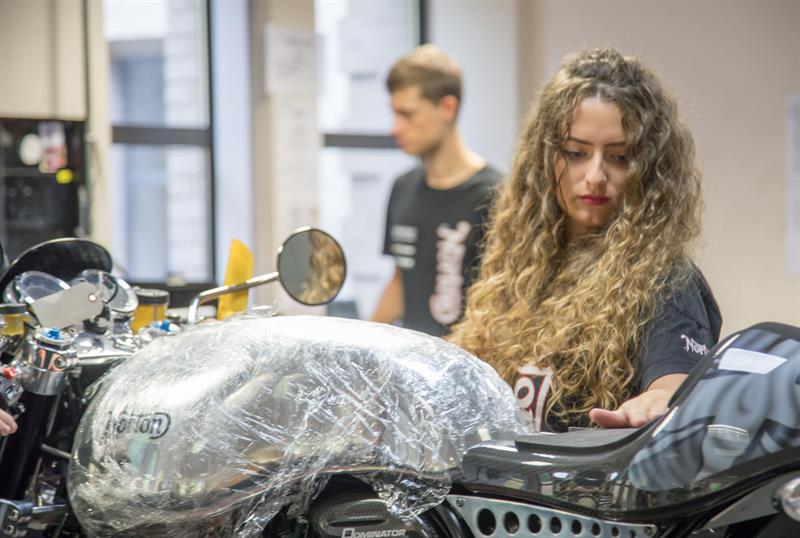 Each production ramp at Norton is served by two technicians

First published in Machinery, September 2017