MNB Precision ticks all the boxes for a progressive subcontractor, boasting investment in plant and premises, as well as exporting more than 20% of turnover. The 40-employee firm's differentiators are harder spot, however, with its recent 'servitisation' journey building on and linking with many other initiatives that would be considered novel even within larger companies.
All was revealed during a discussion with managing director Luke Benton, who has for the past four years headed up the around-£6.5 million-turnover business with his brother Elliott, at the company's new 36,000 ft² premises in Binns Close, Torrington Avenue.
Having moved from five separate-but-close units nearby that boasted 17,500 ft² to the new site starting in February last year (elements remain to be completed), today MNB Precision undertakes CNC machining, jig boring, plus grinding, as well as more latterly as part of its servitisation initiative (more of that soon), spark, wire and drill EDM, plus shot peening, magnetic particle inspection and liquid dye penetration, with welding a future possibility.
Starting at parts that you can hold in your hand, the company tackles others that can be up to 11 m in length, 1 m in diameter and weigh up to eight tonnes – high value, high complexity parts.
Pride of place in its machining arsenal are a Doosan Puma 800XL turning centre (Mills CNC, 01926 736736) and a Soraluce FL-8000 machining centre (TW Ward CNC Machinery, 0114 276 5411) – two heavyweights supporting the firm's top-end capacity. Underpinning those is an inspection facility whose centrepiece is a 20/42/15 Zeiss Accura coordinate measuring machine (Hexagon Manufacturing Intelligence, 01952 681300), located in a temperature-controlled environment, that can measure to within 1 micron anywhere within its 2 by 4.2 by 1.5 m envelope. Only two other such machines exist in the UK, both within large, prestigious OEMs, emphasises Benton.
The size of parts tackled by MNB Precision is reflective of its oil and gas industry focus, although in the last 18 months this has been supplemented with work from other sectors such that oil and gas is probably now 65% of its work, following a notable win in defence. The servitisation message, which we'll get to soon, has been pivotal in this widening of scope.
Started by Elliott and Luke's grandfather in 1980, and surviving two business set-backs, neither of the current MNB Precision directors simply pitched up in the boardroom, which is key to understanding the company ethos.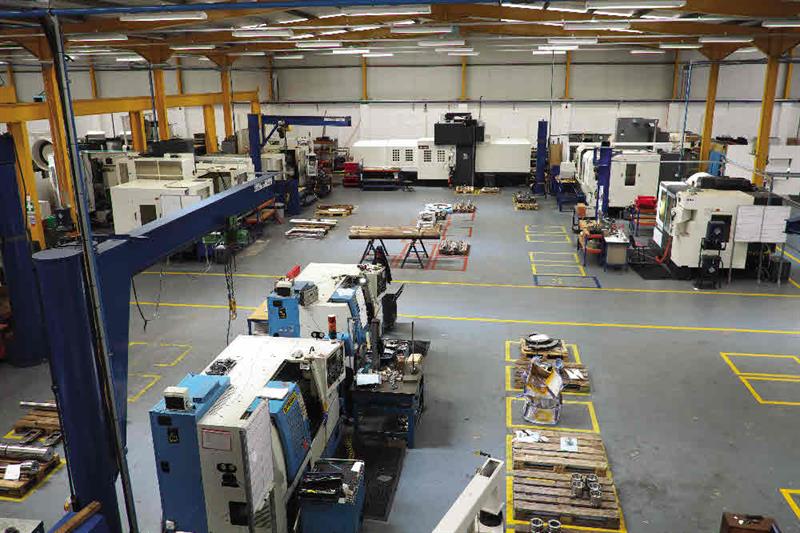 A Manufacturing Advisory Service grant supported use of the nearby Manufacturing Technology Centre's 3D virtual reality cave to help achieve best shopfloor layout (pictured here at lunchtime), with 15 people able to see the layout and offer their views.
Simple ideas: Two yellow bays in front of each machine – one for the current job, one for the next – guide job order and flow, with central red-bounded holding areas for work in progress for when the next yellow bay isn't vacant. This avoids the previous confusion on the shofloor as to which job was to be tackled next.
AN INSTRUCTIVE JOURNEY
While Elliott, 31, always wanted to go into the family engineering business (even helping out, safely, at age five), starting as an apprentice and majoring on machining, Luke, 33, had his sights set on The City, as a businessman. But in pursuing a business economics degree, he discovered that university was not for him and, while he waited to pursue a career in the police, landed back at his father's company to earn some money around 2003. Starting as a labourer, he was tempted by an extra 20p an hour on his around-£3.20/hour wage to become a forklift truck driver and had to negotiate the journeys between those five separate units in all weathers. But he never left, progressing over some 13 years through assistant storeman, storeman, assistant purchaser, purchaser, supply chain manager, quality and health and safety manager, business improvement manager, business improvement director, acting managing director some four years ago, then managing director last year. Along the way, he gained a six sigma green belt qualification.
That he has journeyed from the very bottom to the very top of the company, as has his brother and co-director Elliott, has been formative and lends greater understanding to the people-centred, consensual management approach taken at MNB Precision. Says Benton: "We have worked with a lot of the current workforce; have listened to their pains as we have grown up. We listen and take on board what they say, and give positive feedback on any ideas, good or bad."
But let's tackle servitisation, as it is probably the more tangible initiative, while it both links to existing ones and points towards new departures. What is it and why pursue it?
Explains the managing director, it was prompted by an e-shot from the local Aston Business School (www.aston.ac.uk) some 4.5 years ago, with both Luke and, to make sure that there was total buy-in at senior level to guarantee a successful servitisation journey, Elliott attending a two-day event. Says Luke Benton: "The event description piqued my interest and I wanted to better understand how to turn a production-based business model into a service-based business model. The overall concept was explained to me as being like Virgin Trains and Alstom. Virgin Trains wants to get passenger Joe Bloggs from point A to point B; by teleportation, if they could, or by flying dragons. They just want to achieve that overall goal. Alstom makes it possible; it provides the service of moving Joe Bloggs from point A to point B for Virgin. It designs and builds the train, including getting all the parts from the supply chain and assembling them; maintains and services the train, and, for the purposes of this example, provides the drivers. So servitisation is what Alstom is doing for Virgin Trains. It is essentially offering the total package."
How does that translate at MNB Precision? Explains the managing director: "We would typically be given a drawing and would be told to make it. And we would, we were good at it; still are good at it. Where we saw our servitisation starting was not necessarily at the back end, so servicing or maintaining the part that we make, but at the front end, getting involved with the draughtsman, the designer, the guys that are coming up with the ideas, helping them to be more effective; getting a part that is easier to make, less costly or that will perform better."
That was the genesis, but the company has moved on from that initial front-end effort with its mindset changed to apply this thinking more broadly. Indeed, the change of mindset is the key element, Benton underlines. This has seen MNB Precision adopt a mantra of "bring everything under one roof". The company does not yet have a design capability, although may do so in the future, he adds, but in the production area the company has achieved much of this through the addition of some critical services and, most recently, the move to the new site.
To explain how this bringing everything under one roof has played out in the servitisation sense, Benton offers an example. "We used to subcontract shot-peening [for surface hardening of oil and gas parts such as down-hole tools before surface finishing]. At that time, our typical lead time to our customer was 18 weeks. Of that, shot-peening, which is not a long process, was four to five weeks, and we were putting a lot of shot-peening out. So we said 'why don't bring shot-peening under one roof'." The company worked with Wheelabrator (0161 928 6388) to produce a bespoke system that could tackle both the company's smallest and largest parts. Not limited to oil and gas, defence and renewable energy (tidal power) parts are beneficiaries, as will be rail components. Apart from such lead time reductions, cost savings of up to 10% have been passed on.
Moving to the new factory was also part of the servitisation journey. Says Benton: "We literally brought everything under one roof [from the five separate units]. We couldn't have got shot-peening, EDM nor NDT under the same roof at the old place." As to the upskilling of individuals within the factory to operate this broadened portfolio of processes, that was undertaken internally.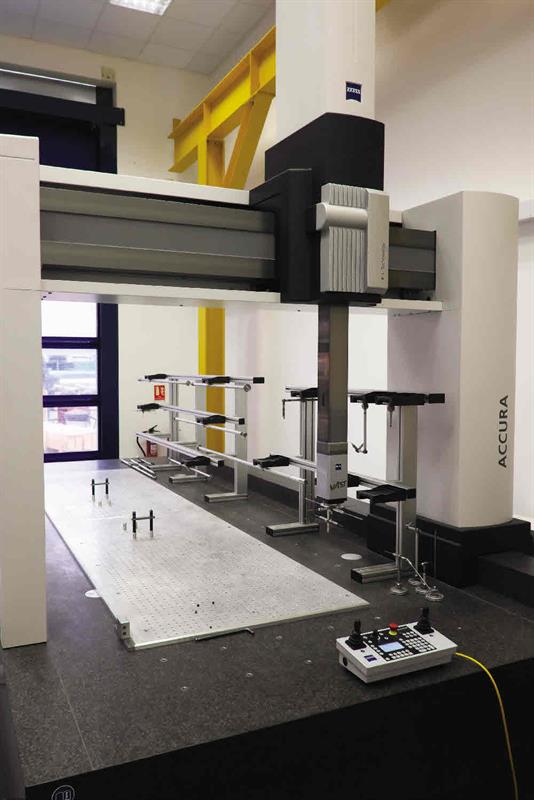 The Zeiss Accura – the only such machine in the UK outside large OEMs. It boasts a 1 micron measurement accuracy within its envelope

And servitisation also applies to individuals. For example, starting out about four years ago as a carpenter making wooden boxes, Ben Water's skillset has been expanded to take in fitting, part marking, deburring, polishing, working the EDM machines, shot-peening and inspection duties. He is demonstration of the breadth that the new thinking encapsulates at MNB Precision, indeed he was the guinea pig for such an approach to people, although broadening skills at the company has an earlier genesis but is now positioned firmly within this servitisation mindset. Some 70% of the company's workforce predate the adoption of servitisation, incidentally.
Now all this has been possible not just because both of the directors bought into servitisation, but because, stresses Benton, people throughout the company have done, too. As told, it all sounds very enlightened and easy, but servitisation has been built on and developed alongside existing initiatives.
SUPPORTING EFFORTS ABOUND
During his journey to the boardroom, starting some nine years ago Benton set about designing and implementing several initiatives that have positively impacted external supplier performance, quality, as well as workforce development and performance. The latter is supported by appraisals that are underpinned by regular shopfloor meetings plus detailed skills and competencies' tracking (far deeper than a traditional skills' matrix, he underlines), with the latter developed via monthly education sessions (material for which is produced internally and sometimes streamed on a private YouTube channel). The workforce development initiative (called the skills and competence initiative – SCI) is under continuing development (including psychology/productivity aspects), and informs employment and training of new recruits. The detail of all these initiatives is captured within Benton's Manufacturing Advancement Programme. When completed, the SCI will encircle nearly all other initiatives – "Because our guys affect every part of the company's operations," the managing director underscores.
On the shopfloor, visible charts display data from these initiatives and reveal company performance via various indicators – TV screens that update this and other business information every 15 minutes will be reinstalled at the new facility in coming months. This visibility of information about, say, work in progress, allows shopfloor staff to be proactive, rather than the recipients of instructions, Benton offers.
And he says: "I like to think of myself not as a managing director but as an enabler, enabling others to come up with good ideas and solutions to problems that we have always had – and I've had some [good ideas] myself, too, of course."
As for the future of servitisation, this will see the company take on higher volume, medium specification aerospace work, either in house, subcontracting it within the UK or, having established overseas connections (Mexico), sending it overseas. MNB will be the supply chain manager for a package of work, both for low volume, high value, high complexity work and smaller, higher volume less challenging parts. The company is looking to link up with Pattonair (www.pattonair.com) in this respect, a non-machining, pure aerospace supply chain expert.
Unsurprisingly, Benton says it is hard to get servitisation and all associated with it across in a phone call when pitching for new business; a visit and a detailed discussion can, but he acknowledges that can be difficult for busy buyers. Yet it was just such an onsite conversion that won over the UK's Babcock Defence System Technologies, while a challenging oil and gas part for horizontal drilling is another recent big win, £1 million-plus, this time for the USA. A forthcoming customer open day is anticipated as offering the opportunity to add to this tally.
MNB Precision has servitised the supply of cutting tools via Coventry-based company Ryona Engineering Services (02476 665454), which draws on multiple cutting tools brands to provide MNB with machining solutions.

This article was published in the August 2016 issue of Machinery magazine.