Despite the change of date, Southern Manufacturing presents the same mix of metalworking and electronics exhibitors as usual; 600 are predicted in total, making this event an efficient way to get round numerous suppliers, even if it is not an important springboard for many new product launches.
Selected exhibitors are previewed below, by type.
MILLING; TURNING; GRINDING; EDM; AM
Matsuura Machinery (01530 511 400, Stand R98) is launching a new 5-axis machining centre, with automation, that extends its 5-axis MX series to smaller capacities. The MX-330 is configured with 10 Capto-fitted C6 pallets of 130 mm diameter (maximum work size: 330 mm diameter by 300 mm high). It holds 90 tools and runs them in a 15,000 rpm BT40 spindle as standard.
As always, XYZ Machine Tools' display (01823 674200, Stand S122) will highlight the versatility within its range that goes from manual training lathes and grinders through to the new UMC-5X machining centre. On show will be the XYZ SMX3500 bed mill, an XYZ SLX 355 lathe and XYZ 2-OP vertical machining centre, all of which benefit from the ProtoTRAK conversational control system. Also showing are some of the Siemens-controlled machines that it sells – the XYZ 710 VMC vertical machining centre and an XYZ Compact Turn 52 turning centre.
Emco Education (02392 637100, Stand Q86) offers a complete solution for manual and CNC mills and lathes, and other products offered to education and industry. It will be exhibiting the new industrial EmcoTurn E25 lathe with C-axis, and will be running Fanuc and Siemens controls, alongside its Desktop Concept machines.
Yamazaki Mazak (01905 755755; Q122) will show its 5-axis multi-tasking Variaxis j-500/5X. The machining centre combines a compact footprint with the ability to offer simultaneous 5-axis cutting (travels of 350 by 550 by 510 in X, Y and Z; A-axis rotation +30° to -120°) across multiple surfaces, said to make it an ideal match for the variety of subcontract work.
Hurco Europe (01494 442222, Stand P98) will showcase the simplicity of operation of its proprietary Max 5 control for all types of machining operations. The CNC system, which runs the latest WinMax software, is intended for graphical, menu-based, conversational programming, but is equally capable of handling NC code. One of the exhibits will be the Hurco VM10Ui 5-axis machining centre (working volume of 533 by 406 by 483 mm in X, Y and Z). Sharing equal prominence on the stand will be a Hurco TM6i 2-axis CNC lathe that turns parts up to 316 mm in diameter, 340 mm long, and has 45 mm diameter bar capacity.
Axminster Tools & Machinery (0800 371 822, Stand S86) will display own-brand machines, including Axminster CNC Technology series mill and lathe models, together with seven pillar drills from the Axminster Engineer series, said to be perfect for small production companies and fabrication works for prototyping and testing.
Other exhibitors are: ANCA UK, Stand U128; CMZ UK, Stand R85; Haas Automation, Stand P122; Laser Lines, Stand K14; Leader CNC Technologies, Stand Q32; MACH Machine Tools, Stand U110; Matchmaker CNC, Stand R116; Romi Machines (UK), Stand U122; Schwaebische Werkzeugmaschinen, Stand P14 – see also news of a new product, p9; Sodi-Tech EDM, Stand M97; Sys Systems, Stand W79; YMT Technologies, Stand Q98.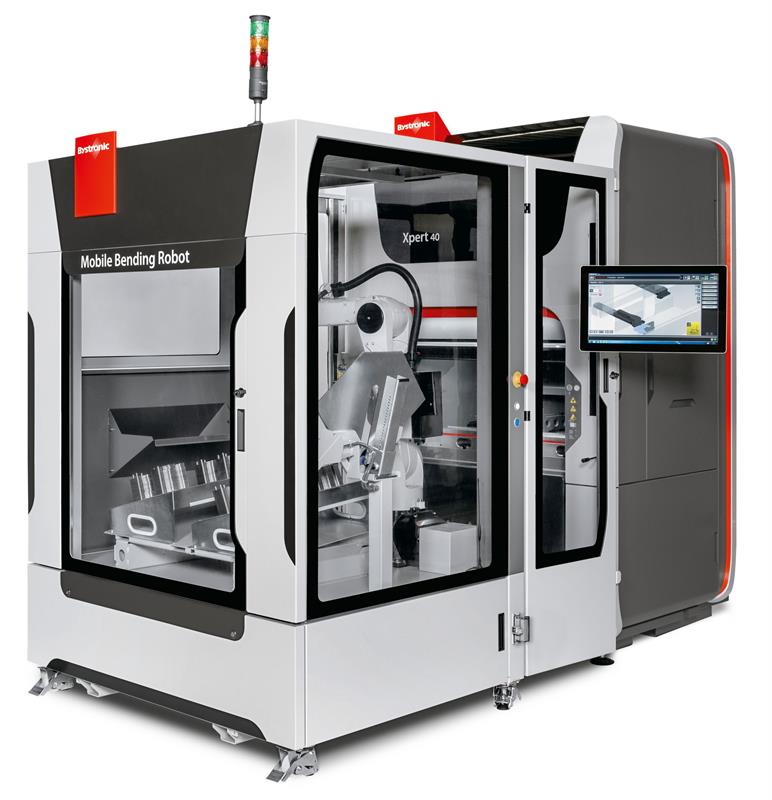 A mobile robot loader for the Bystronic Xpert 40 pressbrake
PUNCH, PROFILE, BEND, FORM

The Xpert 40 pressbrake from Bystronic (0844 848 5850, Stand J98) will be demonstrated. With one-metre/40-tonne capacity, it is the Swiss company's smallest pressbrake. A new mobile bending robot for feeding the Xpert 40 was announced at the EuroBLECH 2016 exhibition in Hanover in October 2016. It turns the pressbrake into a compact, automated bending cell for producing 3D sheet metal components. The automation module need only be wheeled in front of the pressbrake and plugged in.
Other exhibitors are: Bruderer UK, Stand Q19; Kerf Developments, Stand J85; Prima Power UK, Stand E26; Rolla-V, Stand N73; Unison, Stand P74.

METROLOGY
Aberlink (01453 884461, Stand R134) will offer a Southern debut: the Xtreme CNC coordinate measuring machine (CMM). Designed with a novel non-Cartesian structure and utilising linear motors and mechanical bearings, the CMM's configuration ensures that it maintains its accuracy at very fast measurement rates and does not suffer from the accumulative inaccuracies that occur in conventional 3-axis Cartesian arrangements, according to the company.
A standard configuration CMM, the Axiom Too CNC CMM, and the latest iteration (Mk 4) of its inspection software will also be on stand.
Bowers Group (08708 509050, Stand R139) will be showcasing a new Sylvac vertical optical measuring machine, as well as products from Bowers, Baty, Trimos, Gagemaker, Innovatest, Wyler and Accretech. It will also promote its product specialist team, whose remit is to find a measurement solution for difficult applications.
Blum Novotest (01283 569691, Stand P86) will be drawing visitors' attention to advancements to the Digilog and RG product lines. The new TC63-RG and TC64-RG Digilog surface roughness gauges can evaluate the surface roughness of the part while it remains clamped in the machine tool to improve productivity, process reliability and eliminate downstream testing processes.
Heidenhain (01444 247711, Stand R79) will demonstrate the ease with which digital data can be transferred to and from its most recent TNC 640 CNC system, including for design, programming, simulation and production planning. Also featured will be Heidenhain's touch-probe systems, whose innovative features, such as mechanical collision protection, combined infrared and radio data transmission, and smart battery management, ensure low cost of ownership.
In addition to showing a variety of hand tools, such as micrometers, calipers and height gauges, measuring equipment supplier Mitutoyo UK (01264 353123, Stand L86) will be demonstrating the Ko-Ga-Me Measuring System, a miniature 3D CMM that can be mounted on any rigid frame, including those of machine tools, to provide CMM capability without demanding the space requirements of a full-sized machine. The company's 2017 catalogue will be available, too.
Metrology Direct (01452 632 712, Stand N38) will display the Hommel non-contact Opticline shaft measuring system, together with a vision measurement and inspection system from Micro-Vu. Surface roughness and waviness equipment, such as the Hommel W5/W10, will also be a highlight.
Zeiss (01223 401450, Stand J121) will be showcasing three microscopes and two CMMs. The former group consists of the Smartzoom 5 smart digital microscope for quality control, Smartproof 5 integrated widefield confocal microscope for surface finish measurements, and O-Select digital measuring projector for optical measurement of 2D parts (see also http://www.is.gd/xojeta). Also to be shown are the O-Inspect multi-sensor CMM (with a choice of tactile, optical or confocal white-light distance sensor) and the Duramax automated CMM.
Other exhibitors within the category include: Faro Technologies, Stand T61; Hexagon Metrology, Stand T98; Leica Microsystems, Stand F121; Nikon Metrology, Stand R140; North Star Imaging UK, Stand K127; OGP, Stand U109; Renishaw, Stand Q110; Tesa Technology UK, Stand T98; Verus Precision UK, Stand S133; Zoller UK, Stand S117.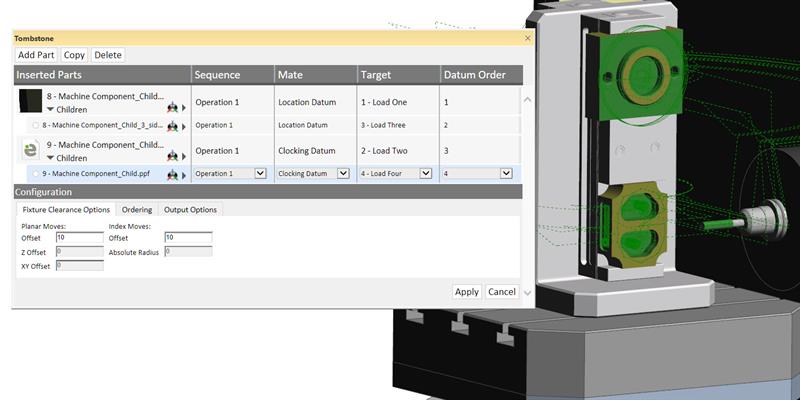 Edgecam's tombstone module automatically merges and rationalises all machining sequences by tool or index position, generating sub-routines

CADCAM & PRODUCTION IT SOFTWARE
The 2017 releases of Vero Software's Edgecam, Radan and Visi CADCAM brands – along with the Javelin production control system – will be on show (01189 756084, Stand R86). Highlights include Edgecam's new tombstone module for assembling pre-existing parts on a defined mounting device, expected to prove popular as it automatically merges and rationalises all machining sequences by tool or index position and optimises the NC output into sub-routines. CAD updates in Visi 2017 R1 allow customers to speed up their design process. The 2017 release of sheetmetal CADCAM software Radan addresses the danger of scrap flying off, sliding under the sheet or damaging the tools on punching machines by flagging up where floating scrap will occur.
Open Mind Technologies (01869 290003, Stand T67) will give CAM system hyperMILL 2017.1 its exhibition debut. Many new functions and optimisation tools make programming faster while also reducing auxiliary processing times when carrying out machining jobs. The software developer has also made crucial additions to hyperCAD-S, its proprietary CAD for CAM solution.
Autodesk (0121 766 5544, Stand Q103) manufacturing software helps machine, print, inspect and fabricate better quality parts, faster. Its modular manufacturing solutions span CAM, additive manufacturing and composites. In particular, visitors can learn about PowerMill, FeatureCAM and PowerInspect.
Heidenhain (01444 247 711, Stand R79) will demonstrate its new HIT (Heidenhain Interactive Training) system, which is designed to support CNC programming education.
Other exhibitors are: DP Technology, Stand P133; Metamation, Stand P67; OneCNC UK, Stand T127; Sanderson ERP Software, Stand M26.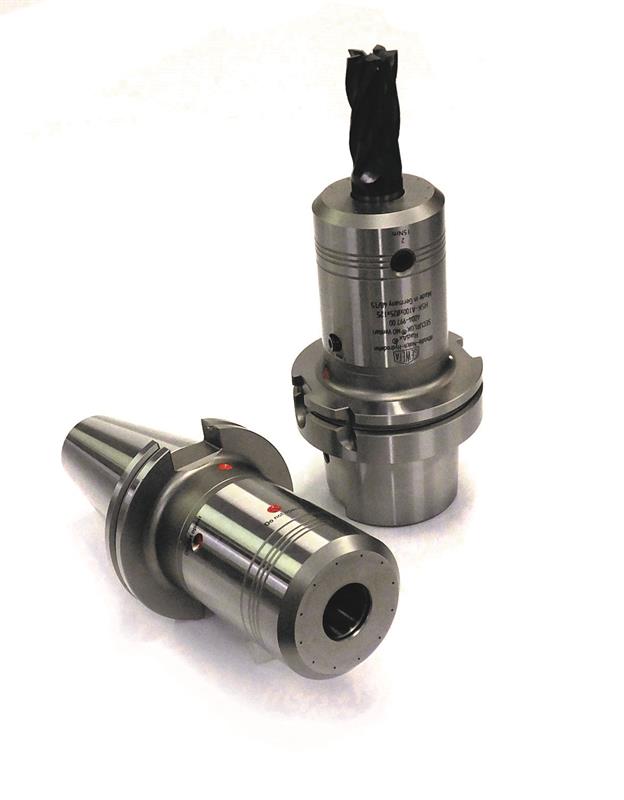 Gewefa hydraulic toolholder featuring Securlok universal tool clamping solution and Venturi coolant system

TOOLING, TOOLHOLDING & WORKHOLDING
Toolholding developer, manufacturer and agent Gewefa UK (01225 811666, Stand P7) is making its Southern Manufacturing debut. Specific products on display at the event include the Securlok universal tool clamping solution with Venturi coolant system that has been designed primarily for aerospace applications; the Grindtec hydro chuck that extends the range of standard and special-purpose hydraulic toolholders to take in applications for bespoke tool grinding machines; and the recently introduced 'HydroPin' single-point boring bar toolholder.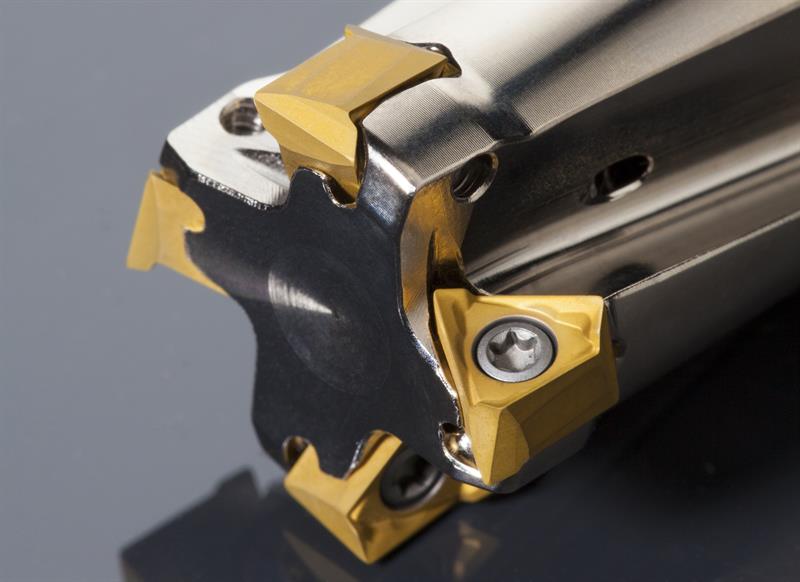 Shoulder-milling cutter featuring Pramet TNGX10 double-sided triangular inserts having six cutting edges

A range of newly-released tools will be displayed on the stand of Dormer Pramet (0870 850 4466, Stand Q97). These include: shoulder-milling cutters from 18-80 mm diameter to go with Pramet TNGX10 double-sided triangular inserts having six cutting edges; and turning chipbreakers developed under the Pramet brand for finish and medium to rough turning operations in steel and cast iron (FF2, FM2 and RM3), high temperature alloys (SF2 and SF3) and stainless steel (NF1 and NF2).
Arno (UK) (01785 850072, Stand P103) will show its range of cutting tools, with a specific focus on tools for sliding-head auto lathes. Also highlighted will be the range of SA part-off tools, available both with and without through-tool coolant. Arno has expanded its product range dramatically and has introduced a new catalogue.
1st Machine Tool Accessories (01725 512517, Stand P110) will present a host of Kitagawa rotary tables, including the TT150 tilting type compound table with 150 mm faceplate for adding fourth and fifth CNC axes. The firm will also promote its ability to supply clamping arrangements tailored to specific applications, often comprising complex configurations from several of its principals' catalogues (see also p46).
Mollart Engineering (0208 391 2282, Stand Q140) is showing a range of Botek deep hole drilling tools plus specialist tooling products covering roller burnishing, grooving, spotfacing, surface finishing and hole deburring. Along with that will be a display of typical parts produced using multi-axis CNC machining technology and assembled, when required, in a new ISO 7 cleanroom facility.
On display at Roemheld (01462 459052, Stand R74) will be the PC 80 clamping system, a pallet vice that combines a simple, compact design with high precision and process safety. It is particularly suited to the manufacture of small- and medium-sized batches and can be used in pallet magazines within automated systems. Visitors to the stand will also be able to see Roemheld's air-operated easy click zero-point system, the Stark Easy Click module system, measuring just 19 mm high with 85 mm diameter. Finally, the Modulog assembly system, consisting of components for lifting, rotating, tilting and fixing of mechanical components in automotive workstations and green button cells, will also be highlighted.
Thame Workholding (01844 208 050, Stand U103) will show standard and special chuck jaws produced at its Long Crendon factory, plus vacuum workholding systems, Lang 5-axis vices, zero-point clamping and automation systems, Samchully manual and power chucks and the Inoflex four-jaw self-centring compensating chuck that is now available as a power chuck.
Wilson Tool International (01793 831 818, Stand L73) is to demonstrate its punch press and pressbrake tools. It will explain how Wilson Wheel tools and Wilson special tools can enhance a punch press and reduce secondary operations. It is also showing the X-Sharp tool grinder range.
Other exhibitors are: Guhring, Stand P91; Haimer, Stand R122; Hyfore Engineering, Stand T122; ITC, Stand P134; Posithread (UK), Stand P107; Schunk Intec, Stand S110; Vargus Tooling, Stand S98; YMT, Stand N98.
SURFACE FINISHING
Vibratory finishing specialist PDJ Vibro (01908 648757, Stand N67) will promote its comprehensive range of new and refurbished bowls, barrels and high energy centrifugal equipment, consumables and the company's repair and subcontract finishing services. Its products ensure that deburring, descaling, edge breaking, surface finishing and superfinishing of components is carried out automatically to a high degree of repeatability, unattainable when processing by hand.
This article was published in the February 2017 issue of Machinery magazine.