"This will be as big as 5-axis milling; it will happen to everybody. Why wouldn't you want to use it? It really is possible to make 90% cycle time savings, without huge optimisation, straight out of the box at the first or second attempt." That's what Open Mind Technologies UK's (https://is.gd/hajegi) managing director, Adrian Smith, told a group of assembled engineering company representatives at a recent event at the Advanced Manufacturing Research Centre with Boeing facility located on the Advanced Manufacturing Park, Catcliffe, Sheffield City region. He was talking about milling using barrel-style (or circle segment) milling cutters, with specific emphasis on conical-barrel style tools.
WNT (https://is.gd/urinet) has added all four styles of barrel-type cutter to its range, so that its next-day delivery of tools, together with Open Mind's hyperMILL Maxx Performance machining package's push-button programming, makes the process available to a wide range of customers who have 5-axis machining centres (the required machine tool technology). For while Open Mind has had the technology available to use conical barrel tools in its software for two years or so, there have been three main barriers, Smith said: Open Mind has some protected technology in this area, so if you don't have the software, the tools' application isn't easy; the non-availability of standard cutters, meaning long deliveries – WNT has solved that; and knowledge – the message still hasn't spread widely, hence the event.
Barrel cutters are for semi-finishing and finishing rather than roughing, said WNT's business development manager, Adrian Fitts. Basically, anybody who is currently using ballnose cutters is a likely candidate and should look at the process, he suggested. He emphasised parts such as mould tools, blisks and turbine blades, anywhere there is a curved surface, while Open Mind's Smith highlighted that large gains can be made on flat surfaces in deep pockets, too. "It is good for all types of application, not just niche uses," he said, but added that pockets and curved surfaces are becoming more and more common in increasingly complex aerospace structures, as are smaller corner radii, to satisfy weight-saving targets, with people employing ballnose cutters and 'scanning', which means "cycle times going through the roof". And he added that even versus sterch milling used in turbine blades, a 50% productivity improvement could be expected.
There are four styles of barrel cutter: taper (or tangent); plain barrel; conical barrel (or oval); and lens. Conical barrel and lens styles are the newer types, the others having been used for many years, with conical barrel likely to be more common than lens, Fitts suggested.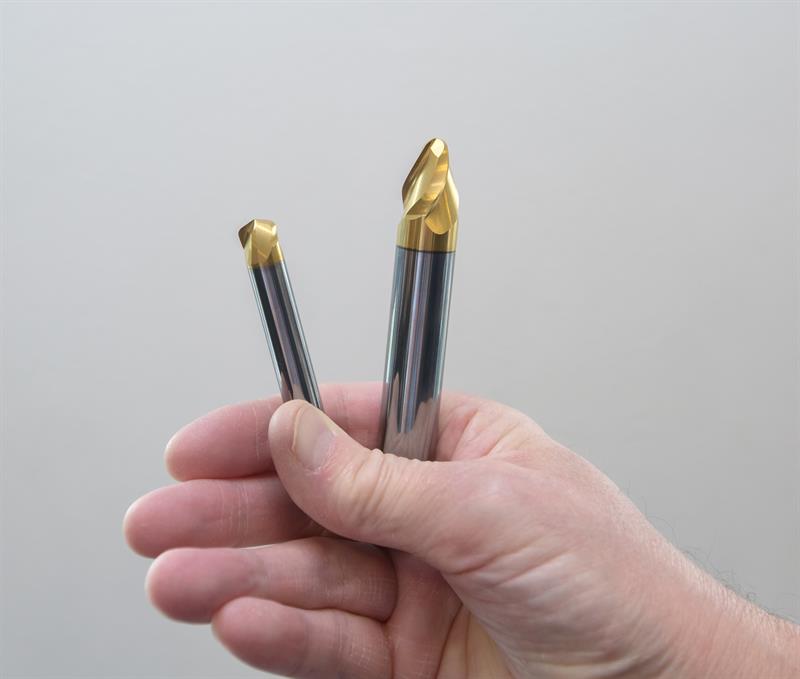 Barrel cutters, with the conical barrel style on the right
Instead of straight sides, barrel cutters have large radii; cutting with the side of the tool being the manner of application. In the case of conical barrel, there are two possibilities. These feature a straight shank that leads into a taper of either around 20° or a more severe one of around 70° (included angles in both cases), then into the radius. In the former case, this allows for a much larger radius on the side of the cutter, even up to 3 m. Old style barrel cutters would be limited to up to 50 mm or so. "That is the difference between the 'old school' cutters and the new," Open Mind's Smith underlined.
The larger the radius, the greater can be the step-down versus a ballnose for a similar cusp height or the better can be the surface finish for the same step-down, or a combination of both. Higher step-down without loss of surface finish is "the big win", said Fitts. In addition, using conical barrel cutters does not draw any more power, and possibly less, he offered. However, Smith said that the larger the radius, the greater the need for a high quality machine tool to make sure that witnesses where the cutter paths meet are minimised.
This example clearly shows the benefits
The 70° taper conical barrel style allows for a large radius across the tip of the cutter that can offer similar benefits to the first type but where machining using the end of the cutter is employed, so on a pocket's bottom surface, for example. In fact, it can be used to replace a lens tool.
Machining using a lens-style cutter is appropriate to curved surfaces, but not highly undulating ones, while there should be a large area to machine for biggest benefit, Fitts stated. A '5-axis top cycle' would be used.
The main focus of the day was the machining demonstration involving the production of two open-sided pockets having flat sides in an aluminium test workpiece using, for finishing, both 20° and 70° conical barrel cutters programmed using Open Mind hyperMILL's 'tangent plane machining' strategy versus a traditional ballnose cutter run in scanning mode.
Machining was undertaken on a Hermle C32 MT 5-axis machining centre (Geo Kingsbury, https://is.gd/guwobi). Overall, the result was a pocket finish machined in just over four minutes versus more than 41 minutes when using the traditional ballnose scanning process. The image on p15 carries the detail (see also YouTube video: https://is.gd/ifogus - above).
Box item
The subject component; machining in detail
Two open-sided pockets, below, were produced, with 0.5 to 0.25 mm left on after initial roughing with standard indexable insert milling cutters. The left pocket was cut using the 16 mm conical barrel tool for the sides and the 10 mm conical barrel tool on the pocket bottom (tool image, p16); on the right, a 6 mm WNT HPC ballnose cutter was used to finish scan-cut the cavity. In the time it takes to complete the left-hand pocket, 4 mins, the ballnose cutter manages to machine just the top lip of the right-hand pocket – to machine it to completion takes in excess of 41 minutes. In the left-hand pocket, the rear wall was cut with a 2 mm step-over, the right-hand wall used a figure of 4 mm and the left-hand side saw a 6 mm step-over, demonstrating the effect on surface finish.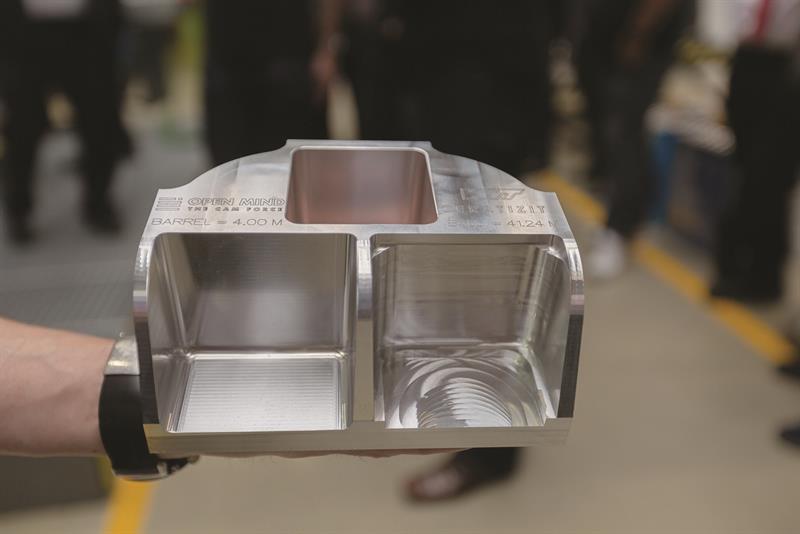 First published in Machinery, November 2017