Opened in late 2016, the prestigious £5 million, 33,000 ft2 high precision machining facility that is GW Machining is the culmination of a journey that started in 2006 at an acquired subcontracting facility in Telford. Throughout most of that journey, Mark Davies, today plant director, has guided the machining operation's development, and his stamp is all over the detail of how the plant is laid out and organised, and the processes and systems employed.

Located in Bridgnorth, Shropshire, on the Stanmore Industrial Estate, GW Machining is a sister operation to castings expert Grainger & Worrall, located on the same industrial estate, and performs castings' machining for both that facility and external customers. The essence of the plant today is increasingly 'make like production' for new product introduction (NPI) components, meaning that to provide continuity of outcome when a part is handed over to the production plant, a similar approach to manufacture is employed in GW's low-volume pre-production facility. The majority of the operation's focus is automotive cylinder heads, but there is also a large variety of other engine-related castings – 90% of output is for top tier automotive firms, with aviation and marine parts falling within the remainder.
Castings produced by Grainger & Worrall always must be machined. Historically, prior to the Telford acquisition, the company managed that activity for many customers via a number of supply partners – others chose to manage it themselves. But finding capable suppliers proved increasingly challenging for Grainger & Worrall, as Davies explains: "We found that the right partners weren't readily available, either because they didn't have all the necessary capability in areas such as quality assurance, or the depth of understanding required to process complex castings. Machining castings is different to billet material, not harder but different, and there has to be proper respect for the casting and the 'balance' of machining to the part.
BALANCE EXPLAINED
"Take cylinder heads, which is are our current core business, and the importance of different features will vary, depending on the customer. A cylinder head is a complex prismatic part, both from a pattern casting and machining point of view. One customer will be incredibly interested in the position of the combustion chamber and they will want to do all of the balance of the casting to that combustion chamber – everything else needs to be in tolerance, but that is less important. Another customer may be interested in the inlet port position, because they are going to machine the chamber, so they are not bothered about the chamber, because it will clean up on machining. Another may be all about the water jacket position and need special pick-ups putting in there and special attention paid to that balance, because they are going to machine the chamber and the ports. It's understanding this and being close to the customer and the machinist that allows us to add value and get to what the customer really wants. If they send it out to a general machinist, that company is likely to locate the casting against a fixture hard stop, production style, and start machining. We are not talking about production here, where all the design-for-manufacture opportunities have been had and the product is churned out at a 1,000 a day using capable processes, we are talking about 10- to 20-off batches, most of the time, that need extra care."
In parallel with that was increasing demand from more castings' customers to have Grainger & Worrall take on responsibility for the machining of their parts, because either their internal capability was diminishing - they didn't have buyers that could knowledgably source multiple different operations from multiple suppliers - or the results weren't good, the reasons for which are laid out above. And while casting supplier Grainger & Worrell did have its own machining capacity, Davies adds that this was more for emergency backup than a concerted support activity. "We had invested in a couple of machines and a CMM, but it was a small cell, not a machine shop." Of course, in parallel with the above, casting designs had become more complex and the desire for shorter lead times was also evident.
So, when the opportunity to acquire a subcontractor that Grainger & Worrall had previously worked with arose, the decision was taken to snap it up and start to build GW Machining. At the time, the plant was capable of undertaking only simple products and was turning over around £500,000.
Describing the first couple of years as "ticking along", with a couple of projects won, Davies and his team set to work some eight years ago, analysing what the then 22-employee, 10,000 ft2 operation's capabilities were and, more importantly, where there were gaps, with the brief to be able to machine anything that the main business could cast, limited only by size – Grainger & Worrall can produce some very large castings.

So, arriving a couple of years or so after the acquisition, Davies' team's focus was on skills, as the full potential of a Mazak 6800 horizontal machining centre and a 5-axis Matsuura MAM 72-63V that had already been installed were not being fully exploited. This saw him, then 32, and manufacturing manager Andy Dicken, 26, both skilled machinists, as well as managing the plant, drawn into personally upskilling staff – "It was a busy time, we wore a lot of hats," the plant director understates – while additionally recruiting from outside, gaining a few key people in their mid-20s, described as catalysts.
"We started to prove what was possible and challenge ourselves, and get some reasonable parts out the door. Not complex parts like cylinder heads or engine blocks, but all the ancillary parts we were making a good fist of."
With profits starting to flow, a 4-axis Mazak VTC 300 was first to be installed, in 2010, which supported more complex machining – the existing Mazak HCN 6800 horizontal was dedicated to a job, while lack of appropriate programming skills meant the 5-axis Matsuura was under-exploited. Soon after that first investment, new CAM software, OneCNC (https://is.gd/idalum), was acquired and is particularly praised – "a revelation; it just worked". Taking a machinist off the shopfloor, this was the start of a production engineering department. So, with three ageing Haas machines (https://is.gd/ajenug), two Mazaks (https://is.gd/otocah) and the Matsuura (https://is.gd/voxovu), GW Machining "started to build some credibility". The business was tackling Grainger & Worrall parts for 95+% of its work, and Davies still at that time managed subcontracted work, so had a large order book to draw on, although had limited capacity and capability.
REGULAR INVESTMENT
Thereafter, the next five years saw two machine tools arrive annually, including another Mazak VTC 300, two more similar Mazak VTCs (one new Smart 520 and another similar one, a Fusion 505 model transferred from the G&W castings' plant), another 5-axis Matsuura MAM 72-63V and a Hexagon CMM (https://is.gd/daguku) to complement an existing, job-dedicated unit (complete with a rebuilt CMM room, performed over a weekend). In addition, degreasing equipment and networked computer systems, plus a continual recruitment process for skilled setters and quality staff, as well as a start to apprentice training, all figured. The factory was extended in 2012 by 4,000 ft2, allowing for a dedicated toolroom and tool stores, plus areas for detailing, pressure testing and final visual testing. Two more Matsuura H-plus 405 horizontals, plus a further large Mazak horizontal, HCN 6800, then followed. Already in 2013, Davies was able to report a five-fold increase in turnover and a doubling of the workforce since acquisition.
Bursting at the seams, planning permission for a further extension was granted in 2015 at the now 50-employee, two-shift firm turning over just under £4 million, but surrounding infrastructure would not support more staff, specifically parking. The option to move was pursued, with Davies approaching the board with an idea of the type and size of facility that he thought was required, within a 15-mile radius of the existing facility – "We didn't want to lose all our skilled workforce." It took one year to find a site, with a shortlist of three and the Bridgnorth option winning out on basic layout and size, not because it was close to Grainger & Worrall, he offers. A complete new build was erected.
By the time of the move, work split was heading towards 50-50, non-Grainger & Worrall machining work increasingly being won, with complex work taking in cylinder heads and blocks now established, including a 'production' job (12 a week) for the cylinder block for the Bentley Mulsanne. And the £3 million subcontract Grainger & Worrall order book from which it was drawing at the start had become three times that, so forward business for the new site was clearly there for the taking – Grainger & Worrall has itself grown from a £15 million turnover operation in 2007 to one four times that size today.
The ideal machining facility being worked towards to support complex low-volume NPI work throughout the journey that started at Telford had been a central machining area surrounded by support departments, a set-up fully realised in the new facility, where 16 spindles now run – "They are the only thing that makes any money, but they must be supported with everything else – production engineering, sales and admin, inspection, tool stores, stores, detailing, washing etc – which is set around the outside."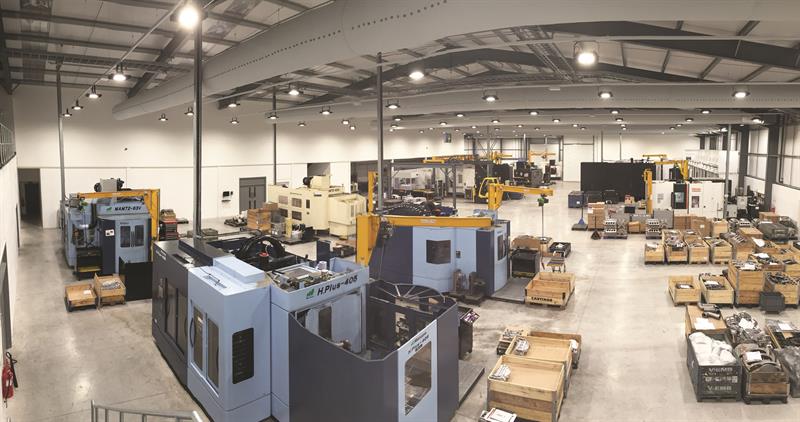 The Bridgnorth facility - machine tools are the heart of the operation, with support departments surrounding it
ELEVEN-WEEK MOVE PROGRAMME
The move to the 33,000 ft2 Bridgnorth site started in September 2016, with 60 employees and 300 tonnes of precision CNC equipment to be transferred, along with another 200 tonnes of ancillary equipment. "And it had to be achieved without letting any of our customers down or affecting any productional schedules," underlines Davies. An 11-week move programme was conceived, with service infrastructure prepared ready for a plug-and-play installation of machines. An additional Hexagon Global Advantage CMM was the first piece of kit into the new operation, because, one, it wasn't possible to physically get a CMM out of the existing building and, two, there wasn't enough inspection capacity to relinquish a CMM.
The first machine tool in, a 5-axis Matsuura, was up and running as other machines followed and were themselves started up. With machine types all duplicated at GW Machining (a deliberate strategy) one remained running in Telford until the other was in place and running at Bridgnorth. "We didn't have the same capacity, but we maintained capability throughout," Davies offers. The move was completed in November 2016, with another new Mazak installed a month later, an HCN-8800, 24-pallet horizontal unit, the company's largest capacity machine (supports six-cylinder/V12 head and block work – up to 800 mm line boring). So, January 2017 was the real start of business as normal in the new facility "but with more breathing space".
Prior to the move, for about three years now, the 'make like production' strategy has been a focus. He explains: "We are never going to be, and don't want to be, nor do our customers, a production shop; that's what our customers do. But what they want to glean from us is how that product is going to react as it is being processed. That starts from the casting being as close to form as it is going to be, being designed for manufacture in the same way and with the same stock levels etc, and also the machining route.

"We won't have the same machines, but if you can attack them in the same way, vertically, horizontally or with 5-axis, and if you can approach the features in a similar or identical sequence, then you are going to get something that is as close to production as is possible."
Not all customers want to pursue this route, but for those customers that do, they advise GW Machining on processing detail. Says Davies: "We'll work with OEMs on what they want to do. But we have taken this a step further now. Earlier in the process, the castings will be a Grainger & Worrall units and we will take them through to fully machined parts, with, perhaps, 50 parts across a year. The customer then gets the production foundry involved, so slightly different casting process and maybe stock levels, then they are going to machine them. But their machine shop probably isn't built, although they still want to do all the testing. So, what we are doing now is machining non-Grainger & Worrall castings free-issued to us by OEM customers. That's the change in last three years. So, we will see several hundred parts off-die and will take them to a fully machined product. And the next stage is that we will get 'supercubed' parts supplied by the production foundry and processed by the OEM's chosen production machinist that we will finish machine using similar, but more generic, tooling as would be used in production. At that point, they are trying to get as close to make-like-production as possible."
Supercubing commits the 'balance' to the part and sees certain features pre-machined that might allow for pressure testing, for example, meaning that if there are any errors in final machined parts, it can only be the subsequent machining supplier that is at fault, not the foundry, supercuber or OEM.
Starting at the first stage of GW Machining's service, it will be about eight to 10 weeks for the first Grainger & Worrall castings and initial machining at GW Machining, then only another three to four months before the supercube parts arrive. "It's maybe only six to seven months, total, from a very quick initial NPI in production to an off-tool process; incredibly quick."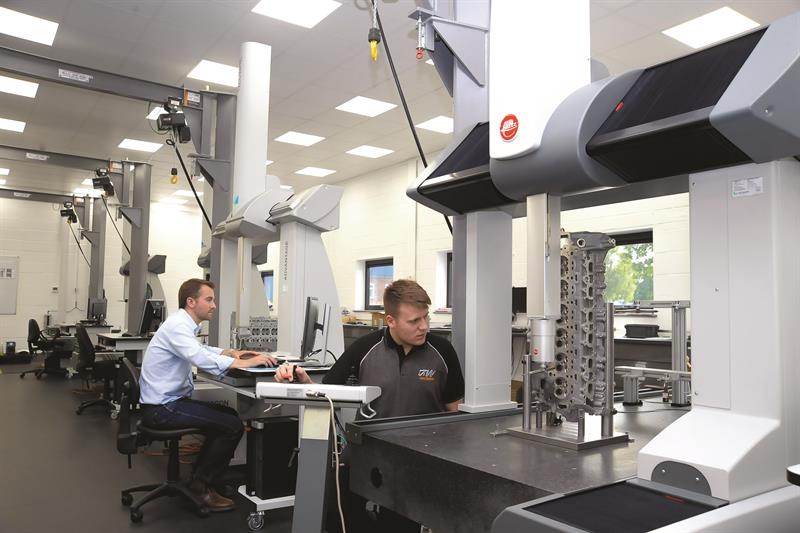 Verification for a finish machined supercubed part can require 3,000 dimensions to be noted - multiple CMMs support this
Coming back to the high ratio of CMMs to machine spindles, the verification process for a finish machined supercubed part can be longer than machining takes – typical feature content on a cylinder head or block is between 2,000 and 3,000 items. "An initial sample inspection report, which requires a measured dimension against every single feature, can take three weeks – you have to get the data and write it down. We collect data along the way, via a control plan supported by software we have written ourselves. Then we split measurement between faster, versatile wrist-action CMMs and fixed-head CMMs, and it can take two to three hours to measure cylinder head seat to guide concentricity, for example. We are on a zero-concession basis; two to three microns can be the difference. So, to produce 2,000-3,000 features on one prismatic part, everything in the black, that is high-end machining."
GW Machining today is where Davies intended it to be. "I have always wanted to make this, what was a very little company, have an OEM feel about it and the processes; take all the good bits from an OEM and distil it into a small facility, so that you still have the agility to react to those lead times, which are sometimes the only thing that sets us apart from our competitors. I think that I and my team are close. When OEMs come into this facility, they don't comment anymore, and that means that we have got it right. That's what we wanted. They don't need to ask 'can you do this or that', because they see the capability demonstrated before them."
Making complex parts is now the norm; the biggest challenge for the 75-employee, £5.5 million turnover operation is recruiting skilled individuals. Concludes Davies: "I could go out and buy five machines, but I would need 20 highly skilled people to support that investment."
Extended feature from here:
Box item 1
Chasing, and inspecting to, microns
To measure parts to single-figure microns, parts must be clean. One smoke particle is a micron, a pollen grain is 10 microns, advises Davies. Tolerances on complex forms can be 20-25 microns, sometimes 5 microns. "Imagine that we have a couple of grains of pollen on a valve seat that you can't see and we measure and find we are out by 15 microns. But are we really out by 15 microns, or are there a couple of pollen grains there? Sometimes it is more difficult to clean and measure the part than it is to machine it. So, we have some generic manual washing and cleaning techniques, plus we have equipment on order from MecWash, £200,000 – nearly as much as my first two CNC machines that I bought eight years ago. We clean the areas we want to measure, then cling wrap them. Afterwards, if they get a couple of grains of pollen on them, it doesn't matter."
Box item 2
Systems and facilities – eliminate white noise
GW Machining's shopfloor boasts a temperature-controlled environment of 21 ±2 °C (tighter in inspection) plus 1,000-1,100 lux lighting to best support on-machine inspection, while zero-shadow high-lux lighting is a feature of the detailing/assembly/hand cleaning area. Machine tools are always specified to their most comprehensive level, highest tool capacity and all the options, so that there are no limits on capability. Coolant mixing at the machine is supported by a water supply at each one and neat coolant availability (Blaser from Jemtech, https://is.gd/jiyelo), and a crane is available to serve each machine, too. Machine asset numbers and machine serial numbers are clearly visible to support easy identification for maintenance status, for example. A well laid out tool store similarly has easily visible draw identification/shelf numbering, the company has "good quality tools and plenty of them", with presetting supported by Zoller equipment (https://is.gd/evacuc).
The company has its own in-house-written software to support all its business and production activities, with the 22 iPads used on the shopfloor to guide activity and collect quality and progress data. Jobs/programs are called from a central shopfloor PC. The software also supports the tool stores operation and tool ordering. And there's no skimping on PC power where it required, with high performance Alienware hardware employed.
A skills matrix, holiday/attendance schedule and overtime calendar, plus machine maintenance status are other elements of the software system that ensure that adequate capability is available at any time. And, of course, costs can be tracked back to each job to make sure that profitable performance is the order of the day.
Fundamentally, investment in systems, procedures and equipment are about "eliminating the white noise", Davies underlines. By taking away issues that can negatively impact the core activity of high precision machining, staff are free to concentrate on delivering that central purpose.
First published in Machinery, June 2018