Kennametal is the largest manufacturer of metalcutting tools in North America and the second largest worldwide, so what it does matters. Our
lead feature in October 2014
covered the topic of cloud-connected CADCAM, where tooling data is held in the cloud and CADCAM systems with the appropriate interface are able to take geometry and information from there and apply it. Kennametal (01384 401000) initially unveiled its cloud-hosted offering under the name NOVO in October last year, but has since added to its functionality and released NOVOsphere in September this year. NOVO functionality is now subsumed within NOVOsphere. At launch as NOVO, this cloud data was accessed via PC and, subsequently, tablet. Then, earlier this year, CADCAM package Esprit (0871 218 3001), which had already announced its 'MachiningCloud Connection' capability, said it was the first to connect to NOVO, allowing direct use of tool solid models, for example. Kennametal also said at launch that its vision included NOVO being accessed via machine tool CNCs. NOVO, it was said, offers tool data in ISO 13399 format (see also
this 2013 feature about ISO 13399
) but, importantly, takes this "far beyond the concept of the online catalogue by integrating the application engineering and production experience of Kennametal's 75-year history". Francois Gau, vice president, strategic marketing and new business development, said at the time of NOVO's launch last year: "Simply put, NOVO is a process enabler – a true digital assistant with data-rich machining strategies that starts working from the moment you receive a parts drawing. "With a refined and intuitive tool advisor, tool selector and tool configurator, everything down the line gets more efficient—from parts quoting through programming, presetting and production. The result is the absolute assurance you have the right tool to do the job."
YOUR PROCESS PLANNER
Thomas Long, head of the newly formed Virtual Machining RDE department at Kennametal, added to that: "NOVO works like a process planner. It works from the feature back to the machining strategy and then finds the best tools for each strategy. In addition, each project is tied to application data gleaned from Kennametal's experts and decades of experience. "Search for a specific Kennametal part and you also get models and all associated inserts, adaptors and spare parts. Not only does it accomplish in minutes what formerly took hours, it yields an optimised solution, backed by Kennametal expertise, every time." Just to underline the point, users have access to 50,000 branded Kennametal products. But while NOVO boasted these capabilities, NOVOsphere lays claim to more. Says Kennametal of this development: "Since the 2013 launch of the NOVO original Tool Selector, Tool Configurator, Tool Advisor and Job functions, NOVO has added connectivity to E-commerce, easy ISO 13399 exports and seamless integration to the ToolBOSS tool management system via the machining cloud." So in addition to the previous four functions in NOVO listed above, NOVOsphere users can now request a price quote from their local Kennametal distributor by transferring their shopping cart list to them via a 'Request Quote' button. The distributor will receive a notification with complete product and customer details. And a pop-up also makes it easy to add spares and other individual items to existing shopping carts, says Kennametal. Spare parts are clearly identified as 'included' or 'non-included' on bills of material. ToolBOSS users on the cloud with the latest software version can use NOVOsphere to see if an item proposed for a process plan is already available in their ToolBOSS inventory, making both plans and budgets more efficient. Customer part numbers are automatically populated in NOVO Tool Advisor results and Tool Availability pop-ups via the ToolBOSS database. "By adding ToolBOSS credentials to their user profile, customers easily check the inventory in their local ToolBOSS units with their developing process plans," explains Chris Merlin, marketing manager for the Virtual Machining initiative at Kennametal. "They´re better able to visualise items already in their shop." Supply of data and information is one thing, but NOVOsphere also closes the information loop by providing a means to feedback performance data drawn directly from the shopfloor. Via its 'NOVO Optimize' package, real-time data on cutting tool and machine performance is captured, while there's the capability to analyse where potential for process efficiencies or capacity improvements is offered.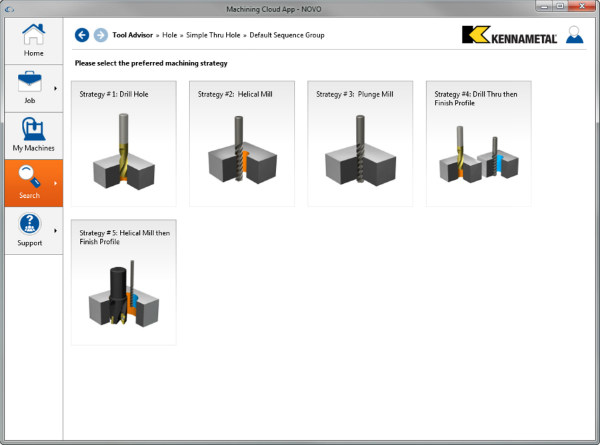 Kennametal's NOVOsphere Tool Advisor supports user tooling choice
CONNECTED EQUIPMENT
This is achieved via the open communications protocol standard MTConnect – a US-side technology development (see box item, below), which suggests this element is not immediately available to the UK audience. But what this means is that NOVO Optimize can draw data from machine tools, cutting tools, presetters, or any piece of shopfloor equipment or data source. And because it's connected to NOVOsphere, it can automatically recommend process knowledge changes (speeds and feeds) or identify better performing tools, based on specific needs – getting the job done faster or optimising a specific machine or cell, based on shop workload. "Each shop using NOVO Optimize has improvement opportunities unique to them, based on operator feedback and shop conditions," highlights Colin Tilzey, director of Kennametal´s Innovation Ventures Group, adding: "It collects real-time data on how your cutting tools and machines are performing, and also provides analysis of where process efficiencies or capacity improvements are available." NOVO Optimize is not free, however, but is offered as a subscription-based system, developed in conjunction with Berkeley, California-based System Insights Inc, allowing customers to optimise a specific machine or an entire shop. While it is as yet unclear how much of all this capability is US-focused just at the moment, it does highlight a very clear and strong intention on global player Kennametal's part. And it also demonstrates the first time that there has been real-time feedback of cutting data from user shopfloor to cutting tool vendor, which opens up the benefits already highlighted. All in all, Kennametal very definitely appears to be leading the tooling pack when it comes to exploiting cloud-held data and delivering related benefits.
BOX: MTConnect in brief
MTConnect
is an open, royalty-free standard developed in the USA that is intended to foster greater interoperability between devices and software applications. See
YouTube
for an explanatory video. With its genesis in 2006, MTConnect allows sources to exchange and understand each other's data. This common communication is facilitated by XML and HTTP technology to provide real-time data throughout a factory. This common communication empowers software developers to implement applications aimed at providing more efficient operations, improved production optimisation and increased productivity, says the technology's promotor. The standard is developed under the auspices of the MTConnect Institute. Membership is free but requires agreement to the MTConnect Intellectual Property Policy. Members include such companies as Fanuc and, of course, Kennametal. A
full list of members
is also available online.