Calling Italy-based Weerg (www.weerg.com/en) a subcontractor hardly does justice to this pioneering venture that, unusually, offers both traditional metalcutting alongside 3D printing of plastic parts, with both services driven by an online platform that draws enquiries from around the globe. But then the man behind the operation is also not out of the traditional subcontracting mould. He is not an engineer and has no history or knowledge of metal- or plastics-based subcontracting; he is that most unusual of creatures in this traditional market; a pure entrepreneur who saw an opportunity and had the means to make it happen.
Weerg's founder and CEO, 53-year-old Matteo Rigamonti, is an economist by education, but only ever wanted to be an entrepreneur, he says. After a few tries, he set up online printing firm Pixartprinting in 1994 and 20 years later sold 97% of the business to Vistaprint for €127 million (read more here: https://is.gd/enasik). At the time of the sale, Pixartprinting employed 330 staff and served 100,000 customers across Europe.
That company was based in Marghera, Veneto (whose regional capital is Venice) in the north-east of Italy, and Rigamonti's new business was also set up in the same area, although a move to new premises is under way some 10 km away, at Gardigiano (more later). So, he is geographically in the same area and, with an online emphasis, he is also replicating Pixartprinting in that way. But he is bringing it to a traditional industry, why?
"I became fascinated with CNC machining and, at the same time, was looking for a new challenge. I have no mechanical experience but am very experienced in IT and commercial matters. But, I think that the fact that I know nothing about mechanical things or engineering can be an advantage, because I don't have any rigid attitude. I found this sector, where people are so rigid, and I did something like this because I don't come from the mechanical sector. When you know economics, you can do almost anything." And he was able to fund the venture easily from his previous successful sale, of course. So far, he has invested €10 million.
The company started off in January 2016 with CNC machining only, basing it on Hermle 5-axis machining centres (Kingsbury, https://is.gd/exevoc); it only entered the 3D printing arena at the end of 2017, with one HP 4200, but became "the world's largest installation of HP Jet Fusion 4210 printers for 3D printing" in June 2018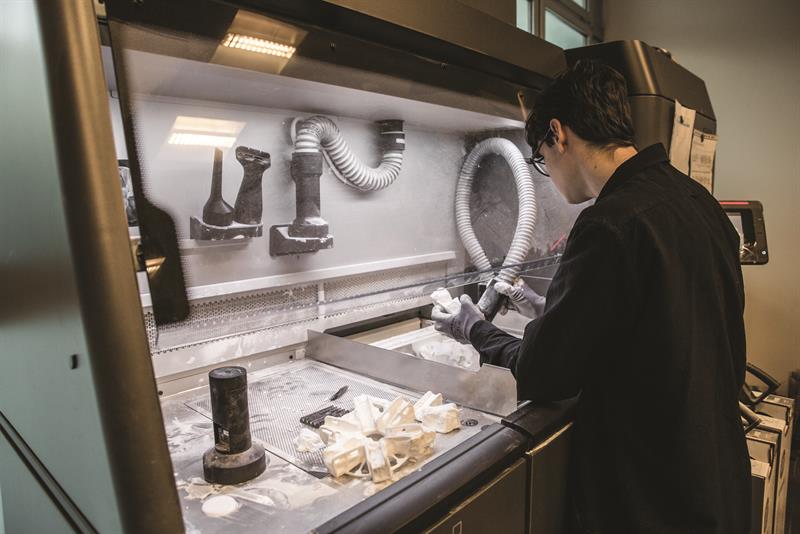 HP technology at work at Weerg
(a claim that is challenged by US-based Forecast 3D, which has deployed 24 HP Jet Fusion 3D 4210 systems). Weerg now has six HP Jet Fusion 4210 systems – an initial three 4200s were upgraded. According to HP, these machines can produce parts more cost-effectively than is possible via injection moulding up to a quantity of 110,000. (These machines are being offered in the UK by both XYZ Machine Tools and Matsuura, read Machinery's article on this here: https://is.gd/aretej.) Rigamonti's interest in 3D printing saw him first buy and use a home-style, hobby system, incidentally.
MORE AUTOMATED CAPACITY
At the time of Machinery's interview with Weerg's founder last November, the company was in the process of more than doubling its Hermle fleet, from four to 10 machines, and was also in the process of moving from its existing 2,000 m2 facility to larger premises. The new site is a former knitwear factory of about 27,000 m2, where, as a first step, the company will occupy of 5,000 m2, although another 3,000 m2 is already optioned. Currently the company employs 18.
The Hermles are all C42U models with 800 by 800 by 550 mm (X, Y, Z) and 1,400 kg capacity. The existing set-up already features automation via a Lang pallet system (Thame Workholding, https://is.gd/fahawo), but in the new facility there will be a larger automation system installed, comprising two rail-mounted Kuka (https://is.gd/kokize) robots that will feed two banks of five machines.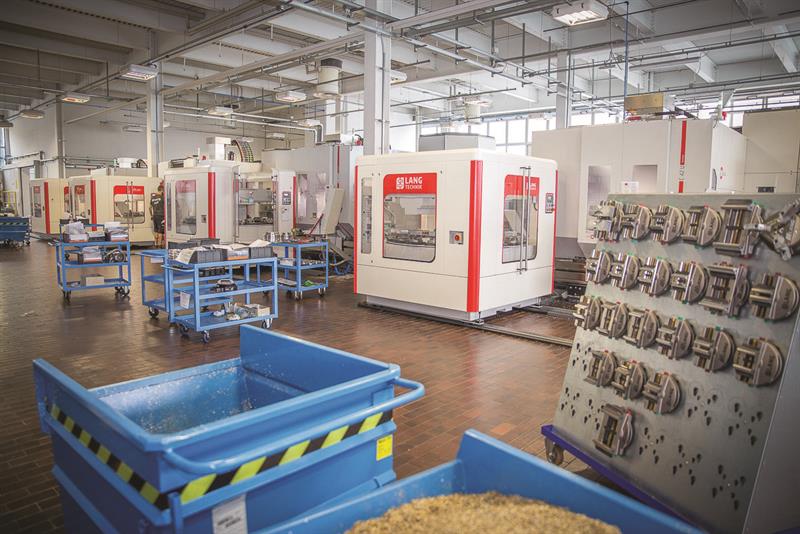 Automated Hermles are already employed, but there are plans for a new system at the new site
(A Wenzel LH 8-15-7 CMM [https://is.gd/ezocix] already in operation in the existing facility will also be part of the system.) This will be "much more productive" and will be "the most complicated automation ever installed in Italy", according to Rigamonti. All the Hermles are permanently tooled with an identical set of tooling (up to 234-tool capacity), incidentally, so are always ready to go in support of 24/7 operation. The HP machines also support extended running, with build times running to many hours – parts from different customers may be nested together to deliver an efficient, packed build area.
Weerg has steered clear of turning "because it is easier to make a turned part on a milling machine and because there is a lot of competition, while it is also possible to make a part with a machine that is 50 years old", the entrepreneur says. That said, the company does have one Mazak (https://is.gd/otocah) Integrex turning centre for "just when we are forced to make a part that can be made just by turning". But 99% of its machining is performed using the Hermles, he adds.
Offering both injection-moulded-type plastic parts and machined metal parts from the same factory isn't usual, but Rigamonti says that the two audiences aren't so different. "Some customers that before were CNC machining customers try 3D printing, because we offer it. At the moment, 60% of sales are for CNC machining and 40% for 3D printing, although CNC machining also includes machining of plastics and that was about 15% of CNC machining in 2017, although we prefer not to do this on the Hermles, because it takes time to clean the machines, so we guide customers to 3D printing. And lately, people that have plastic parts CNC machined are considering more and more to do the same job with HP. The PA9 and 12 Nylon materials are versatile, the colour is the same and tolerances are about the same,
0.1/0.2 mm. 3D printing is less expensive and the quality much the same." He emphasises that the HP units are the first 3D printing machine to provide this capability in volume economically, adding that he has customers that use 3D printing for as many as 10,000 parts.
Unusual as this combination of manufacturing capability might be, the real differentiator for this service is its immediate online quoting capability and rapid delivery.
THE MIRACLE INGREDIENT
Says the company founder: "This is the miracle, our advantage, our point of strength. There are other systems, but I have tried them and it takes about a week just to get the quote. Then there is the negotiation about delivery time, it's a real nightmare. So, I decided to make something nicer, easier to use." The software is developed in house. "It is so customised that there is nothing that can be used. I think it would be more expensive to buy something and adapt it," he advises.
Customers simply: upload their CAD file in .stp or .step format; define part material – for CNC machining that's aluminium, brass, bronze and copper for metals, and Delrin and Nylon for plastics, while for 3D printing its Nylon or thermoplastic polyurethane [TPU – currently under development]); specify the part tolerance required (although this is not yet a fully developed function); indicate surface finish required for CNC machined parts (as-machined or lancet nanosphere) or colour for 3D printed parts (black or grey); and then press the button to generate a matrix of quantities, prices and delivery dates from which to choose.
Questioned about the accuracy of the quotations for CNC machining, which requires the creation of NC programs to precisely generate cycle times, Rigamonti says that currently they are correct in "about 70% of cases", but that the customer does not pay anything other than the quoted price. If Weerg underquotes, it carries the cost, but the company is developing an online CAM system, based on Open Mind hyperMILL (https://is.gd/gatuno) that it already employs. The software allows for the creation of many macros, he explains, adding that it would be impossible to create the necessary number of NC programs per day ("100-200") without automation of the CAM process. In the case of 3D printing, quote accuracy is "close to 100%", because the variables are far fewer, while programming the machines is far easier, he says. 3D printing is easier all round, it seems, as that side of the business only accounts for four employees, while CNC machining takes the attention of 14 individuals – two of these also write the company's software.
At the time of the interview, Weerg was generating 15,000 quotes/day and winning 150, although demand control is applied by increasing prices and so reducing take-up, the founder advises, particularly as the company is awaiting its extra machining capacity to arrive.
"The demand is growing faster than the capacity of the Hermles. It is very difficult to balance. We are still on around 15,000 [quotes] per day, but that could be 150,000. We don't have the capacity and that is the main problem for us."
He adds that the growth in 3D printing is faster than CNC machining, incidentally, but boosting capacity there is less difficult, as he explains. "I didn't know this market is so difficult; when you order [metalcutting] machines and automation, it takes one and a half years to get everything started; this is crazy. If I order a 3D printing machine from HP, it takes a couple of weeks to get and install it. Everything in this CNC machining market is so terribly slow. It is so frustrating."
GLOBAL BUSINESS
So, demand is clearly there and the business, like the web, is global. The company has customers in Australia, New Zealand, Japan, the USA and Canada, for example, although its largest export market is currently Germany, followed by the UK. Exports, which are 95% in Europe (shipping costs can put a brake on farther-flung business), are already greater than domestic business, and that will grow simply because there are more companies outside Italy than are within the country, Rigamonti offers. And even though business in Italy also continues to expand, by the end of this year domestic business may only represent 25% of turnover. In fact, the rate of growth of the company is stunning. Turnover in 2017 was 10 times that of 2016, while he expects 2018 to register growth of 150%.
Customers generally try out the online-fronted subcontracting service with something simple, the founder says, and being satisfied they return with more complex parts. Non-disclosure agreements are a common requirement and there's a pre-signed form to download at the website. Third-party approval of the e-commerce platform was won last February, when Weerg.com obtained the prestigious Trusted Shops certification. Customer reviews, which are under the quality control of Trusted Shops, are there to be seen. "To date, our customer satisfaction score is very high both in Italy (4.69/5.00) and abroad (4.87/5.00)," Rigamonti underlines.
The entrepreneur has set his sights on building a company having a turnover of €100 million in five years' time; he believes that is possible, due to the innovative nature of the service offered. And having met his goal, he intends selling the company and focusing more on enjoying life.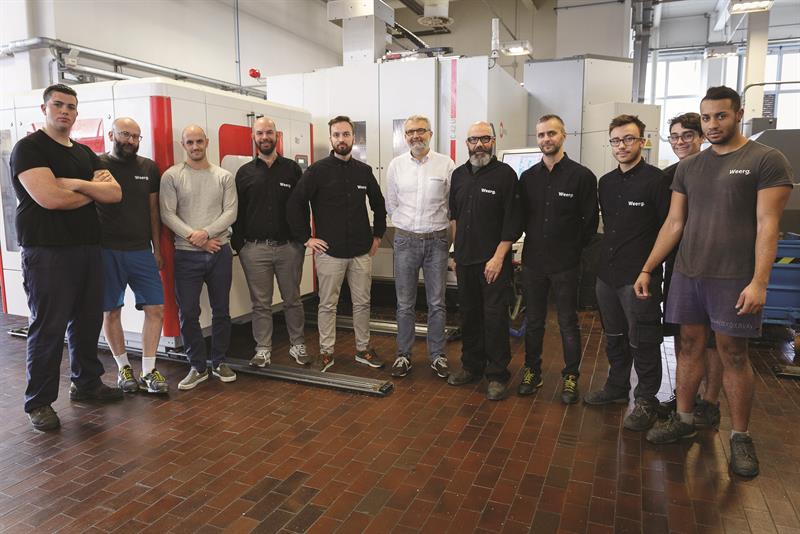 Some of the Weerg team, seen here with Matteo Rigamonti, centre
First published in Machinery magazine, January 2019