Why is plastics 3D printing firm HP partnering with sellers of CNC metalcutting equipment XYZ Machine Tools and Matsuura? "We see an outstanding opportunity for low volume production of plastic parts [instead of through injection moulding]," is HP business manager, 3D printing, Paul Gately's response. He is the individual that "onboarded" the two companies, in fact. The HP machines that are the main focus of its injection moulding challenge are the company's high volume Multi Jet Fusion 4200/4210, which can print fully functional parts up to 10x faster and at lower cost than others' technology (see extended online article for more detail), but there are a range of HP units available (see later).

He continues: "In order to penetrate that [metalcutting] market sector, the easiest solution is to identify high quality CNC manufacturers that are selling into that sector already, cutting metal. They have a substantial customer base, knowledge and experience that will allow them to sell 3D printing." And the companies offer entry-level CNC machinery right up to multi-axis, sophisticated production equipment, so the breadth of company in scope is broad, he also observes.
In the UK, XYZ Machine Tools (https://is.gd/kufaha) and Matsuura Machinery (https://is.gd/voxovu) are the first such companies to take on HP's plastics 3D printing technology, but this approach has already been rolled out elsewhere in Europe – France, Spain, Italy and Germany – and in the USA. Indeed, it is being spread world-wide, Gately says. Both UK companies operate across the whole of the UK and Ireland, there is no geographical split, but a web-based 'deal registration' system for authorised resellers is employed to tie reseller and potential customer together for a period of time.
Where this model of operation has been rolled out, Gately says it has been "very successful…everybody's making money" and he says that HP "is now in the business of producing end-use parts; low volume plastic components, typically in Nylon 12 [HP's PA12]". In the CNC metalcutting sector, he says that jigs and fixtures are prevalent, including inspection tooling and drill guides, but adds that aluminium and other soft metal parts have been replaced by 3D-printed plastic parts in PA12.
MATERIAL DIFFERENCE
Apart from its technology difference (see online article), the company is also different to others in the way it approaches the machine/material supply issue. As Gately explains: "Historically, additive manufacturers sell equipment, but they are also a single source of supply for the materials. HP has come to the market and turned it upside down; our business model is on the lines of a CNC or injection moulding equipment supplier. We sell the equipment then go to the material manufacturers, BASF, Evonik etc, and certify their materials for our platform [more than 50 companies are now engaged in HP's Open Materials Platform]. That enables end users to go into our marketplace, a web portal available later this year, and to select the manufacturers they want to work with, what material and see what the cost is. Upon order, the material will be automatically shipped to the user."
As to what parts might be made, at the MACH exhibition the company had air ducting on display, door brackets, as well as jigs and fixtures – the latter a key interest area at MACH, it is reported. (And with the 300/500 series of Multi Jet Fusion 3D printers able to print different colours, wear on location pads can be highlighted through changing colour, he highlights.) But Gately explains his 'golden nugget' rule in highlighting the target for the high volume 4210 unit on display. This applies to parts of about 25 mm diameter with complex geometry – he instances a gear. To machine it using a CNC machine would be time consuming; to injection mould it would be costly, in terms of tooling, especially where there are undercuts requiring additional mould tool inserts. To 3D print it costs £1, with in excess of 1,800 parts produced per build, and a build taking about 10 hours. A recycling station recycles any unused or unfused powder that can be reused/reheated in the next build. "The break-even volume would be about 100,000-110,000 parts per year [versus injection moulding for the 4210]. HP's goal is to get [that] to about 1 million parts per year from one machine and two build units. To date, we have made more than three million parts since we launched the printer [Multi Jet Fusion 4200 in 2016]."
HP itself is a user of its own technology; some 50% of plastic parts in the 4200 series and over 140 parts inside the new Jet Fusion 300/500 Series are produced via its 3D printing technology – believed to be the largest number of 3D-produced parts in any finished product in the world. And the company is going through its whole product line to identify plastic parts that can be 3D printed. It is also replacing many aluminium jigs and fixtures with 3D-printed parts. HP will be a growing customer for its own technology, clearly. And a huge opportunity for the company is spare parts, says Gately, with the elimination of large spare parts stockholding on offer via a print-on-demand approach.
With that level of part production already notched up, the availability of the technology to engineering companies clearly comes with a strong track record.
SPEED WINS XYZ OVER
Speaking about his company's relationship with HP and his hopes for the technology, XYZ Machine Tools' managing director Nigel Atherton told Machinery: "XYZ Machine Tools is treating its entry into the 3D printing technology arena in partnership with HP and its Multi Jet Fusion system the same as with any of its machine tools. It is fully committed to developing this technology and highlighting the benefits that it can bring, in terms of volume production, as opposed to the more familiar/perceived role in the R&D and prototype environments.
"We were first approached by HP in December 2017 and then a team of XYZ engineers spent some time at the HP Barcelona Research Centre to learn more, and once we'd seen this new technology striding through the most complex of engineering tasks (and at such speed), we all knew at once that we couldn't ignore this and we took delivery of our first machine in February. While we were all aware of 3D printing technology, we use it daily in the production of our machine tools, we had not seen anything this quick. The speed of the HP Multi Jet Fusion system makes 3D printing a more than viable production method, not to mention the accuracy and complexity. This was clearly no longer just a prototyping process."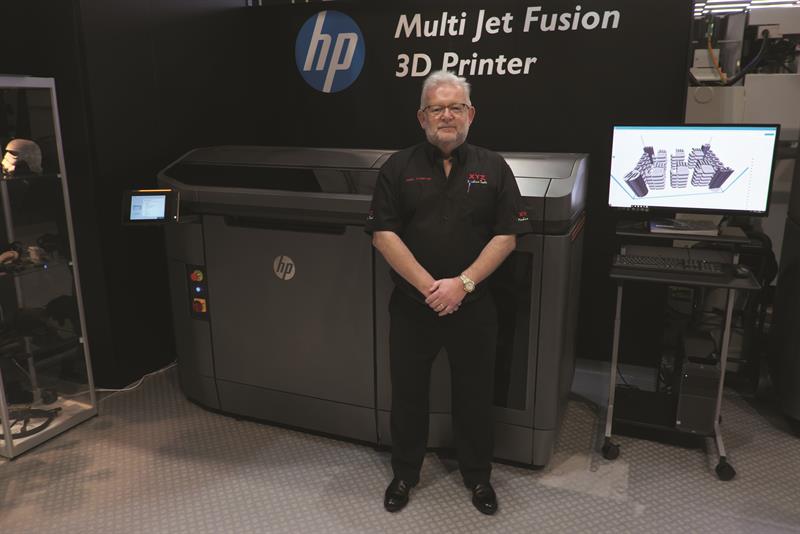 XYZ Machine Tools' Nigel Atherton, opictured here at MACH 2018, was impressed by the speed of HP's technology
And he points out that build speeds are up to 4,115 cm3 per hour for the 4200/4210, which compares extremely favourably when compared to conventional material extrusion or laser sintering processes. For example, in an 82-hour cycle the HP Multi Jet Fusion process created 27,300 gear components, compared to 1,000 and 2,160 using the other techniques, making it a truly production-orientated process.
To get to the same surface finish as an injection-moulded part would require a component to be tumbled, incidentally, but for jigs and fixtures, the as-built surface finish is "more than good enough", offers HP's Gately. Parts can be electroplated, spray painted and powder coated, too.
Continues Atherton: "Depending on the delivery times and the quantities required, and by doing it in timed batches, this process could even challenge the need for die-making in the injection mould industry. The example we use is T-slot cleaners that we give away. To produce these economically using injection moulding we had to purchase 15,000 to justify the cost of the mould tool. Using HP Multi Jet, we can have as few as we want, when we want them.
"So far, we have welcomed many potential customers to see the printers in action at our Burlescombe, Devon, headquarters and there has been a very healthy interest in the costing of existing components, with 3D printing highlighting some surprising and sobering results. Given the level of interest, it is our longer-term aim to have 3D printers in each of our regional showrooms. While XYZ Machine Tools is a newcomer to 3D printing, we are also at the vanguard of this latest technology that is pushing the process into the production environment.
"Following the success of our recent seminar at Burlescombe, our aim is to spread the message further by hosting similar events to promote the technology, with machines strategically placed to cut down customers' travel times." Another event is to be held this month at the company's Nuneaton site, in fact.
XYZ Machine Tools offers a range of HP units, not only the 4200/4210 high volume units, but also: HP MJF 4200, aimed at production shops to produce functional, low-cost components; HP MJF 540, a single, self-contained unit, ideal for customers who have space limitations and only require mono printing; and HP MJF 580, a single self-contained, space-efficient unit able to print in full colour. All machines produce parts having the same physical properties.
Matsuura is not so new to additive manufacturing, it already offering Matsuura metal additive manufacturing machines. The company's managing director, Roger Howkins, says: "The partnership with HP Jet Fusion 3D printing solutions perfectly complements our existing additive range, giving customers even greater choice to be part of this new era in manufacturing. Our experience and knowledge in the additive manufacturing sector spans many years, so customers looking to explore this market can expect to receive high levels of support from our additive team. The HP Jet Fusion 3D printing solution enables 3D printing to become a viable alternative to traditional production methods." The company is clearly going after the injection moulding market, both with its metal and plastic 3D printing technology, having attended the Plastics Design & Moulding Event in Telford last month. Said Joseph Bellis, AM technical and sales specialist at Matsuura, ahead of the exhibition: "The PDM event provides the ideal platform to demonstrate our additive manufacturing range, inspiring visitors to our stand with some real-world examples of bespoke components 3D-printed in a variety of metals and [nylon] PA11, PA12 and PA12GB plastics – we are here to challenge conventional thinking regarding the future methods of manufacturing."
Extended version from here
Box item
Game-changing Multi Jet Fusion
The Multi Jet Fusion 4200, launched in 2016, is hailed as reinventing 3D printing by HP (video: https://is.gd/nexoji). Its Jet Fusion technology delivers high quality, fully functional parts up to 10x faster and at the lowest cost, the company adds. The process prints in voxels. A voxel is effectively a 2D pixel that additionally has height. And that height is layer thickness, which can be 70-120 microns. Just as in 2D printing, a pixel is either printed or not, so in 3D printing a voxel is either fused or not.
And just as the addition colour to inkjet printing expanded 2D capabilities, HP Multi Jet Fusion advances 3D printing in the same way, the company says, via its use of plastics combined with multiple 'functional agents'. Functional agents are jetted by HP thermal inkjet printheads (the established technology already used in traditional printing), onto a bed of plastic powder, to control the fusing and other properties of each voxel (video: https://is.gd/nawose). Those printheads can precisely deposit 30 million droplets/sec. HP Multi Jet Fusion can print up to 1,200 voxels per linear inch in each layer with a range of physical and functional properties including colour.
'Fusing and detailing agents' control the fusing of selected voxels and the edges between fused and unfused regions in each layer. Taking this process beyond the capabilities of conventional 3D printing technologies, 'transforming agents' can create parts with controllably-variable mechanical and physical properties within and across a single part or among separate parts printed simultaneously in the build unit.
Depositing transforming agents voxel-by-voxel across each layer allows HP Jet Fusion 3D Printers to produce parts that cannot be made by other methods.
Last November, HP added the 4210 to the 4200 range. Ramon Pastor, general manager of Multi Jet Fusion for HP's 3D printing business, said that the 4210 system opens up industrial-scale 3D manufacturing, moving the break-even point versus injection moulding from 50,000 to 110,000 parts. But the company wants to go further, he said: "This is a great start, but really our ambition is to, in time, get to rates of a million plus. Not in the next month, not next year, but in years to get to this position."
Materials available are P11, for ductile parts, P12 for more rigid components and P12GB (glass-filled) for the stiffest parts.
HP has also announced its intention to 3D print metal parts, using its printing approach not laser-based fusion.
First published in Machinery, July 2018