(Updated 16:05 - 13/11/18 - added EOS text)
GE Additive said that deliveries of the M Line Factory high production metal additive manufacturing system will begin in Q2 2019. Since GE Additive's acquisition of Concept Laser in December 2016, the M Line Factory's design architecture, system and software have undergone extensive review and redesign in line with established GE processes and beta testing with selected customers.

The improvements are: improved in-machine architecture and automation; enhanced serviceability, scalable modular system design and ease of service; increased build volume - 500 by 500 mm platform; onboard software system - modularised software architecture, superior exposure strategies and real-time, in-situ process monitoring; and process control & thermal stability, which control key process variables that dictate part quality.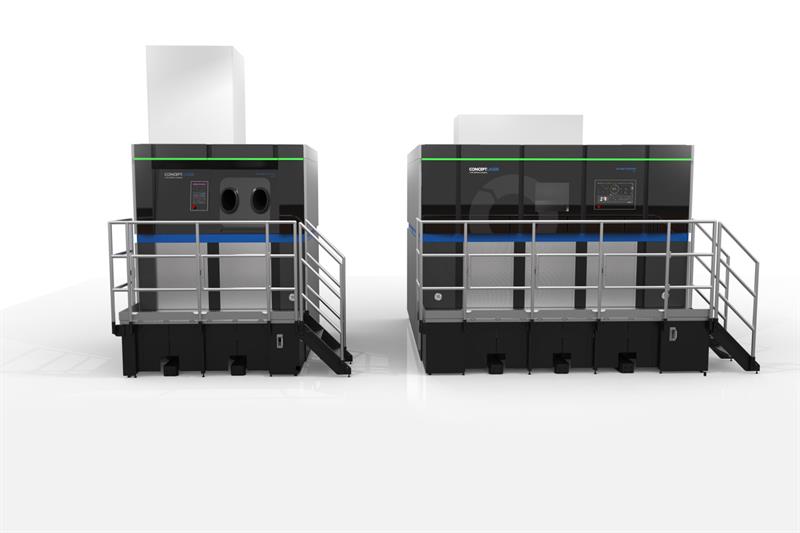 Concept Laser M Line Factory
Says the company: "Existing standalone machine solutions, barely allow for economical series production. However, in contrast, The M Line Factory's modular machine architecture offers outstanding automation and reliability, which drives economical, scalable series production on an industrial scale."
Part production, as well as set-up and the dismantling processes, will take place in two independent machine units. The units can be physically operated separately from one another or combined depending on each customer's preference. This enables production processes to run in parallel rather than sequentially, which reduces downtime considerably and in turn increasing the availability and output quantity of the process chain.
HP is also bringing news of the mass production of additively manufactured parts, in both plastic and metal.
For plastic, it says that RecTech 3D in China plans for 30 HP Jet Fusion 3D 4210 machines, Forecast 3D of the US is expanding to 24 HP Jet Fusion 3D 4210 printers, plus there's news of a new deployment with industrial leader GE Transportation.
In more detail, industrial subcontractor RecTech 3D will begin by installing 10 HP Jet Fusion 3D 4210 solutions in its Additive Manufacturing Center in early 2019 and plans to quickly ramp up to at least 30 HP 3D printing systems by the end of 2019.
Forecast 3D, a leading US-based provider of 3D-printed parts for more than two decades, has now deployed 24 HP Jet Fusion 3D 4210 systems in its digital factory.
And GE Transportation, a global technology leader and supplier of equipment, services and solutions to the rail, mining, marine, stationary power, and drilling industries, use HP Jet Fusion 3D printing solutions in its John F. Welch Technology Centre in Bangalore, India, to produce industrial parts for various applications in mining vehicles and locomotives.
And demonstrating the expansion of plastic 3D printing using HP technology, the company also point to new applications at BMW and Volkswagen. BMW Group is using HP Jet Fusion 3D 4200 solutions to manufacture the window guide rail for the BMW i8 Roadster, while Volkswagen Group is taking advantage of HP's 3D printing technology for both metal and plastics applications. By the end of the year, one hundred percent of the tools used to manufacture the new T-Cross SUV will be printed using HP Multi Jet Fusion technology.
On the metal front, HP's new Metal Jet technology will be used by Volkswagen individualised key rings and exterior-mounted name plates, as reported by Machinery in its October issue.
"HP is accelerating the shift to 3D mass production, enabling an exciting array of applications helping customers improve their businesses as we enter the 4th Industrial Revolution. Many industries such as automotive, which is going through its biggest transformation in more than 100 years, are looking to new technologies and strategic partners like HP to help them better compete in this time of change," says Christoph Schell, president of 3D Printing and Digital Manufacturing, HP Inc. "We are working with innovators across the globe to change the way they design and manufacture with HP Multi Jet Fusion and our new Metal Jet platform, unlocking new applications, more manufacturing flexibility, and greater innovation, efficiency and sustainability across their product development lifecycle."
A host of other examples of HP's Multi Jet technology's application along with P11 Nylon material were given:
Bowman International produced a 'rollertrain' cage that uses rolling elements to "pin together" cage sections. The cage now features a 70% increase in the load bearing capacity of its split bearings, and an increased work life of up to 500%, as well as equal strength on the X, Y and Z axes, demonstrating the ability of HP Multi Jet Fusion technology to accurately mass produce bespoke parts which in turn can cut costs and speed up production times. (See YouTube video here.)
OT4, a leading provider of orthotics, supports orthopedic technicians and HP's Multi Jet Fusion technology enabled the production of a sleep helmet, a dynamic ankle foot orthosis and a finger orthosis featuring optimised ventilation and light-weighting without compromising material strength and flexibility.
Multi Jet Fusion is supporting customised shoe heels by New Rock and personalised phone cases by Freshfiber.
HP says it will be collaborating with Autodesk to enable generative design-for-3D printing. The pair have launched an integrated end-to-end additive design to print workflow for HP's Multi Jet Fusion platform. Autodesk Fusion 360's generative design capabilities can be used to develop optimised designs for HP Multi Jet Fusion technology, enabling faster, more creative design cycles from prototyping through production. Penumbra Engineering is leveraging this joint innovation to design state-of-the-art ultrasonic sensing devices with accuracy and durability for companies such as Perceptive Sensor Technologies. In addition, Autodesk's Netfabb provides support for a full-range of HP Jet Fusion 3D printers.
HP is also offering new online resources for partners and customers seeking to accelerate their journey to mass production with HP's 3D printing solutions. These resources include:
I-AM Digital Talent Platform, which helps connect employers with a highly engaged talent pool and also features case studies, informal learning, and training courses for those looking to break into the industry; and 3D ExchangeNet (3DX), a marketplace focused on helping 3D printing businesses identify growth capital, investment or buyout opportunities. 3DX also offers resources to help businesses develop strategic partnerships and training programs.
Clearly catching up with HP and its Jet Fusion 4210 plastic 3D-printing machines that compete with injection moulding, EOS has unveiled its LaserProFusion technology, saying that it is "as productive as injection moulding".
Says Dr Tobias Abeln, chief technical officer (CTO) at EOS: "With the LaserProFusion technology, we are achieving a new level of productivity in polymer industrial 3D printing for serial manufacturing. It is a technology that can be an alternative to injection moulding in many applications, enabling tool-free injection moulding. This will make industrial 3D printing attractive for a completely new market in the future."
Instead of the laser sintering process used to date with a single CO2-laser moving along the entire build area, this new technology uses up to one million lasers. These can achieve a maximum total output of up to 5 kW. For each layer, only the diode lasers are activated that match the CAD data of the part – right down to the exact pixel. The new technology significantly shortens exposure times, regardless of the number of parts and their geometry.
Production metal additive manufacturing is also on show this week from the company at Formnext. EOS is showcasing its EOS M 300-4 as the foundation of an additive manufacturing production cell.
The EOS M 300-4 offers up to 10 times higher productivity while manufacturing parts to industrial-grade quality. The platform is configurable with the complete EOSTATE Monitoring-Suite for real-time monitoring of the additive manufacturing build process. The suite includes four different monitoring modules (System and Laser, PowderBed, MeltPool, and Exposure OT) that enable users to capture production and quality-related data. This ability, to carry out quality assurance during the build process is significant, particularly in large-scale manufacturing, as reproducible high part quality is absolutely essential.
Prior to the AM build process, Amphyon software from Additive Works simulates part production, highlighting and optimising potentially problematic areas of the part at an early stage. Alongside CAM tool EOSPRINT 2, users can effectively prepare part data for the build process. An additional advantage is that the EOSPRINT 2 algorithms can be integrated directly into leading CAD systems. This allows an uninterrupted and associatively linked workflow in a consistent software environment, says EOS.
In order to fully integrate additive manufacturing in industrial production environments, the production cell can be connected to existing MES/ERP applications through EOSCONNECT and its open OPC UA interface. New digital marketplaces and IoT platforms are also supported such that all machine and production data obtained can be used in real time and form the basis of a digital factory. The first element of the EOSCONNECT software suite, EOSCONNECT Core, recently became available and further modules are currently being developed.
To support its additive manufacturing processes, EOS will be presenting its SmartCAL service solution, a combination of hardware and software for laser scanner calibration. This ensures the exact positioning of the laser beam on the build platform to guarantee ideal part quality. SmartCAL helps reduce calibration time by more than 80%. It is also possible to calibrate the overlap area in the building space of the EOS M 300-4 and EOS M 400-4, resulting in an optimised overlap areas with regard to both the mechanical part properties and the visibility of the overlap line, the basis for a further improved part quality.
EOS also recently began offering a remote service for its new generations of systems. A secure data connection to the machines enables EOS to provide customers with support and assistance more quickly than before. The connection is only temporarily established at the initiative of the customer and disconnected again after communication has been completed. The data sovereignty of the customer is thus ensured, with the clear benefit of optimum machine uptime.
Finally, EOS is introducing classifications in the form of Technology Readiness Levels (TRL) to highlight the technological maturity of all its polymer and metal materials, as well as processes. For easy orientation, EOS will divide its material products into two categories: TRL 3 -6 refers to Core products, whereas Premium products are in the categories TRL 7 -9 and so suitable for use in serial manufacturing. One goal is the faster availability of new materials on the market with a clear value proposition. Examples of the new categories, including a high thermal load endurance aluminium alloy (Premium level) and Core-level copper materials, are on show at Formnext.
Sandvik has substantially increased its in-house capacity for metal AM by installing several new Renishaw RenAM 500Q quad laser machines. The company is also initiating further collaboration with Renishaw in areas such as materials development, additive manufacturing process technologies and post-processing.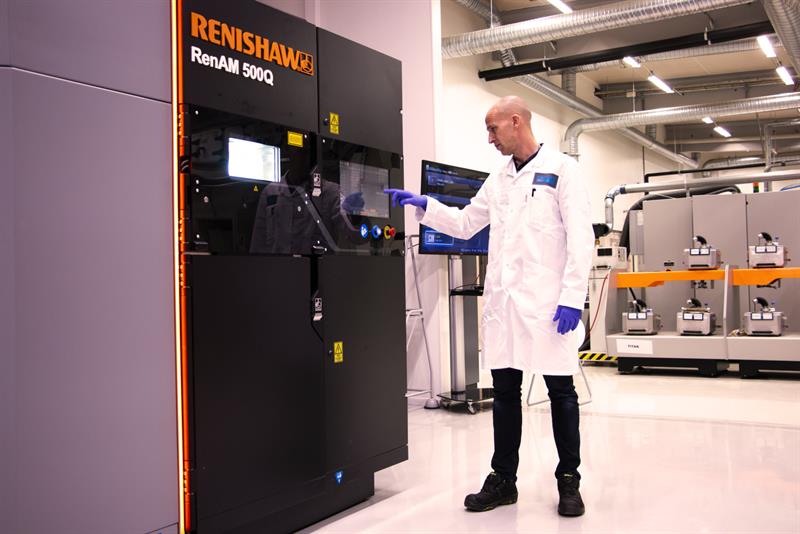 Sandvik has added Renishaw technology to its additive manufacturing centre's capabilities
This print capacity expansion follows a recently announced investment, amounting to SEK200m (£17m) in a new plant for the production of titanium and nickel powders for additive manufacturing, which will complement Sandvik's existing Osprey powder offering to include virtually all alloy groups of relevance today.
The new multi-laser RenAM 500Q systems complement Sandvik's existing additive manufacturing machines, which include printers from EOS, Concept Laser, Arcam and ExOne. The company's additive manufacturing capability covers a very wide range of printing technologies for different materials and applications.
Sandvik works across the entire value chain, from component selection, additive manufacturing -design and modelling, through material choice/development and optimal printing process, to post-processing, testing and quality assurance.
Kristian Egeberg, president of Sandvik Additive Manufacturing, says: "We refer to our process as 'Plan it. Print it. Perfect it.' Printing is only one of seven steps you need to master to obtain a perfect additive manufacturing component. So, you have to think beyond printing to get the best possible value from additive manufacturing."
The additive manufacturing customer cases Sandvik is displaying at Formnext 2018 in Frankfurt showcase different materials, different additive manufacturing process technologies and tailor-made post-processing methods. Highlighting the possibilities, exhibits will include coolant clamps for Seco Tools that are made from maraging steel and feature curved internal channels to improve cutter performance and lifespan. Also on display will be a Sandvik Coromant CoroMill 390 milling cutter. Made from titanium, the tool is up to 80% lighter and up to 200% more productive.
Further exhibits are set to include Varel nozzles manufactured from cemented carbide, which are not only printed on demand to reduce inventories, but feature tailor-made threads that are tough enough for drilling in the oil and gas industry. On the stand too will be sliding cases made from maraging steel for LKAB Wassara. The sliding cases are two-piece parts printed as a single unit – featuring internal channels – ready for underground hammer drilling with radically improved performance and increased service life.
US-based Optomec unveiled its larger hybrid, laser powder melt/subtractive machining machine, the LENS 860 Hybrid CA system. This has an 860 by 600 by 610 mm work envelope and, like its other machines, comes with a hermetically-sealed build chamber that maintains oxygen and moisture levels below 10 ppm for processing reactive metals, such as titanium.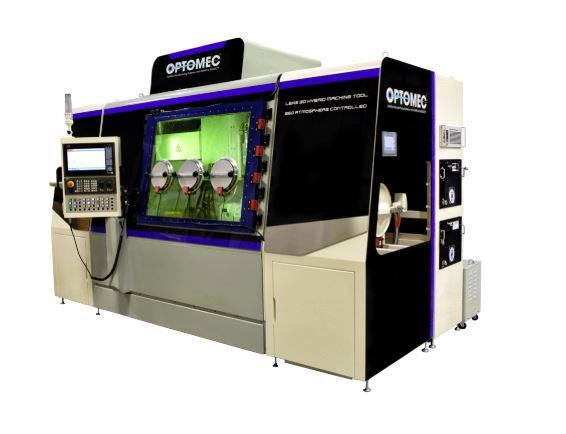 Optomec LENS 860
All systems in the Machine Tool Series incorporate Optomec's LENS 3D Metal Printing technology, which uses a high power laser (400W to 3kW) to fuse powdered metals into fully dense, three-dimensional structures. Optomex says that the LENS Machine Tool Series continues to lead the industry in cost to performance with a starting price of under $250,000.
At Formnext, Optomec is running run demonstrations that showcase simultaneous 5-axis metal printing and a single tool path for both additive and subtractive processes on the same machine.
Says Opotmec LENS product manager Tom Cobbs: "With the LENS 860, customers can print and mill and perform finished machining on a printed part all on the same system, without re-fixturing or aligning the component on a second machine. We think this will bring great benefits to companies looking to move to additive and hybrid manufacturing."
Online only feature not published in Machinery as of publishing date