Machinery has news of two first-in-the-UK commercial uses of combined additive/subtractive manufacturing machines; at injection moulder OGM and cable harness specialist Cable First. Andrew Allcock went to see these £1m-a-go investments
OGM's Matsuura Lumex Avance-25 was installed late last year and, after extensive trials, is now entering full production capacity. The machine incorporates powder bed-type/laser-melt additive manufacturing in a machine that additionally features a milling spindle (45,000 rpm, BT20 as standard), with additive part build-up interspersed with machining. It has a 260 by 260 by 100 mm working envelope.
Mould tool cavity insert manufacture is the main target application for this machine, so it is no surprise that this installation follows that trend. The ability to produce conformal cooling channels that reduce moulding cycle times and boost part quality are the big pluses heralded for these machines.
There is an additional, similar Matsuura Lumex machine (https://is.gd/voxovu) installed at the Manufacturing Technology Centre (MTC) in Coventry. In fact, that installation was the prompt for OGM's purchase, according to the company's Marcel Gowers, additive manufacturing applications engineering manager.
He reports that OGM had used 3D printing previously, primarily for prototyping and design work, but today's situation has its roots in 2016. "OGM worked with the MTC and learnt about this new metal hybrid manufacturing process. The managing director, Paul Wightman, got into conversation with Matsuura, saying that OGM was having issues with a particular mould tool insert and asked whether Matsuura's technology could improve on the design by adding conformal cooling channels. That was the moment of birth of the concept, to offer a bureau service to others."
The mould tool insert, designed by OGM and produced as a demo by Matsuura, was the first such conformally-cooled tool used by the company, Gowers reveals, adding that it was used in an existing mould tool bolster and delivered a reduced cycle time, while part quality "increased dramatically" for a key element of the part.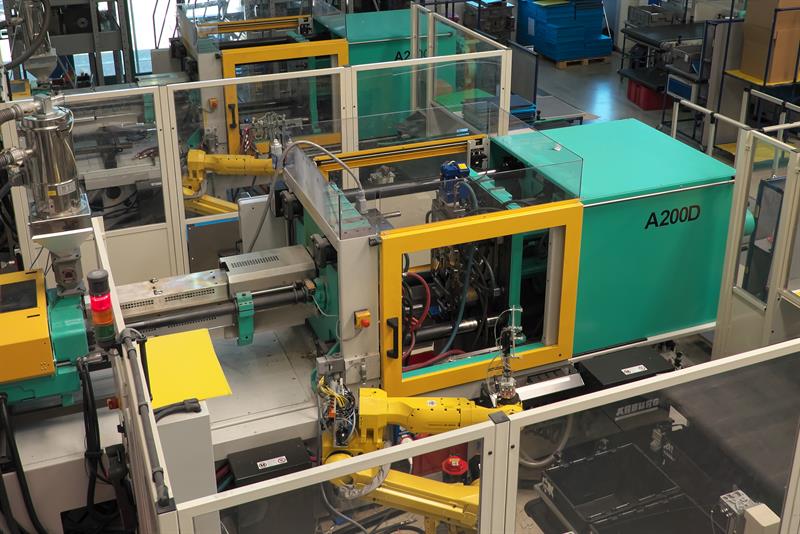 OGM has many moulding machines
The scale of benefit was very attractive, as OGM has almost 50 injection moulding machines to tool. The company, which employs circa 200 people, has multiple sites in the UK, but its 100-employee headquarters in Kidlington, Oxfordshire, is host to the majority of its injection moulding capacity, 34, with a site in Wales, acquired last year, having 13. That capacity will be added to, however, with a further seven machines anticipated. The company moulds parts for very many well know industrial names and boasts sales of in excess of £11m (parent OGM Holdings' figure is £20m+), previously sourcing mould tools in support from external suppliers.
Says Gowers: "I joined in October 2017 to start a new department, but initially it was agreed I would undertake six months of R&D to understand the technology and where best to use it. I now think that will actually stretch out for a couple of years – there is so much opportunity for innovation. We already have our eyes on areas that we think will have patentable outcomes."
3D-printed 'ConformL Cool' mould tool inserts, as the company is calling them, plus the manufacture of 3D-printed end use components and the fast production of mould tool inserts were the three elements of its original plan. But of the mould tool insert idea he reports that it became clear that customers didn't want inserts but "loved the concept of rapid tooling" [complete tools].
Fast time to market was found to be key. With mould tools from the UK on 12-14 weeks' lead time, China offering at least six-eight weeks, the requirement was for a four-week lead time, which OGM can satisfy with a hard, or even fully hardened, production mould tool.
"Save your four weeks and £5,000-8,000 [for soft tooling], come to us and we can make a proper rapid production mould tool that you can use for prototyping that we can then have hardened, if you so wish, to take you to many hundreds of thousands or millions of parts," says Gowers.
The company's new in-house toolmaking activity is supported by what the company is calling its rapid production mould tool (RPMT) service – a first for the UK. This is currently based around various sizes of custom off-the-shelf bolsters, part-machined, with insert manufacture and final machining undertaken thereafter. It has already bagged £1 million sales for mould tools for use in house, using its RPMT process that utilises the Lumex machine.
By way of demonstration, the additive manufacturing applications engineering manager says that the company has already completed a quarter of a million parts from such a hardened tool. The inserts were 'grown' in eight hours, overnight, the standard bolster took three days, with integration of the pair adding a further two days.
Not all inserts necessarily feature conformal cooling, incidentally, and not all will be made totally via the hybrid route – they could still be subcontracted, either overseas or locally, although the fastest response will always likely be the hybrid route. For simple inserts, even a one-week lead time is possible. And inserts will often see CNC machining undertaken off the hybrid machine, with the complicated elements – "which we try to keep to a minimum" –then produced on the Lumex Avance-25.
For rapid tools for parts that have at-risk susceptible features (clips, latches and so on), the use of hybrid AM-produced cavity tooling inserts allows these features to be fine-tuned as production progresses, with inserts swapped out quickly.
A further example of the technology's use is with a tool repair involving a 600-micron thick blade insert for an onsite tool. The blade was grown overnight, wired off the base, ground and fitted, with tool repair effected by 2 pm the next day – an external quote to replace that insert had put a two-week lead time on its supply. OGM is also experimenting with production of surface textures.
RPMT also supports supply only of the completed tool, so firms can perform their own moulding, but this has not yet happened, while the manufacture of mould tool inserts, which may/may not require conformal cooling, has a had a few takers.
There's a plan to develop new software that will allow the company to quote for tooling on a 48-hour turnaround, with 24 hours targeted, while a planned service for end-use part is in its infancy.
FIRST IN EUROPE
Poole-based Cable First is the first company in Europe to install a Sodick OPM250L hybrid powder bed-type, laser-melt machine (supplied by Sodi-Tech EDM, https://is.gd/lotawi). This unit can produce parts up to 250 by 250 by 250 mm and incorporates a 45,000 rpm spindle served by a 16-tool magazine. Cable First's main business is the production of bespoke cable assemblies and harnesses for a wide range of sectors, working closely with its sister company, bespoke cable maker Concept Cables Ltd. Both companies, employing 45 personnel each, are part of the Gemaco Group, which has a turnover of some £8m.
As Cable First's managing director, Allen Lodge, explains, although the Sodick machine is capable of producing complex mould tool dies and cores having conformal cooling in single-piece components that would otherwise require multiple parts to be made and assembled, the machine is primarily the answer to an industry-wide issue: lack of skills, specifically mould toolmakers for Cable First's expanding business. It makes mould tools for internal use in the manufacture of its cable harnesses, currently around 50/year.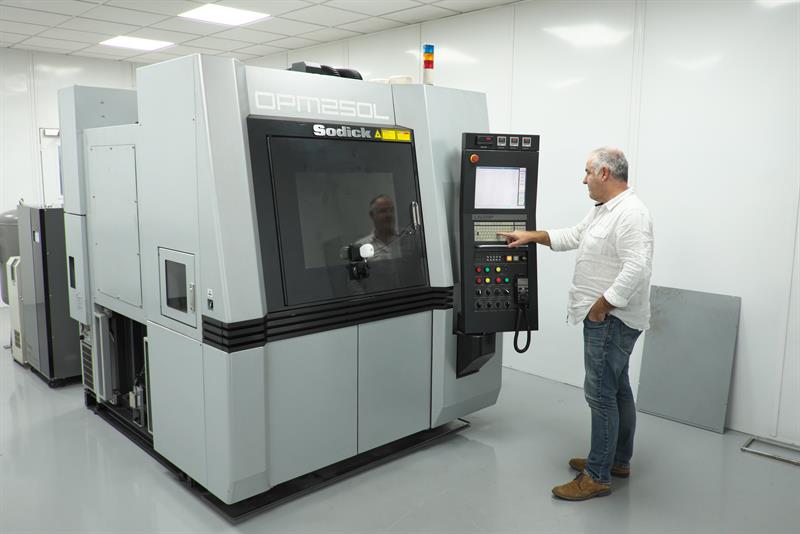 Allen Lodge at the controls of Cable First's Sodick hybrid machine
Explains Lodge: "When you advertise for toolmakers these days, they are a rare commodity. When everyone in their wisdom sent their tools to China in the late '90s/early 2000s, all the manufacturing facilities were decimated in the UK, with people retiring or moving out of the industry. So, after 15 years, you can't expect to turn this activity back on again in the UK. We have sourced tools from all round the world, but find you have lost control when things go wrong with quality, delivery, specifications etc. So, what is the answer? Existing toolmakers are retiring, while youngsters don't want to come into the industry."
Cable First investigated additive manufacturing seven years ago, but it was a laser sintering-only unit, so parts would still require machining and polishing afterwards. Last September, a visit to the TCT show by company staff saw information about the manufacture of finished mould tool components to a very fine finish from Sodick obtained. This finished part manufacturing capability, laser sintering plus machining, was exactly what Cable First's managing director wanted. It solved the skills issue, because youngsters coming out of school in general have studied computer sciences rather than hands on engineering. So Lodge's answer is to use what skills are available. "Everybody knows how to use a computer, but I can't get toolmakers, so get yourself a CAD engineer. We have now had production insert parts made on the machine by a person who has never actually been in the workshop; he wouldn't know what a lathe is. This is because Sodick software drives the machine from the required CAD geometry. It is a press button process. As for the bolsters that the inserts go into, these can be purchased from DMS and DME, the experts in this field, with pockets already machined to our specification."
The OPM250L will do what it does reliably, in the time the program says, too. Not so traditional toolmaking that is variable. And the more complex the part, the more advantages the Sodick machine has, he observes.
As Cable First's managing director underlines: "It's an automatic process, of course; Cable First can run the OPM250L unmanned overnight and also get 72 hours across an extended weekend that were previously not productive. Parts can be produced accurate to single-figure micron tolerances, too."
He continues: "Over the last six months, the company has gained a full working understanding of the machine's capabilities to produce quality products with the help and support from Sodick engineers plus training. We are now in a position to take inquiries for complex designs that are not possible with traditional toolmaking."
But Cable First's million-pound investment is not about toolmaking, rather it is based on the business those special tools support for seamless product manufacturing, from design stage to the finished product.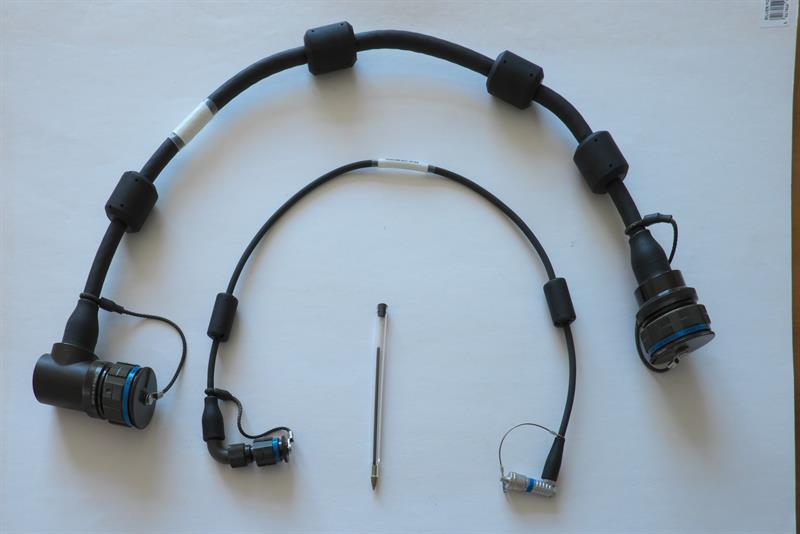 Cable assemblies are Cable First's focus and its ability to make mould tools is a key supporting capability
Says Lodge: "Buyers often go through many stages to get a product made, which normally involves liaising with many different suppliers that have different capabilities, but this leads to inefficiencies down the road when one part of the manufacturing process doesn't know or fully understand the problems of the next. So, with Cable First being in an enviable position of controlling, if required, a product from inception through design, then into full production, we can give our customers the best possible product by understanding all the processes and can add value into their product. This company ethos is why Cable First has invested in the latest cutting-edge equipment."
He is keen to spread the message about the company's cable harness manufacturing capabilities that can now be better supported, but also throws out an offer to mould tool makers who could benefit from incorporating conformally-cooled mould tool inserts, saying: "If you have inserts in your mould tools that require conformal cooling, we have the machine to produce them."