If Filtermist was located in Germany, it would be considered one of its mittelstand – that group of small- and medium-sized firms, often family owned and export focused, that are the backbone of that country's manufacturing economy and which the UK looks upon with much admiration, not to say envy.
Since 1969, the company's products have been lending an essential if unglamorous hand in support of machine shops, removing oil/coolant mist from the working environment, using the centrifugal principle – centrifugal impaction separates coolant and oil particles from the air, returning clean oil to the machine and clean air to the workshop.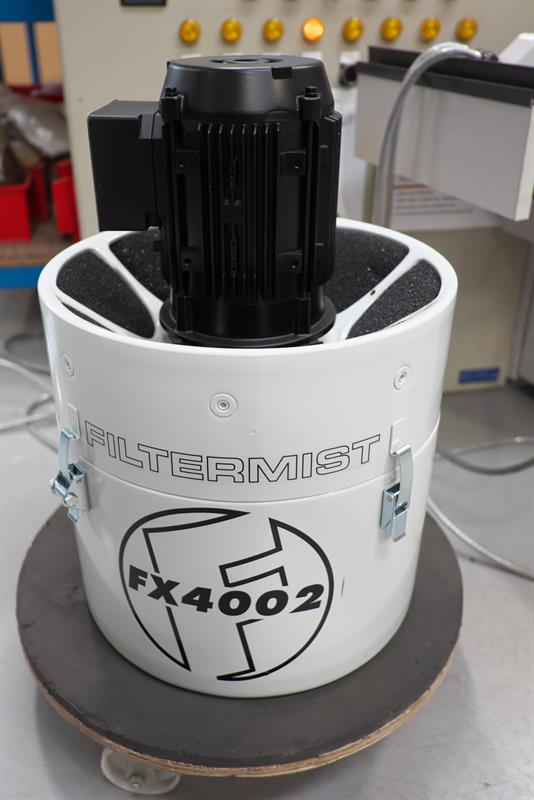 Final assembly finished; next step testing
Fitted to individual machines, the company's air-cleaning units are ubiquitous around the world, today being sold in more than 60 countries through a network of distributors/stockists and also its subsidiary Filtermist Asia (it sells direct in the UK, often via machine tool suppliers). Filtermist (01952 290500) is one of the UKs' engineered product success stories and a brand that is visible around the world since over 90% of the 10,000+ Filtermist units made annually are exported to, in order: North America; Europe; China; other Far East; India; Latin America; and the Middle East. Yet the company employs just 55 in Telford (three overseas) and turns over around £12 million.
After a management buyout in 1997, the firm subsequently became part of Sweden's Absolent Group in 2010. This makes Filtermist sister to Sweden-based Absolent AB, which similarly makes air-cleaning equipment, this time filter-based, and also to Bristol Tool & Gauge International, a German company despite its name, which produces air cleaning systems employing the electrostatic principle that is favoured by that country; it is also a major Filtermist distributor. Absolent Group thus takes in the complete range of air cleaning technologies (see below for details of the three types), turning over £21.5 million last year (an acquisition this year has added another £5 million), which means UK-based Filtermist is a very significant element within the group.
AMBITIONS EXPLAINED
And from its brand new factory in Telford, on the new, so-called T54 estate, the UK company has big ambitions, as its managing director, James Stansfield, explains:
"We are targeting a further 60% increase in sales over the next five years, and additional new products targeted at specific high volume markets are currently in various stages of development." Indeed, the company is unveiling just such a new product this month at Italy's EMO (see 'Neat solution for high pressure coolant', right).
This projected growth comes on top of recent success that has seen turnover quadruple since 2000, with exports having grown 25% over the past three years; particular export wins having been seen in new markets, including Indonesia, Vietnam and Thailand, following a re-structuring exercise in the ASEAN area.
Driving growth both past and future, says the managing director, are: legislation, COSSH and health and safety guidelines HSG258 in the UK, for example; the desire to recruit the best quality people, with the need to provide a clean, safe working environment becoming imperative; ISO 14001 environmental considerations; and corporate social responsibility – companies want to be seen to be looking after their employees.
The spread of global companies from the industrialised world takes this thinking to developing countries, too. And companies opt for Filtermist, says Stansfield, because of its products' reputation for robust long-term, low-maintenance performance – indeed, in 2012 a request for spares for a unit that had been in operation for 30 years was received. And versus cheaper alternatives available in places such as China, he says: "The 'Made in the UK' brand still holds significant weight."
Located a few miles south of its previous, Bridgnorth, Shropshire location, the new factory brings together all the company's operations and personnel under one roof in a modern factory setting that comprises almost 1,920 m² of factory floor space plus almost 850 m² of office area (the previous site had four buildings). Although the factory floor claims the majority of space, the company's personnel are weighted towards office activity, with just 30% involved in manufacturing, assembly and test. And it was administrative space, rather than shopfloor constraints, that really prompted the move, in fact.
"The factory floor is designed around the manufacturing process, so raw material, process, piece parts' manufacture, assembly, final test and finished goods follow a sequential path inside the factory, increasing production uptime as less time is taken between processes," Stansfield highlights, adding that quantifying resulting efficiency improvements is underway.
He continues: "One of the key design criteria for the architect was to ensure that the factory was light and airy, and an important factor in this was to install a brand new centralised welding fume extraction system to keep the air clean. The units were supplied by our Swedish sister company [Absolent].
"Acoustic booths have been fitted around noisy operations, allowing us to have an open plan production facility, whereas previously it was separated into four different buildings.
"We also wanted more room for employees to be able to relax during break times, and we are particularly proud of the spacious canteen area that allows employees from all areas of the business to eat together in comfort, something we never had at our old site. The site was also professionally landscaped, so employees have plenty of outdoor areas to walk around.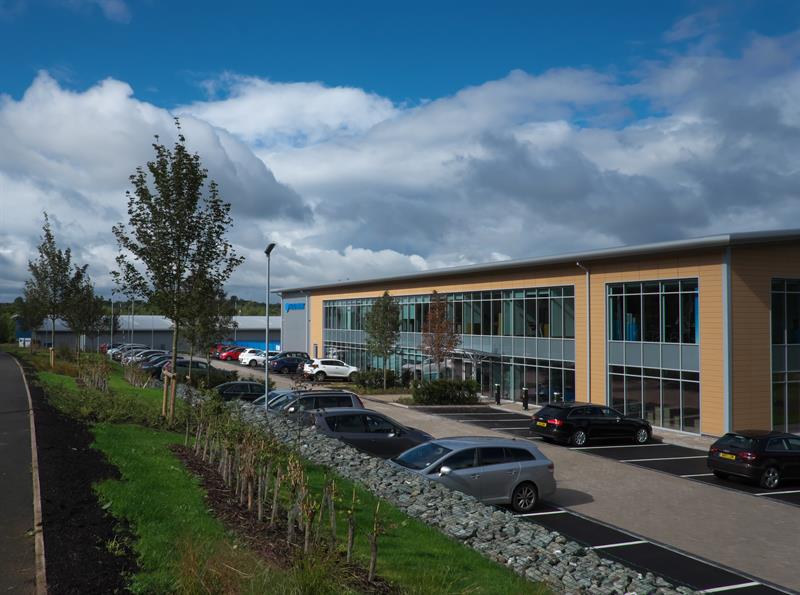 Filtermist's new factory in Telford
"Emphasis was also put on creating a showpiece facility that we could bring our global partners for training and entertaining. There are numerous training and meeting rooms with state-of-the art AV comms equipment, including new systems enabling easier video conferencing with our overseas customers and employees." And Filtermist is making these facilities available to others, with UKTI having a presence on the day of Machinery's September visit.
Fundamentally, though the new factory was built to satisfy two key requirements, the managing director explains: to guarantee that Filtermist is able to meet the growing global demand for its products and, second, to ensure the company presents itself professionally to all stakeholders – reflecting its position as the UK market leader with an ever increasing global presence. And it is future-proofed, too. If required, the location will allow Filtermist to run up to three shifts per day (its previous site close to a housing estate meant no overnight working, for example); it has large capacity hard-standing that offers additional storage space as and when required; there's land available for an additional 20% building area, if required; while more office space is already available for the required administrative support required for the projected growth.
Turning to its product and Filtermist units are essentially quite simple electro-mechanical systems – no leading-edge electronics or software, and no flashing status lights or screens etc, although its F Monitor dual-function monitoring system does visually advise machine operators when an extraction unit needs servicing, as well as warning of any potential blockages that may reduce the effectiveness of the system. But at root, the company's units are sheet metal, electric motor and coalescing foam pads.
There are four key sheet metal items that make up the casing and active elements: the cylindrical body; the top, or diaphragm; the bottom; and the internal drum, which is perforated and into which are welded collecting vanes, with coalescing foam pads located between these vanes. (After filters may feature in situations where there's smoke; pre-filters in the case of grinding.) The units come in seven sizes and each is also offered in stainless steel (powdered-coated steel is the norm).
PURCHASE, ROLL, WELD, SPIN, COAT, ASSEMBLE, TEST
Raw sheet material, plain and perforated, is bought in. For the cylindrical body and drum, these sheets are rolled into cylinders and welded along their seams. Forms and flanges/lips are introduced into these two parts, as well as to the sheet metal discs that are the starting points for the other two parts, via spinning, using manual, powered and programmable Leifeld machinery (Machine Tool Investments, 01564 78 3700).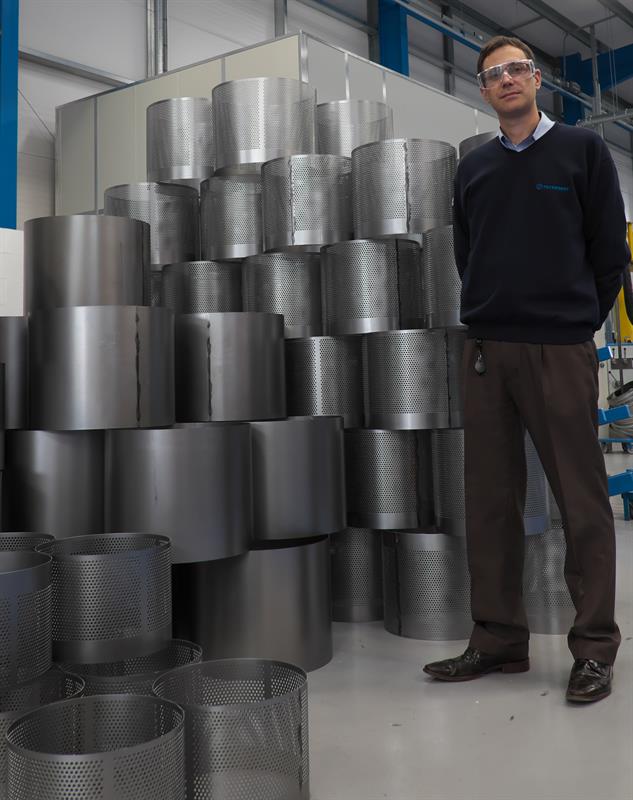 James Stansfield next to rolled and seam-welded cylindrical body and drum components
Spinning is not a common operation, far less so an in-house spinning operation at an equipment maker, as it is normally a subcontract service. As it happens, Filtermist didn't acquire this capability until 2004, when the local company it subcontracted work to, Metal Spinners (Birmingham), closed. Filtermist acquired both its equipment and skilled personnel, hence its unusual in-house capability.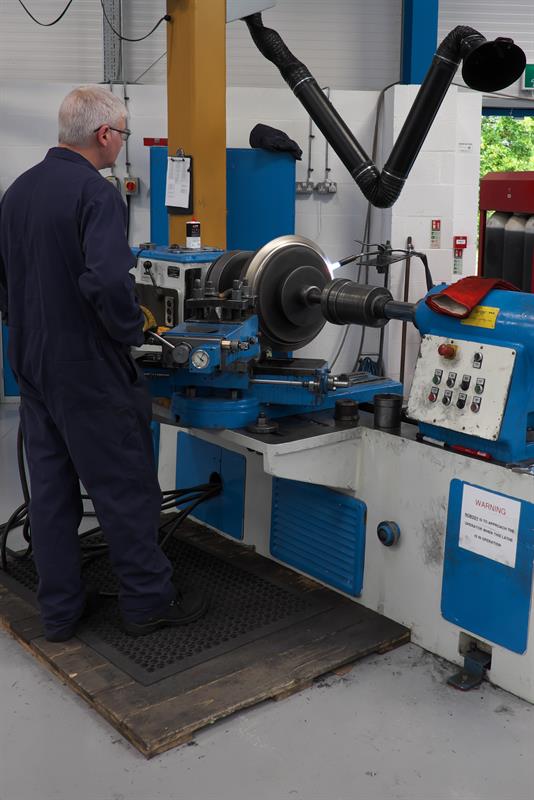 Spinning stainless steel parts requires the input of some heat
Once formed, the diaphragm goes out to have apertures punched in it, while all powder coating is also subcontracted. Balancing of the returned coated drum is a pre-assembly operation, otherwise all coated parts go to assembly, followed by 100% unit testing. A make-to-order environment, production is based around weekly requirements, meaning that many different units in mostly low volumes of single figures up to a few 10s pass through the factory on a weekly basis. (The company additionally makes its own system stands and brackets in house.)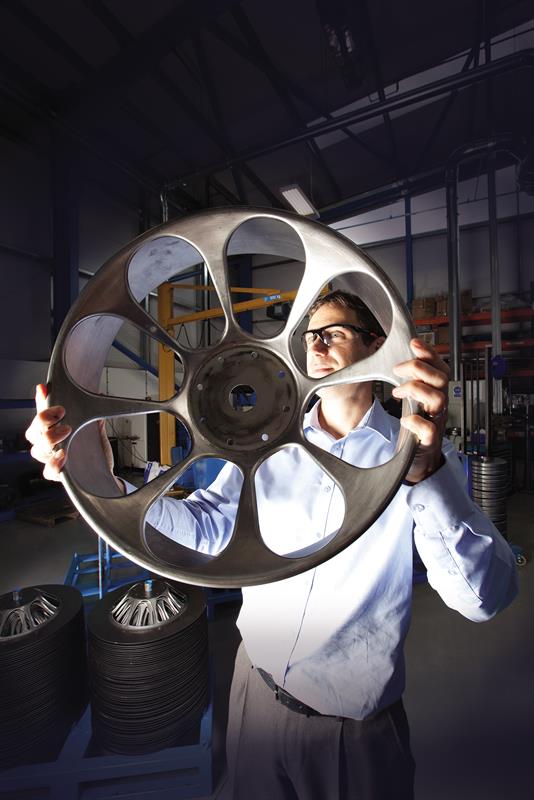 James Stansfield holds a returned diaphragm part, now complete with apertures
With such an uncomplicated product, innovation opportunities are not high and the pace of development and new product introduction has, admits Stansfield, been a little slow in the past. But, with the backing and support of Absolent Group, a major product release every year is anticipated, with the trend already having begun – the company launched its Vortex pre-filter in 2013, followed by the dual monitoring system F Monitor in 2014 (see www.machinery.co.uk/57505 for both), with the Sub-micron Filter now joining them this year (see below).
Sub-micron Filter - a neat solution for high pressure coolant
Introduced at EMO, Milan this month, Filtermist's Sub-micron Filter is specifically designed for use in neat oil applications, including those involving high pressure that can generate a significant amount of oil mist.
High pressure coolant systems atomise neat oil into thousands of sub-micron particles that quickly block up traditional filter cartridges. The Sub-micron filter is made from hi-tech synthetic materials connected to a patented venturi suction system that is created by a specially developed connection to a Filtermist unit's drain tube. The system ensures that a large percentage of the oil filtered out by the paper media is drained back to the machine, increasing the lifetime of the filter.
Filtermist - Other business activities
Filtermist represents Absolent AB in the UK, but this represents just 8% of its turnover. These filter-based systems are typically fitted as centralised systems, not per machine, as are Filtermist's. The company also supplies to the UK market coolant control equipment, taking in mixing valves, tramp oil skimmers, liquid pumps and the Loc-Line articulating coolant pipe system, accounting for some 3% of turnover. Products within this come from various global distributors, in fact. Linked to this is a dedicated UK operating division, Direct Filtration, which offers a range of filter rolls and filter media used in process, air and hydraulic applications; another small part of its turnover.
Filtermist also offers service and maintenance for both its and others' air filtration equipment here in the UK, too.
Air-cleaning system types - technology pointers
The centrifugal method as used by Filtermist employs impaction to coalesce the droplets, making them heavier and easier to remove. The unit spins at a constant speed and its design supports consistent filtration performance.
For systems that employ media filters, these are very effective, but as the media can block with particulate, the fan has to work harder - consuming more power to keep the air flow. Eventually the media blocks and must be changed, with the dirty media pack disposed of in a responsible manner, as it is full of contaminant.
Electrostatic filters work by negatively charging particles as they pass through the unit, with positively charged collecting plates removing the particles. These plates build up a layer of contaminant that acts as an isolator, reducing the collecting performance of the unit. Such units require frequent stripping and cleaning in order to keep the plates clean and functioning effectively.
First published in Machinery, October 2015