With an approaching 40-year local presence in the UK, last month $5.5 billion turnover (fiscal 2015) global factory automation expert FANUC opened a massive new facility on Coventry's Ansty Park, just opposite the Manufacturing Technology Centre (part of the government's High Value Manufacturing Catapult network). All told, some 300 were present as FANUC chairman and CEO Dr Yoshiharu Inaba, along with UK managing director Tom Bouchier and FANUC Europe CEO and president Shinichi Tanzawa, raised a glass to toast the official opening of the 107,000 ft2 new building, which, incidentally, already has land available for a 25% future expansion.
The official toast as the new facility is opened. L to R: FANUC chairman and CEO Dr Yoshiharu Inaba, along with UK managing director Tom Bouchier and FANUC Europe CEO and president Shinichi Tanzawa

The new facility is four times the size of the company's previous home, which was just five or so miles away, and, importantly, sees all divisions of the 100-plus-employee
FANUC UK organisation
– Factory Automation, Robomachines and Robots – under one roof for the first time. As Bouchier observes: "Our new headquarters represents a new approach for FANUC UK, with all parts of our business brought together under one roof for the first time in the UK. By consolidating these functions, we can enhance our capabilities and provide customers with a combination of solutions to meet their every need.
"This investment [of more than £19 million] has helped grow our capacity and, more crucially, has enabled us to strengthen our training services. Training is essential for our customers and our new training area is equipped with state-of-the-art robots, enabling users to fully exploit the capabilities of robotic technology. Our relocation will drive further growth, develop our team and strengthen our services, solidifying FANUC's position in the UK as a market-leading manufacturer and solutions provider."
The bringing together globally of the company's three divisions in 2013 was Dr Inaba's initiative, in fact, and this new facility now more than adequately underlines that to a UK audience.
MORE TRAINING CAPABILITY
Expansion of the UK facility has helped to enhance FANUC UK's training academy's capabilities through the introduction of a new advanced course for more experienced engineers. The dedicated suite consists of four training rooms, each of which caters for up to eight students at any one time. The FANUC Academy houses eight robots of various sizes, as well as 12 simulators for factory automation. Training programmes are offered on FANUC technologies such as Roboguide sofware and FANUC iRVision for robots, while bespoke training can be created based on individual customer application requirements. All courses provide practical, hands-on training, exploring the areas of programming and maintenance. Importantly, the expanded facility sees Robodrill machining centres and Robocut wire-cut EDM machines within the training area for the first time, Machinery was told during a tour.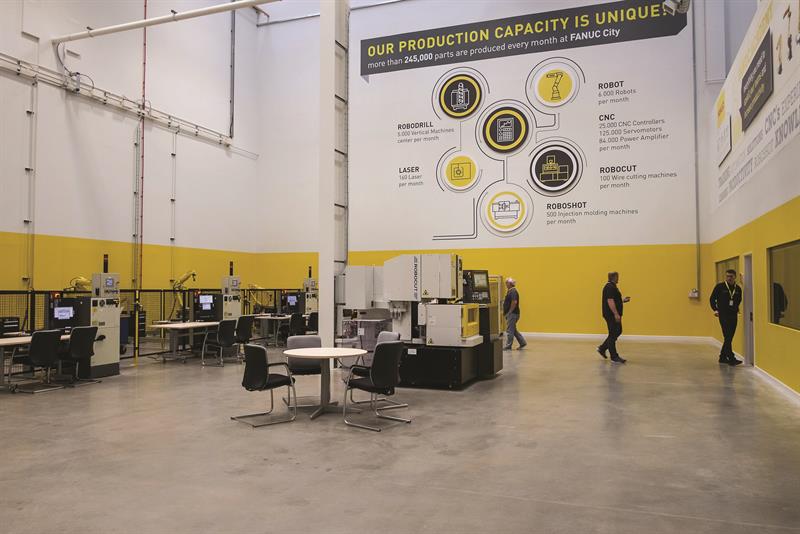 A larger training area is one of the new facility's advantages

More space (5,600 ft
2
) for spares stockholding is also available at the new location, with this set to be doubled from the current 19,600 parts/£2 million figures. This is backed by Luxembourg's 300,000-part figure. An increase in service personnel numbers was also stated as a future ambition by Shinichi Tanzawa.
There are expanded areas too for the build and commission of robot-based factory automation systems (currently the "UK's best" such facility with the intention of making it the "UK's biggest", Bouchier said), the local customisation of standard robots and Robomachines, plus a larger area for trials and demos (2,000 ft2). Much of this new space was, unsurprisingly, vacant as at the official opening event.
A larger showroom, filled on the day by many visitors

In his speech, Dr Inaba underlined FANUC's 'service first' and 'lifetime maintenance' themes, highlighting that the company has 247 service organisations in 41 countries. "We are constantly striving to improve our top-class services, and support machine tool builders and end customers all over the world," he said. And in the UK, FANUC has, since 1980, supplied 3,000 CNC units 9,000 robots and 700 robomachines to manufacturing industry,he underlined.
Tanzawa further expanded on the service and maintenance aspect of FANUC by revealing that, for Europe, its CNCs cost about £8/month to maintain and its robots £18/month. He also revealed that, for the first time ever, FANUC is establishing a development centre outside of Japan, in Germany, to better and more quickly support European customer requirements.
Dr Inaba added that the company is working on developing technology for the Internet of Things (IoT) and Industry 4.0,as well as on the incorporation of artificial intelligence "in each of our products". And he added that "with this new FANUC UK facility, we will ensure the delivery of these state-of-the-art technologies to all our customers".
Such leading-edge technology is, perhaps, most graphically illustrated by the connection of more than 10,000 robots within GM (mostly in America but starting at Elsmere Port in the UK) to the cloud, supported by CISCO technology. This so-called Zero Down Time initiative eliminates unscheduled downtime by flagging up maintenance needs before they become critical. Dr Inaba told Machinery that last year this eliminated 200 instances of such unplanned stoppages and that GM is "very happy". An expansion of this system within GM is underway globally, he confirmed (see also https://is.gd/obukid).
Asked if this type of thinking could be extended to machine tools, he said "yes", adding that a system is being developed to monitor machine tool main spindle heads. FANUC is working with Japanese artificial intelligence expert Preferred Networks Inc, in which it has a minority shareholding (see https://is.gd/cidesi). Making use of 'deep learning', "this is not a trivial issue", Dr Inaba told Machinery; a development at JIMTOF 2018 is a possibility.
BIG WINS TO COME FOR CNC
Asked if there are any 'big wins' still to be had in CNC technology, the leading global supplier of such units' chairman and CEO responded in the affirmative, although was unwilling to give specifics. But he did say that there are two broad areas: standalone machine tool performance, taking in ease of use of operation, support of faster and better cutting conditions, together with energy use minimisation; and managing machines as a networked group, considering the output of such a group. On the latter, this centres around robot-loaded machine tools and is intended to support greater flexibility as production volumes or products change, as well as share production across machines, should one of a group become unavailable – this effort has an automotive focus.
Existing elements of the latter were demonstrated during Tanzawa's speech. He illustrated the ease with which a machine tool and robot system can be configured and programmed, using FANUC's Roboguide HandlingPRO software. And because machine, robot control and Roboguide are single source, identifying cycle times and collisions is made easy (video: https://is.gd/uhuquk). FANUC is making a push into the automotive sector with this, working in Germany and the UK to get its robots and CNC units more widely adopted, he said, which is a prerequisite for the combined robot/CNC solution, of course.
Finally, Dr Inaba revealed to Machinery that FANUC will offer a laser and control system package to machine tool builders to support additive manufacturing, following the company's introduction of fibre laser technology last year.
Box item 1
IoT and 'deep learning' in the FIELD
FANUC's IoT technology is centred upon its open platform system FIELD. This can host both FANUC and third-party applications. FIELD supports connected factory equipment's realtime requirements (collision monitoring, cutting condition optimisation), with latency in single figure milliseconds versus cloud's at least 20-30 milliseconds. FIELD covers layers one to four of the seven Industry 4.0 layers, says Dr Inaba.
FIELD can employ deep learning algorithms, developed by FANUC in partnership with Preferred Networks. An example of deep learning implementation is robot-based bin-picking applications. A challenge for robots, requiring skilled programmers, FANUC has improved the bin-pick success rate significantly, with minimal robot teaching. Through multiple trials, robots learn which part in a bin is positioned most optimally for picking, with networked robots able to share their knowledge.
Box item 2
Three divisions represented as "One FANUC"
Factory Automation takes in CNCs, servo-motors and laser oscillators; Robomachines takes in Robodrill machining centres, wire-cut EDMs and Roboshot electrically-driven moulding machines; and Robots includes both traditional and, latterly, collaborative robots. In fiscal 2015, sales for each were 27.3%, 29.4% and 30.2% of total sales.