Linear guides are found in machine tools and other industrial machinery, but the use of systems made by Hepco spans many sectors, including aerospace, packaging, printing, electronics, pharmaceutical, medical, construction and even art (right).
With its roots in 1950 as Forsters Machine Company Ltd, the Hepco name and a focus on slide systems hails from 1969. Today's 350-employee Forster family-owned firm is under the chairmanship of third-generation family member Giles. Since 1989, the company has been headquartered in Tiverton, Devon, where a wide range of products is manufactured, including linear, circular, track systems, heavy duty and XYZ systems. R&D, sales, marketing and accounts are also located here, while the company's high volume V bearings are manufactured at Braintree Precision Components (part of the Hepco group) in Braintree, Essex. An established global player, Hepco makes in excess of 50 km of track annually and exports generate 75% of its turnover across 63 countries.
In its simplest form, the company's products are centred around a guide, bearings and a carriage plate, with the guide and bearings having a mating V profile. The guides can be straight or curved, or a track system for combining linear and rotary motion applications (opposite page, top). Work-appropriate accessories can be fitted to the carriage plate for a wide range of applications. The geometry of the V system means debris is expelled, making it suitable for harsh environments (in the machine tool sector, toolchanger systems, for example - https://is.gd/peculo).
As Barry Engstrom, group manufacturing director, explains: "Hepco is a UK-based producer supporting its own global sales network. The company is committed to producing high quality products and supporting customers with its technical sales force [all 45 field sales staff are engineers with technical product knowledge], flexibility to accommodate customers' product wishes, customer service and delivery". The first four are ultimately useless without the fifth, which is where there is a strong emphasis – to be able to offer ex-stock delivery of popular standard parts, without, of course, holding large quantities of inventory. (Projects, some 2,000/year, are a significant part of the company's business and delivery is still key here.)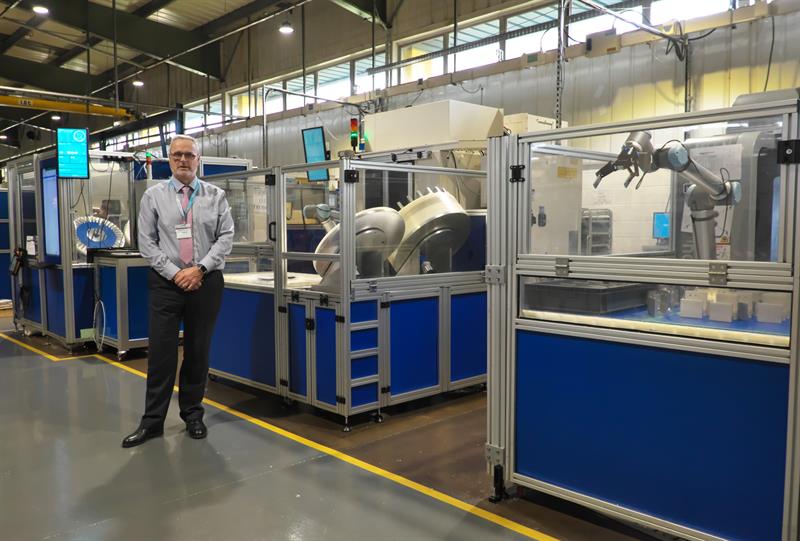 Barry Engstrom in front of the automated machining centre cell
Hepco's delivery of several days for certain products is competitive, considering well-documented worldwide delivery issues. Factors such as this have certainly helped drive growth of well into double-digit percentages over the past two years, resulting in increased pressure on production capacity and space restrictions; a nice problem to have, and one that Hepco is striving to manage by implementing changes at the 200-employee Tiverton site. Additionally, like everybody else, there are skilled labour availability issues – there is no ready pool of labour around Tiverton. The latter is an industry-wide issue and is despite the company being an avid apprentice trainer for 25+ years (see extended online article). About a third of the company's management team are former apprentices – including the chairman, who has been in place for five years. "We wouldn't have grown without this," Engstrom emphasises.
With Hepco having recently established a presence in China and strengthened its South Korean branch, and with the chairman keen to look at other new markets, growth is likely to be the order of the day for some time. A cost-effective solution to overcoming production and delivery constraints is therefore key.
In line with this, Hepco is currently on a world-class manufacturing journey, with some £2.5 million being invested in Tiverton over the past couple of years alone. At the helm and driving these changes is managing director Peter Fanshawe, who has been with the company for 30 years, seven of these in his present position.
A number of threads underpin this effort, but a recent and key one is automation, with this being pushed forward via collaborative robots for loading machining centres (cobots – robots that can work safely alongside humans). Indeed, Hepco's adoption of Universal Robots' UR10 units (Applied Automation, https://is.gd/vituzi), which now stands at four, probably puts the company in the top tier of cobot users for machine tool loading purposes in the UK, for a company of its size, Machinery suggests. The company additionally has one KUKA industrial robot-served machine tool, while further cobot installations up to another half a dozen are envisaged, Engstrom reveals, although they may not be identical units, he adds.
It all started in late 2015 with the KUKA installation serving an existing FANUC Robodrill (https://is.gd/ematin), but why? "Initially, we didn't think that robots were relevant," the group manufacturing director says. "We are not a high volume parts manufacturer, like Braintree, so it was always felt that, as we were doing 10, 20s, maybe a few hundred here or there, it would take longer to set up than run. But technology is moving on, so we kept an eye on it. The investment to get the process developed is time; once it is running, it is just as quick as changing a tool over in a machine."
A RoboDrill T21i CNC milling machine using a KUKA 'KR 10 R1100 sixx' (KR AGILUS) was chosen for the first project. This enables Hepco to machine unmanned overnight, increasing production capacity for standard carriage plates. HepcoAutomation, part of the Hepco Group of companies responsible for delivering automation solutions, is an approved supplier for KUKA Robotics (https://is.gd/viyuxo), in fact.
Sawn blanks are loaded into two rotary tables from where the robot takes one and loads it to the machine. Following machining, the robot returns the finished carriage plate back into the exact space in the carousel from where it was taken. There is space for 80 plates to be loaded in the rotary tables.
STACKS OF WORK
The cycle time depends on the size of the carriage plates, but can be between 9-14 minutes per plate, including the robot changeover time. Again, depending on the product, the complete batch cycle time is around 16 hours.
Appropriately, the carousel holding the metal plates is made using Hepco's PRT2 ring guide, indexed through an Omron HMI PLC as necessary. And the sliding safety doors between machine and robot are fitted with Hepco's DAPDU2 dual-action linear actuator (https://is.gd/ciquva).
The 10 kg capacity KUKA unit is not a cobot, however, and the machine can only be run in an automated fashion; fine for the high volume carriage plates, but for lower volume parts a different solution was required. Yet with the principle of automation demonstrated, thoughts turned to more of the same, but at reduced capital cost and with more flexibility. "In the latter part of 2016, we came across UR robots," says Engstrom, and the journey with cobots began. The cost to install is between £20,000 and £30,000 all in, which is better than half the cost of an 'industrial robot' solution, he offers.
First, a second similar FANUC Robodrill was fitted with a UR10 and two carousel units, allowing for faster changeover between parts, but the machine was still not used in manual load mode. For lower batch numbers and greater part flexibility, the next step was to add a vision system to the UR robot, dispense with the carousels and additionally allow machines to be hand-loaded.
Two existing Hurco (https://is.gd/utebev) vertical machining centres are now set up like this and batches of 10s-off are a sensible bet to automate, once the program is proved, Engstrom suggests. Already some 350 parts are programmed for CNC production and automation, and there's still a further 1,000 manually-produced parts to go at.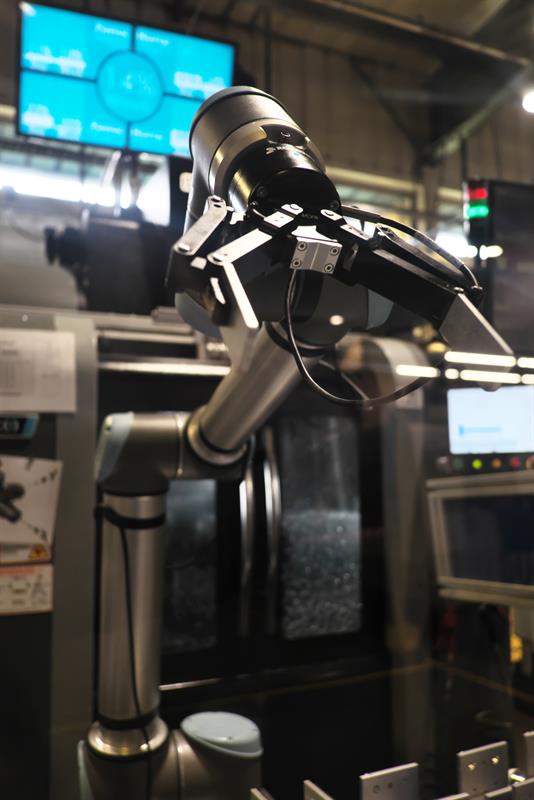 One of the Hurco machines that can be run automatically or manually
The next step is already underway, with a mobile unit incorporating a UR10 robot being assembled as at Machinery's March visit. This will be used initially on a Bridgeport CNC milling machine that is currently run on a single shift across five days, but will otherwise be available to serve other machines. For future projects beyond this, the 10 kg limit of the UR10 might be an issue, hence the possibility of casting the cobot net wider in future, or even a return to non-cobot 'industrial robots', like the KUKA.
Measured benefits, apart from more capacity via the potential 24/7 running across automated machines, are: an increase in part availability, from 78% to 92%, on 200+ parts, due to increased capacity and fast reaction offering on-demand, kanban manufacturing (see box item, 'Supporting technology', below); improved quality, due to consistent loading positioning; plus OEE of between 65-75% across two or three automated machines and 45-50% across all four, versus 21-32% for manually-loaded parts. ■
Box item
Supporting technology
Automation is not the sole tool in the box in support of the pursuit of world-class manufacturing at Hepco, Tiverton. Machine-based cells, organised around lean manufacturing, 5S and standard operating procedure principles are being established. The first, some three years ago, is a grinding cell created around a new slide grinder for V profile machining. A second identical grinder and cell is being set up. The assembly area was similarly refreshed, in 2016, and ongoing is the creation of a ring track production cell with local finished part storage, driven by one of the company's apprentices. There is also the automated machining centre cell covered in the main article.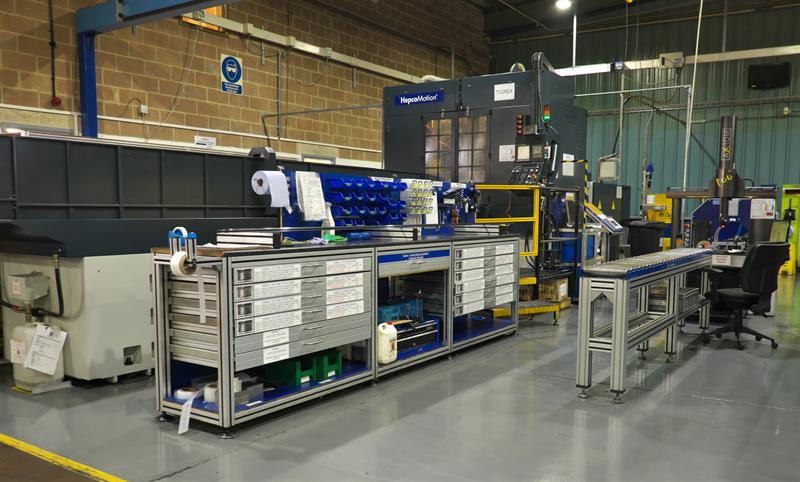 Cells are being established at Hepco. Here the V profile grinding cell
Kanban-driven production of standard parts is the objective of cells, which also boast PC screens linked to the company's K3 Syspro production control system (https://is.gd/aditiv), these displaying green, yellow or red against part numbers as a guide to unallocated stock status. Red means stock is required, green that it is not, yellow that it is not yet critically low. Overall, seven kanban cells/screens will be operating.
Prior to automation, some two to three years ago the company began operating a Werma (https://is.gd/iciyaj) light-based system to visually indicate machine status (running or stopped) in an effort to drive its recent machine investments harder; stoppage codes can be entered to track what problems are arising. There is an office-based system that managers can view, which gives visibility of stoppage reasons, driving improvement. And there are email alerts generated to notify relevant individuals via this system, too. As a recent extension of this, an apprentice is linking screens to the Werma system that will indicate machine and cell operating statistics; the automated machining centres being the first to get this treatment. The idea is to provide the shopfloor with tools that help drive improvement and, Engstrom adds, engender a bit of healthy competition. Further investment in shopfloor tracking and scheduling is planned.
In another move, the introduction of Solidcam CADCAM (https://is.gd/jovisi) has also slashed some cycle times, versus hand-written NC programs – savings of 30-65% are quoted. And in terms of space-efficient cell-side storage, vertical carousels have been introduced; first use is in the assembly area, the latest unit is on the machine shop for holding ballscrews and shaft parts, with more to follow.
Extended feature from here
Training the workforce - new demands, new approach
Hepco currently employs 15 apprentices and will take on another four this year. Since 2016, apprentices have been trained at Exeter college, which is helping to support Hepco's drive towards more CNC machining and automation. Exeter College has made major investments to support apprentice training, recently spending some £3 million on equipment that includes robots (having opened its £8.5 million Technical Centre in 2012 (https://www.exe-coll.ac.uk/College/About/Technolog... ). Explains Engstrom: "When we started talking to them in 2016 about where we were going and what we were doing with robots and CNC machining, and how we are modernising our apprenticeships, they said they would support us. The Exeter College Centre for Advanced Industrial Automation opened last September and it has been really positive, with apprentices now more engaged in adding value.
"Apprentices are now operating machines during the second half of the first year; before, it was sometimes not until the end of year two before they got involved in manufacturing. And a lot of what we are doing around automation, they can get involved with. Youngsters can learn this easily. We also started offering Higher Apprenticeships six years ago, as opposed to Advanced Apprenticeships. The former are more craft skilled focused, while the Highers are A level students and are adding really good value. Some years we only take Highers. As we are moving down a higher technology path seeking greater efficiency, we need skills to support that. We involve such apprentices in improvement projects early [a third or more of the project team are apprentices] and they do this from day one, under guidance; they don't simply man machines."
First published in Machinery May 2018