The goal is to accelerate design modifications and reduce weight to increase performance.

Stratasys FDM and PolyJet 3D Printing Solutions are being used to produce final 3D printed race-ready parts for the new McLaren MCL32 race car, as well as manufacturing aids to advance production.

Some of the 3D printed parts designed to improve performance, which have been applied to the 2017 car include a hydraulic line bracket, flexible radio harness location boot, carbon fiber brake cooling ducts, and a rear wing flap.

Says Neil Oatley, design and development director at McLaren Racing Limited: "We are consistently modifying and improving our Formula 1 car designs, so the ability to test new designs quickly is critical to making the car lighter and more importantly increasing the number of tangible iterations in improved car performance.

"If we can bring new developments to the car one race earlier - going from new idea to new part in only a few days – this will be a key factor in making the McLaren MCL32 more competitive.

"By expanding the use of Stratasys 3D printing in our manufacturing processes, including producing final car components, composite lay-up and sacrificial tools, cutting jigs, and more, we are decreasing our lead times while increasing part complexity."

Stratasys and McLaren Racing announced their partnership in January in a bid to push Formula One additive manufacturing boundaries.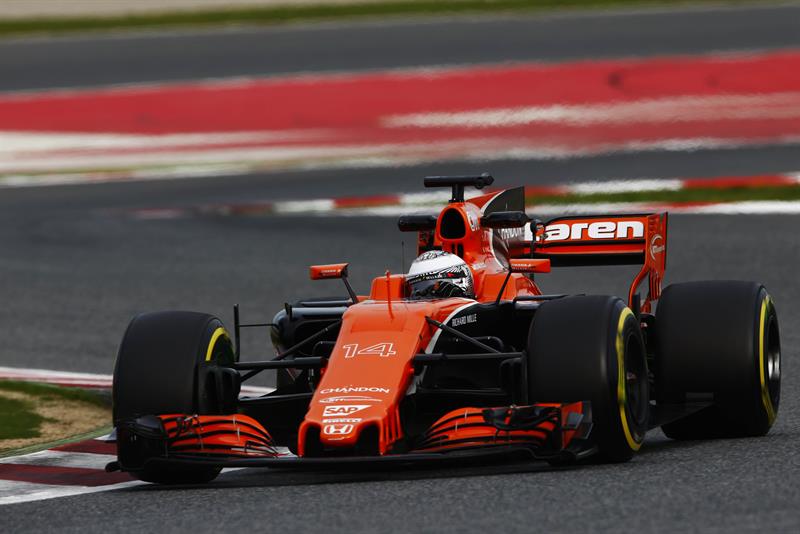 To further accelerate design and manufacturing cycles, McLaren Honda will also be taking a Stratasys uPrint SE Plus to track testing and races on-site, so that the team can produce parts and tooling on demand.

Andy Middleton, president of Stratasys EMEA, adds: "As the official supplier of 3D Printing Solutions to the McLaren-Honda Formula 1 team, we are working closely together to solve their engineering challenges in the workshop, in the wind-tunnel, and on the track.

"We believe that this, in turn, will enable us to develop new materials and applications that bring new efficiencies and capabilities to McLaren Racing and other automotive designers and manufacturers."