The new Liquid Metal Printing (LMP) system premiered with its first-time presentation at the Grob in-house exhibition last month, where it was announced the move into the fast-growing sector.
Grob notes AM is becoming increasingly important in particular for prototype manufacturing, but also for small and medium-sized series components, for highly customisable components, or those with complex geometry.
LMP was developed at Grob for a future-oriented, economically sound and flexible AM process that eliminates the disadvantages of traditional AM in the metalworking sector.
With the GMP300, Grob says it offers its customers reliable, efficient and cost-conscious system technology with maximum production flexibility for individual and small-series production.
The work area is 300 x 300 x 300mm. The GMP300 is equipped with 3-axis kinematics and maximum axis speed of 30 m/min. The inert atmosphere protects the component from oxidation, guaranteeing consistently good material quality.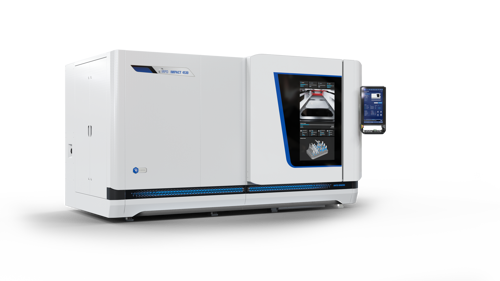 Meanwhile, the United Grinding Group has developed its own brand under the IRPD brand. The new IMPACT 4530 machine (pictured above) has a high degree of automation and it says while the machines available on the market are largely based on manual processes and difficult to integrate into the manufacturing process, the IMPACT 4530, is designed for safe operation under industrial conditions.
Daniel Erni, managing director of IRPD, says: "Given its stable reproduction conditions, accuracy, quality, and scalability, the IMPACT 4530 is the first industrial-grade additive machine tool to bear the 'Made in Switzerland' label."
The high repeating accuracy is reinforced through the use of smart software, as the new machine is equipped with the new C.O.R.E. technology. The Group's hardware and software architecture enables intuitive operation and networking with other machine tools, and allows machines to prepare for production largely on their own.