Held at Okuma agent NCMT's Coventry technical centre and showroom in June, more than 70 visitors attended. Demonstrations at the seminars were performed on a Multus U3000 2SW turn-mill centre, while power skiving also ran on an MU4000V-L 5-axis vertical machining centre.
Power skiving is intended for producing gears in large volumes to high accuracy using a dedicated tool for each type and size of gear. The skiving tool sequentially roughs and finishes the component. The 3.9 module spur gear produced during the demonstrations had a deep tooth profile that requires robust machine tools to skive the finished product from a solid billet. NCMT proved on its Leitz CMM that a Class 6 spur gear was achieved by power skiving on the Multus machine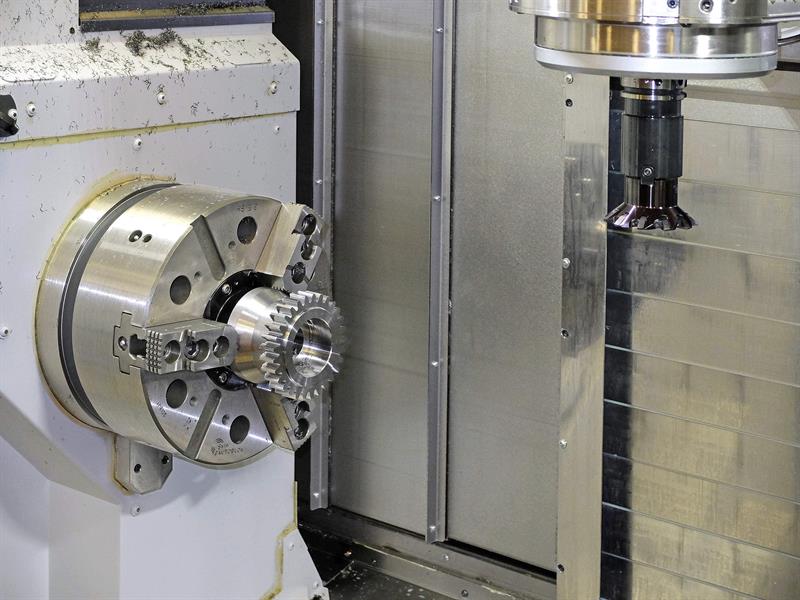 A 3.9 module gear being power skived on the Okuma Multus U3000 2SW multi-tasking turn-mill centre

Another process demonstrated was InvoMilling, a flexible machining technique capable of producing different gears using the same standard milling tool. Helical and spur gears ranging from module 2 to 12 can be produced with just two tools, for example. Other tools are available to cover a module range of 0.5 to 100.
This process is ideal for prototyping and small to medium batch production, as well as for producing larger modules, pinions and complex gears such as a herring bone with gap. Neither is there any limitation to the root form. Due to the use of standard tools, it is possible to save many weeks in manufacturing lead-time by not having to wait for special tools to be delivered.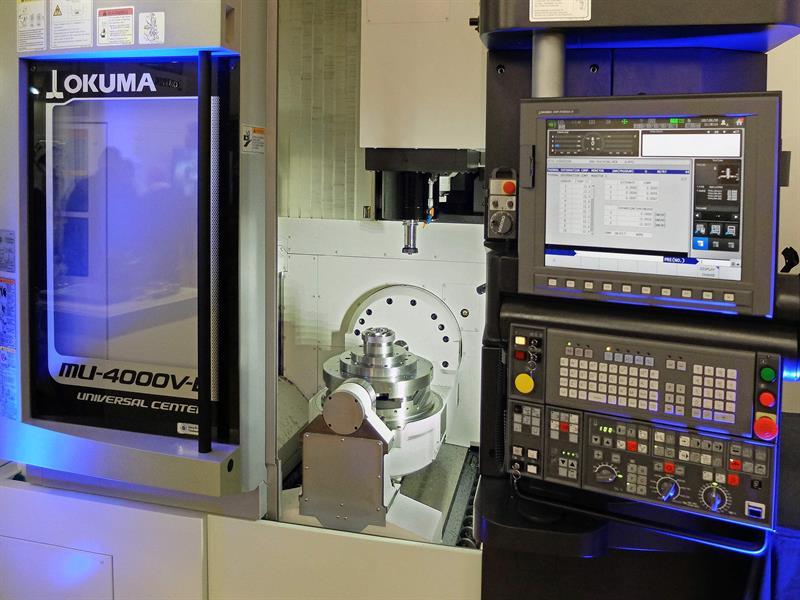 The Okuma MU4000V-L 5-axis vertical machining centre being used to power skive a 1.5 module
Other gear production techniques and their relative benefits were covered during the presentations, including hobbing using a carbide inserted cutter, shaping and spiral bevel milling.
The company's engineering director Adrian Maughan said, "There is an increasing interest in producing gearboxes that are more compact, lighter and more efficient.
"The flexibility, high productivity and lower investment cost offered by producing gears on 5-axis machining centres or multi-tasking lathes from Okuma, coupled with their high levels of accuracy and repeatability, makes them ideal for the purpose.
"We not only showed the wide range of external and internal gear types that can be machined but also proved the high level of precision attained by measuring them on our recently installed Leitz CMM equipped with the latest Quindos software."