Through its Cardev Motorex operation, Environmental Technologies is bringing premium Motorex Swiss metalworking fluids (MWFs), incorporating both neat cutting oils (Swisscut) and water-miscible coolants (Swisscool), to the UK. It is marrying this to (Cardev) oil filtration plus coolant mixing/transport/recycling/cleaning equipment and services to prolong oil/coolant life and minimise its usage.
At first glance, this might seem an odd pairing. Why would a company that supplies coolant want to simultaneously minimise its usage? Viewed through the standard prism of the coolant supply industry, where delivering large volumes at lowest price per barrel is the emphasis, that might be so.
But Environmental Technologies (01423 522911), in partnership with various coolant/oil suppliers, has already been reducing costs and volumes for some 15 years via its Cardev equipment offering – where coolant suppliers have instigated such a process – but it now wants to drive that process more directly, spreading benefits more broadly, as James Byrom, managing director, Environmental Technologies, explains: "If our customers take into account the full and wide-ranging benefits of coolant handling and high performance metalworking fluids, there will be virtually no site, big or small, where we can't offer process improvements, environmental savings and health and safety benefits. In turn, these factors will create financial savings and remove 'headaches', allowing our customers to focus on production." And paybacks as short as three to six months are claimed.
With its oil filtration roots in the 1990s, Environmental Technologies and a forerunner company have been tackling the coolant market for about 15 years. Byrom, who initially became involved with the forerunner some 25 years ago when he was 12 years old (part-time working while at school), now heads up 30-employee, £5 million turnover Environmental Technologies, the company he set up in 2009, incorporating the previous activity.
Working with other oil companies, he can already cite several success stories, taking in aerospace firm Senior Weston Aerospace, Earby, Lancashire, and Senior Aerospace, Thailand, for example (see below). The former sees recovering and recycling of in excess of 10,000 litres of coolant per week, which in turn is reducing consumption of concentrate by 500 litres a week.
MOTOREX – WHAT'S IN A NAME
But who and what is Motorex, and what are its 'premium' credentials? Motorex is the oil product brand of the Swiss Bucher-Motorex Group. That group comprises lubricant specialist Bucher AG Langenthal and its divisions Motorex AG Langenthal (industrial lubricants, including MWFs) and workshop equipment supplier Motorex-TopTech AG, all located in Langenthal in the Canton of Bern.
Bucher-Motorex Group is a family-owned operation of approaching 100 years' standing. Motorex AG Langenthal was formed in 1974 and is dedicated to developing, mixing and supplying MWFs and associated products, such as EDM and grinding fluids, spindle coolants, hydraulic and slideway oils and more (http://is.gd/l3Mbkl), all of which Cardev Motorex will have access to, stocking locally a reduced range.
The Bucher-Motorex Group boasts 330 employees and a turnover of £120 million (CHF170 million), and through Bucher AG Langenthal produces around 35,000 tonnes of oil product, delivering it to 82 countries; Bucher AG is the largest oil blending and manufacturing company in Switzerland, in fact. In achieving this, it makes use of 60 base oils and 600 additives (which may also themselves be mixtures) to produce 2,500 oil formulation for sales. These are "big numbers" says Jörg Haas, Motorex AG Langenthal area sales manager, emphasising that this is not the norm.
Within that large number, over 500 are industrial lubricants, with 30-employee Motorex AG Langenthal (supported by shared group personnel) responsible for 6,200 tonnes/year (34,000 drums or 420 truck-loads) and a turnover of £21 million (CHF30 million). Motorex industrial lubricants are supplied to 36 countries worldwide.
The Motorex brand is Swiss market leader for lubricants in general, while its MWFs alone claim 35% of that country's consumption (51% for neat and 18% for water-miscible) – it is additionally number one in the Swiss watchmaking and medical parts industries, claims Haas. Across Europe, it probably has no more than a 2% market share in any one country or region, he admits, although adds that this is not unusual as country and regional strengths are a feature of the MWFs industry, with even the largest players not having "much more than 10%" in a market or region.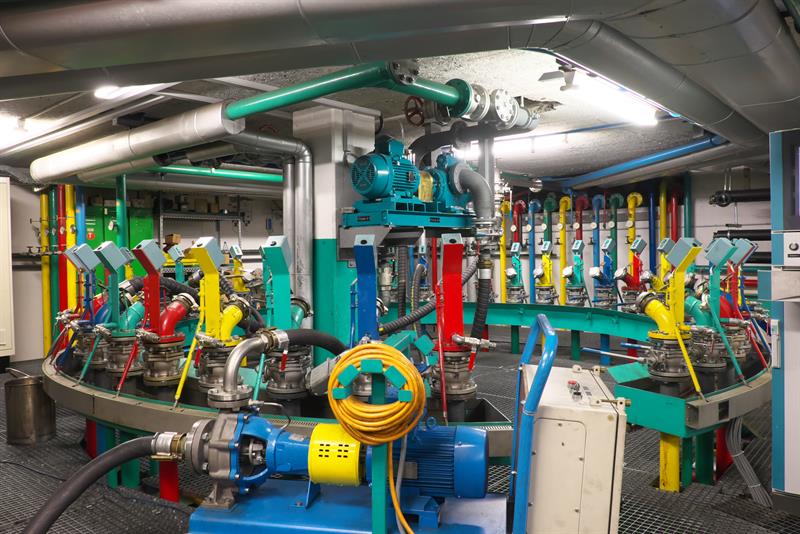 The oil draw-off carousel at the Langenthal site
INNOVATOR WITHOUT EQUAL
Crowning all those figures, however, is the claim that Bucher AG Langenthal has the "highest rate of innovation in the industry", while the group is financially independent of banks, giving it flexibility to follow its own chosen path and "allowing the company to invest in a way and at a speed that it can digest", says Bucher-Motorex Group CEO Edi Fischer. And, underlines Haas, this also means that discussions between customers and salesmen can quickly be fed into product development. Indeed, the 2,500+ formulation number quoted earlier includes 'customer versions'.
Fundamentally, Bucher AG Langenthal develops sophisticated, technologically advanced lubricants, targeting innovations for and with its customers. Critically, all formulations are designed and manufactured in-house, stresses Stephan Lanner, Motorex AG Langenthal business unit leader: "We have all the competences here: R&D, chemists, application engineers, salesmen and marketing people, all are here together. This is one of our specific strengths."
And he adds that the company's sales approach is one of consultancy, "selling oil and our face [capabilities and expertise] in the same moment", with this strategy linked to its relatively low market share versus the larger companies selling on volume and price. But the company is "not afraid of multinational competitors", Haas adds. Indeed, Lanner qualifies this by saying that because Motorex exists in what would be considered by such volume-focused firms as a low quantity niche, these larger companies are unlikely to spend time developing challenger products.
Because of this intensive approach, working with, say, large global automotive firms is not its modus operandi, but rather smaller OEMs, such as makers of motorbikes, agricultural machinery, hand tools, snow mobiles and ski lifts, for example. "In the last 15 years, the biggest portion of our growth has come from that which we achieved together with our customers," highlights Lanner, instancing motorcycle maker KTM as one such example where high performance products, in this case motor oil, were developed collaboratively.
It is this high level of service backed by premium products that Cardev-Motorex aims to bring to the UK market, targeting companies whose requirements stretch from one to 100 barrels/year. It is an approach that it has already applied as Environmental Technologies with its Cardev equipment, but via the new operation it now offers "the best equipment with the best fluids", is "unique in what we do; offering a high level of service and reducing volumes [of coolant] at every step", says Byrom.
Adds Cardev Motorex sales manager Alan Dalton, who boasts 20 years' experience in this market: "We can spend time fixing issues, focusing on specific applications where the requirement is not for large volumes of coolant. Would a large company spend two days working with a customer for a couple of barrels a year? Probably not. Ours is a technical sale and one that also, typically, involves equipment."
And reflecting this, Fischer says: "We select distributors that have people that understand the business and customers' technology, and who have know-how. What we don't like to have are distributors that sell all types of lubricant: from motorcycle to metalworking fluids, from trucks to cars. That's why we have three distributors in the UK, one each for metalworking fluids, power sport and bicycles.
"We want to be close to our customers and we believe that fluids plus people who can consult with customers must both be on a high level. The best product without the right people to help the customer is not the right solution, and we are very happy that we have this cooperation with Environmental Technologies, because we are convinced that we now have the cooperation of one of the best in the UK."
As it happens, any UK machine shop having a Fischer AG or Step-Tec high speed spindle will find Motorex spindle coolant supplied as standard, so Dalton underlines that this demonstrates the quality and performance of the Motorex brand for this 'heart' of a machine.
Implicitly attacking the price-per-barrel approach typically adopted by the industry, Motorex AG Langenthal's Haas sets out the costs associated with that route. It's like an iceberg, he suggests, where much of the cost is not of visible: "These costs are: scrap components, due to unstable MWF or lack of coolant performance; machine downtime, due to unpredictable MFW change requirements, or corrosive action devaluing machine tools; excessive machine cleaning; coolant/waste disposal costs, due to short sump life; higher coolant consumption, due to higher concentrate solution percentage required or greater top-up rate; increased tool wear and consumption – double or triple tool life is possible with a good coolant; plus health and safety/sickness issues."
COOLANT AS INVESTMENT
Turning from avoiding cost as a driver for change to a positive view that looks at coolant as an investment in increased productivity and profitability, he instances the company's Vmax technology within its Swisscut Ortho NF-X cutting oil range. This neat oil's performance actually improves as cutting conditions become more arduous (more heat, pressure).
The example is a 2 mm diameter deep hole (x7.5) machined at an angle through the length of an automotive fuel injection nozzle made of high tensile alloyed steel. Versus the incumbent house oil and using the same cutting data and carbide-tipped tool, after 384 parts the house oil showed heavily worn and chipped cutting edges and chipped supporting edges – the tool needs changing (in fact it was changed at 350); with Swisscut Ortho NFX-10 there was no noticeable cutting edge wear. After 500 parts with Swisscut Ortho NFX-10, the tool is still okay and there's no runout (continued use of the tool with house oil, for test purposes, saw both runout and continuous swarf at this point). Using Swisscut Ortho NFX-10, the tool produced 500 and was still okay for continued use, but the really interesting point is that by, first, increasing the rotation speed by 10% the tool went to 550 and then, second, by additionally increasing the feed rate by 10% it produced 600 parts. Costs were reduced by 43% and cutting time by 19%. In this example, where millions of parts are produced, savings were €180,000/million parts.
And Cardev Motorex's Dalton highlights that versus the relevant competition in the UK, while this particular neat oil offers premium performance, it does not come at a premium price, even if measured on the crude volume basis.
Concludes Byrom: "A simple calculation on raw usage figures alone clearly shows that we can be up to 50% less expensive than our lower-priced competitors over the course of a year, and that's before you consider all the other benefits of upgrading to such a high quality product."
But barriers to the message include entrenched, large coolant suppliers seen as leaders by customers but who do not necessarily offer best-practice solutions, while customers may know they need to change, may have invested in equipment to help do so, but still can't put change into practice. Cardev Motorex aims to challenge this inertia and offer technology solutions and services to realise untapped savings, while simultaneously boosting performance. Those visiting MACH 2016 in April will be able to find out more - Hall 5, Stand 5970.
Saving money with coolant handling at home
At Senior Weston Aerospace, Earby, Lancashire, the volume of metalcutting performed created an issue around cutting fluid waste disposal, both from an environmental and cost point of view.
The relocation of the business to new, purpose-built facilities provided the opportunity to address the traditional fluid disposal method. Previous methods simply allowed cutting fluids to be drained from large swarf skips and containers into underground tanks for storage, with the waste fluid subsequently collected and disposed of by various specialist suppliers. This was not only expensive but also not in keeping with current requirements to reduce environmental waste, negatively impacting its BS14001 environmental management credentials.
Senior Weston Aerospace invested in a purpose-built system to both better handle the processing of swarf and, importantly, to significantly reduce the volume of waste cutting fluid. The system developed by Senior Aerospace and Brighouse-based Cromar provided an effective solution to lift and tip the swarf from a standardised container into a receptacle, draining coolant, then compacting it into small briquettes. This briquetting reduced the volume of the swarf by 90% and removes 97% of residual coolant. Says Luke Butler, who oversaw the project for Senior Weston Aerospace: "This had several benefits for us. First, it meant that our waste contractor had to make fewer collections, and these could be undertaken by smaller vehicles with lower carbon emissions and hence a positive impact on the environment."
With an increased amount of waste coolant now being created the company turned to Knaresborough-based Environmental Technologies for advice on how best to deal with it, with the solution being to recycle rather than dispose of the drained coolant.

Cardev equipment is recycling in excess of 10,000 litres of coolant a week at Senior Aerospace, Earby
Environmental Technologies had already supplied a Cardev automated coolant mixing system to the new Earby facility, in fact, so it additionally installed a Cardev CCS500-B coolant cleaning station. The waste coolant from the briquetting machine now undergoes a complete cleaning and rejuvenation process involving filtering (through a bag-type filter) and tramp oil removal, before being processed through the CCS500-B unit. The unit itself then passes the waste coolant over an ozone generator that revitalises the coolant and kills off any harmful bacteria, with agitation releasing any remaining tramp oil. This treated coolant is sent to a holding tank, via another set of polypropylene filters, where it is held ready to be used again by the Cardev mixing station.
The system is designed to use recycled coolant first and the factory is equipped with a pipe network that delivers coolant at a precise strength to individual machines, eliminating the time-consuming and potentially hazardous need for coolant transport from a central location to a machine tool.
By using the recycled coolant, the volume of neat emulsion used by Senior Weston Aerospace has reduced dramatically. Says Butler: "We are recovering and recycling in excess of 10,000 litres of coolant per week, which in turn is reducing our consumption of concentrate by 500 litres a week, which is a significant cost saving. When added to the financial benefits of reduced labour costs and efficiencies gained by more effective swarf handling, we have fully justified the investment we have made in the Cardev recycling system and briquetting process."
The system at Senior Weston Aerospace is supporting 50 large CNC machine tools manufacturing components for aircraft structures, interiors and engines for a wide range of aircraft, including each of the Airbus A320 family, A330, A350 and A380 platforms. Says Alan Dalton, sales manager, Cardev Motorex: "The system we have installed at Senior Weston Aerospace is both cost-effective and environmentally positive, and with the automation of the entire process it also eliminates many of the familiar health and safety hazards that come with conventional coolant mixing and disposal.
"The major advantage of the Cardev system is the relative low cost of the system, making it a viable option for most businesses. We have installations where the customer has as few as five machine tools and the payback and advantages that are being gained are playing an important part in driving their manufacturing costs down and making them more competitive."
And saving money with coolant handling abroad...
Following its UK success, Senior Aerospace made a second investment in Cardev equipment, this time for its new facility in Thailand. In the first four months of operation, the equipment has generated savings that more than cover the entire capital cost of the equipment, inclusive of delivery and installation.
The Thailand site uses a Cardev SmartMix to ensure accurate mixing of metalworking fluids, with coolant reclaimed from a swarf-briquetting process that is then processed via a Cardev CCS unit, allowing Senior to reclaim over 20,000 litres of coolant per month, equating to a saving of around 2,000 litres (10 barrels) of neat soluble product per month. Capable of recovering up to 3,000 litres per day, the Cardev CCS removes large particles from used coolant, followed by three further stages: tramp oil removal; air/ozone infusion (to control bacterial growth); and, finally, fine particle filtration. Coolant is then returned for re-use, as in the UK.
Rainer Hoerbst, export manager for Environmental Technologies, says: "We have a great relationship with Senior Aerospace, and they have diligently tracked the financial benefits of our Cardev coolant mixing and recycling equipment.The financial savings alone (around US$10,000 per month) are adequate justification for the investment. There are also considerable environmental savings made, both in terms of reducing consumption of new product and in reduced waste coolant being disposed off-site, all of which results in a reduced carbon footprint for the plant."
First published in Machinery, March 2016