Now officially the UK's largest carmaker, Jaguar Land Rover (JLR) is in the midst of a massive growth spurt. It has invested £1 billion in assembly factories in Castle Bromwich and Solihull. Two years ago, it began in-house engine production at the new-build Engine Manufacturing Centre near Wolverhampton. It is making a 2.0 L diesel Ingenium model; and production is now ramping up for a petrol model for sale next year. JLR expects to make 50 major new and model-year vehicle upgrades by 2020, by which time the carmaker aims to cut its vehicles' CO2 emissions by 25%. No surprise then that JLR is expanding its Whitley, Coventry, centre of excellence for design and engineering.
There, tucked away in a corner of the former Armstrong Whitworth aeroplane factory, is a single 400 m² space that seems more a kind of spaceship than a laboratory or factory. Maybe it's the quality of the air, or the four silver insulation-covered air handling columns shooting up from the floor that gently alter its temperature, humidity and flow. Like any good spaceship, it has a double-skinned hull for environmental protection (the perforated ceiling tiles hide ducting and services), and is slightly overpressurised, in this case to help keep potential contaminants out.
Fully operational since September last year, big things are happening here at JLR's new powertrain metrology lab. It is bringing new levels of precision to the company's powertrain components (mainly covering engine, transmission and exhaust systems, though other parts do also get a look in).
The new lab might just shake up a few complacent component manufacturers in the automotive supply chain, as well. Jeremy Stern, powertrain metrology senior manager, says it will improve the carmaker's ability to confirm that supplied parts meet specification.
But that's not all, as he explains: "It's about raising everybody's game. As an industry, you're only as good as your weakest link. And we, as the OEM, need to set the standard, and the expectation, and set it high."
Adds Stern: "If you don't trust the data, or you trust data that you shouldn't be trusting, you make flawed decisions. Our job in here is to make the data as good as it can be, so that people can make the best decisions that they can make, in whatever it is they're looking at."
The lab will not routinely measure samples off the production line (though it will support development of one at the Wolverhampton engine plant). Its job is rather to help measure parts from all kinds of areas – goods in, parts for test, parts covered by warranty, parts for investigation, random production samples.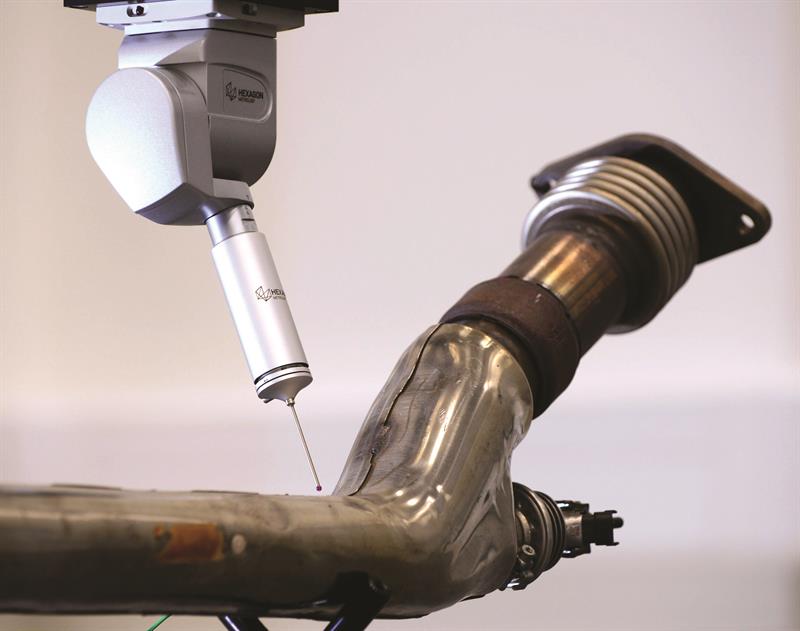 Exhaust dimensional measurement

As a kind of jobbing shop for metrology, the six metrologists and four engineers, plus one full-time apprentice, who work here in a two-shift pattern don't have a regular workload like production measurement facilities have. So the mix of machinery chosen for the lab (box, p16) needs to be sufficiently flexible to cover all bases.
Even after a few months of operation, the lab is already having an impact. Powertrain metrology centre manager Alan Olifent remembers how data from the custom Nanofocus cylinder bore measuring machine, the only one of its kind in the UK, changed the course of a project investigating an engineering problem, as it was able to offer better data than JLR had ever had before.
REBUILDING THE LAB
The £5 million facility stands on the site of the previous lab, that, after decades of under-investment during the automotive down-cycles of the 1990s and 2000s, had been left behind, forcing company engineers to outsource some measurement, which proved expensive. Rebuilding it has taken several years, and even included two failure mode effect analysis (FMEA) studies that aimed to understand how to improve the performance of the lab and design out sources of measurement uncertainty.
Much attention has been given to a climate control system installed by Norvent (01527 835050) that features four Airedale (0113 239 1000) water-cooled chiller towers and the 13 cordless Testo Saveris (01420 544 433) sensors monitoring it. Even though it is not working as a calibration laboratory, the environment is controlled in accordance with 'UKAS Lab 36 Edition 3 (2008)' standards for higher grade calibration laboratories. Temperature is controlled to 20±1°C; humidity is kept at 55% maximum to avoid the risk of corrosion of the untreated steel parts and fixtures used, and the risk of swelling of nylon parts. The system helps make sure that the machines' measuring precision is not counteracted by material expansion caused by temperature changes.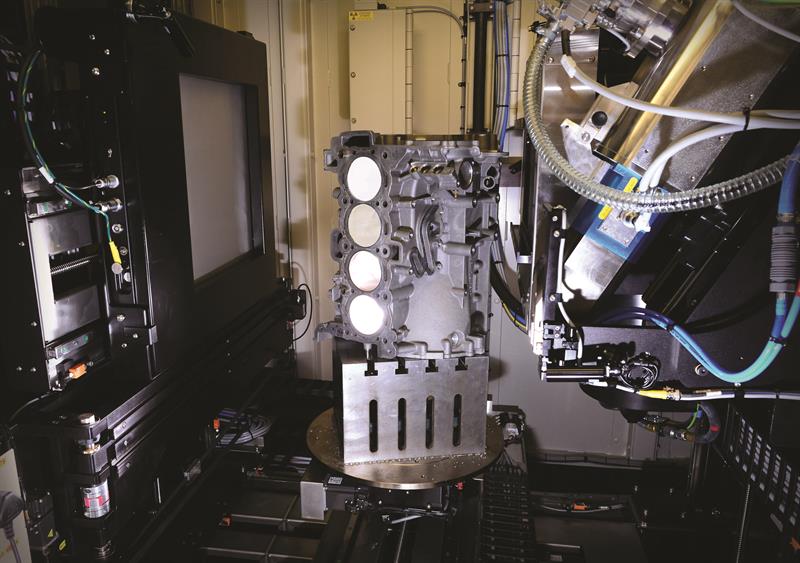 X-ray CT for engine block internal inspection
Parts enter the lab via a roller-shuttered anteroom between it and the stores area next door, with a SafetyKleen (0208 490 9084) ultrasonic parts washer, and acclimatise at least for a day in a Kardex (0870 242 2224) Remstar Shuttle XP 40-tray variable-height racking system. Concerns about the effect of parts sitting in hot and cold spots inside the racking system were overcome by adding into the control software a special periodic rotation sequence that runs 24/7. Movements of parts are tracked by a bespoke computer database that also records relative priority, ranging from highest – important enough to push a part being measured off the CMM bed (Machinery was told that this has happened) – to the lowest-level 'wouldn't it be nice to know' requests.
One thing that's clear is that the ambition that created this £5 million facility will not finish here. First, the site is a key part of a new mission to change the role of metrology in manufacturing, moving from a production check to an aid in the design engineering process, under a so-called Design for Metrology initiative headed up by powertrain metrology technology manager Dr Bin Cai, a colleague of Olifent's in the lab. (See also Machinery feature 'Quality drives productivity': https://is.gd/debuxu.)
For example, a single-digit micron tolerance required on an engineering drawing could add multiple zeros to production costs, as achieving that tolerance might require grinding after machining. Olifent says that there has been a historical tendency for design engineers, when faced with a problem, to tighten up tolerances, in the belief that doing so will make the system less likely to go wrong. But by educating design staff, the company can relax tolerances without degrading the performance of the part. And doing so will reduce manufacturing costs.
The metrology lab manager adds: "Design for metrology is a two-way street: one is about understanding what function do you want to characterise in that measurement, and getting an appropriate system of measuring that. But [on the other hand], if you can then characterise it more accurately, it's a question of, 'Do you need to make it so accurate?'"
To help get that message across, every new JLR powertrain degree apprentice will spend a few weeks "getting their hands dirty" working in the lab, as Olifent says, according to new plans. And JLR is collaborating with measurement institute NPL (www.npl.co.uk) and other companies, including OEMs, metrology equipment vendors, technical institutes and universities, in a Trailblazer process to develop two new metrology technician apprenticeships.
Already the shape of a second metrology facility is coalescing, according to which the current lab is only phase one, effectively a learning opportunity for internal demand. Although the picture remains unclear, that facility would be much bigger, strategic and operate with a different focus. Indeed, plans are being developed to partner with equipment vendors or universities to sponsor PhD research that lays the foundation for the second facility.
The current powertrain metrology lab is enabling JLR's engineers to understand parts to a level greater than ever before, drawing on the best of current technology. The next facility would go beyond that, to tackle, as Stern says, "the questions that we need to answer as a business that are not possible to answer at all right now".
TEXT BOX
Equipment in JLR's powertrain metrology lab

Metrology for prismatic machined parts, moulded parts or pre-machined castings
North Star Imaging (001 763 463 5650) X5000 computed tomography (CT) scanning system to measure internal features by bombarding parts with X-rays. At the heart of the lab, its lead-lined enclosure (weighing 14 tonnes) holds, in fact, two sources:
450 kV high power source to penetrate large, dense metal objects such as engine blocks, and 225 kV lower power source for less dense items such as plastic parts. It is equipped with two detectors – flat panel and linear array – as well as a single rotary table for components. Just as with a medical X-ray, images provided by the system are 2D and transparent; it can also assemble 3D images by lining up many slices of parts. It can also compile stop-motion video animations of internal workings. The first machine to offer this capability at JLR, it is also the most sought-after machine in the lab
Hexagon (01952 681300) DEA Global Advantage CMM (coordinate measuring machine), featuring a 3.3 by 2 by 1.5 m capacity (in X, Y and Z) for measuring very large parts, such as full exhaust systems or fuel tanks on larger vehicles, or to perform multiple measurements in one go. It is the lab's only CMM fitted with an indexable head, to exchange different types of angled touch-probes. There is also a Leica laser scanner head attachment
Leitz (01952 681300) PMM-C touch-probe CMM, offering sub-micron accuracy, featuring a stationary column, moving-bed design, to improve accuracy. Bed moves (on air bearings) in X; scanning head moves along the bridge in Y and up and down in Z. It also features a rotary table. Quindos powertrain metrology software from Hexagon can control the device to maintain constant probe contact on an eccentric feature as the CMM moves the part in multiple axes, generating a string of multiple readings, a capability that is said to be unique among CMMs
Leitz Reference HP CMM, offering accuracy in the low single-digit microns
Carl Zeiss (01788 821770) Prismo touch-probe CMM. One of only two machines to be inherited from the old lab, it went through a comprehensive refurbishment – including new controller and electrics – at Zeiss. During the lab refit, it measured JLR parts off site. Accuracy is down to the single-digit microns
Surface roughness
Taylor Hobson Form Talysurf i-Series (0116 276 3771) 2D and 3D tactile-probe measuring device. This machine is equipped with PRO280SL linear/rotation table from Aerotech (01256 855055)
Taylor Hobson Talyrond 565H circular part and feature measuring machine with 1 m high measuring pole
Nanofocus (+49 208 62000 0) 'μsurf Custom' confocal microscope. Builds up 3D surface picture with sequence of 2D images
Nanofocus cylinder bore measurement system, specified with automation systems, including indexing system to move between bores. It is the only machine of its type in the UK
Shadowmaster (0870 850 9050) analogue shadowgraph optical comparator, which was the other machine to survive from the original metrology lab; its infrequent use did not justify the cost of replacement
Dimensional measurement: optical machines that can be transported to the part, if the part cannot be moved to the lab
GOM (02476 639920) ATOS 3 structured light optical scanner with rotary table for measuring form on larger parts. This unit is mounted on a steel measuring table left over from the old lab. Used for rapid scanning of larger parts.
Hexagon Romer arm and touch-trigger probe with laser-scanner attachment
Leica AT402 laser tracker optical measurement system (from Hexagon) that also includes T-Probe to go around corners and T-Scan portable handheld scanner. Software compensates for temperature changes in the field
Fixturing
The variety of parts coming into the lab makes bespoke fixturing impossible. Although simple V-blocks (for cylindrical parts) and square blocks can be adapted to most positioning needs, they can require a great deal of skill to be set up at the required precision. In response, the lab has bought a quantity of Alufix modular fixturing from Horst Witte UK (01827 286 883) to set up one-off measuring jobs.
This feature was published in the March 2017 issue of Machinery magazine.