Some 80% of £20 million turnover Castle Precision Engineering's business is in 'critical rotatives' for jet engines, employed in all their four stages – fan shafts, blisks, discs, high pressure combustor cones, rings, seals. Says managing director Yan Tiefenbrun:

"If it's critical and rotating, we've touched it at some point, in engine development, production, legacy support. We cross the whole value chain and touch just about every engine that Rolls-Royce makes." Indeed, it spans from yesterday's RB211 to tomorrow's Ultrafan.
The Glasgow-based company aims to grow its business further, targeting £30 million, but in 2015, the 120-employee operation faced a crisis. And the way in which the company tackled that, "making the leap from good to great", winning that £80 million order, is the story that the firm's managing director relayed to an audience of aerospace professionals earlier this year, at Renishaw's 'The Direction of Travel' aerospace event.
"Back in 2015, we were on the precipice of growing the business with our first big step-change. We had contracts coming up with a new customer, where on volume rate programmes we could make a real step-change. We were coming from the development phase, pre-production, into production and what we wanted to do was transform the product group by delivering a 30-40% saving and win a massive long-term contract – that was the ambition. We invested in technology, engineers and resources; we thought we'd get ahead of the game, engage with the customer and delight him." Castle had just the previous year joined the government-backed Sharing in Growth (SIG) initiative, committing to a four-year programme of training backed by £1.25 million+ SIG funding, which it matched in kind (extended to five years subsequently).
But two months into that 2015 contract journey, Castle received a letter from its customer saying that the package of 25 components was being subjected to accelerated cost reduction and that a cut of 60% was required, otherwise the business would move to a low-cost supplier in India. "That was a bit of a shock, because we were investing in new technology and thought we could nail a 30% cost reduction, keeping some benefit for ourselves, but 60%? We couldn't see how to get there. We could see 30%, 35% even 40%, although 40% was giving away our margin. Where was that extra 20% going to come from? It was just a leap too far," Tiefenbrun says.
"So, we mulled it over a for a couple of weeks as a team and came to the view that we could overcome this challenge. We pulled together a powerful coalition in house and engaged with our key suppliers, using the best minds in the industry. We had Sheffield University's AMRC, tooling suppliers and subcontractors. We brought them all together and spelt out the challenge and our ambition. We wanted to apply the latest and greatest to everything we were doing – the fastest speeds, best methods of manufacture, latest inspection scanning techniques, automation, green button processes, zero defects. Everything that we could throw at this, we threw at it." And it was underpinned by the SIG toolset of problem-solving techniques and related training.
The result was that, after three months, the company could see a way to achieve that massive 60% cost reduction. "We got to 50%, but the last 10% was absolutely brutal. We had put £1.25 million into the project and the process bedded in for six months before we went back to the customer. Following that, I sat down with the company and proudly said that 'you asked us to deliver X and we are delivering X. You said 60% cost reduction from the development phase to the production phase we are going into, then we could sign a long-term contract going through to 2025'. But the customer said 'yes, I didn't expect you would be able to do it; we're still moving all the parts to India'."
What the company had fallen foul of was a trend in the industry that it had missed, Tiefenbrun admits, because it had assumed the industry was somewhere it wasn't. "The trend was one of low-cost country sourcing [LCCS]. Our misconception was around the maturity and capability. A decade ago, we thought that low cost was low complexity. What we had missed was the rapid pace of change in our industry. LCCS companies had moved from elderly, second-hand machine tools that we wouldn't look at and started investing in the latest and greatest technology. So, what we were now looking at was not low cost and low capability, but something that is process capable and process focused, but in a low-cost environment. That's a different cost challenge. These companies were making complex parts using capable processes."
Added to that was another industry trend, that of 'volumising', meaning moving more towards an automotive model of manufacture. "Aerospace used to be low-volume/high-mix, but now it's much closer to automotive. And when that happens, it makes the market attractive to people that it previously wasn't, and you end up with significant numbers of new entrants."
He cites Malaysia's UMW, a company that didn't have a presence in the aerospace field until a few years ago. "In fact, the factory was a piece of jungle in the Malaysian rain forest, but five years ago, a team sat down in that country and developed a business plan. That plan was to invest £100 million and take on a key product group within a jet engine. The group invested £50 million and the Malaysian government the other half. Five years later, they are one of the leading companies in the world for engine casings."
LCCS FIRMS ARE WINNING BIG
UMW is the first Malaysian Tier 1 supplier to Rolls-Royce and says it has has a '25+5' year contract for Trent 1000 engine casings, with Trent 7000 to follow. Indeed, UMW will be the only supplier for fan cases for both the engines, the company further claims.
Continues Castle's top man: "The market is today very different; you now have a venture capitalist entering [UMW], because the sector is volumising. To accentuate that further, we missed the subsidies and offsets that operate in India and LCCS regions, where there is significant support for investment in capital and capability. So, we had delivered things that we didn't believe were possible ourselves, but we were locked out and we hadn't realised it. We fell into the trap of being relied on as a tactical provider, against a provider that had never delivered a part for this customer before, but which was being engaged at a strategic level. Hence we were in a fight to stay relevant – that was the wake-up call for us."
So, having achieved such a great result with the initial challenge, the company said to itself, 'why not apply the same approach to existing products'. "We picked a project and said to the team 'we don't think we are in first place to win this, probably not even second place, but if we did win it, it would be about 10% of our portfolio. So, take everything you've done and apply it. You've got four weeks to hit four parts and deliver a 50% cost reduction'. And they did it. So, we said let's do it again, but for existing parts."
The company chose a suite of Rolls-Royce parts and achieved massive savings again. "We went to the customer and said 'here is everything we have done, here's everything we are doing, and here is £2.1 million-worth of cost savings to you'." It was an unusual move, to say the least, to give the complete saving to the customer, Castle's managing director offers, but his response to those questioning it was: "We are going to invest in this journey and we are going to give the customer £2.1 million-worth of savings, or the option for that, because Rolls-Royce has said it wants strategic partners not costs to be managed, adding to that 'those who come with us will be rewarded'. So, we have bought into the commitment to be strategic partners, to jump to the next level."
The final results of the project were "astonishing": a £2.4 million cost reduction, cycle times reduced 12-60% (30% average), cost target smashed by a fact of four, transport waste reduced by 57% and the achievement of a team engagement level never seen before (94.6%), so moving from a top-down style to bottom-up. The company kept rolling its approach across other parts and customers with equal success.
So what about that £80 million Rolls-Royce contract? Well, as Tiefenbrun puts it "we were already lined up for it long in advance". The company knew exactly what it had to do, what the customer wanted and it knew what threat the LCCSs posed.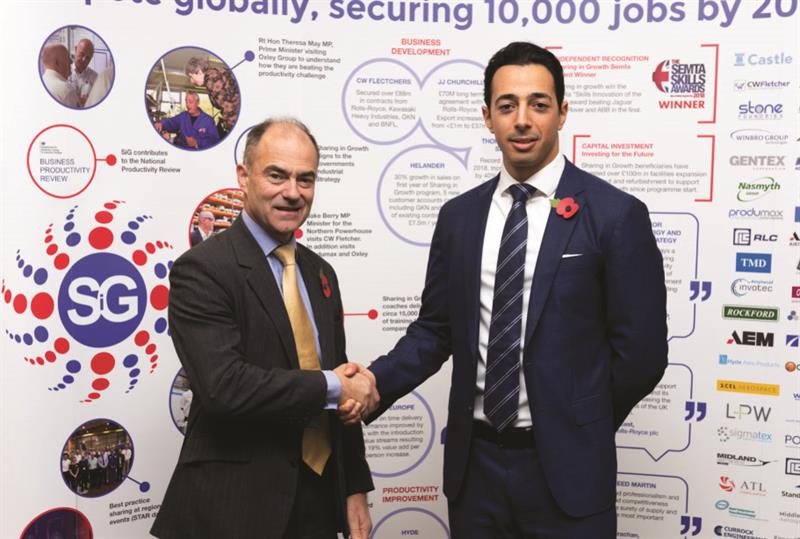 Yan Tiefenbrun, right, with Rolls-Royce CEO Warren East, sealing the £80m deal
"We were already the global cost leader, because we had done the cutting trials. We had engaged our key partners, Seco Tooling being one of them and a key part of a strategy going forwards. We were delivering exactly what the customer wanted, the complete solution not bits of it. We had 'paid to play', absorbed costs, entered into a strategic partnership that the customer was looking for. The scar we carried from that 2015 experience meant we knew what was coming: late delivery penalties, buffer stocks, cash requirements and all the financial stress tests we had to go through. So, when we won the contract, it wasn't a surprise to us. We were confident, we had positioned ourselves to win; not be involved, but win."
More broadly, he says that despite the aerospace challenge of the LCCSs, there are suppliers across the UK helping to deliver the types of contracts that Castle Precision Engineering is, but they typically have one common denominator – continuous improvement programmes such as Sharing in Growth, SE21, SE21+ or their own internal initiatives. Says the managing director: "The fight to stay relevant is only here to stay and will increase over time. That fight to stay relevant is now a constant. You can only battle on cost for so long, eventually you have to jump to innovation. The pressure from OEM customers for suppliers to deliver best cost, take on more risk, help them remove tiers of management in their organisations that will add to yours is only going to increase. And those suppliers that have some sort of winning model at the heart of everything they are doing, they are the ones making the step-change."
The particular technology tools that deliver the required performance are not necessarily important, at the root of their application is the key motivation of 'why', he says. That 2015 experience was Castle Precision's 'why'. And he concludes: "Our 'why' was been born of a scar that lit a fire in our business and ultimately seeded future success for contract after contract to come. Your 'why' will be equally unique to you. For those that have not yet got a 'why' fully deployed across your companies, the challenge is for you to find it and then light that fire that will be the key to future success." And it needs to develop and apply a winning model in pursuit of that..

Extended article from here:
Castle Precision's journey has been one of good to great, as Yan Tiefenbrun described in his presentation. It was already a good company, more than good. It had latest CNC machining technology (some 70+ major CNC machine tools and related support technology); it already operated production cells with associated visible metrics; it already had a sophisticated, in-house developed computer-based office-to-shopfloor system that underpins manufacturing efficiency, quality, delivery and profitability; it already had high skills levels; it was already a premiere aerospace parts supplier. What has changed? What has allowed it to make the leap, and then to keep on making it? What is its winning model? Well, that begins to become apparent when seated in one of the company's meeting rooms.
Across one wall are charts, tables, lists etc where the planning for projects has taken, or is taking, place. The room is where lean training, value stream mapping, PPAP, APQP, gauge R&R, project plans, costing models, Process Failure Mode Effect Analysis, visual management and free thinking take place.
And outside the meeting room is a wall covered in post-it notes that have production issues requiring solutions written on yellow ones, plus blue notes that are the 'blue chips', the answers.
Okay, but these techniques and tools are pretty standard, too, surely? Yes, but it is on increasingly sophisticated tools such as these that Castle Precision's winning model is founded. It is these that allow it to exploit manufacturing technology to best advantage, directing effort and managing it.
In a process development cell that Machinery saw in June was a system that is paper-based, highly visual, shopfloor-driven, process/feature-targeted and cost/quality/delivery-focused and which is so good that Castle Precision has presented it back to SIG and network members – the pupil has become the master. "Our competition isn't each other anymore; our competition is global. If we can use each other to learn and progress faster, that's a net gain. Better to be open with people in our ecosystem," Tiefenbrun explains. That network has operated for the past two years.
Sorry; no pictures allowed – this system is the company's secret weapon. An approach developed by those engaged in the development of manufacturing processes, building on initial SIG tools. Fundamentally, not only does Castle Precision operate continuous improvement, it also operates continuous improvement in the development of the tools of continuous improvement. Each time the toolbox is applied, its users refine it again. When the managing director talks about a bottom-up not top-down approach, this is what he means. Continuous improvement driven from the shopfloor, with this becoming established across the whole company as the predominant culture; the norm. Teams meet twice a day to discuss escalations, needs, on time actions, are they ready for new machines, is space available, etc. "It is a whole dashboard for this project. The guys are living and breathing this every day. It's not management charts, it's shopfloor level; that blows my mind," the managing director enthusiastically underlines. And it was the systems shopfloor users that presented it to the SIG network. The shopfloor owns the approach and the tools.
An example of how the process is applied can be given by reference to that four-part cell instanced in the main text. The cell has five machines and a CMM as major pieces of manufacturing kit. Machines have tidy, well laid out benches/tools alongside (a system designed by the team). Material and parts are moved around using supermarket trolleys of the type used by shop staff to move stock to shelves, because the team chose these as useful and available. Those trollies, which hold raw material or parts at various stages of manufacture, are positioned in appropriate yellow-tape-marked areas within the cell. The parts have varying, defined single-piece flow routes through the cell, although raw material enters at the rear with completed parts exiting the front. At full rate, balanced production is the designed operating mode; 800 parts a month, or 200 sets. This will be supported by three people on each shift - automation/labour-saving is key in multi-machine manning which is key in competing with competitors in low-cost countries. This takes in on-machine probing of tools and parts or quick set-up CMM fixtures, for example, with an in-house toolroom able to support fixture manufacture as required on a fast turn-round basis.
As an indication of what this cell's output means, as compared to the company's output overall, Castle Precision manufactures 3,000 parts/month, so it's a big deal. A major challenge at the moment is to reduce the need for 100% inspection on a remaining 40% of machined part features – sample inspection already operates on 60% of part features. Getting to 100% of features inspected on a sample basis is a "key part of the plan", says Tiefenbrun. Aiming for a CpK of 2 is typical; a challenge, but with such a process capability, production of parts that fall outside tolerance is nigh on impossible.
Okay, but maybe that doesn't impress. Development of process-capable operations is standard stuff, isn't it? Sure, but in that initially mentioned development cell that uses the current gold-standard tool kit, the company is dealing with hundreds, if not thousands, of machined features on high value parts that take weeks to finish. In order not to drown in the volume of the task, those involved must systematically manage and improvement.
The start is a definition of what the company is making, the contract value and volumes, and what is required to be delivered. Getting from where it is to where it needs to be, it must: drive improvement in quality, cost and delivery (QCD) as necessary; link a process development to each of those elements and track its effects; generate ideas; apply and manage those process improvement ideas; know when zero defect part quality is required; track process development and maturity towards CpK 2; specify and justify any new investment against its effect on QCD; make sure that an improvement in a process made at one stage doesn't negatively affect something later (20-30 operations may be required to make a complete part, so it could be months before you know what effect it has had); highlight any dead time in a product's manufacture and reduce that, because it's tying up cash; feed that lead time into predicting average figures and then use that to support generation of cash requirement to underpin discussions with the company's bank.
Basically, every action must be managed, tracked, its effect known, with this all made transparent to all in a clear visual manner. A major project for a family of parts takes up to a year, with year-on-year improvement required thereafter. Oh, and finished parts may be valued to £50,000.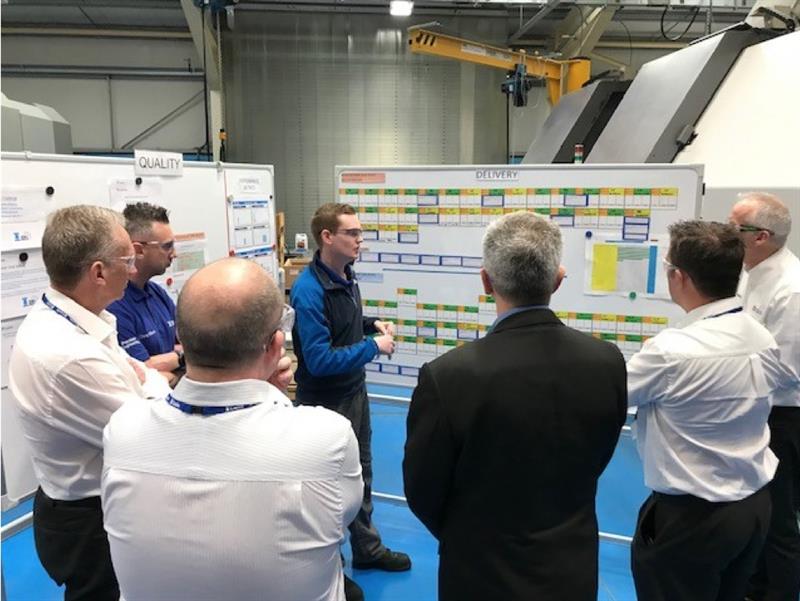 Talking through the visual planning, tracking and action boards that are used when developing cells/processes
Take some details out of that overview. For each product there is a cycle time target and carbide cost target. A chart shows where the company started, where it is and where it is aiming to get to. And within the process, it can see where the big gains have been or where they are. A similar approach is applied to carbide costs.
Another detail is the tracking of process development and maturity towards CpK 2. Against each feature, a note of concessions, rework and scrap is made. Drawings of parts and their features with this history are visible. This information is used to underpin customer discussions and thus better direct process development effort to areas that are critical.
It's all part of a massive KPI dashboard – scrap, concession, rework, CpK, on-time delivery, factory time, booked man-hours (key in driving to the essential unmanned production) – that delivers the business needs, providing visibility to the shopfloor as to how they are affecting cost, quality, delivery.
This analytical approach also allows Castel Precision to engage with suppliers on specific issues. One current one is the speed of probing on machine tools; the company believes there is a gain to be had here through probe supplier/control maker effort.
So this is what underpins the winning of that six-year, £80m contract with Rolls-Royce for cones, shafts, spacers and turbine seal plates for the Trent family of aero-engines. And that is how Castle Precision can outpace competition from low-cost country-based sophisticated parts producers. Central is its ability to quickly innovate processes on today's manufacturing technology that is available to all.
Says Tiefenbrun: "Every race has an end, but the key is to keep jumping to the next race. What was high value manufacturing 20 years ago, was not what it was 10 years ago; and what it was 10 years ago is not high value manufacturing today. The same will happen in five to 10 years' time. Our business plan is to win each race and then jump to the next level.
"The pace at which we are moving here is becoming a value proposition in itself. When you go to a low-cost consortium, it does take longer. What we can do here in a year, it will take them three or four years. We have seen that with a contract we apparently lost to a low-cost supplier, but they failed to transfer and we're still making the parts today. Will they get there with all the support and commitment they have, yes, but we are still keeping ahead because of our pace, which is becoming our differentiator."
And a central role has been and is SIG. "What SIG is saying is that if business success is 1/3 technology, 1/3 infrastructure/capital and 1/3 people, your proportion of spend needs to be somewhat equivalent to that. That's what SIG supports. We could not have supported the level of training that we have done in the last four or five years. To have kept that training commitment at the low point in 2015, when everything is telling you not to, it wouldn't have happened."