Tool developer and manufacturer Sandvik Coromant (www.sandvik.coromant.com/uk) released more details about sensor-incorporated tooling for lathes, which will launch later this year (probably at EMO in Hanover in September), following publication of the concept last year (see also Machinery October 2016, p19). They form a vital part of its CoroPlus Industry 4.0 offering (https://is.gd/M1L1b6).
Three types of turning tools were highlighted: a Silent Tools+ damped toolholder for long-reach internal turning (likely to be first to market); a CoroBore+ fine boring cutting head; and a Capto C5 insert toolholder demonstrated on a Mazak Integrex i-300S mill-turn (01905 755 755).
Vahid Kalhori, Sandvik Coromant digital machining manager, said that it was the difficulty detecting potentially damaging in-process vibration using Silent Tools that lead to the idea of installing sensors in the toolholder. The sensors can provide data that indicates cutting performance – surface finish and depth of cut – as well as data relevant to tool maintenance. They also assist tool set-up. For example, insert centre height can be adjusted by rotating the tool in the holder; a graphical dial indication on a screen demonstrates when the correct positioning has been reached.
The CoroBore+ toolholder takes tool-operator interactivity a step further by including an actuator that adjusts the extension of the cutter when it receives a wireless signal. That enables the tool to be adjusted during cutting, adapting on the fly to the needs of the process; automation being the goal here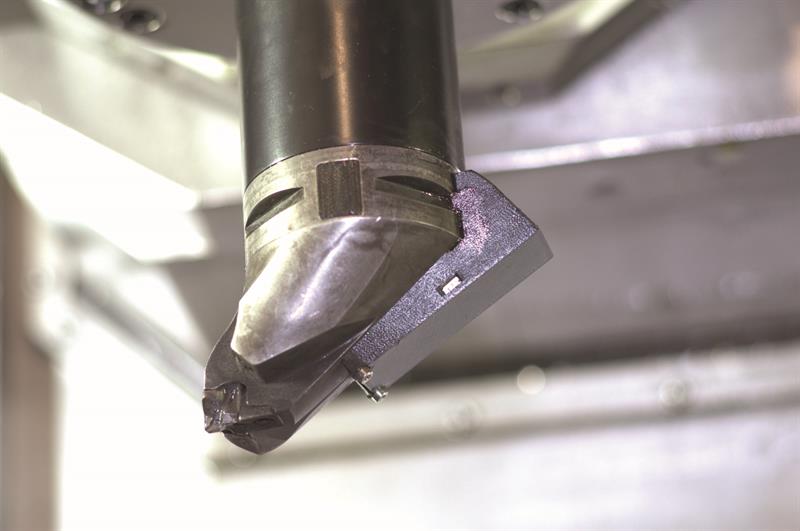 CoroPlus-compatible Capto toolholder with on-board sensors mounted in the Mazak Integrex spindle

Handling tool communications – including vibration, deflection and temperature data via Bluetooth – is the Promos3+ networked computer appliance, described as the head and the heart of CoroPlus. As the heart, it pumps data around its mini-network of tools and machine sensors; as the head, it performs computational functions and analyses the data.
The value of this integrated connected network of sensors and computers goes way beyond individual cutting tasks. It can be used for automatic tracking of tool utilisation, management of tool inventory, cost-per-part estimations, monitoring of spindle load, prevention of tool-machine collisions and even prediction of remaining tool life using deterministic or machine-learning algorithms. Software systems also included in the CoroPlus family are the digital ToolLibrary database (based on its existing Adveon service) that links into CADCAM systems, plus a tool application selection advisor called ToolGuide.
CoroPlus Advanced Machining Analytics, which is the name of the entire system, provides services and analysis not only at the tool and within the machine, but also scales up to cover entire factories of machine tools, and entire enterprises of factories (with security systems protecting the data at each level). The ultimate benefit is to raise efficiency, reduce waste and improve traceability of component machining.
This Industry 4.0 vision is almost as new to Sandvik Coromant as it is to its customers. Since 2015, the company has been developing a CoroPlus monitoring network across its factories; it is now connected to two machines in Gimo, Sweden; seven in Mebane, North Carolina; and in March 2017 the company connected three machines at its factory in Langfang, near Beijing, China. Not yet available as a service on the open market, Sandvik Coromant has only reached the point of choosing its Advanced Machining Analytics launch customers.
To help improve its machine and tool monitoring capabilities (which now include tool breakage), the company acquired German firm Prometec in January 2016. And Sandvik continues to recruit data analysts to help build its own internal competence for sales and support of the system. Said Magnus Ekbäck, Sandvik Coromant vice president, business development, at the press event: "We will assist customers with the technology to make it [digitalisation] happen."
PRIMETURNING INNOVATION
An equally radical invention, also developed in-house, poses a simple question: do cuts have to be directed toward the chuck, and toward a turned part's centre of rotation? Sandvik Coromant's answer is no: its two 'CoroTurn Prime' toolholders, for roughing and finish machining, are said to be the first ever that can profile forward and backward, and carry out facing operations, in the same cycle, using the same cutter.
The advantages are said to be speed, longer insert life, plus the creation of a thinner, wider chip that breaks more easily – particularly relevant to tough materials such as heat-resistant superalloys and titanium (ISO category S), one of the three materials originally covered. The other two are steel (P) and stainless steel (M). Also, the PrimeTurning process avoids chip jamming in corners, such as at the bottom of a partial face, as the cutter can start in the corner and move away.
The system, launched last month and demonstrated at the event, consists of the toolholders, application development and proprietary software, called PrimeTurning code generator. In addition, development partner Mastercam (in the UK sold by ETG, 01926 818418, supported by 4D Engineering, 01285 650111) will probably be the first CADCAM supplier to support PrimeTurning capability, said to be scheduled for release this month.
A roughing operation on high alloy steel CMC 02.2 was demonstrated at cutting depth of 3.0 mm, feed of 0.8 mm/rev and cutting speed of 300 m/min. In comparison, a standard insert (CNMG 120412-PR) cut the material at half the feed and at a lower speed (200 m/min). A finishing run was performed at the same cutting speed as roughing, and reduced cutting depth of 0.5 mm and reduced feed of 0.35 mm/rev.
Although a standard three-jaw chuck is said to offer sufficient grip, PrimeTurning is best suited to short, compact parts, so a tailstock may be required. Water-soluble coolant is recommended, and finishing toolholder Type A features over- and under-coolant supply for chipbreaking and cutting lubrication, respectively, while roughing holder Type B has under-coolant alone.
Both holders take single-sided inserts; finish-machining inserts offer three cutting edges, roughing inserts two, but both types use standard modern insert construction and coatings. Grooving and parting-off inserts for the system are likely to be released in the autumn, turning product unit senior manager Mia Pålsson hinted at the event.
Other news in brief

Below: New packaging

Tools and toolholders will soon start to arrive in new grey packaging that relegates the familiar Sandvik yellow to the multiple self-adhesive part identification labels, which now contain an image of the part inside. Toolholder boxes, in particular, now incorporate a moulded mounting for an insert changing wrench held in its own torque-limiting handle.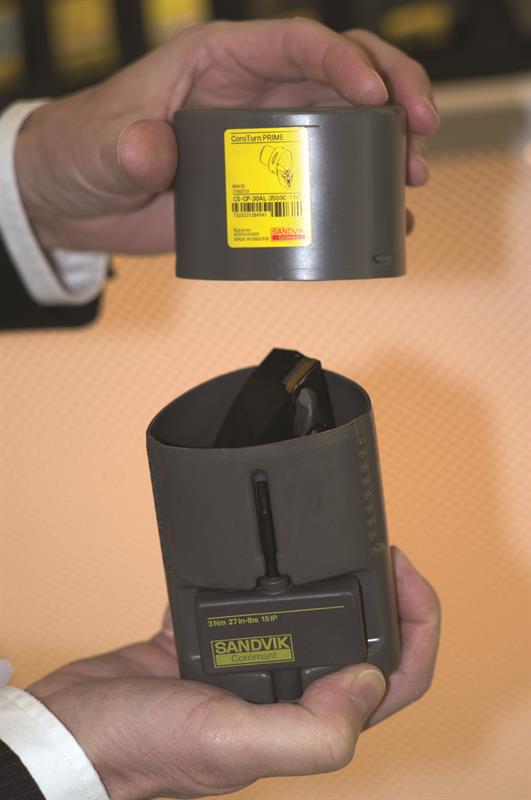 Below: Additively manufactured tools
Testing continues on the additively manufactured (AM) 390 milling cutter (below, right) built from maraging steel powder. There's no release date, but it has performed well in tests, the company says. Thanks to a special design that minimises the use of material, so-called topology optimisation, its weight has been reduced by more than 60%. That allows it to run at greater speeds, said Camilla Engbrink, Sandvik Coromant vice president, product management and R&D. Another advantage of AM in toolmaking is its ability to incorporate internal cooling channels. The company's AM business operates seven machines for mainly prototyping in a sister operation to Sandvik Coromant within the Sandvik Machining Solutions division (http://is.gd/iyadub).
Article first published in Machinery, May 2017