Having resided in NEC halls 4 and 5 for many years, the biennial exhibition with over 100 years of heritage has moved to the atrium side of the NEC, to Halls 17, 18, 19, 20, 6 and 7. Indeed, this is the first move of the show since it relocated to the NEC upon the venue's opening in 1976. It will mean that the event will take place in a single uninterrupted space and on one level, making it easier for visitors to navigate and allowing the full range of manufacturing technologies in the UK to be showcased under one roof, the organiser, the Manufacturing Technologies Association (MTA), says.
Speaking 136 days prior to the opening of MACH 2018 at Factory 2050 (image, above), James Fudge, head of events at the MTA, said: "The new hall layout will help create a brand-new visitor experience that is easier to navigate, showcasing all the different technologies in action under one roof. It will be a more interconnected show, just as we have a more interconnected industry."
Indeed, the overriding theme this year, says the exhibition organiser, is interconnected technology and the future of manufacturing. MACH showcases live working machinery across a range of technologies, including milling, turning, metrology, additive manufacturing, tooling and Industry 4.0 technologies.
Said James Selka, CEO of the MTA, at the late November event: "The shift in technology towards a more digitised, automated model of manufacturing is an exciting evolution of the sector, and MACH is at the forefront. As such, we as owners and organisers, have decided to refresh the show and enhance the exhibitor and visitor experience by moving to this new location in 2018."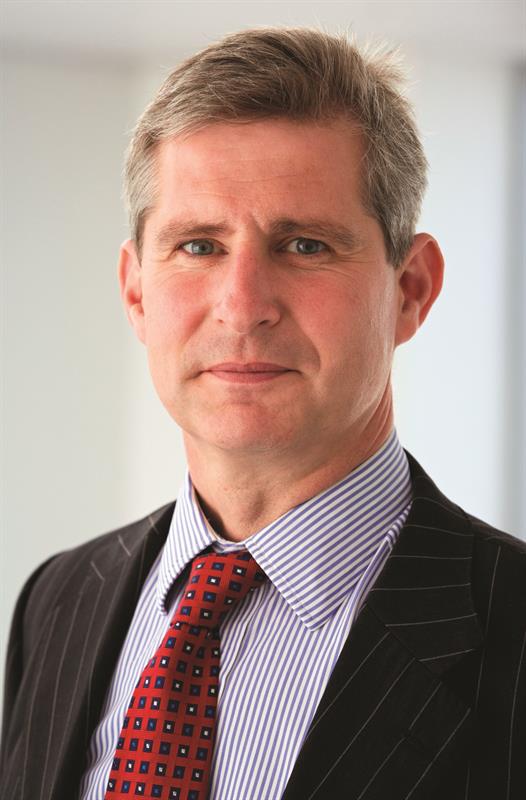 MTA CEO James Selka
NEW IT FOR MANUFACTURING ZONE
Underlining that digital message, new for 2018 is a specific IT for Manufacturing Zone, where companies offering connected solutions for the fourth industrial revolution will be on hand, delivering practical displays and demonstrations. Selka again: "The number of companies displaying additive manufacturing technology has grown considerably and exhibitors tell us they will be focusing on the digital factory, with more automation and connected manufacturing processes on display than ever before.
"So, while the show will still attract the decision makers, engineers, designers and researchers who work in manufacturing, it is now a great place for chief information officers looking at systems and chief data officers, who are adopters of these disruptive technologies, to find new suppliers and experience the latest solutions."
Some changes there may be, then, but MACH 2018 remains the key event for the UK's manufacturing technology suppliers and users. And Selka was bullish on the economy leading into this MACH year, saying: "We are not only living in exciting times, but also very good times. The PMI index is something like 56.3 [56.6 in October; 58.2 in November], which is amazing; the growth in the industry is 3% for Q3, 2017 versus 2016, and for capital goods it is over 6% growth." The message was clearly that the signs for a positive business outcome for MACH are strong. If so, it will follow a successful 2016 show. And as Yamazaki Mazak UK's (https://is.gd/ukupih) managing director UK & Ireland sales and service division, Alan Mucklow, said, if manufacturing engineers are not visiting MACH, they are not doing their job properly in keeping up with latest technology – and he suggested that two visits a year to Mazak's Worcester Technology Centre were a similar requirement, incidentally.
The 2016 edition of the biennial show witnessed sold-out exhibitor space, a 10% increase in visitor numbers on 2014 and over £150 million-worth of business attributed to the event. So far, 95% of exhibitor space has been allocated for the MACH 2018, a positive reflection of the health of the UK manufacturing market, the MTA states.
Underlined Fudge: "MACH is a great barometer for judging the health of the UK's manufacturing sector, and with 95% of exhibition space already sold, 136 days before the show opens, we can gauge that our exhibitors are buoyant. Exhibitions are a fantastic way to do business, and we feel we have created the perfect environment for that to happen at MACH 2018."
Registration is now live at www.machexhibition.com, with visitors invited to register early for their Entrance Pass and Fast Track Entry Pack. Commenting further on the enhanced visitor experience, he added: "For MACH 2018, we have worked hard to provide visitors with a new way to connect with exhibitors. Our smart badging system provides every visitor with an interactive badge, allowing them to collect information from exhibitors in a quick and effective manner, without the need to carry lots of cumbersome documents. Data is transferred live to the visitors' online portal, ready to download as soon as they leave the show. This investment by the MTA in smart badging reflects the digital nature of the advanced technology on show at MACH."
COST-EFFECTIVE INDUSTRY 4.0
The digital theme will no more ably be presented than via a unique feature to demonstrate cost-effective adoption of Industry 4.0 technologies. The MTA and the University of Sheffield Advanced Manufacturing Research Centre (AMRC), through the latter's Factory 2050, have partnered to achieve this – hence the choice of location for the MACH 2018 event. Factory 2050 is the UK's first state-of-the-art factory entirely dedicated to conducting collaborative research into digital assembly and flexible component manufacturing.
Selka explained further about the project: "The Integrated Manufacturing Group at Factory 2050 and we at the MTA understand that it is vital to cut through some of the jargon and hyperbole around Industry 4.0 and show first-hand the practical advantages Big Data can bring to an SME business.
"In the light of the publication of the government's Industrial Digitalisation Review – 'Made Smarter', we must demonstrate to British industry the benefits this technology can bring to their businesses. It is our job to bridge the gap between industry and academia, and MACH 2018 is exactly the platform to do this."
The project sets out to confront the cost and complexity issues of adopting Industry 4.0, a big barrier identified in Made Smarter. By providing a variety of solutions on how current capital equipment can be adapted, the exhibit will demonstrate how Big Data can help companies streamline their production and improve cycle times – without making huge investments (see box p11 for more detail).
Fudge added more: "This is an exciting project we have undertaken with the AMRC's Integrated Manufacturing Group at Factory 2050. MACH has always been the place to go to find the latest technologies and this joint venture should prove fascinating for visitors and exhibitors alike.
"We understand the cost constraints that face SME businesses; it is important to let companies know that Industry 4.0 technology is accessible to them. You can take an outdated machine and retrofit sensors to it, allowing you to get real-time data and to detect through-put faults. It will be really useful to businesses to be shown some of the things you can do to the installed base that can make a difference." But he stressed that the whole show will incorporate Industry 4.0 and automation throughout, hence there will be no Industry 4.0 section of the show per se.
The AMRC's head of digital, Dr Rab Scott, said: "The MTA's MACH exhibition gives the AMRC a great opportunity to demonstrate that the adoption of digital technologies can be achieved at low cost and that the impact on businesses can be transformational.
"This project is a prime example of the work that the AMRC does nationally with manufacturing SMEs. On the stand, we will also be demonstrating what the future of assembly and manufacturing could look like, showing what the value of these technologies could be."
MACH's demonstration aims to push industry towards achieving the benefits of digitalisation, which, at country level, are huge. Recent figures from the Made Smarter Review found that the positive impact on UK manufacturing of faster innovation and adoption of industrial digitalisation technologies could be as much as £455 billion over the next decade.
AUTOMATED MANUFACTURING
As stated by the MTA's Fudge, automation will be present throughout MACH 2018; indeed, standard automation packages/systems are an increasing theme with manufacturing technology suppliers such as Mazak (see also box p12), ETG, Mills CNC and Hurco, as the pages of recent Machinery issues attest. Underscoring that message at the Factory 2050 MACH 2018 event was ABB Robotic's (https://is.gd/mesore) Matt Rollins, product line manager, who spoke about what the company would be showing in terms of standard automation product, with six exhibits supporting this theme and with various as-yet unnamed partners around the show using the technology. A whole new range of standardised systems is promised, which the six machine-tending solutions on show will spearhead.
Rollins hammered home the message about the UK's sluggish adoption of robot technology, citing 2015 figures for handling/machine tending application that place the UK in tenth position. Although the picture has improved slightly, he admitted, these demonstrate the issue. Ranked ninth, Thailand is ahead of the UK, for instance, a country that has been manufacturing for far less time than the UK, he stressed. But the UK is most like Sweden, Rollins offered, a country that, on 2015 figures, has 212 robots/10,000 employees versus the UK's 71, a figure that, incidentally, puts this country only just above the world average of 69.
Issues in the UK's performance were, he said: a belief that robots are only suited to high volume production; they are inflexible for multiple products; automation is complex and requires high skill levels; if companies don't have a problem, they see no need to use automation; installation is disruptive; and payback time not acceptable. ABB will set out to challenge these misconceptions at MACH 2018, Rollins offered. And in conclusion, he cited the success achieved at Castings PLC, which having installed one robot for grinding machine tending and gaining a 60% productivity boost, went on to install a further 20.
This year more than ever, MACH 2018 is a must-attend event that all planners, specifiers and purchasers involved with manufacturing technology should attend.
Box item 1
Industry 4.0 low-cost demonstrator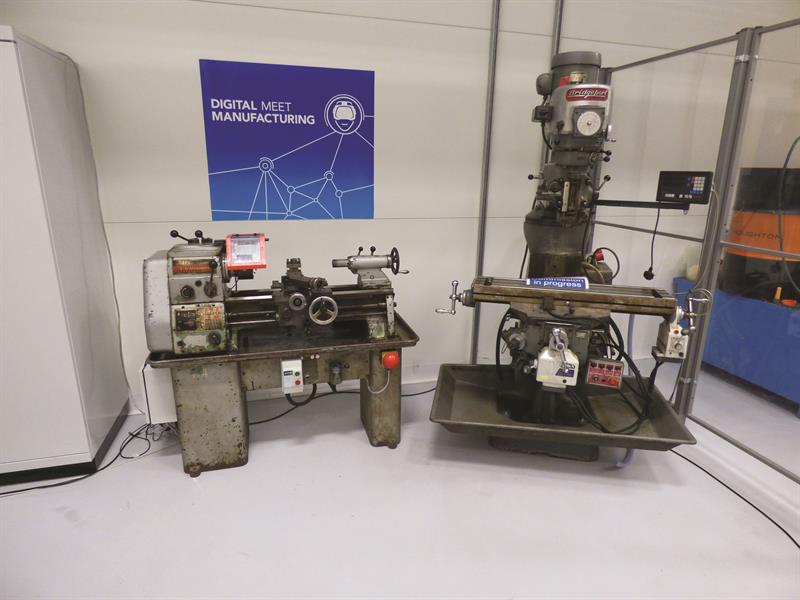 A Colchester manual lathe of 1960s' vintage and a 1970s' Bridgeport knee mill may not be the obvious choice for an Industry 4.0 demonstrator, but those are the two machine tools that will underpin the MTA/Factory 2050 project at MACH 2018. The Colchester demonstrates the lowest cost solution, requiring about £1,000 invested in "cheap sensors", with the Bridgeport solution priced at about £10,000, according to Chris Greaves, operations manager at the AMRC. The software supporting the lower cost solution is being written in house, while the Bridgeport will employ a National Instruments package and undertake more sophisticated data analysis. In the lower cost solution, machine up time and machine condition will be available information, but analysis of that information would not be so comprehensive. Information gained in this case includes, motor current being drawn – could reveal wearing tools as current drawn goes up; vibration in motor and gearbox – could reveal maintenance requirements; and gearbox temperature – could reveal low oil level. The Bridgeport-generated data will be subject to greater analysis and offer predictive information, such as whether a part of good quality is being produced, based on what sensors are saying about machining conditions, and when maintenance will be required, not merely that it is necessary.
Box item 2
Education & training zone
The Education & Development (E&D) Zone at MACH 2018 is specifically designed for students aged 11-19. It will bring together some the leading advanced engineering companies and educational institutions from across the UK, with the aim to shine a light on the vocational education and training that is imperative to closing the skills gap around the world. The E&D Zone is once again supported by tooling expert Sandvik Coromant (https://is.gd/okexaq).
Says Kim Olander, marketing manager at Sandvik Coromant: "Engineering knowledge and skills are in short supply and we need to secure enough skilled people in the future to meet demand. Sandvik Coromant is proud to partner with the Education & Development Zone once again. We hope to enthuse young people about the vast range of careers engineering can offer them."
In 2016, over 3,500 students visited the exhibition across its five days, and in 2018 that number looks set to increase, with more compelling exhibits to attract tomorrow's engineers to the show. This year's set-up will be much more interactive, with more chances for people to experience engineering first-hand, the MTA's Fudge advised. ABB will be supporting this, in terms of the featured robot technology.
Box item 3
Yamazaki Mazak – Industry 4.0, automation, combined additive+subtractive manufacturing & more
Speaking at the Factory 2050 event, Alan Mucklow, managing director UK & Ireland sales and service division for Yamazaki Mazak UK, highlighted Industry 4.0 as a key area that the company will be promoting, via its iSmart factory technology (see also Machinery, December 2017, p16), as well as the company's standard automation solutions. Mazak will have its largest presence ever at 854 m2, across two stands, with 14 machines, including one laser profiler and one hybrid, additive manufacturing (AM)/subtractive metalcutting machine, on show; there'll be a further three Mazak machines on partner stands. Examples of standardised automation packages will include the Variaxis i-300 AWC (pictured, below), a 350 by 550 by 510 mm (X, Y, Z) 5-axis machine with compact automation solution for workpieces up to 60 kg that is ideal for high-mix, low-volume production and lights-out machining, plus the Quick Turn 250MY+TA-12, a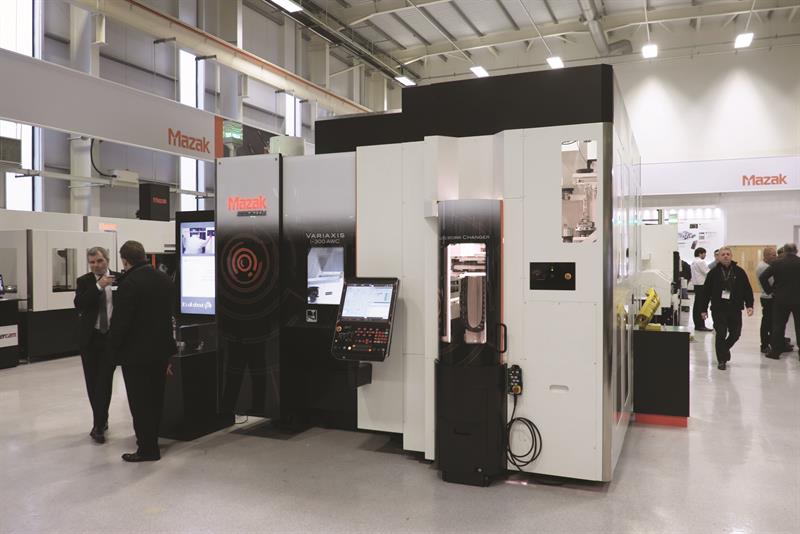 The Variaxis i-300 AWC is a 350 by 550 by 510 mm (X, Y, Z) 5-axis machine with compact automation solution for workpieces weighing up to 60 kg
UK-manufactured 10-in chuck 12 kg capacity auto-load/unload 'plug and play' turning centre and robotic machine tending solution. Hybrid machining will be represented by the Variaxis j-600/5X AM, which has 730 mm diameter by 450 mm high, 500 kg component weight capacity figures. This 5-axis machine employs a wire-arc AM head to deliver high speed AM and is suited to the production and repair of marine propeller parts, moulds, dies and oil-drilling components.
In laser technology, the company's DDL (direct diode laser) 2D laser technology will be on show. This is suited to "differential materials" where traditional CO2 or fibre lasers are not as effective. Industry 4.0 iSmart technology will feature across its exhibited machines.
First published in Machinery, January 2018