Located in Thun, Switzerland, Studer (local contacts: https://is.gd/cipoye) is part of the Germany-headquartered United Grinding Group (UGG), being one of eight brands within that organisation. Thun is also the location for the manufacture of base machines for both Schaudt and Mikrosa. Studer is focused on universal cylindrical grinding and also now internal grinding, Schaudt on tailored cylindrical and non-circular grinding between centres units, with Mikrosa concentrating on centreless grinding machines. (The eight brands are: Studer, Schaudt and Mikrosa; plus the surface and profile grinding product technology marques Mägerle, Blohm and Jung; and, finally, tool grinding specialists Walter and Ewag)
At its annual press and sales agent gathering in mid-February, Studer had news of technology development, centred on the relaunch of the S11 production cylindrical grinding machine, plus the more general theme of Industry 4.0 but where it was able to highlight concrete action.
Prior to getting into the meat of those two, however, there was some other bits of news. First, Studer WireDress will now be available on Schaudt and Mikrosa machines. The system is used with metal-bonded grinding wheels used to work difficult-to-machine materials. In principle, a small wire erosion machine, it slashes associated wheel dressing time (YouTube: https://is.gd/bidaqu). An automotive application cited was the grinding of threaded steering shafts for cars; a 30% time saving was achieved with metal-bonded wheels and WireDress.
In addition, Jens Bleher, CEO cylindrical grinding, Studer, reinforced how easy it is to use Studer grinding machines, even for a company with no history of cylindrical grinding. Such a company is Drehtech AG, a seven-employee metalcutting subcontractor that previously placed out its grinding work but which decided to bring it in house, purchasing a Studer S33 model. The firm was able to put its new asset into operation successfully after just five days, courtesy of StuderTechnology software, which aids programming (more: https://is.gd/uyoquf).
Onto the meat of the gathering and the company is relaunching the S11, hoping to boost sales of this model. The S11 is the smallest production cylindrical grinding machine in the Studer portfolio – centre distance 200 mm; centre height 125 mm; grinding wheel diameter 500 mm; grinding wheel arrangement 0° or 20°.
Fanuc control and standard StuderWINfocus grinding cycles are now offered (delivering more flexible scope of use), as is offline programming via StuderGRIND. With this control upgrade, StuderGRIND HSG (high speed grinding) is possible with CBN grinding wheels at up to 140 m/sec (prior to this 50 m/sec was typical, with 80 m/sec possible).
Furthermore, the S11 now supports the typical C-axis applications of thread and form grinding, thanks to a new workhead with C-axis in combination with StuderThread or StuderForm software. And with an optimised clearing strategy via StuderDress and the machining of longitudinal contours via StuderContour, the S11's scope of application is extended.
The new S11 additionally features the SBS dynamic balance system, which offers semi- and fully-automatic balancing of grinding wheels and reduces downtime, thanks to less 'air grinding'. This technology also allows for process monitoring.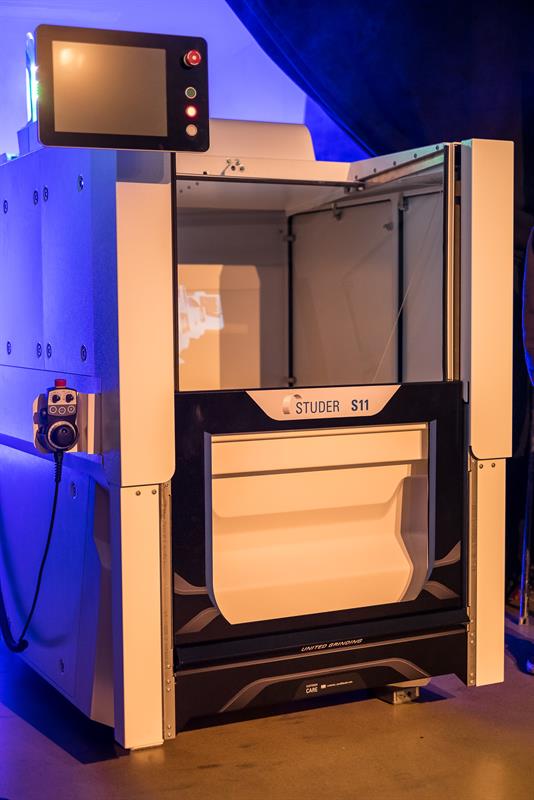 Curtain raised, dry ice; the new S11 cabinet revealed
Finally, available in Q3 will be a new machine housing that is optimised for inter-linked production where machines are loaded and unloaded via portal cranes. The existing version, designed for manual loading or for use with small handling systems, remains available. The new option maintains the compact 1.8 m2 floorspace of the S11. In all of this, the new model is highlighted as highly energy efficient, having a Bosch rating of 96% (versus a 20-year-old S25's 22%). And improvement on this is targeted.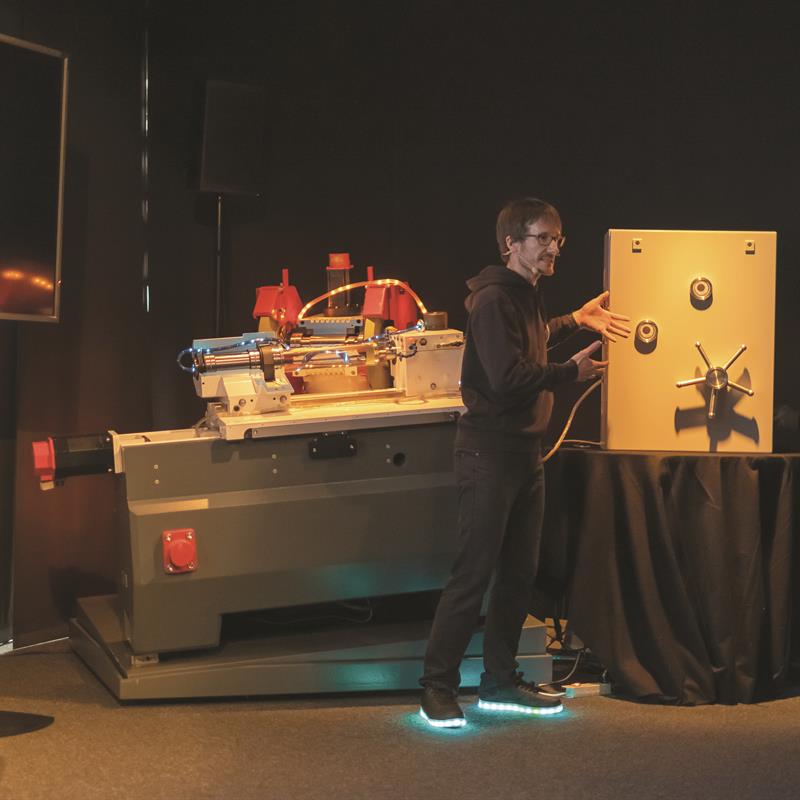 Studer machines will see their data handled safely, courtesy of OPC UA

INDUSTRY 4.0 UNDERWAY
Moving to what can often be a nebulous topic, Industry 4.0, and Studer has already put meat on the bones here. In support of machine connectivity, the company has integrated OPC UA (open platform communication unified architecture; see link below) into its StuderWIN machine software. So a machine can assume two roles, OPC UA client and server, which enables it to be integrated simply and securely into the environment of a digital factory.
Elimination of unplanned downtime is a UGG focus, with customers being givensoftware tools that enable cost-optimised maintenance. To make this possible, data from individual assemblies and components will need to be recorded and analysed, with measured variables providing a clear picture of the individual assemblies and components. (Machinery was told that Studer is investigating Marposs' 'Blú' system [www.blu.marposs.com], an in-machine daisy-chain network [as opposed to the more usual spur style] that more easily connects machine tool elements, plus the integration of in-machine sensors – wireless ones would be helpful, but don't exist, Machinery was told.)
In a related project, Studer is developing its 'One Push Remote Solution'. This means that, should an assembly or component fail, despite predictive maintenance, the problem can be rectified at the press of a button, with customers offered optimal support.
In total, there are six areas in which Studer is rolling out its Industry 4.0 efforts. The first three, the OPC UA interface (35 defined signals; more possible), flexible customer applications built on OPC UA and recording of various process data during part production are already available. One-button remote access, extended data acquisition and predictive maintenance were all heralded as "coming soon". The output data and some of this functionality is supported by condition monitoring and energy efficiency browser-accessed software SmartObserver (https://is.gd/aqumuw) from Germany's Ifm datalink GmbH. Fred Gaegauf, Studer managing director, told Machinery the company was already working with customers on smart factory solutions.
TEXT BOX
It's a challenging world

In reporting below target figures for sales of Studer, Schaudt and Mikrosa machines, Fred Gaegauf, Studer managing director, highlighted six global challenges that were playing their part: effects of the VW 'dieselgate' scandal continue (hitting Schaudt and Mikrosa more acutely than Studer); the future of the automotive sector itself, via electric versus combustion engine developments; the trade embargo against Russia; business with Iran remains difficult, because even though sanctions have been lifted, funding to support any business is difficult to come by; global uncertainty flowing from Brexit; and a disappointing China performance, while the US only strated its recovery late last year. The disappointing figures were also below 2015, which themselves were below 2014, although 2015 was a year when unit sales grew, in line with a 'no loss of market share strategy'. Order intake for 2016 was also below 2015. (No specific figures were given in all of this).
In general terms, Studer is finding the market increasingly difficult, both commercially and technically, Gaegauf said, with customers uncertain what it is they need. Large projects have become increasingly rare, with orders for individual machines a large element of the company's work, although there is a renewed push on large orders again, with results being seen, he said.
In such challenging times, he highlighted that the company was ready to meet them, having "done its homework", having reduced both costs and delivery times, and that it was now in an "optimisation phase". On delivery times, the company's flow-line assembly process has cut assembly times by more than 50% since 2011 when fixed stations were the norm. (The group's Czech factory is applying this approach as well, where Walter and Ewag machines are assembled.) This has been one of the Studer's initiatives under its lean manufacturing/continuous improvement programme (see last year's report: https://is.gd/ufoyan), an initiative that endures in both office and shopfloor environments. So for 2017, both increased order intake and sales over 2016 are targeted.
This article was published in the March 2017 issue of Machinery magazine.