US firm 6K has developed an approach that takes scrap metal and turns it into metal powder suitable for all additive manufacturing processes with zero wastage – 100% of the feedstock is turned into powder. According to the company, any metal or alloy that is machined can now become a feedstock for 6K's premium powders, which means companies can design a new alloy that cannot be realised through conventional melt approaches.
Set up some 13 years ago, the company broke cover last year at Frankfurt's Formnext Show and now boasts some 100 employees. It has two sites, one in Boston, Massachusetts, within MIT's Innovation Plaza, and the other located in Pittsburgh. The development team is based in Boston, while production facilities can be found in Pittsburgh, where 40,000 ft2 of new production area is being commissioned.
The Pittsburgh location is no coincidence; it is a major steel producing location and 6K acquired a company there that has a very particular, and critical, capability and expertise: it can recycle scrap and produce materials for further use. Explains Bent: "We have the ability to take scrap materials, but that is just scratching the surface. The key thing is the fact that we can take almost any type of feedstock and turn it into premium powder. We acquired a company in Pittsburgh that has a unique capability to reclaim either dangerous or other types of metals. So, they already reclaim, clean and upcycle over a million pounds of titanium a year that then finds its way back into medical, aerospace and automotive products. We now can apply that same expertise and process and combine it with our UniMelt process to produce premium metal powder for additive.
"I always joke with people that over here in the US, if you own a Ford F 150 truck, our product is in it. So ,for additive, we hnow have the ability to reclaim things like very fine scrap titanium, aluminium, nickel super-alloys, clean them and make them a feedstock for our microwave-generated plasma-based powder producing process. What this means is not just the few types of powders that are available from the gas atomisation powder process, but now literally anything, anything at all that is machined in the world can become a feedstock, so that that massively opens up the world of available powders. But it goes beyond that.
"One of our bigger successes in Frankfurt last year has been with something called a high entropy alloy. That alloy is not something that's ever been available in volume, ever, and we printed the world's first additively manufactured high entropy alloy (HEA). An HEA is a non-eutectic metal which can't be made via melt processes. With our plasma process, we can take different compositions of vastly different melt temperature metals, mechanically alloy them, then create a powder with them and then print using it. That gives designers total and infinite range to create powders.
"In just talking to the aerospace organisations, every one of them is working on unique alloys today for hot zones and for rotating parts, things like that that they can't produce today, and they certainly can't do it in conventional traditional CNC or casting, so are looking to additive. Others can't partner with these companies to come up with unique materials, for applications that increase the temperature of the hot zone by 100 °C. We can do that, which is why we're getting the attention of these guys, even though we're new to the market."
The company's patented process for powder production differs from the normal gas atomisation approach, in fact it is not an atomisation process, it is underlined. There's a clue in the company's name, which is a reference to the 6,000 °C working temperature of its UniMelt process, the world's only microwave-based plasma production system. "6K will take a leadership position in both sustainability for AM and disrupt conventional thinking on materials, performance and business models available to designers," the company says. And it has invested >$50M to service what it believes to be an addressable market of $50-100bn, with "multiple home-run opportunities" within that.
Speaking specifically to the sustainability aspect of its powder production process, the CEO reveals some interesting information: "Additive manufacturing is claimed to be a very sort of 'quote, unquote' sustainable process, in terms of the buy-to-fly ratio and amount of scrap produced, but the dirty little secret is that powder manufacturing is horribly unsustainable and inefficient. You know, a typical gas atomisation process might have 25% yield, so where does all the rest of that powder go? If it's titanium, it probably goes mostly into a landfill, right, or for Ti6Al4V it can also be burned. For other types of metal, small proportions might be able to be used in other markets or be melted back in. But, for the most part though, it becomes a waste and so you have to take it back upstream and make a new ingot with all the associated energy and pollution that entails. Then you repeat the powder production process and again get just 25% from the input.
"So that's the big play. We can use scrap, sure, but we can also take that oversized powder waste and use that as a feedstock. We can use machining scrap, reject AM parts, AM support structures, you name it, we can use it. Part of our mantra is that we get a 100% output from our process - zero-loss AM powder production."
The powder is also of higher quality than that produced via current atomisation processes, the company states. Zero powder porosity, high sphericity with no satellites plus high flowability and spreadability are all claimed advantages. Stronger parts also result. For Inconel 718, both ultimate tensile and yield strength are higher by 20% and around 30% respectively.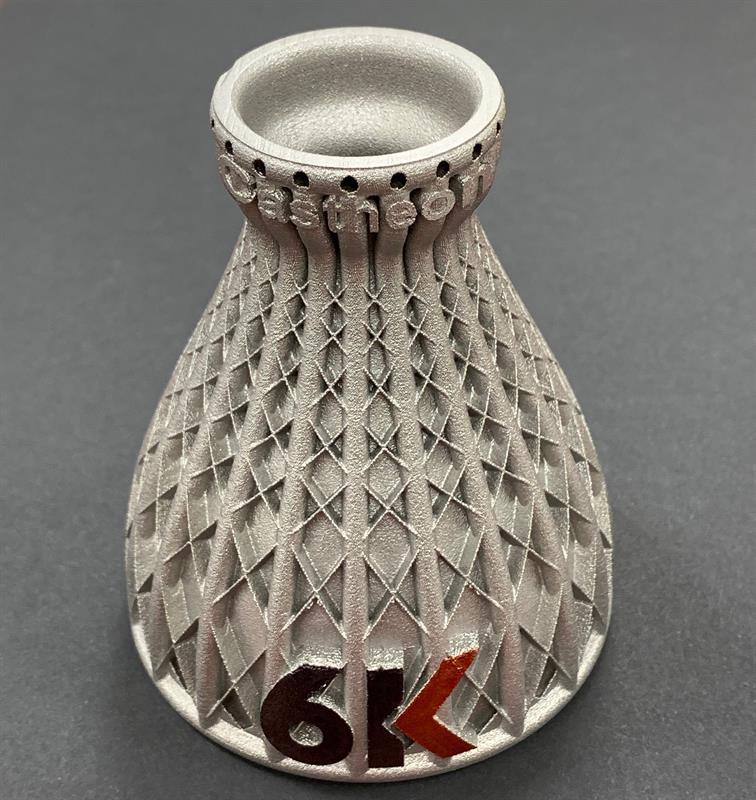 A rocket nozzle produced via 6K's UniMelt process

Continues Bent: "Our mission is to create a better business case for AM, so that you don't have to cherry pick a few applications that make business sense. And that comes from a couple of different things: one is higher quality powders, which means high quality parts; two is lower cost price, but not just lower cost powders but lower cost of manufacturing. So, if we can provide value for the waste streams that come out of the AM process, that's huge. Right now, only about 30% of the powders ends up in a part. So, you can get value for those waste streams, and keep in mind these are highly valuable, they are certified chemistry materials and parts that are a beautiful feedstock for new powders."
6K is not selling its equipment to other powder producers, though. Bent again: "Our goal is to be a producer and we're investing millions of dollars into a new production capability. So, we're not selling equipment, we are doing two things. We are already a primary producer, but we're also partnering with 'super-users' looking at having mini onsite manufacturing cells. So, companies that may have 50, 100 or 200 AM machines that have waste powder and where we've been able to rejuvenate waste powder to make it premium again. We can take their used powders, we can take their scrap AM parts and often times these companies also have a lot of machining operations, so we can take the machining scrap as well. So, it becomes a very closed-loop circuit within, you know, within their site. That's the objective, a true circular, closed economy approach."
Primarily a powder producer, with one of its machines able to produce 100 tonnes/year, the super-user element is effectively powder as a service, with large aerospace companies or a medical equipment makers such as Stryker (not a customer), which has hundreds of machines, targets (oil and gas, plus automotive will likely follow). First half 2020 will see 6K starting to produce nickel super-alloy powders, with the third quarter seeing Ti6Al4V available and then it has a number of partnerships and projects to pursue with aerospace, medical, airframe and engine companies, exploring a whole range of different options.
Having unveiled its offer at last year's TCT Formnext show in Frankfurt, chief marketing officer Bruce Bradshaw says: "I think our entry into the market is timely. Typically, it is the case that people are buying powder from 3D Systems, from EOS, from SLM, those organisations, and as folks start to transition to production, they don't want to be handcuffed reliant on those by those companies. So, they're looking at organisations like us. Our entry into the market is timely, because the market is moving towards production and they're looking for efficiencies, right. Our cost structure is lower, so as we look to the future at production scale and volume scale, we will actually have the business case and the ability to grow and change our cost structure. The plasma and gas atomisation processes have a floor and once they're there, they're out of the market, they won't be able to compete. So not only can we compete today and provide high value powders at cost-effective pricing, we know it's going in the direction of production. We can ride that wave with the super-users as they scale, unlike our competitors."
And he adds that 6K is looking to Europe and the UK as a next move. "We hope to have an office in the UK or EU later this year, and then, hopefully, a production capability either at a super-user site or perhaps a pilot cell someplace over there, because there's a wealth of certified chemistry and high value scrap that can be put into play today. And so rather than shipping it back and forth across the ocean to customers and coastal supply sites, they can be one and the same, both the customer and a supply chain, all the onsite in one location. You have some companies that are making, you know, hundreds, thousands, hundreds of thousands of certified chemistry parts using titanium and other high-performance metals that this is getting sold for nothing."
The company is already working with some well-known names in the US, UK and wider EU, which it is understandably unwilling to name. But news of a relationship with a "next-generation space company" is expected to be made public soon, CEO offers. If AM is a disruptive technology, 6K is delivering disruption at the material level that users may not have even had any consideration of previously.
Box item
More on micro-wave plasma generation

6K's process sees the generation of a 6,000 °C plasma that is something like 10 cm in diameter and 2 m long. CEO Bent says: "The uniformity that comes out of having a microwave-based plasma is sufficient enough not only to melt metal but it's also uniform enough to actually make far more challenging chemistry-based materials. So, we have a large programme in making battery materials, very stoichiometrically accurate, precise, better materials to make battery materials. And we're matching the best-in-class performance of the world's known battery materials made in plasma in two seconds versus three days."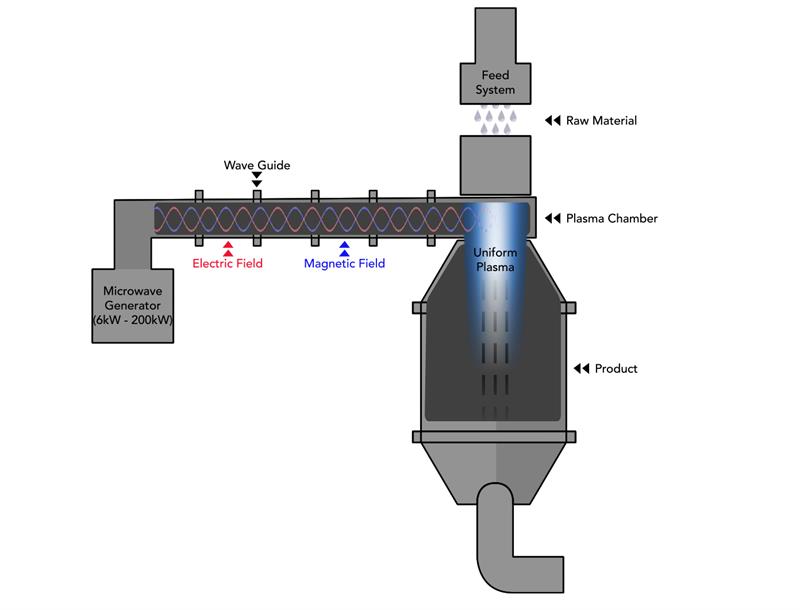 The UniMelt process, diagramatically