A German national with international business experience, Meyer gained a masters degree in aerospace engineering at Germany's Braunschweig University of Technology, graduating in 1995. His early career was in Germany, as a project manager with ThyssenKrupp. He then moved to its machine tool subsidiary Hueller Hille, where he reorganised the firm's SAP-based logistics infrastructure.
In 2003, he became managing director of Cross Hueller UK, now part of the MAG group, specialising in supplying the automotive industry with transfer lines and flexible production systems for prismatic machining. Other career highlights include the managing directorships of two pharmaceutical companies in the UK and, most recently, in China.
Heller Machine Tools in Redditch is a subsidiary of family-controlled German machine tool builder Gebrüder Heller Maschinenfabrik that has a pedigree stretching back to 1894. The UK operation is one of five manufacturing plants worldwide and was established in 1974. Today, the UK site employs 150 and builds around 200 machines, many exported to Germany, together with some 300 toolchanger units annually (180 for the UK; 120 for export).
Gebrüder Heller Maschinenfabrik had a turnover of €434 million and an order intake of €558 million in 2014, with 69% of its business won in Europe, 23% in North America and 8% in Asia.
Meyer underlines Heller's application engineering focus, highlighting that, as a company of 2,470 employees, Gebrüder Heller Maschinenfabrik employs 470 in applications and engineering. "Heller is very much a solution provider. The majority of machines worldwide leave our factories complete with the application and not as 'naked' machines," he says. And the company's machines' core strengths are, he adds, their accuracy and longevity under arduous and extended, 24/7 production conditions, often in automated systems – automotive manufacturing is the company's traditional heartland, but many other sectors are serviced, too.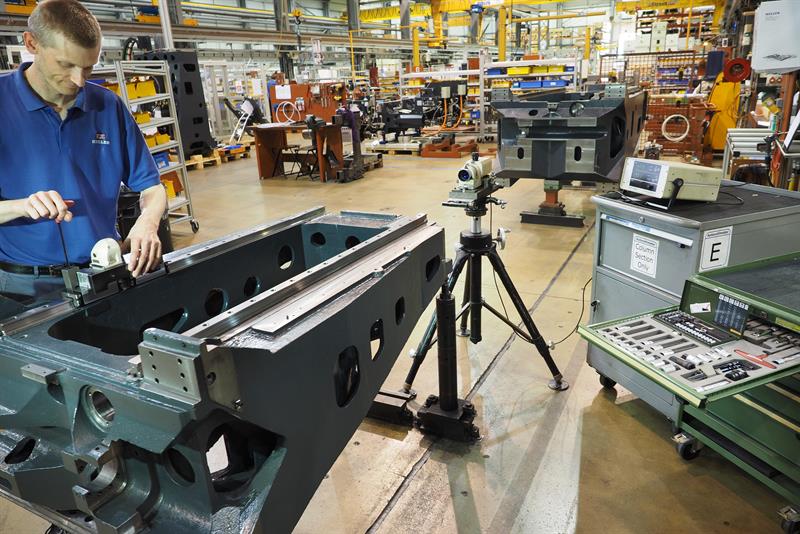 Guideway assembly

The machines built at Redditch are Heller 4-axis horizontal machining centres from the company's H series, taking in models 2000 to 6000 (400 by 500 m pallet and 630 by 630 by 630 mm working envelope to 630 by 630 mm pallet size and 1,000 by 1,000 by 1,000 mm working envelope units). These machine models account for about 40% of Heller's global production – the Heller H range itself goes up to H16000, a 1,250 by 1,600 mm unit.
INVESTMENT OF £2 MILLION
The Redditch factory is currently undergoing re-organisation and expansion, with some £2 million being invested into the site, reveals Meyer – output of machines is to be boosted by 50%. And with lean practices in machine tool production facilities one of Meyer's skills (learnt during his time at Cross Hueller),the lean disciplines that have been implemented at Redditch since production started in 1995 will be honed further in the run-up to this factory expansion, he emphasises. Such practices are embedded within Heller's other manufacturing sites in Germany, the USA, Brazil and China.
Part of this expansion will be a completely new flow-line that will support machine build in 12 days. The H series machines built at Redditch currently are only part-built on an in-house developed flow-line and take double that time to complete. (In both cases, applications/customer engineering of machines takes place off flow-line, of course.)The introduction of machine table unit build is currently underway, too.
A development over the past year since Meyer arrived has been the flow-line assembly of larger H machines; previously only smaller models were assembled on the flow-line, as the larger models were initially considered too heavy. Tests proved otherwise, so efficiency has been boosted already.
Says Meyer: "We are very proud of having brought the Heller brand of German engineering and manufacturing excellence to the UK Midlands 40 years ago. On the 41st anniversary of the Redditch factory's inauguration, we will be equally proud to show the world our significantly expanded production facility and new customer area."
In support of the current shopfloor re-organisation, a 'temporary warehouse' has been erected, although, in fact, is expected to remain standing for many years. This itself will allow raw materials and finished machine despatch areas to swap places, creating a better workflow through the factory, which is also to be kitted out with modern LED lights, too – "reducing our carbon footprint dramatically and maintaining a constant lux level, unlike other lighting", Meyer stresses. Other developments will include rearranging offices to deliver "a customer-focused office layout".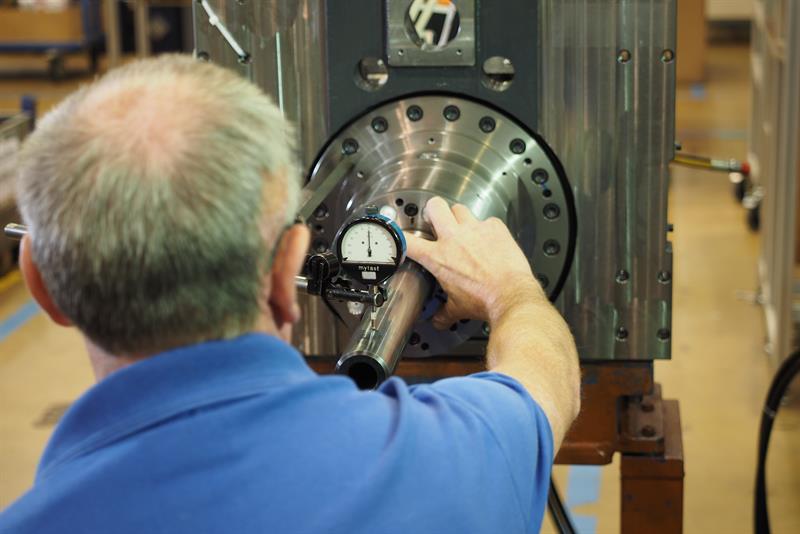 Spindle assembly and set-up

A BETTER SHOWCASE
"We want to be a much better showcase, much more open in the way we receive customers and how we work here. We have a small reception that gives no idea of what lies beyond on the shopfloor. We want to use that [what lies beyond] as an advantage; we want to open it up," explains the managing director, who talks also about attracting people to work by making the environment more attractive to what he calls "the I generation". This environment will include a more informal type of approach, such as meeting pods, rather than meeting rooms, he suggests. "This is important in attracting the right people to our business. I still think manufacturing is very sexy, and we have sell it."
Meyer said that it his intention to win market share in the UK, broadening the sectors into which the company sells. Key in this is to better promote the 'Design: Made in Germany – Build: Made in UK' message, he emphasises. "I am quite surprised that not everybody knows what Heller is doing in the UK. There are not many machine tool companies left in the UK that actually build machines, so we at Heller are quite proud to still do this in the UK, and do it for the worldwide market." This, he adds, feeds into high quality service, since the company has "60 people on the shopfloor" who know the machines intimately, he points out, many of them having passed through the company's established apprenticeship programme. Heller's location in the Midlands is also highlighted as favourable to offering rapid service.
Continues the managing director: "The fact that we manufacture in this market gives our customers in the UK and Ireland considerable added value. Not only do our staff have a level of product knowledge that is much deeper than it would otherwise be, but also we can call on shopfloor operatives, all of whom are apprentice-trained, to help out with installation, commissioning and service if required.
"Another benefit is that customers can come in to see their machining centre actually being built, if it is a 4-axis model that we produce. Whatever machine they are buying, they can see the quality of engineering input, which is standard across all of our factories. Few machine tool suppliers in the UK are able to do similarly."
But regardless of upping volumes, selling standard units is not seen as the way forward. "We will never ever give up being a solution provider, but we need to do a smarter job in setting up our [internal] processes to more beneficially deliver this to customers," Meyer concludes.
*Developed with German automotive giant Daimler AG, Heller offers the twin-arc laser engine block bore additive coating process – CylinderBoreCoating (CBC - http://www.heller.biz/en/in-focus/). It reduces friction losses and some 50 units have so far been sold, mostly to Daimler, reports Meyer, who adds that Daimler intends this to be used much more broadly across its car range. Only Heller offers CBC, which is "the only such process in mass production, unless somebody tells me different", he adds.
** Heller is a player in current Industry 4.0 efforts in Germany, with this less visible in the UK, Meyer admitted. The parent company is taking part in METAV show's Industry 4.0 theme area. Industry 4.0 is the internet of things in the industrial world; connected machines and equipment that generate, transmit, collect, analyse and act, often automatically, upon data.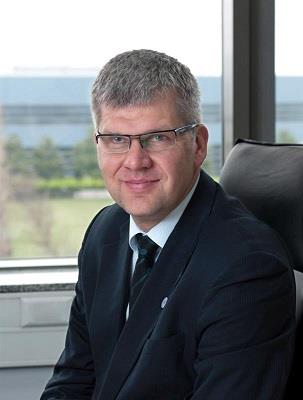 Matthias Meyer, managing director of Heller Machine Tools
This article was originally published in the December issue of Machinery magazine.