UK manufacturers can receive a tax credit for 20% of the cost of systems or equipment that reduce the amount of water and energy they use. Although not currently offered for machine tools, tax breaks in the form of Enhanced Capital Allowances are available on recycling systems for component wash water, air compressors, motors and drives, LED factory lighting, heating and other industrial equipment.
Factory systems and equipment may use excess costly power that does not feed into any production benefit; updating them could be a win-win decision, benefiting both the environment and company profits.
Paul Huggins, associate director, programmes, at the Carbon Trust, argues that conserving energy will not necessarily negatively impact output: "It is more a case of having the right energy at the right time to optimise production. Even if the efficiency gains don't look much – 3-4% – when equipment is used for very long periods ofthe day, the difference starts to accumulate."
The Carbon Trust can provide energy surveys and access to suppliers and contractors through its Green Business Directory. On behalf of government, it runs the Energy Technology List (http://is.gd/VHEohU), a list of verified energy saving technologies. When customers buy products from the ETL, they could also claim a tax break. (The Water Technology List [http://is.gd/uhRyPO], which is a similar idea, is managed by environmental consultancy Ricardo AEA, 01235 753 000).
LEGISLATIVE DRIVER COMPELS ACTION
There is no doubt that for some types of technology new products are much more energy-efficient. This is partly because of the force of law, in the form of the European Union's ecoDesign directive that came to the UK in 2009. It has had a major effect in many areas, including lighting – remember replacing incandescent bulbs with compact fluorescents – and consumer products, such as vacuum cleaners and electrical motors. But ecoDesign has not yet reached all types of machinery. Notable current exclusions at a European level include compressors, machine tools (see also Machinery's 'Green Supplement', www.machinery.co.uk/52733), water pumps and industrial ovens, according to non-profit association European Council for an Energy Efficient Economy (ECEEE).
Technological advances are also making some types of equipment better. One of the starkest examples is in LED lighting. Modern LED lights consume up to 80% less energy for the same brightness than lighting installed 20 years ago, Huggins points out, offering savings that would certainly enable a short payback period.
A similar logic – and enhanced capital allowances – applies to compressors that supply shop air. Some of the latest models are claiming vast improvements in energy efficiency. For example, Ingersoll-Rand's RS-Series oil-flooded rotary screw air compressor, launched in October in the UK (01233 635337), is claimed to deliver up to 18% better efficiency. And innovative technologies in this area are on the horizon too: Midlands firm Lontra is one of the first businesses to win R&D support from the new Institution of Mechanical Engineers fund, Stephenson LP, in support of its Blade Compressor that promises a 20% reduction in energy consumption. The device is already licensed, by Sulzer, for use in the wastewater industry; Lontra (01926 811102) is now seeking other markets.
Inefficient compressors can be a big drag on a small business's cashflow. For example, Huddersfield packaging business Crossgrove Associates reduced the annual cost of its compressed air supply from £6,450 to £770, after installing a new Atlas Copco GA11VSD+FF variable speed drive compressor (0800 181085). During a service call, local reseller Pennine Pneumatic Services (01422 321772) found the company's 37 kW screw compressor had much larger capacity than necessary and suggested the change. It also put Crossgrove in touch with Kirklees Council, which offered up to £5,000 toward energy-saving capital investments. With the grant, the company was able to achieve a payback in seven months.
This example illustrates how overspeccing any (constant duty cycle) industrial equipment without having the appropriate work for it may dramatically increase energy costs. Says Huggins: "What we always recommend is that, when the customer is considering replacement equipment, as part of talking with suppliers they get an audit or survey done for the work requirement of the replacement to right-size the equipment. This makes sure that it is sized for the forseeable future, rather than what happens quite often and over-speccing from the beginning."
Closely monitoring factory processes can also save money; a leak in a shopfloor air system forces the compressor to draw extra energy. The Carbon Trust estimates that a single 3 mm leak can cost more than £500 per year in wasted energy. Leaks typically occur in hoses and couplings, pressure regulators, pipes, or in flanges and pipe joints, or in manual condensate valves, says Iain Hanson, product manager at equipment distributor Brammer (www.brammeruk.com), partner of pneumatic equipment manufacturer Festo, which published a useful technical white paper on the subject in March (http://bit.ly/1jE72ZO). Finding leaks usually requires ultrasound equipment, as used in the compressed air equipment audits offered by Brammer.
A further consideration is that, as compressed air is usually generated at the compressor's maximum pressure, even a 10% reduction in pressure can deliver energy savings of up to 5% (based on the compressor working at 7 bar), suggests Hanson.
WATER-SAVING MEASURES ATTRACT SUPPORT
Just like compressed air, water for cleaning cut parts is an essential resource for many factories. To remove coolant and swarf, washing machines rely on detergent, agitation and copious amounts of electrically-heated water. During the washing process, as the coolant comes off the parts, it goes into the water. Disposing of dirty washwater may involve tankerage for offsite treatment, although the exact criteria for industrial effluents are set by local wastewater treatment facilities. So reducing the quantity of effluent is another way to cut costs.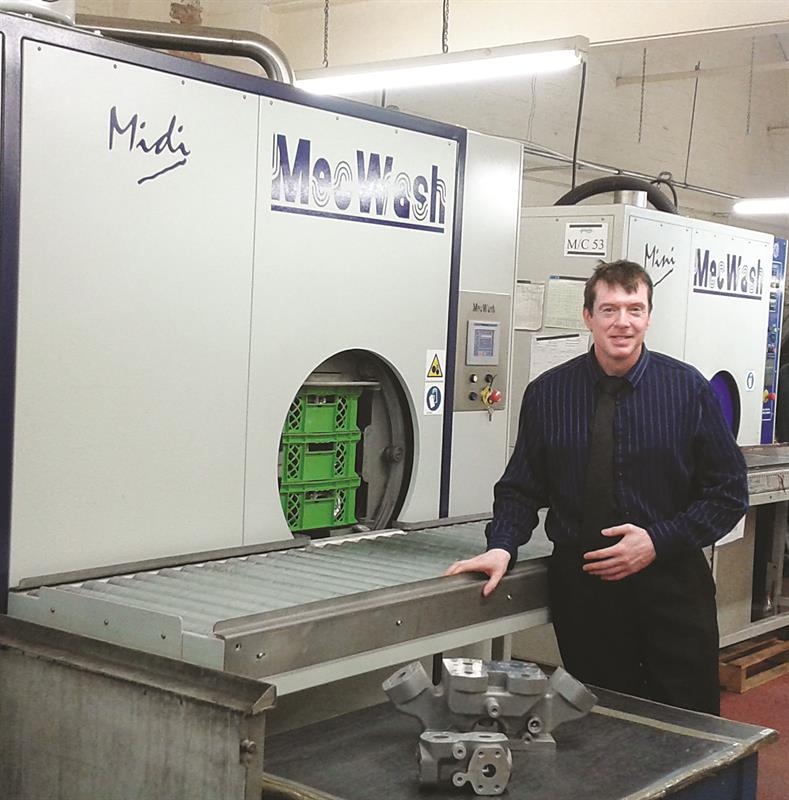 Robert Wortley, sales manager of Leicester Precision Components, claimed a 20% tax break on a new Aqua-Save washwater recycling unit, bought with a MecWash Midi parts' washer to work alongside an older MecWash Mini unit cleaning automotive parts

Aqua-Save units offered by industrial washing machine vendor MecWash (01684 271600) will recycle wastewater in situ. They offer a processing price of (roughly) £0.05-0.08/l, compared with £0.10-0.20/l for tankerage, according to MecWash sales manager Paul Jarratt. The Aqua-Save is available in two capacities: 10-15 l/hr for the Aqua-Save Junior, and 30-40 l/hr for the Aqua-Save 30.
Customers of this equipment can also claim a 20% tax break on the purchase price, provided their site can reuse at least 40% of the recycled water, perhaps for flushing toilets, topping up cooling systems or other industrial uses.
The machine's evaporative process is claimed to be greater than 90% efficient (returning for example 920 l of recycled water from 1,000 l); it is most energy-efficient when coupled with a component washing machine that supplies washwater that is still hot, adds Jarratt, thus reducing the energy input required to raise water temperature to achieve evaporation.
Other systems currently available on the market help conserve water used in aqueous processes. For example, trophy awards manufacturer Special EFX installed a Vacudest water recycling system from NHE (024 7625 3099), part of Norman Hay Group, to virtually eliminate the wastewater collections required for its gold, silver and bronze trophy surface finishing operations. The Vacudest equipment uses a vacuum distillation process. Special EFX, which uses up to 24,000 l of water per month, recycles the treated water back into the manufacturing process and achieves zero liquid discharge.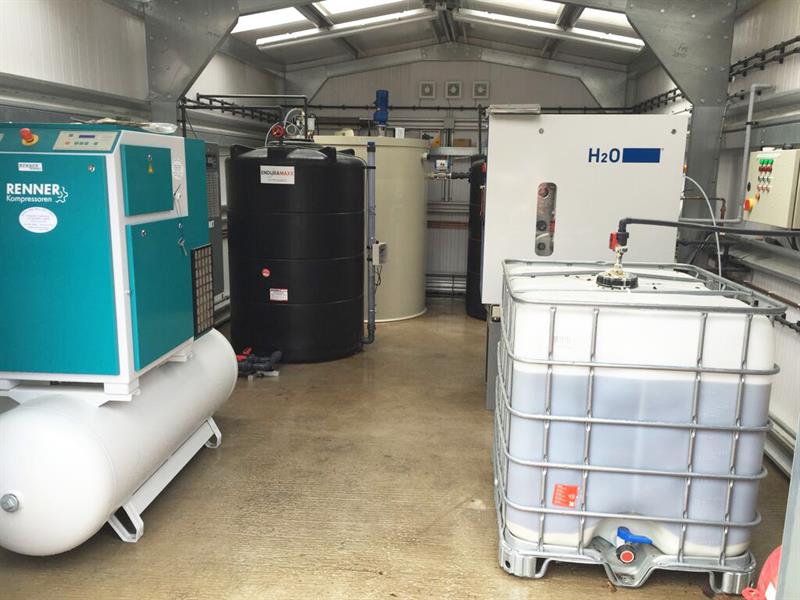 Special EFX has installed an H20 Vacudest washwater recycling system from NHE to save money on its metal finishing processes
No matter how energy-efficient machines such as the Aqua-Save are, though, they still need electricity to generate recycled water. However, this is not the only approach. A factory might alternatively decide to conserve electricity at the expense of conserving water. In other words, resource conservation can be a matter of trading off between two conflicting resources. Ricardo AEA senior consultant Richard Malloy says: "The amount of energy required depends on the quality of water required, and on the size of the system." This means that simple water treatment systems do not require power; a sand or activated carbon filter could remove solids from waste water without using much energy.
To help resolve the water-versus-electricity dilemma, Malloy advises that businesses translate each resource in terms of a third factor, carbon: the carbon cost of the generation of electricity on one hand, and the carbon cost of pumping and purifying water on the other. Government departments DECC and DEFRA offer greenhouse gas reporting factors for water supply, he advises. For example, 1 m3 of water 'costs' 344 g CO2 to supply, and 708 g CO2 to treat. By comparison, 1 kWh of UK electricity costs 459 g CO2 (see also http://bit.ly/1hPDcIK for more information); Ricardo AEA also offers brand-neutral consultancy services in this area).
Another factor in considering water needs is deregulation. Commencing in 2017, competition will be introduced into non-domestic English water supply. Explains Malloy: "An organisation will be able to get water supplied by whoever they want, instead of by a geographical monopoly. That connects across borders: there is a link to the Scotland competitive market, where this has already been rolled out." The English system will work the same way that it does currently in Scotland, where Scottish Water is the wholesaler that owns the supply and treatment infrastructure. In front of that are retailers, just as in the energy market, and companies will in future be able to shop around.
Crossing country borders reveals other eco supporting schemes. Small businesses in Wales and Northern Ireland may be eligible to buy energy-efficient technology with 0% loans backed by the government; these loans are repaid by savings in energy bills generated by the equipment. A similar scheme exists for qualifying water-efficient equipment in Scotland (through government agency Resource Efficient Scotland). Such loans were withdrawn in England after the recession to save money. That said, similar pay-as-you-save asset financing models for energy-saving technologies are available from the private sector, says Siemens Financial Services (www.siemens.com/finance).
NEW ECO REGULATION TO HIGHLIGHT SAVINGS
Another new development affecting larger subcontractors and manufacturers with more than 250 employees or £50 million sales turnover is government's so-called Energy Savings Opportunity Scheme (http://is.gd/7FbAUj). From this year, to identify energy saving measures that are cost-effective, such businesses are required to submit assessments of energy audits of their buildings and industrial processes every four years (although there's no requirement to take action). The first such report is dueby 5 December this year. One way to comply with the regulations is to become compliant with international energy management standard ISO 50001:2011.
Finally, manufacturers' organisation EEF published a report in September on environmental matters – 'The low-carbon economy – moving from stick to carrot' (http://is.gd/lyiQYT). This argues that to further adopt energy-efficient technology, industry needs more carrot (bigger tax breaks and incentives) and less stick (taxes and levies): "For manufacturers, climate change policy has for too long been burdensome. The UK should seek to make its ambitious climate change targets a matter of economic ambition. Business and government need to work together to invest in making the low-carbon future not only transformational, but profitable."
This artice was first published in the November 2015 issue of Machinery magazine.