Having been successful in the semi-conductor, automotive, general toolmaking and medical areas, Limerick-based Takumi Precision Engineering, formed in 1998, turned its attention to the fledgling aerospace sector in the Republic of Ireland in 2012. Initially, work came via other, larger subcontractors, but this brought Takumi to the attention of Bombardier for approval purposes, which eventually led to it working directly for the firm on its C Series commercial aircraft project. Says company founder Gerry Reynolds: "Bombardier needed new suppliers and we responded. It was a steep learning curve, but the more we learnt, the more we could take on and through investment in 5-axis machining, training and technology, we were able to take on up to 20 new parts per week, building a portfolio of not only C Series parts, but legacy components as well."
In support, investment has included 20 new machine tools in a five-year period, half of which were 5-axis machining centres. Takumi Precision Engineering also gained AS9100 and SC21 Bronze, with plans to achieve SC21 Silver in 2018. Turnover now stands at €6.3 million, with 60% of that coming from aerospace. And the company intends to expand the factory from its current 25,000 ft2 to 35,000 ft2 during 2018.
WNT became a supplier to Takumi due, initially, to its ability to guarantee next-day delivery of cutting tools, but this relationship quickly developed into a partnership, with WNT's technical sales engineer Jerry Warren and applications engineer Shane O'Donnell willing to work alongside Takumi's engineers to develop new machining strategies to improve cycle times and processes, as well as provide training for its operators.
"Training and education are a key to our success and we encourage progression from within and, as a result, we have never advertised for a manager, as we have accelerated people into positions of responsibility," explains Reynolds, adding: "The fact that WNT is willing to come in and spend time training our people on the fundamentals of tooling, both in the classroom and at the machine, is a bonus for us. This is just one of the strengths of WNT that, combined with their logistical solution, which includes the tool vending machines we hold our consignment stock in and from which we get detailed reports on who has used what, on which jobs, helps manage project costs, while we still rely on the next-day delivery of tools that we need unexpectedly. This combination of people, tooling and logistics are the strength of WNT."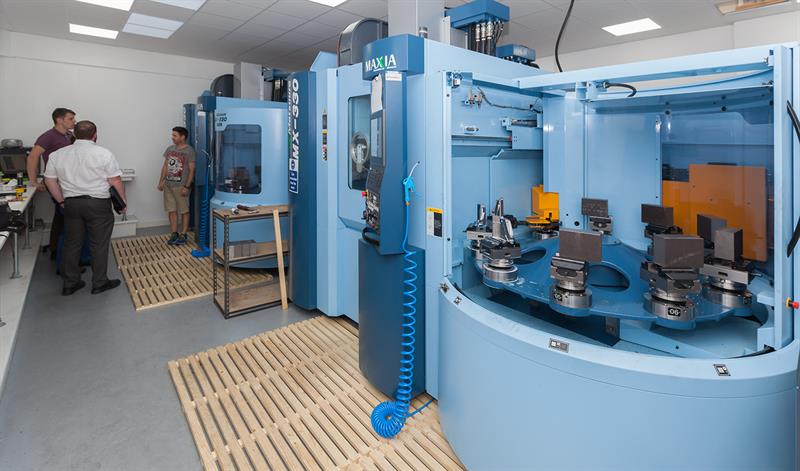 At Dawnlough, new projects are looked at as a matter of course, so as to minimise cycle times, extend tool life and manage tooling costs

There is now a concerted effort among a small group of subcontractors within the Republic of Ireland to make the world aware of the aerospace capabilities of the manufacturing sector there. Takumi Precision Engineering is a founder member and instigator of Emerald Aerospace, a group of like-minded engineering businesses that are working together to promote Ireland as a centre of excellence for aerospace manufacturing. Emerald Aerospace will be the point of contact, with customers receiving one invoice, irrespective of which member carries out the work, which is a different model from other aerospace alliances. "For many years, Ireland has had limited exposure to the aerospace sector, making growth hard to come by, but with Emerald Aerospace we have a cluster of companies with accreditation and amazing capability that means we can make the world aware of Ireland's aerospace capability," Reynolds underlines.
Another founder member of the Emerald Aerospace cluster is Dawnlough. Occupying what will be a 50,000 ft2 facility – once the planned extension is complete in 2018 – the 75-employee company now has a capacity list of over 30 CNC machine tools, including multiple 5-axis, robotic pallet-loaded machining centres.
The focus on aerospace came after Galway-based Dawnlough acted as a third-tier supplier machining components for premium aircraft seats; this led to the company being awarded more work in the aircraft seating sector.
Says managing director Brian McKeon: "This business grew quickly, but we soon faced price pressure from competitors in low-cost economies. We therefore took the decision to look at other areas of the aerospace sector that involved higher precision, flight-critical components. This led to the opportunity to work directly for Bombardier, machining flap actuation parts and other wing assembly components, as well as some engine mounts."
Success here saw Bombardier sponsor Dawnlough through the SC21 Bronze award in 2016, with the Silver award targeted for 2018. In addition to SC21, Dawnlough is one of only two companies in the Republic of Ireland with accreditation for aerospace assemblies. The company also has ISO9001:2008 and ISO13485 and AS9100D for quality management, the latter being aerospace specific.
In preparation for planned aerospace-related growth, Dawnlough is working with its long-term tooling supplier, WNT. The speed of growth meant that tooling costs increased, so vending systems have been introduced to manage tool usage. These generate detailed reports that highlight what tools have been used on what jobs, by specific operators. Working with WNT's applications sales engineer, Shane O'Donnell, and technical sales engineer Jerry Warren, Dawnlough is developing machining processes to get cutting tools operating at maximum capability. As business develops, any new projects are looked at as a matter of course, so as to minimise cycle times, extend tool life and manage tooling costs.
Concludes McKeon: "Job costing is a vital element of our business and while we have always been able to be specific on machine and time, tooling was often a grey area. With the support from WNT, along with the reporting that we can access from the vending machines, we are now able to break down tooling costs very specifically, with any issues being flagged up immediately. In business, it is the little things that make a difference and the support we get from WNT, in terms of the consignment stock in the vendors, next-day delivery on the 20% of tooling that we don't hold, the regrind service and the technical support, all adds up."
Shannon Precision Engineering is another member of the Emerald Aerospace cluster, and is additionally a WNT tooling customer. Longer established than Takumi, boasting 40+ years, the company has grown from a small subcontract jobbing shop into one of Ireland's major players, working across many industry sectors, including automotive, hydraulics, oil and gas, cleantech, temperature control (transport), power generation, medical device and rail sectors. But the aerospace sector is now within its sights, with an extension planned that will house 5-axis machining centre capability.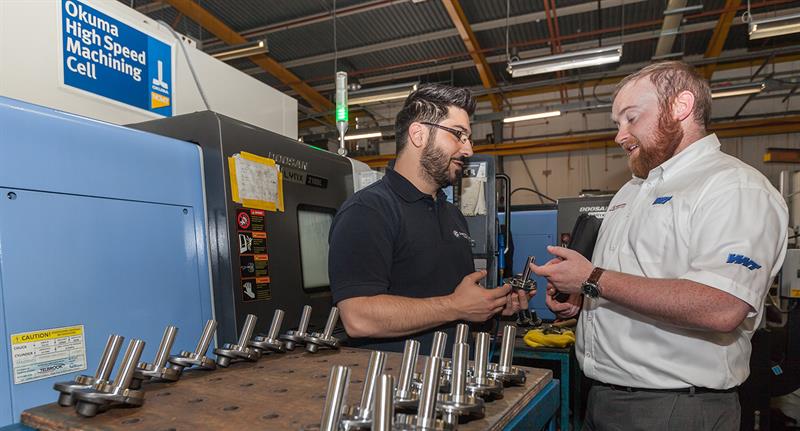 Shannon Precision Engineering's operations manager, Nicos Mylonas, left, discussing machining with WNT's Shane O'Donnell
With aerospace being part of the future for Shannon Precision, the new extension will be dedicated to this type of work, keeping the more traditional work separate and creating the right environment for aerospace customers, the company advises.
In addition to the increase in floorspace, the company has also made changes to its working practices to prepare for the new challenges that aerospace will bring, including gaining accreditation to AS9100 in January 2017, restructuring its shopfloor working practices with team leaders having greater responsibility and SQDC boards in place to monitor key metrics at cell level. All of which has generated a new energy and pride within the business.
Says managing director Dominic Murphy: "Over the past two years, we have scrutinised what we do and how we do it, basically challenging ourselves to do things better.
Our customers have to be comfortable in the knowledge that we are not charging them for our inefficiency. Twelve months ago it would have been me pushing these changes, now the team leaders are enthused by what we are doing and everyone is involved.
"This is particularly encouraging as we introduce new systems, extend our ERP system and move further along the path of gaining SC21 Bronze accreditation with the changes we have made. There are few companies in Ireland with the capabilities that we have to take on projects involving multiple parts and the supply chain that goes with it. Backing this up, we are committed to further investment in people and machinery in order to achieve our target annual growth of 15%.
"Over and above this growth will be the new work that we are aiming to gain in the aerospace sector. Due to the robust processes already in place to meet the needs of our automotive customers, along with our hard metal machining experience, aerospace is seen as a natural fit for Shannon Precision Engineering. That is why we have become a member of the Emerald Aerospace cluster.
As part of this, we can work together with other manufacturing businesses in Ireland and offer an awful lot to the aerospace sector in respect to offering solutions to their needs and requirements."
As part of its journey, Shannon Precision has worked closely with WNT as a tooling partner for the past 11 years, during which time the tooling expert's applications experience has played a big part in cost reduction and process improvement efforts.
In one case, manufacturing costs were almost halved for a turned part, leading to a weekly saving of €1662.52; and there have been many other such successes.
Concludes Murphy: "The partnership with WNT has been a mutual benefit scenario in that as we have grown so have they and the support that Jerry and Shane from WNT provide has been invaluable. Tooling is a big part of what we do and WNT's willingness to work with us on projects at management and shopfloor level has paid dividends and forms an integral part of our drive for continuous improvement across the business."