The two most widely trumpeted interface developments can be found with the world's top two metalcutting machine tool companies, DMG Mori (0247 651 6120) and Yamazaki Mazak (01905 755755).
DMG Mori had more to say about its 19-in Celos touch-screen interface, following the big splash at the 2013 EMO edition. Celos provides alternative CNC screen layouts in support of information display/operator interaction, but can be switched to a traditional look, while it also boasts 'apps' accessed via the touch-screen. One of those apps, Status Monitor, offers a screen that indicates current machining process situation and additionally supplies important key performance indicators on the current order, as well as on the order progress, and notifies operators with special icons, as well as text messages, about any errors or upcoming maintenance work.
The interface layout and use of icons that represent apps are intended to be more attractive to a younger generation and reflective of smartphone/tablet interfaces. Celos also brings together under one interface machines that have either Mori Seiki- or DMG-as-was heritage and where CNC hardware from different suppliers featured.
The boast for this new CNC approach is "a 30% saving in set-up time and 50% less effort for calculating technical values and searching for important information".
Machinery carried a detailed feature about Celos and other such developments earlier this year (www.machinery.co.uk/83953), but there are updates and additions since then. For Celos, this was the addition of five new apps. Apps are divided into five groups, for production, utilities, support, configuration and machine views, and the five new apps target further improvement in production engineering and company organisation, while providing optimised applications and service planning for DMG Mori machines – there are now 16 apps. The new ones are: pallet changer; service agent; tool handling; job scheduler; and messenger. It may be that Celos is opened up to third-party app developers, the company said at the show. Levels of user access/control are another feature of Celos, but this was also an element of previous DMG-as-was control systems, in fact. (Celos on YouTube: http://is.gd/NtZCnw).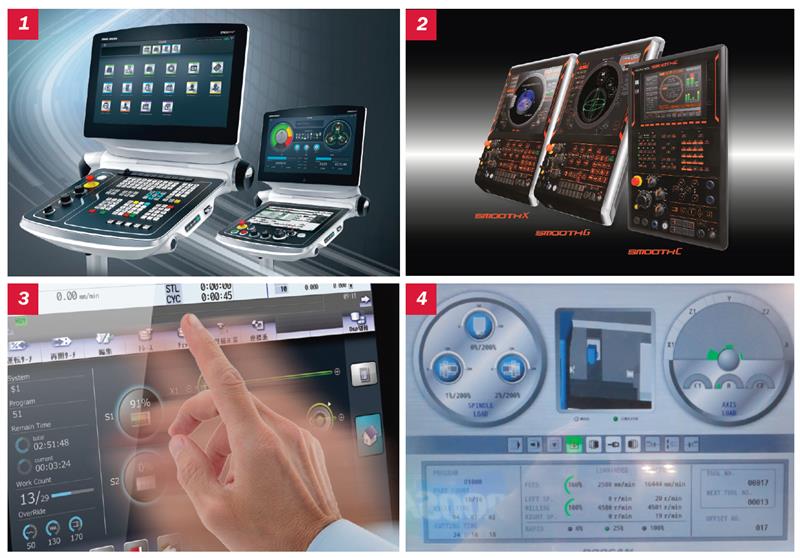 1: DMG Mori's Celos gets more apps. 2: Mazak adds to its range of Smooth CNC units 3: Mitsubishi has interface developments to show. 4: Doosan employs a Fanuc-based solution

Yamazaki Mazak, having unveiled SmoothX earlier this year, added new SmoothG (machines up to 16 axes, with 4-axis in simultaneous motion) and SmoothC (streamlined for simpler operation with entry-level 2-, 3- and 4-axis machines).
Smooth Technology includes several different technologies, but its user interface makes the most obvious initial impact. SmoothX and SmoothG, for example, incorporate five 'home screens': machining; programming; tooling; set-up; and maintenance. All have quite a radical design and are displayed on a 19-in touch-screen.
To take just one feature, the new Smooth Machining Configurator helps operators fine-tune machine performance for freeform surface processing. Users are presented with machine controls shown as three moveable sliders that alter parameters affecting component surface quality, accuracy and cut time. Settings can be saved as profiles.
(It should be said that Heidenhain has offered such a capability for some time, but not via such an interface.)
SmoothC employs a new and innovative keyboard that positions the most regularly used alphanumeric keys in close proximity to each other, simplifying the layout and further reducing programming time. SmoothC also features a home screen presenting critical data in a single page for fast analysis and easy operation.
Smooth Technology is 38% quicker to program, compared to its predecessor, says Mazak, while new programming functions, including Intelligent Pocket Milling, can reduce machining time by up to 60% when compared to conventional offset toolpaths (Smooth on YouTube: http://is.gd/d0ENSS).
It is Mitsubishi Electric CNC technology that underpins Mazak's technology, and Mitsubishi Electric was promoting its interface configurability on its own account, specifically its M800W with new 19-in touch-display. A key feature is its dual display in which the standard CNC screen is displayed in the top half, while the bottom half can show user-defined applications, with this allowing machine tool builders to tailor their displays.
The split screen allows independent display of different windows – touch-screen keypad, document viewer or other applications. Different features and operating menus are represented by easily-assigned icons, so that "users can navigate to specific program sections or select a menu with a simple swipe, rather than time-consuming key strokes". Icons can, for example, display tool type, right or left cutting side, service life and other information at a glance, says the company.
CNC maker Fanuc also boasts a new HMI, with a representative example found on Doosan's stand on the company's Puma SMX3100S 12-in multi-tasking lathe. Once again, tailored interfaces are aimed at conveying information more succinctly and making operator interaction smartphone-like. Switching to Fanuc standard display is supported, however.
OKUMA'S BIG UNVEILING
Okuma (NCMT, 024 7651 6600) also had a big CNC unveiling to make, its OSP Suite – Okuma makes its own CNC, incidentally. OSP Suite takes in four elements: a home screen conveying essential information and common function buttons; widgets – applications that comply with standards such that they can interface with OSP suite; machine tool applications that range in complexity and operation (more than 30 available); and shortcuts that allow one-touch access to OSP numeric control functions, special options and functions (OSP Suite on YouTube: http://is.gd/1ZXUFm). Third-party applications can feature as part of OSP suite.
Germany's Grob (0121 366 9848), a horizontal machine tool specialist with an automotive background, unveiled its Siemens-based CNC development, Grob-Pilot4M. Touch-screen, graphic information displays and apps all feature here, too. This development is part of a greater whole, the company's Grob-Net4Industry software modules that support efficient plant operation and which sit within Industry 4.0 terrain (Grob on YouTube: http://is.gd/btSpPc).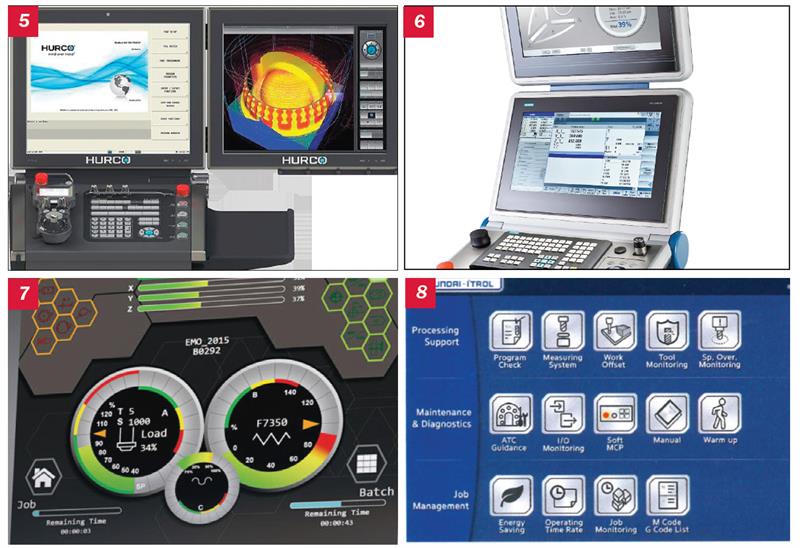 5: Hurco's Max 5 boasts hardware and software novelties. 6: Grob has two screens and a keyboard. 7: Hartford's Hartol is Celos-like. 8: Hyundai Wia has an organised approach

Other machine tool companies also boast CNC interface novelties to a lesser or similar degree, for example Hyundai Wia's Siemens-based Hyundai-Itrol interface, or Hartford's Fanuc-based Hartrol plus (both available via TW Ward, 0114 276 5411). The latter appears very much in the vein of Celos and Smooth, featuring novel, graphic information displays and 68 free apps (called application software in this case, however). Five main operating modes are selectable: program management; operation assistant; machine monitoring; utilisation rate; and maintenance support. Hyundai-Itrol has an icon-based user interface that offers icon selection of functions within three areas: processing support; maintenance and diagnostics; and job management.
Then there's Kitamura's Mitsubishi-based Arumatik-Mi 19-in control (Leader CNC Machine Tools, 024 7635 3874), launched in 2012 but which has been updated (Arumatik-Mi on YouTube: http://is.gd/WZeiiM).
Hurco's new control, Max 5, introduced at the Chicago IMTS show last year, has both control panel hardware (buttons, keyboard, trackball etc) and software novelties. And like Kitamura, its system's 19-in screen also boasts customisable views (Hurco on YouTube: http://is.gd/JutmcM).
Machine tool builder Nakamura-Tome (ETG, 01926 818418) has its Fanuc 31i-based NTSmartX control that, again, features a touch-screen and function icons, together with screens that boast concise graphic display of information. This system was first seen at Japan's JIMTOF 2014 exhibition. User access levels are a feature, as with Celos.
CNC-integrated simulation and collision guarding seems almost passé, with few companies highlighting this. Okuma claimed this capability in 2005, courtesy of UK company software MachineWorks (0114 223 1370). But it was Germany's ModuleWorks (www.moduleworks.com) that was most vocal this year in highlighting it, demonstrating real-time collision avoidance running on Fanuc and Bosch Rexroth hardware, while Hurco's Max 5 benefits from its simulation capability. But MachineWorks was able to move simulation on a bit, highlighting its ability to support machines that sport both additive and subtractive processes in its 7.4 version software. An early client is US firm IMS Software (YouTube: http://is.gd/gXgBmq).
This article was originally published in the November 2015 edition of Machinery magazine.