The first new installation of a stretchforming machine in the UK since 1979. That's what Mike Brown's records show; he is managing director of Leicester-based M-TECH UK (www.aeromachinery.com), the UK representative organisation for the Aries Alliance Group,
the manufacturer of Aero Fabrications' ACB stretchforming machine – a 300 tonne Loire FET transverse unit. And that last machine went to a major UK aerospace OEM, not a subcontractor, incidentally.
The parts that this new UK facility has been set up to make are Airbus A320 wing leading edges; there are 12 for each wing. First launched in 1984 and with its first flight in 1987, today build volumes for the much-modernised A320 are increasing. Currently in excess of 50/month, they will rise to more than 60/month in 2019, says Aero Fabrications' owner Neil Gouldby. A major UK aerospace firm approached the Watnall near Nottingham firm in 2014, asking it to tender for the work via a 'request for proposal' process. Already supplying aerospace fabrications, this would, however, be its first foray into skin stretchforming, and certainly its first one involving such key wing parts as these parts.
Set up in 1983 as a general fabricator, the journey to today's multi-million-pound set-up opened in July 2015 on a separate site close to its existing operation has been a long and gradual one for Aero Fabrications (https://is.gd/ofelol). The firm's entry into the aerospace sector came early, however, some four years after the company's genesis, with the British Aerospace (BAE Systems today) Jetstream 31 programme, a small, 19-seater twin-turboprop aircraft. Initially assembled at the rate of 18/year, demand grew over following years. (British Aerospace, incidentally, resulted from the merger in 1977 of the British Aircraft Corporation, Hawker Siddeley Aviation, Hawker Siddeley Dynamics and Scottish Aviation.)
Aero Fabrications supplied small internal detailed parts, such as bracketry, for this Jetstream aircraft, but then became involved with another British Aerospace contract, a Hawker search and rescue aircraft, taking in similar work. A low-volume project, work was lumpy, with large peaks and troughs, so a request to be considered for work for the production version of the aircraft was made, which was successful; still all small detailed bracketry. However, by 2005, the Nottingham company was the largest supplier of detailed parts, more than 3,000 of them, to that programme, these by that time being supplied to Airbus in the UK, at that time 20% owned by the now BAE Systems. So the fabricator had by this time established credibility and a track record with major players, but things were about to change.
With the company geared up to produce parts in support of a build volume of 120 aircraft/year, the economic crash of 2008 saw that revised to 60 and then to 34, with the company having made 16 of that 34 already. Says Gouldby: "The impact on us was colossal, although Airbus did give us more work to compensate." But worse news was to come. Beechcraft, the ultimate customer for what had been the company's central activity, filed for Chapter 11 in the US. So, 90-employee Aero Fabrications became a 70-employee operation working short time for two years.
The company then picked up a contract from the same aerospace client from which the latest order has come, in this case for late definition parts for the A350, with this work continuing to 2012 and seeing the company climb back to a 100-person operation. Then came the 2014 contract for A320 wing leading edge skins for which the new facility has been created. It was an order that was "bigger than anything we had ever done before", Gouldby says of the 10-year deal.
Now, while it is true that stretchforming was a limited process to Aero Fabrications, the founder, some 40+ years earlier, had experienced the process while an employee at Rolls-Royce, but that elderly technology didn't support consistency, being very operator dependent. "We started by looking at the process that was being used by existing suppliers, the machinery and its restrictions, and then how they were cutting holes and trimming. From that investigation, we knew we needed a new stretchpress and a 5-axis router for drilling and trimming. With this innovative new way of manufacturing the skins, the process is more efficient and the product more stable, allowing us to compete with foreign-based manufacturers that have very low staffing costs," explains Gouldby.
A call to ACB associate company Cyril Bath in the US saw him directed to UK agent M-TECH UK and discussions commenced. A visit to ACB's Nantes facility saw him "blown away by the technology". CNC routing was already a process undertaken at Aero Fabrications' Common Lane, Watnall facility, so better understood, although required a step up from 3-axis to 5-axis technology. At Common Lane, 3-axis technology is employed to machine stacked metal sheets for bracket blanks that are subsequently bent and painted. Some of this bracketry is assembled to the skins assembled at the nearby new facility that has been built on the Moor Green Industrial Estate. Around 20,000 bracketry blanks/week were being produced at the company as of Machinery's mid-July visit.
The new facility boasts an additional 60 employees that have been engaged since it was set up, with Aero Fabrications now a 180-employee operation, including 12 apprentices at the original site, five joining this year. In the machining area of the new facility, the central equipment is the ACB stretchformer, which is set into a raised platform, avoiding the necessity to create deep foundations. The machine was anticipated as being the most challenging part of the whole set-up, but as this was sourced as a turnkey project from ACB, it actually turned out to be the easiest, Gouldby relays. The tools for the process were also designed and made by ACB, which computer simulated the entire process – only one minor modification was required to one tool, Brown underlines. At the other side of that bay is an SCM 5-axis router (https://is.gd/cudujo).
Next door, in a second bay, is assembly and inspection, next to which is a parts stores area for smaller items such as bracketry.
Assembled parts in the next-door bay
For the wing leading edge skins, free-issue aluminium sheet material 1.6 mm thick arrives, is heat treated in a low temperature 'reversion process' and is then ready for stretchforming. Sheets are loaded to the ACB machine and the process of forming starts, taking a few minutes. At completion, two datum holes are manually pierced using a machine-located unit, these being used during the follow-on drilling and trimming process. The 5-axis router employs model board vacuum fixtures over which the now formed skins are draped. The machined skins are then deburred prior to sending out for anodising and painting before returning to have stiffener bracketry added to them.
Stretchformed parts await the next process
The word that Gouldby employs to emphasise the set-up's strength is "consistency". Consistency from the ACB CNC stretchformer and consistency from the 5-axis router. It's a long way from the technology he knew in the 70s – "we used to scrap sheets and sheets of material" – and a long way from the technology still employed by other suppliers. To underline this he says: "We are drilling the stiffeners and skins using 3.5 mm drills in both, bringing them together and opening up to 4 mm. Over that profile, we have so much confidence that we get within half a millimetre with no trouble. The quality that we are now able to achieve from that consistency of the profile and of the cutting and drilling means that Airbus is now able contemplate other methods of assembling the wing, because they can now consider automation where they couldn't before.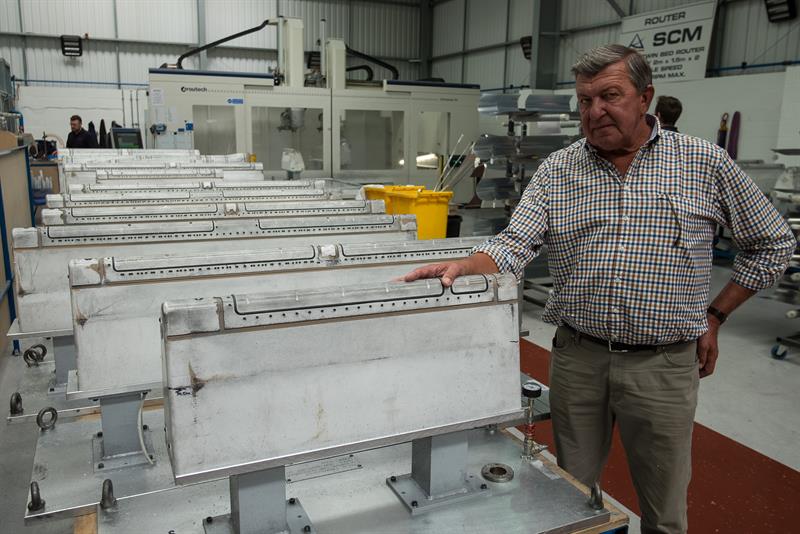 Aero Fabrications' owner Neil Gouldby standing next to parts on the vacuum fixtures with, behind, the router
"If you had asked me eight years ago, 'would I be doing stretchforming like this', I would have said 'no chance'. Other people that see this facility ask me whether I have capacity, but at rate I won't have. This factory was designed for the job."
Indeed, with such a unique UK facility and the increasing rate of aircraft build generally, the demand for Aero Fabrications' capability is only certain to increase, while there is a shortage of stretchforming capacity in Europe generally, Brown offers. But as to any further investment, Gouldby will not be drawn.
First published in Machinery's October 2017 Aerospace Supplement