We'll be writing about the day in more detail in our August issue of the magazine, but for now, here's a brief taster of what was presented. Mark Ridgway, the MTA president of the Manufacturing Technologies Association (MTA), opened up the event with a keynote speech where in which he urged the 200 business in attendance to think more about innovation. "I'd argue that in this age, it's easier than ever to be innovative," he said. "The machining industry might seem mature, but we have the ability to develop new technology, new markets and new supply chains. Businesses should not shy away from innovating."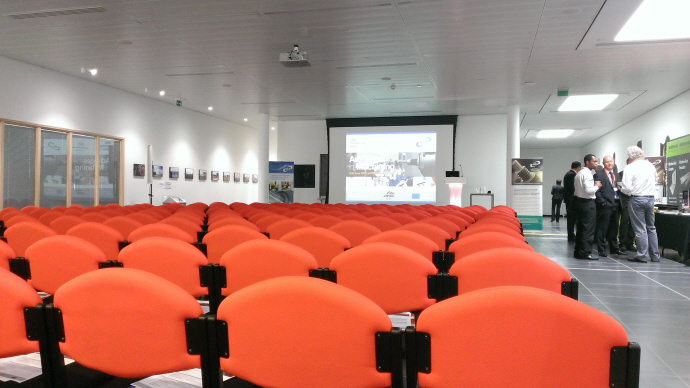 Ridgway was followed by Dr Pete Osborne, who is the programme manager for the Process Technology Group at the AMRC with Boeing. He presented a 'crystal ball' look at the challenges anticipated for machining in the future. In a nutshell, he suggested that we need to become better at machining difficult-to-cut materials. He said chatter and vibration is are a massive problems, and that the fixturing to hold work needs improving too. Heat is a further issue, so there needs to be better cooling strategies. See the AMRC's machining research projects
here
On the cooling theme, Starrag presented its new cryogenic cooling technology, using a video to show it in action (watch below). Liquid CO2 passes through the cutting tool, is mixed with air and the temperature at the tool is reduced from 160 °C down to just 40 °C. DMG MORI Mori showed how glass, ceramics, zerodur and carbon fibre can be machined more easily by using cutting tools that vibrate ultrasonically. The firm also announced it is bringing out a new ultrasonic machine. Called the mobileBLOCK, it is a mobile unit that can be taken to cars, aircraft and ships to carry out repairs on carbon fibre parts in situ.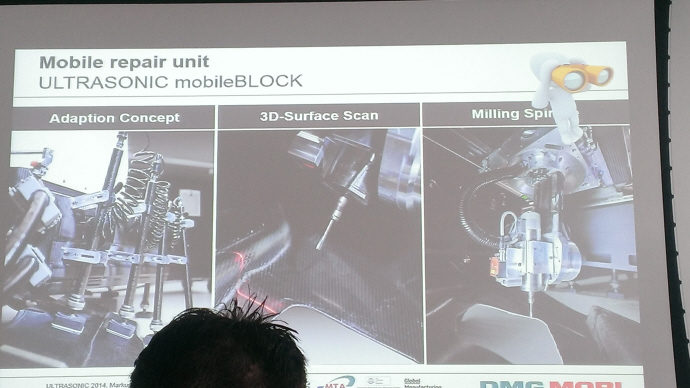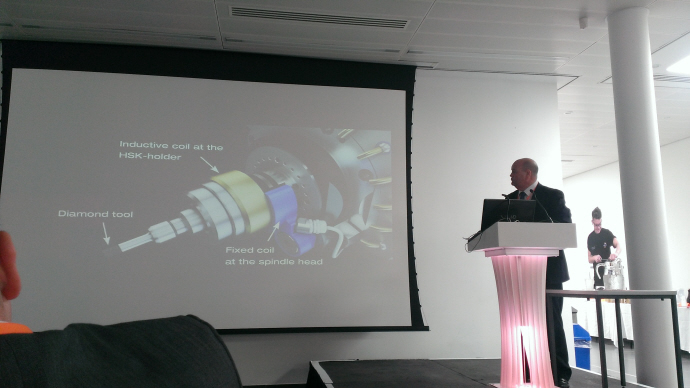 Above: Kevin Jones, milling product manager (South) for DMG MORI describes how the cutting tool is adapted to make it vibrate ultrasonically. Hermle presented its new combined additive/subtractive machine, called the MPA 40. The firm has come up with a new buzzword called 'generative manufacturing' and the MPA in the machine's name stands for Metal Powder Application. The company's machine has two heads, one that fires out metal powder to add layers of metal to parts and one for carrying out 5-axis machining. Its main application so far is to make parts with having internal cooling or fluid channels. Hermle has even developed its own in-house CAM system for programming the machine tool. More
here
.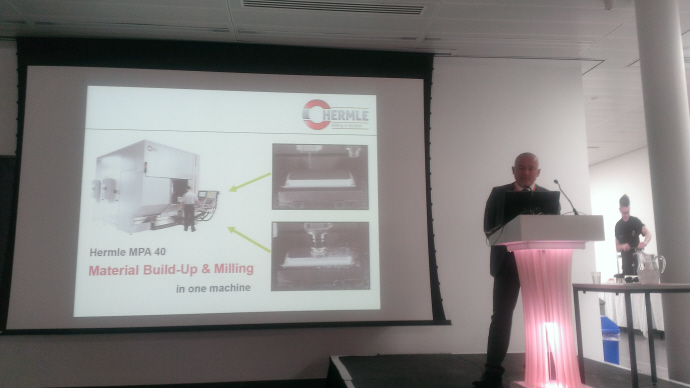 Above: Martin Wener, key account manager at Hermle, describes how the new hybrid MPA 40 machine works. Delegates also heard about the new 'The Proving Factory' (TPF). This will in fact be two factories, with one of them housing a state-of-the-art machining facility, which is going to be built in South Yorkshire later this year. TPF's aim is to find outinnovate better ways of machining parts, mainly for the automotive industry. Richard Jones, from Tata Steel, showed how it is using 'aPriori' costing software to create a more consolidated 'bill of processes' that is helping them work out the number of machines that need to be used for a particular machining task. He specifically wants to help SMEs 'prove out' their new technologies in their machining facility before they take the plunge and invest in new machines. Lawrence McCann, UK applications manager for Yamazaki Mazak presented case studies of how its multi-tasking machines can be used to replace four or five machines on a shop floor to 'make it better'. In one example, six ops were reduced to just one on a Mazak multi-tasking machine. Steve Thompson at Fluid Maintenance Solutions showed how microscopic parts of metal are causing machines to break down. He showed a video of AMRC apprentices cleaning out a Haas VF6. His video showed that 150 micron sized metal particles are passing through filters to the 'clean' side of the machine. He also showed how much metal is being lost on the filter bags, paper rolls and rags that are used to clean up. He claims his IFDR 400 filtering unit cleans filters the cutting oil and is starting to make deliver massive boosts to machine reliability.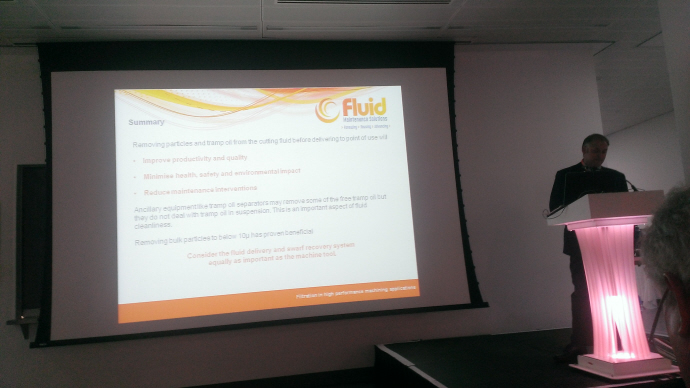 Above: "Consider the fluid delivery and swarf recovery systems as important as the machine tool," says Steve Thompson. Robin Wilson from the Technology Strategy Board (TSB) hinted that the organisation may change its name to avoid confusion with the TSB bank. Its strapline is 'Driving Innovation' and the website address is www.innovateuk.com, so it fitted in well with Mark MTA's Ridgway's theme of innovation. Wilson said that the TSB's most recent news is a competition for firms to win £5 million of funding to carry out collaborative R&D on a 'step- change innovation for a mechanical conversion manufacturing process'. In short, if there are firms out there trying to come up with a new way of manufacturing something, then this funding could be used to do it and it won't need to be paid back. There is also £1 million set aside to help fund feasibility studies into a new 'mechanical conversion manufacturing process'. In short, if a firm has an idea but is scared of spending money on it, then this competition may well be a way of getting the money. More details
here
. The closing address was from the commercial director of the AMRC, Adrian Allen OBE, who again talked about the importance of innovation. He said that the AMRC lorry that has been going toattending events around the country had been visited by 60,000 children and even the Queen, adding that the lorry was 'innovation on the move'. He also announced the date for the AMRC's TRAM conference (trends in advanced machining, manufacturing and materials), which will be held at biennial manufacturing technology exhibition IMTS, held in Chicago, on September 10 and 11. Read more about this event in the August issue of Machinery magazine.