The introduction of the H-SERIES has garnered attention for offering the highest payload capacity on the market of up to 25KG. This is substantially more capacity than existing cobots, which typically support a payload of only up to the mid-10KG range. The H-SERIES cobots also feature a reach of 1700mm to aid delivery efficiency.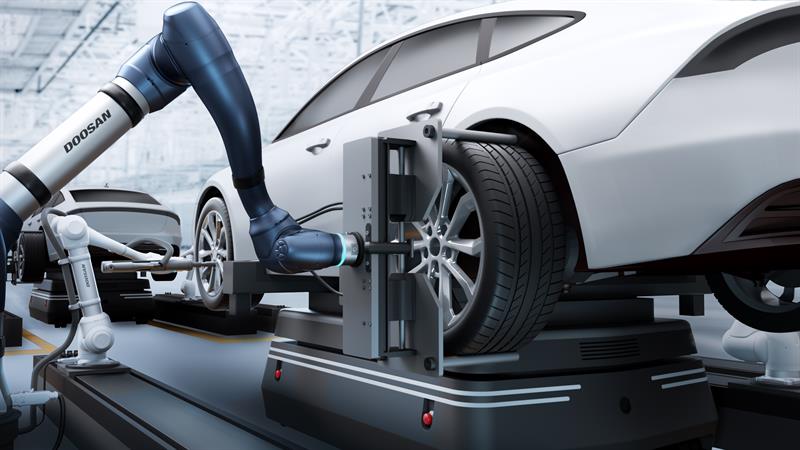 Alongside its payload capacity, the H-SERIES has strengthened safety controls with best-in-class collision sensitivity powered by six torque sensors and a gravity compensation algorithm. With 18 safety functions, the H-SERIES has been validated according to international safety certification requirements and standards. The safety stop and emergency stop functions have received the industry's highest scores of PLe, CAT4.
To round out its premium features, the H-SERIES offers enhanced flexibility at only half the weight (72kg) of other cobots within the same class. It also integrates battery powered AGV/AMR for three times lower power consumption. The H-SERIES low-weight and high-payload capacity has been achieved through a gravity compensation mechanism, based on a number of patents.
A premium cobot with high payload, validated performance and safety effectively expands the potential application of the cobot category to industries and applications previously not considered possible for some time to come. Experts foresee potential in sectors including logistics, automotive and machinery with applications ranging from palletising to machine tending and heavy object handling.
For machine tending, it has typically been difficult to automate the handling of heavy objects weighing more than 15KG. With the H-SERIES, machine tending can be automated even for heavyweight objects. In logistics, the importance of automation has also become a critical win-factor as B2C delivery services grow significantly to meet consumer demand. To handle objects of various types and sizes at logistics sites and move freely in combination with mobile robots such as AGV and AMR, there is increasing demand for cobots that feature higher payload with low-power consumption.
The H-SERIES can be utilised with a wider range of tools, including heavy-weight tools (e.g. sanding tools, welding wire feeders), which is not possible with current cobots. This means the H-SERIES is able to handle multiple objects simultaneously thanks to its high payload capacity, increasing productivity by reducing the amount of time required to move objects. Moreover, multiple tools can be installed at the same time, without having to replace tools, improving overall productivity.
The use of cobots alongside human co-workers will continue to quickly expand especially in certain industries, including manufacturing and other sectors, which are struggling to find sufficient skilled manpower and address safety requirements. Dangerous, repetitive tasks that require handling of heavy objects can been delivered by cobots, while tasks that demand expertise can be handled by humans maximising the utilisation of next-gen cobots like the Doosan H- SERIES.
Doosan Robotics, founded in 2015 by Doosan Group, creates technology for the next generation of manufacturing. The Doosan H- and A-SERIES cobots began shipping in the second half of 2020. More information about Doosan Robotics is available at https://www.doosanrobotics.com/en/.
Doosan has a strategic partnership with Mills CNC Automation Ltd leveraging the dealer's vast network and strong capabilities in the machine tool industry. More information on the H-SERIES and A-SERIES are available at
https://www.millscnc.co.uk/