ISCAR's president revealed the company's latest tooling developments to an audience of some 270 at Birmingham's ICC in March. The main thoroughfares of the venue were decked with video screens and large hanging banners (cover image) to announce the event to those attending and passing through – these ISCAR (https://is.gd/tuhuno) undertakings are far from the usual product launch. And this was just one of a series of events on a world tour that Harpaz undertakes to spread the news of his company's newest innovations, of which there are many.
ISCAR is a €3 billion turnover metal cutting tool specialist, having notched up a record year in 2017, the president underscored ahead of the technical proceedings, adding that, based on Q1 figures, 2018 is anticipated as bettering that. ISCAR is part of IMC, which includes TaeguTec, Tungaloy and Ingersoll Cutting Tools. The IMC Group is the second largest company in the world for metalworking tools, comprising 13 companies. It has over 130 subsidiaries in 60 countries. ISCAR employs some 3,200 at its headquarters in Israel, with around 10% involved in R&D, into which the company sinks 4-5% of turnover. And 40% of turnover comes from products that are under five years old.
Turning to new products, Harpaz offers some general themes that he gathers together under the banner 'machining intelligently', starting with attacking bottlenecks in milling, drilling, turning, grooving and parting off as the target for all the revealed developments. Of course, productivity can be boosted by investing in latest machine tools, but machines are not bought every day, so tooling can deliver through higher speeds and feeds. "Speed comes from the carbide grade and today ISCAR is offering very innovative grades, also taking in coatings, for any application," the president underlines, adding later that large improvements are being gained via post-treatment of inserts.
And he hammers home the higher speed and feed message: "Today, the world is changing and today we are saying, go for higher feed rates, even when machining 60 HRc; forget the old times when you would run at low speed and feed, run at higher values, like woodworking. Change from large depths of cut to small depths of cut, because, if you go to 3D [printing], there is less to take off." Harpaz points to face-milling at 3.5 mm per tooth as a possibility now; before it would have been 0.35 mm per tooth. And consider hard turning rather than grinding for materials of 50 HRc and up, he advises, stating that the surface finish will be "much better than grinding".
This mention of 3D printing is picked up more strongly, with the president highlighting that tooling will be getting smaller, due to the material volumes being removed shrinking, especially in turning – precision casting will similarly result in less material to remove, he notes. Smaller tools have the benefit of not requiring so much cobalt in their manufacture, a material whose price and availability are both being negatively hit by the demand for electric car batteries.
Short set-up times, even zero set-up times, are another element in boosting productivity, and ISCAR has examples to offer in this area, too. For example, Multi-Master SolidMill solid carbide end-mills with replaceable tips that require no toolholder removal from the machine or presetting; also, the Swiss-Cut turning tool that can have its insert changed without the need to remove a screw – "it takes just a second to replace an insert".
Another area of development is in reducing the power/energy required to cut metal, which Harpaz refers to as 'easy cut'. This also has the effect of prolonging tool life, he advises. An associated cutting by-product is vibration, another area where ISCAR has developed solutions.
A further key theme is chip evacuation: "If you solve the problem of chip evacuation, you can go to much higher feeds," he offers, adding that surface finish is also improved. And chip evacuation is achieved via coolant delivered directly to the cutting edge, a feature of many of the new products.
Why be concerned about cutting tool innovation, though? Cutting tools represent just 3-4% of production costs. True, but they have a leveraging effect on other costs.
So, in citing a part that takes 18 seconds to machine, a 30% discount on cutting tool costs gets you a 1% part cost reduction, doubling tool life gets you 1.5%, but increasing speed and improving the process can deliver a 15% cost reduction, Harpaz underlines – that is 'machining intelligently' with the new 'Logiq Chess Line' tools.
Turning first to Grip systems for parting and grooving, he says that while others also can offer double-ended parting inserts, ISCAR's system has the capability to allow for depths that exceed the insert length, due to its twisted Do-Grip insert design that protects the reverse end. While still retaining the same insert, which can cut through 100 mm in 35 seconds, by delivering coolant through the holder (JHP style) from above and below the insert cutting edge to improve chip evacuation, that 35 seconds becomes 25 seconds, with no need to use high pressure coolant, unless cutting challenging aerospace materials. Other inserts are available that have coolant delivery holes in them, further aiding chip evacuation.
Moving to single-ended inserts for parting off, in 1978, 100 mm took four minutes, using brazed tip tools, but ISCAR developed a system that had a chip breaker and that cut the time to 1 minute 30 seconds.
Then, in 1982, an indexable system was developed that cut that to 1 minute 5 seconds. This was followed by the Tang Grip system, in 2004, that delivered 45 seconds, which was bettered by Jet Line insert toolholders having coolant delivery that reduced that to 35 seconds. Then, with the flat-top Tang-Grip-IQ blade, the current product, the time to part-off through 100 mm is 25 seconds.
Now, with a combination of both new toolholder ('the hardware') and insert ('the software'), the Tang-F-Grip system that is only for high feed cutting sees that 25 seconds becomes 15 seconds. Although that's for traditional X-axis direction parting; for Y-axis direction parting using the same insert, that is slashed again, to 10 seconds. Of course, coolant to the cutting edge is key. But that's not the end of it; there is also a holder that will allow Y-axis benefits for X-axis parting that will deliver a cutting time of just 7.5 seconds.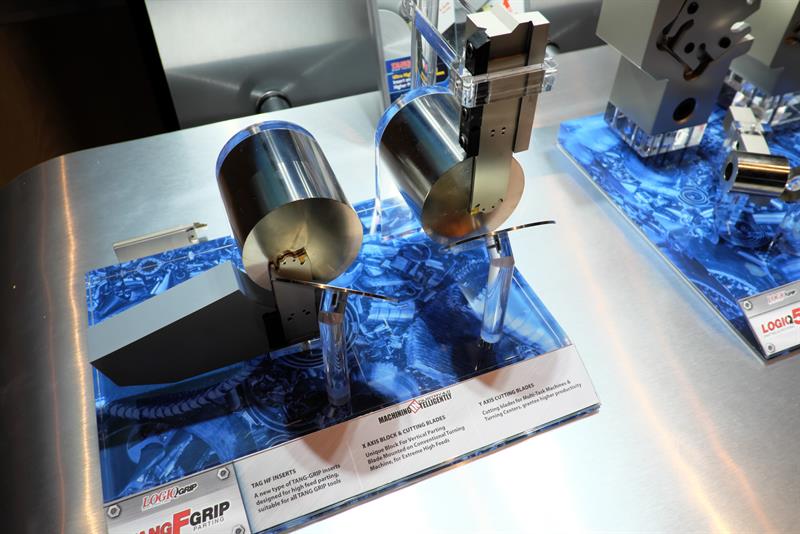 X- and Y-axis turning innovation was underlined, with parting off in 100 mm diameter material now possible in 7.5 seconds

For deep parting and grooving in long overhang situations, a new holder having an anti-vibration feature counteracts vibrations – Whisperline. Offered with 5.5, 7.7 and 8 mm wide inserts, tool life is four times greater than the alternative, says Harpaz. Coolant delivery to the insert through the blade body again features.
ISCAR's Pentacut, cost-effective five-edge single, 'star-type' insert system for grooving and parting has proved successful, but the company has introduced a system for smaller parts, called Pentacut Miniature Master, that uses a size 17 insert system (previous systems were 24 and 34). Insert widths are 0.25 to 3.18 mm. Coolant delivery above and below the insert again features. Swiss-type sliding-head machines are a key target.
Logiq-5-Grip, pushes this five-edge, solid insert system further on economy and performance. The current blade can employ existing 2-3 mm wide Tang-Grip inserts and can cut diameters up to 45 mm. Coolant directed at the cutting edge again features. But a new system is smaller, employing 0.8-1.6 mm wide Logiq-Slim inserts for parting diameters up to 22 mm – "The smallest width indexable insert for parting off and grooving." When using 3 m bar and parting off components 10 mm in length, a 2 mm width insert will support production of 250 parts; 0.6 mm width inserts offer 283. Inserts are easily replaced with a simple tool in both cases – no set-up time.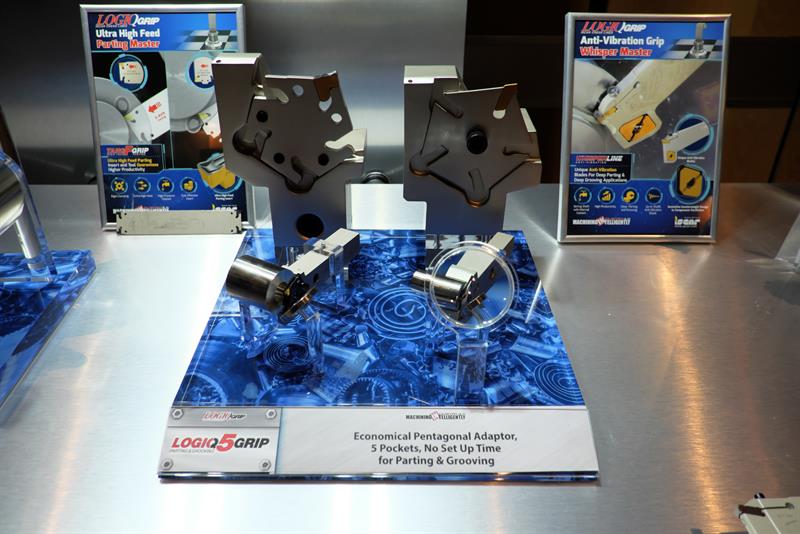 Innovation that builds on Pentacut, Logic-5-Grip. The existing blade (left) can employ existing 2-3 mm wide Tang-Grip inserts and can cut diameters up to 45 mm. A new smaller system (right) uses 0.6-1.6 mm wide Logiq-Slim inserts for parting diameters up to 22 mm wide
Extra-long inserts for the Swisscut system are also pointed up. This range supports threading, parting, turning, back turning and groove turning. Parting off up to 20 mm, rather than the previous 7.5 mm is key, but also underlined is the ease with which inserts can be replaced. Two screws are loosened (not removed) and the insert withdrawn – zero set-up time.
Moving to milling and a miniature slitting cutter, Min-Slit, is claimed to be the smallest diameter indexable insert such tool available – 16-28 mm diameter with insert widths 2-3 mm, with those inserts having two cutting edges for greater economy. Employing special insert geometry and coolant directed to the insert, high productivity is possible. Fast insert change is again underlined. Multi-Master or Flexfit bodies are employed – no set-up time.
The company also offers the narrowest indexable insert slitting saw, Slim-Slit, a 32 mm diameter blade that holds inserts 0.6-1.2 mm wide (the Logiq-Slim insert mentioned previously) – performance is three times faster than a solid carbide slitting saw and 10 times that of HSS, Harpaz underlines. Fast, simple insert change and directed coolant delivery to flush out swarf via special shanks feature.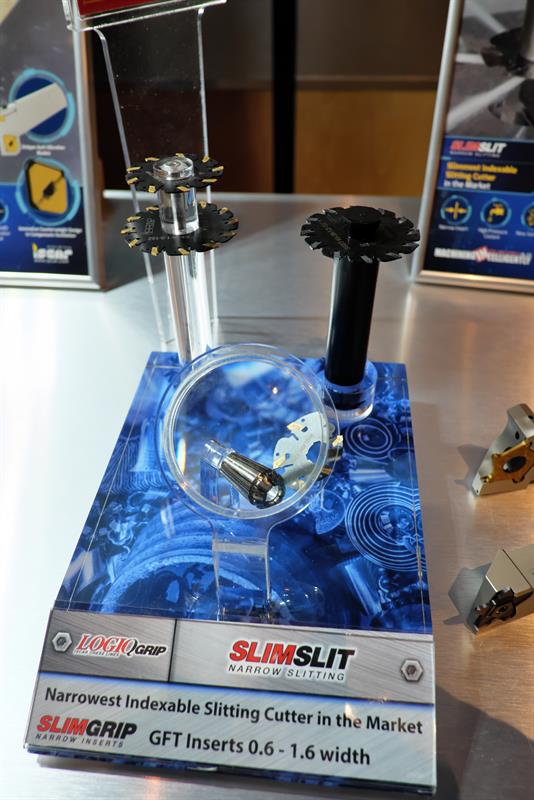 The narrowest indexable insert slitting saw, Slim-Slit, a 32 mm diameter blade that holds inserts 0.6-1.2 mm wide
Other new introductions highlighted were: Jet-R-Turn/Jet Master rigid toolholders offering coolant channels for standard and high pressure coolant delivery from above and below the insert, three coolant inlet positions and easy insert changing; Logiq-4-Turn, economical double-sided 80° positive inserts for alloy steel, plus toolholders that deliver coolant to the cutting edge; Alu-P-Turn 35° and 80° inserts for aluminium that boast four cutting edges and 9 mm cut depth, not 12 mm, for economy (re the earlier cobalt cost comment), for use with existing Flashturn holders; Whisperline anti-vibration boring heads, recommended for 7-10xD; Nanmill 8 and 10 mm diameter indexable insert end-mills with two and three cutting edges respectively, offering 3 mm depth of cut and fast insert change; Heli-3-Mill 90° corner insert system now in diameters 10, 12 and 16 mm; Tangfin face-mills for micron-level surface finishing with tangentially-clamped inserts having four cutting edges, 50-160 mm diameter; and Logiq-8-Tang face-mill with inserts having eight cutting edges (four before), 40-125 mm diameter. ■
(Full ISCAR 'New Products 2018' catalogue available at: https://is.gd/woboyi.)
First published in Machinery May 2018