The official opening of the £12 million facility was attended by over 200 guests that included major manufacturing and tool distribution companies, the newly elected mayor of the West Midlands Combined Authority, Andy Street, Councillor John Clancy, leader of Birmingham Council, David Atkinson, UK head of Manufacturing at the Lloyds Banking Group, Professor Carl Chinn from the University of Birmingham and Birmingham-born actor David Harewood.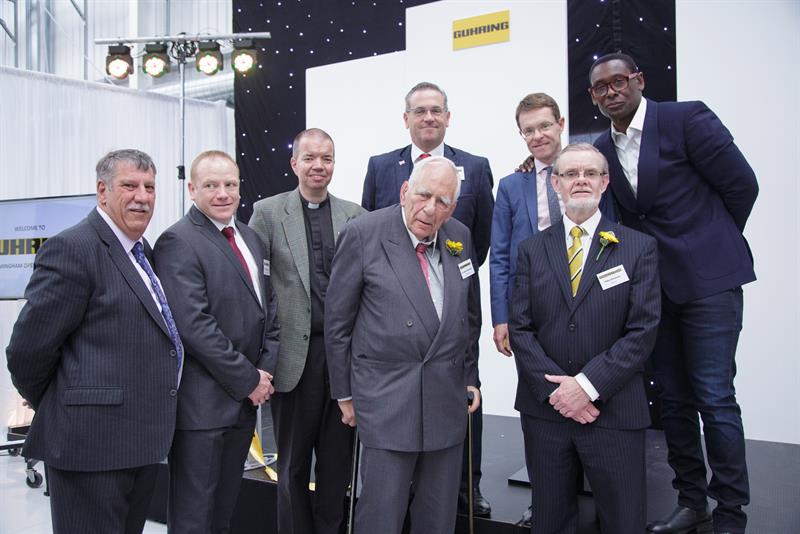 L to R: Professor Carl Chinn from the University of Birmingham; David Atkinson, UK head of Manufacturing at the Lloyds Banking Group; Reverend Philip Knott; Dr Joerg Guehring (front); Councillor John Clancy, leader of Birmingham Council (behind); mayor of the West Midlands Combined Authority, Andy Street; Gühring UK managing director, Mike Dinsdale (front); Birmingham-born actor David Harewood

A poignant start to the event saw a minute's silence and a prayer offered by Reverend Philip Knott for the late Yvonne Clune, a member of the Guhring Ltd management team, who was instrumental in the development of the new facility but who unfortunately passed away on the 1 June and didn't get the opportunity to enjoy the fruit of her labour. It was Yvonne who located the 3.5 acre site where the new Gühring UK headquarters is located.
Managing director Mike Dinsdale reflected on the hard work of everyone involved and said: "The UK was Gühring's first location for a subsidiary outside Germany and now the group has over 50 similar production and service sites around the world. Gühring's new UK headquarters will allow the company to further expand its manufacturing, regrinding and R&D offering to its UK and global client base. I cannot thank our staff and the local authorities enough for their hard work and support in making this new site possible. Reflecting upon where we have come from and what we have all achieved, it is truly remarkable."
The new facility will safeguard 75 existing jobs and create an additional 50 manufacturing jobs in the near future. These highly skilled jobs will enable Gühring to cement its reputation as one of Europe's leading aerospace and automotive cutting tool suppliers. When Gühring UK was established in 1973, it was a sales, stocking and distribution outlet for the German manufactured product range. Now, the company is one of the UK's largest manufacturers of solid carbide and PCD cutting tools.
Services offered incorporate tool manufacture, coating, balancing, re-grinding and re-coating. This extends to in-house manufacture of special tools and projects, application and engineering services as well as complete tool management. Added to all this, the new facility stocks over £2.5 million of standard products that are manufactured in Germany and available for next-day UK delivery. This is complemented by an additional £1 million of special tooling stock that is manufactured in Birmingham.
UK sales manager Dave Hudson said: "The UK team has worked tirelessly over the last four years to arrive at this point. From a customer perspective, we have the capacity to hold more standard and special stock than ever before. We have also opened a demonstration and training area that has been equipped with a Nakamura Tome AS200L turning centre and a Bridgeport XR760 machining centre. The collaboration between Gühring and Engineering Technology Group (ETG) will create a synergy, whereby customers of both companies can attend the area to witness product demonstrations and also conduct trials, project run-offs as well as product training and support.
"From a growth perspective, we have already added to our plant list with £2 million of new grinding machines, a second coating chamber and a new coolant system. The factory future proofs our business, as we have sufficient room for a lot more machine tools and production capacity. We also have an additional 20,000 sq ft of land at the rear of our factory, should we ever need to expand beyond our existing space."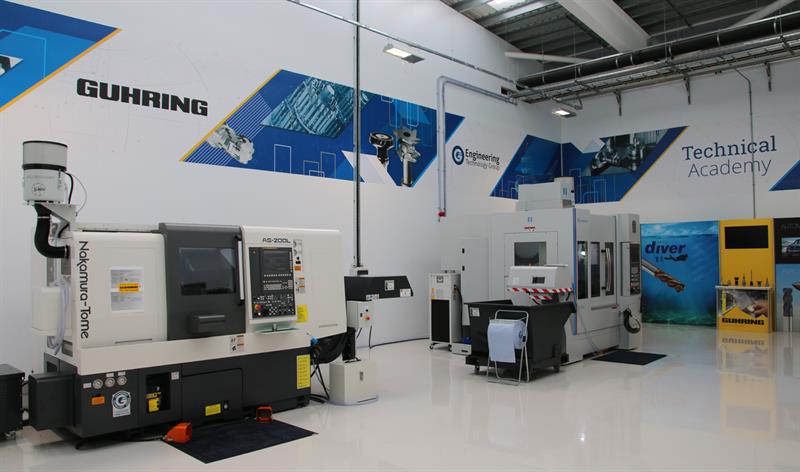 The new demonstration area at Gühring, equipped with machinery supplied by Engineering Technology Group
Mayor Street added: "The West Midlands has an impressive legacy when it comes to advanced manufacturing. From JLR and Rover to Rolls-Royce, the region has been, and still is, the home to globally renowned brands. Gühring is the latest manufacturing heavyweight to pick the West Midlands as the UK destination to grow its business and realise its full potential. The West Midlands has unique advantages in its location, its infrastructure and in its talent pool, making it a firm driver of the UK economy and a globally competitive investment destination of choice."
Birmingham Council Councillor John Clancy concluded: "Birmingham's Advanced Manufacturing Hub is one of the city's many economic zones, designed to capitalise on the region's high value adding sectors and drive inward investment that creates inclusive economic growth and jobs for all. With Greater Birmingham outperforming every UK region in attracting foreign investors, it is clear our strategy is working.
"Not only is Gühring's investment testament to this. It highlights the strength of the region's industrial legacy, the strength of the region's talented workforce and the potential that exists in the region for growing companies with a bold, global vision."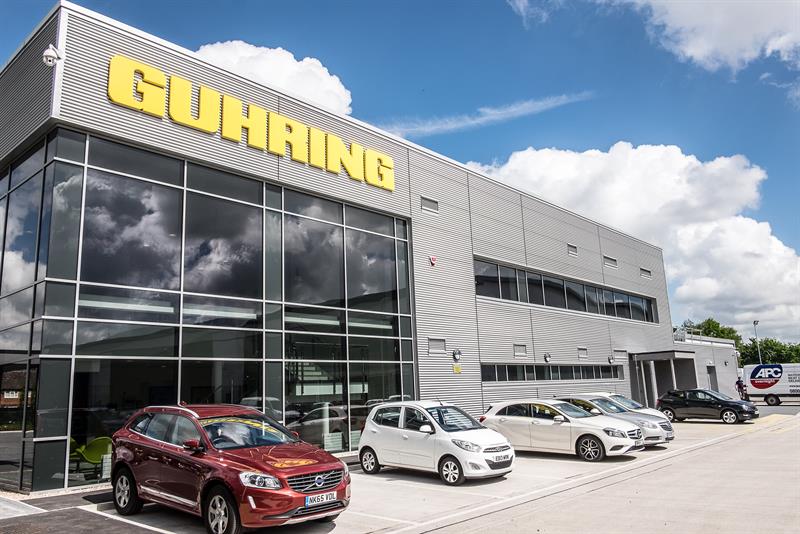 The new Gühring facility