We explained why in July, p5 – www.machinery.co.uk/142463.
But in the economy versus migration battleground, migration won, or, more broadly, 'Leave's' 'take back control' slogan resonated louder and more clearly than did the economic horror story that was voiced by 'Remain'.
There is a powerful graphic published by Lord Ashcroft Polls (below) that shows various key issues and their relevance to the final vote (Lord Ashcroft is on the 'Leave' side, see https://is.gd/2JHS4J for his reasoning). Control over our own laws and borders, alongside concern over the immigration system, are the clear winning areas. (See the full poll of 12,369 people at https://is.gd/lyc4al.)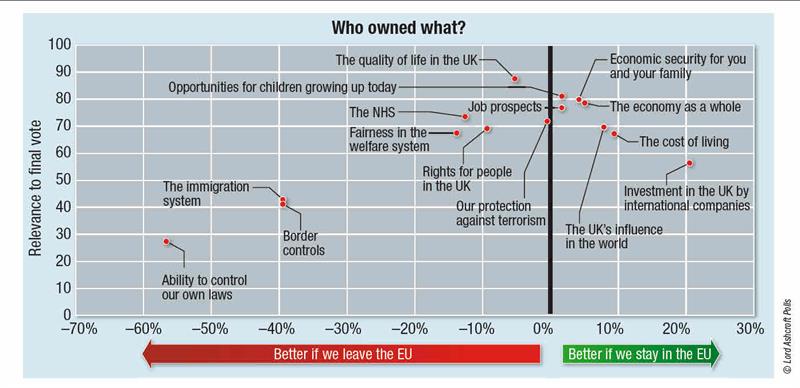 As with all polarised debates, things will not turn out how either side claimed. Rather they will fall in between. And some things, no doubt, will be a complete surprise, Machinery suspects.
Economically, the UK's immediate prospects at large are impacted for the worse, according to various indicators, but that was not the greatest of people's concerns, as the graphic above demonstrates. What we can say is that there are no easy straight-line projections from here; this is uncharted territory.
The story for UK manufacturing will unfold in coming months and years – Article 50 is yet to be triggered for the two-year extrication process, after all. But the world has not stopped turning and
Machinery
will continue to publish information to help manufacturers produce things more efficiently, just as we did before the referendum.Some things will not change.
This article was first published in the August 2016 issue of
Machinery
magazine.