Contents and links:


The impression given by the show is that of a region having a strong manufacturing heritage striving to turn itself into an industrial centre once again.
For example, the Hitachi rail plant in Newton Aycliffe, opened in September 2015, is adjacent to the route of the 1825 Stockton to Darlington railway line, the first public railway to use steam locomotives. Work there starts on a contract for 70 commuter trains for ScotRail this month, with the first units to be delivered by next year. And that is also when the factory's first delivery for a much larger contract, 122 trains for the east and west coast main line, is due. The factory completes the entire train assembly operation, starting from the raw aluminium train carbody, which is shipped in from elsewhere.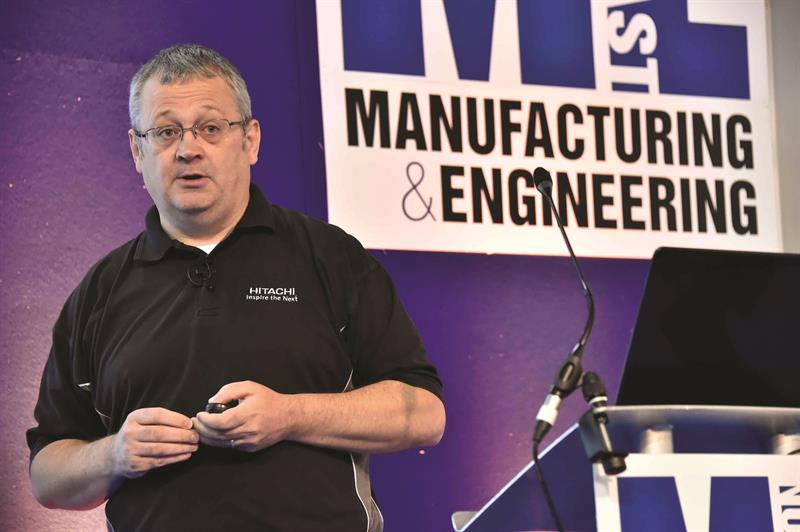 Hitachi's Darren Cumner sets out the skills issue at the MENE conference

A lack of rail skills in the area didn't stop the company from setting up the 545-employee plant, reports Darren Cumner, manufacturing plant manager. Nor did the cultural and technical gap with a highly skilled Japanese workforce stop progress at the company's first train manufacturing site outside of Japan. But it did require extensive development of manufacturing processes; train construction was broken down into thousands of steps. Before they can start making trains, new employees receive five weeks' training, including an induction, a back-to-basics course on fundamental processes and then task-specific training, Cumner says. In addition, 50 apprentices start work at the site next month; and a future supply is hoped to be secured through a new South Durham University Technical College (UTC) that opens to 150 students also in September.
At the other end of the scale, Graeme Parkins of Dyer Engineering, similarly based in County Durham, spoke about his difficulties setting up an apprenticeship programme at a medium-sized engineering company during a panel session about skills development in smaller businesses. "We needed to put young people into the business. We had the will, and wanted candidates, and approached schools, but we didn't know how to engage with them, and they didn't know how to engage with us. And there's a stigma around engineering," he outlined. Fellow speaker Alan Metcalf, of Zenith People, explained the firm's the Rising Star programme, supported by South Tyneside Council, which aims to connect talented young people with vacancies in industry. And Ray Parkinson, head of Career College North East, opened in September 2015 in South Tyneside, pointed out that, unlike traditional colleges, industry can have an input into its curriculum.
Also looking to change hearts and minds about engineering careers is the Nissan Skills Foundation. It has reached 12,000 local children in the 18 months since it was established, including via one-day factory visits, week-long work simulations for automotive industrial cadets and support for the F1 in Schools scheme, as well as traineeships, work experience and other programmes. Says Ian Green, senior controller, Nissan Global Training Centre: "When we bring the schoolkids in, one of the things that is quite amazing for them to see is that every minute two cars roll off that production line, and the same is true of our local synchronous suppliers. But the schoolkids don't know what we build."
EFFORT TO FIX THE PROBLEM
To help fix that, the biggest programme, for 5,000 year six students per year, is a one-day STEM activity that involves playing with Lego and using hand tools. One of the programme's principal aims is overcoming gender barriers. After teaching a course, he asks the students if they would like to work in the manufacturing and engineering industries. For year 6 children, it will be a 45:55 split of girls to boys. By year 9, that becomes a 30:70 split; by year 11, it's 5:95. Adds Green: "We are really struggling to engage with girls. A lot of that, because peer pressure is really important, is getting to the parents, and that is really difficult."
Those parents, and everyone else, are likely to benefit from new powers of self-determination, thanks to devolution of government functions out of London and into northern England counties. In a speech at the end of the second day, James Wharton MP (Stockton South), argued in favour of this process. "It has never worked in the north's interests to have all of the decisions about the north taken by people sat in London," he said, adding that Manchester is due to elect its first metropolitan mayor in May 2017, and that other powers are transferring to the north east, the Tees Valley, and the Liverpool and Sheffield regions.
Other speakers focused on helping north east businesses find more work. For example, last month the North East Local Enterprise Partnership (NELEP) launched a pilot manufacturing growth programme to offer advice for the managers of 80 small businesses, reports NELEP board member David Land. "There are good companies in this region; some of them have just not realised their potential," he said.
FOSTERING LOCAL LINKS
Their future may rely on supporting each other. In a panel discussion about advice to small- to medium-sized enterprises on developing their supply chains, Phillipa Oldham, head of transport and manufacturing at the Institution of Mechanical Engineers, referred to Hitachi Rail's supply chain strategy. She said: "There's a lesson in knowing your neighbour – 95% of parts to Hitachi are supplied by local companies. While you may fear your competitor, communication with them about export could help." She pointed out that research has shown that businesses highly regard peer-to-peer knowledge. (And as regards Hitachi, having made the first train vehicles with Japanese components, Hitachi has recently started to open its supply chain to local companies, Cumner reports, through 'make to drawing' contracts: Washington Metalworks, for example, is supplying brackets.) Oldham also advised company executives to go to cluster group evening meetings, and even asking fellow companies for tours of their site. "That has worked well in the midlands," she added.
The CEO of one cluster group, the North East Automotive Alliance (NEAA) set up in 2015, reported that recent research found that some 240 automotive suppliers in the region are generating about £12 billion in revenues, with prospects for future growth linked particularly to the International Advanced Manufacturing Park being planned for construction near the Nissan plant. An NEAA expo event in Sunderland on 22 September is offering a meet-the-buyer event; it is expecting 350 delegates.
EXPORT
While the UK automotive industry is strongly driven by foreign exports, not all north east businesses are so focused, said Simon Crosby, UK Trade and Investment senior trade advisor, who also set out the benefits of export for business. "I am fiercely proud that this is the only UK region with a positive net trade balance with the rest of the world," he said, but added that the percentage of all businesses that are exporting is lower than elsewhere in the country (4% compared to 14% in the south east and 7% in the midlands). He said: "We need more." He warned that export requires time and money, and one other essential trait "that can't be fabricated: internal drive and motivation, being committed to the global market, and not just being a reactive exporter", he says.
As for the consequences of the Brexit referendum vote, Crosby says that he would imagine that exporters are now more likely to face barriers to trade than before. He said: "I'm a glass-half-full kind of guy. The UK has great products and services and a reputation of trustworthiness, behaving honourably and being transparent in business. If there are more barriers to entry, companies will find a way."
BOX ITEM

Robotics and automation developments: Fanuc and Fastems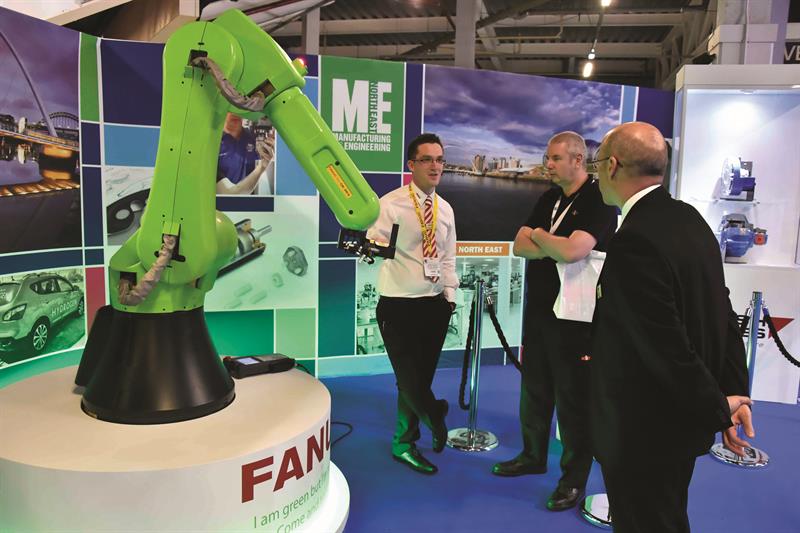 In addition to showing off its CR-35iA collaborative robot, Fanuc (02476 639669) also promoted a new automatic remote condition monitoring service for robots, following a pilot programme at a North American carmaker in collaboration with Cisco. The Zero Downtime (ZDT) service detects and informs of potential problems in robots or machine tools before unexpected downtime occurs, allowing maintenance to be carried out in a planned outage window, according to Sean Murphy, Fanuc UK regional sales manager. Also, the company's hire of a full-time service engineer for robots and CNCs in Glasgow will help improve call-out times in Scotland and northern England.
John Statham of automation supplier Fastems (01322 282276) argues that 24/7 automation systems could double the productivity of manually-tended CNC machines, increasing profits by six times. He says that Fastems typically expects automation system to payback in two years. The company also offers condition monitoring to warn users before a catastrophic failure.
EXHIBITOR NEWS IN BRIEF

Cheshire-based steel fabricator Hutchinson Engineering (0845 272 4100) has launched an ERP system developed in-house over the past seven years for its own use. Specifically aimed at manufacturers, 'Kylie' is said to control every facet of the business. The company is now looking for launch customers.
A recent generation of touch-probes from Heidenhain offers the choice of radio or infrared signal transmission from the same unit (and to a single receiver). The T3 460 probe includes a switch for optimal wireless transmission in either an enclosed vertical machining centre (infrared) or in an unenclosed bedmill or large 5-axis machine (radio). It also comes optionally in a collision-resistant version with a tilt switch that, if activated, stops travel. www.machinery.co.uk/75907
Schunk's Pronto system of quick-change chuck jaws consists of a two-part body; a lower mount that screws into the chuck, and the jaws themselves that mount and dismount with only a half-turn. Component diameter capacity ranges from 20-300 mm, depending on the chuck, so a range of parts can be fitted with a quick change of jaws. Hard and soft (machinable) jaws are available. www.machinery.co.uk/76054
Norelem (0121 222 5320) has developed a component holding clamp that automatically self-adjusts to different heights of part. The company has recently signed up to sponsor the University of Birmingham's Formula Student programme. In addition, a new company catalogue is coming out in September.
The Delta X system from Amada (01562 749500) consists of two 8-axis pressbrake back gauges that can be offset up to 300 mm relative to each other in the Y axis. This is said to offer more flexible options for bending programmes. The 100 mm wide fingers also feature multiple gauging points, including front- and side-mounted pins located on the fingers. The Delta X was shown on the Amada HFE MKII 5012 pressbrake, which boasts a 1,260 mm-wide bed and benefits from a bending force of 50 tonne.
ITC (01827 304500) showed a Widia solid carbide milling end-mill for wave peel (trochoidal) milling. Combining a relatively low engagement (10% stepover) over the full length of the tool is said to increase tool life. The VariMill, VariMill II, Varimill II ER and VariMill II Long are available in four or five flutes and a variety of diameters.
The Integrex i-200 millturn machine from Yamazaki Mazak (01905 755755) offers a swivelling (B-axis) milling head, 8- or 10-in chuck, subspindle and lower turret (for static tools). With all this, it can accomplish many operations in one set-up, including 3+2 and simultaneous 5-axis milling, turning, threading and hobbing. It can also perform milling underneath the spindle, thanks to ±130 mm of travel in the Y-axis.
This article was published in the August 2016 issue of Machinery magazine.