Said Mazak before the event: "We're excited to announce that the Fourth Industrial Revolution is coming to Mazak's Open House in November and we'd like you to be there! With our Smooth Technology seamlessly connecting the factory floor, production office, CNC and automation, our open house event will demonstrate our capabilities and opportunities our machines can open up for your business."
Below are some highlights.
Vertical machining centre launch: The VTC-760C vertical machining centre (offering travels of 1,740 by 760 by 660 mm in X, Y and Z), is the younger sibling of the VTC-800. They share a common bed, machined on the two double-column gantry-style 5-axis Versatech machines recently installed at Yamazaki Mazak's Worcester factory; their installation was expected to be finished last month. Other new machines, such as the QuickTurn lathes (also made at Worcester), are designed with fewer numbers of parts and common base designs to simplify production and decrease the number of spare parts stored. Also new at Mazak UK is a Microsoft Dynamics AX ERP system (https://is.gd/xupadu). Of those developments, new head of Mazak UK and Ireland sales division Alan Mucklow says: "So there's a big investment here. It's great for us, great for UK manufacturing and great for European manufacturing." In addition, Worcester is to become one of Yamazaki Mazak's iSMART Factories; manufacturing equipment, automation and advanced manufacturing practices are to be digitally integrated along Industry 4.0 lines, as an exemplar: "We're demonstrating in our factories what's available to our customers," he adds. The company headquarters Oguchi plant in Aichi prefecture, Japan, and the US plant in Florence, Kentucky, are already operating in iSMART manner.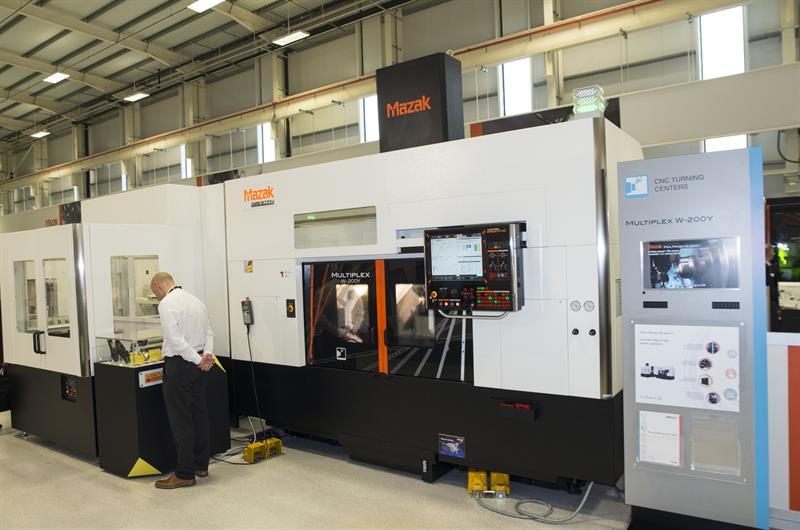 Multiplex launch: The Multiplex W-200Y twin-spindle lathe, designed for high volume production, is now available in the UK. It has swing capacity of 320 mm, 1,220 mm between centres and ± 50 mm Y- axis. At the event, it was shown with a new automated gantry loader/unloader that now reaches traversing speeds of up to 180 m/min. Among other new features, the machine's dual 12-position tool turrets are actuated now by a direct drive mechanism, rather than belt and pulley, increasing speed and reliability. (This change has also been carried through onto the new QuickTurn QT-Compact lathe series that replaces the Nexus; at the event the 250 MSY was new.)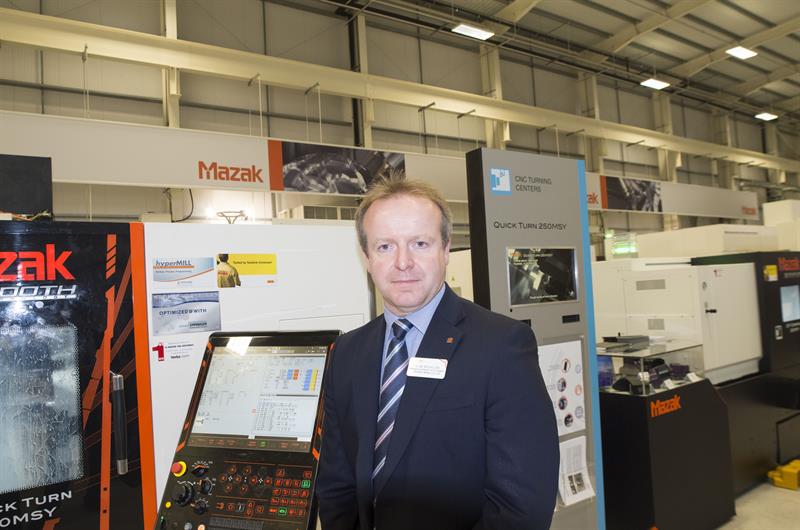 Industry 4.0: A theme of the November Open House event at Worcester was Industry 4.0, linking up machine tools for monitoring and analysis functions and, within that, a key enabler being open protocols for data interoperability, such as MTConnect. Referring to another project, Sandvik's CoroPlus tool technology initiative that can provide feedback on cutting conditions in real time and which uses open tool library standard ISO 13399 (although Mazak has not been involved), Mucklow, pictured above, says: "That's one thing with Industry 4, and why there's such a need to have open protocols. There's no one company providing a solution. It's the ability for all to come together and deliver an overall solution. That's why interoperability and open protocols are so important. The days of having everything behind closed doors have gone." (CoroPlus, see: https://is.gd/umanub).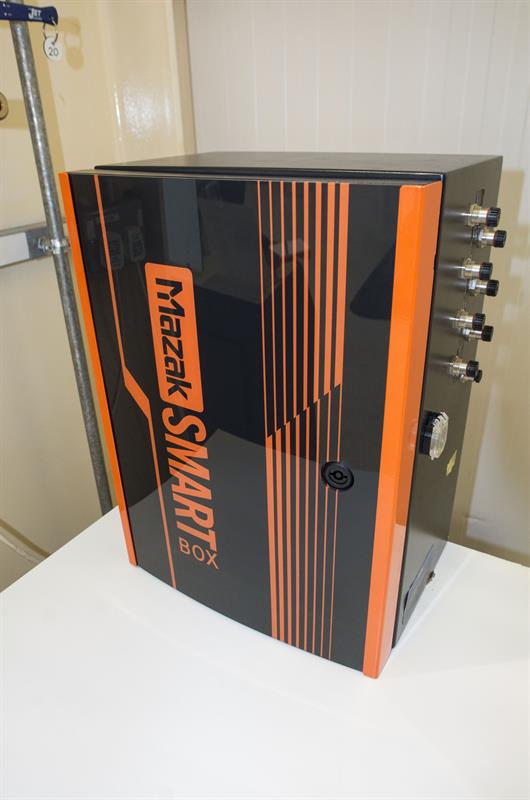 Data security: An unassuming display tucked into a quiet corner at the show, this new internet security device, developed with computer networks firm Cisco, is anything but. It aims to police all of the data traffic – from sensors to CNCs, ERP systems and management networks – used to deliver Internet 4.0 machine monitoring benefits. Mucklow says that this involves machine sensors sending out huge amounts of data. He adds: "What to do with it? If you take an expert's view, he'd be scared stiff that all of this data is being allowed to go out of the company. So security is a key issue." Launched in the US at the IMTS show in September, it also employs the US-developed data protocol MTConnect that enables manufacturing equipment to provide data in structured XML rather than proprietary formats (https://is.gd/zaloxu). This was the system's UK debut; as of late November there were no pilot customers.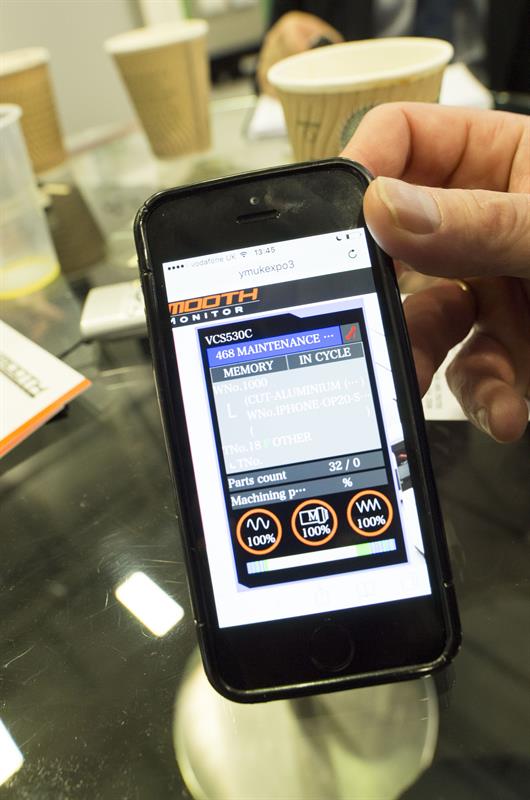 Data made visible: One of the data views of the Smooth Monitor management system for machine tools; this is the remote version (Smooth Link) of the 'dashboard' that displays summary data of connected machine tools, and shows details of operating machines at the Open House. Other Monitor elements include alarm analyser and desktop computer client to examine machine utilisation, spindle speeds and loads, using either the proprietary Mazatrol protocol, or now, through the MTConnect open protocol. Other software in the Smooth Process Systems group that works on the company's recently launched Smooth-enhanced CNC controls include: SmoothCam RS, Mazak's graphical software for creating and simulating part programs away from the machine; Smooth PMC, for pallet and automation control; and badged machine scheduling software from Japanese developer Asprova (European office: +49 06403 774 41 30).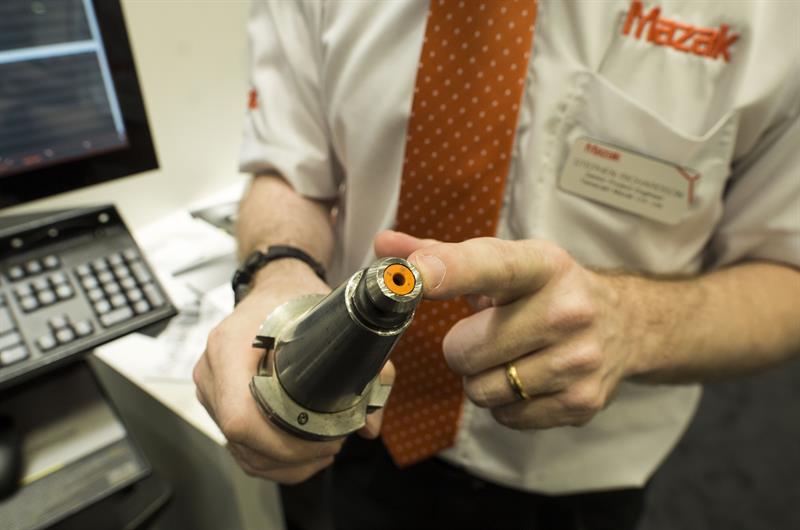 Tool data standardised: The Smooth Tool Management System, launched with a completely new software version in October, stores tool measurement data in a special computer chip insert in the base of a toolholder, and transfers data automatically from presetter to machine tool. The way the new system records information has changed, moving from a proprietary Hyperfile format that was difficult for third-party integrators to work with, to a more familiar SQL database.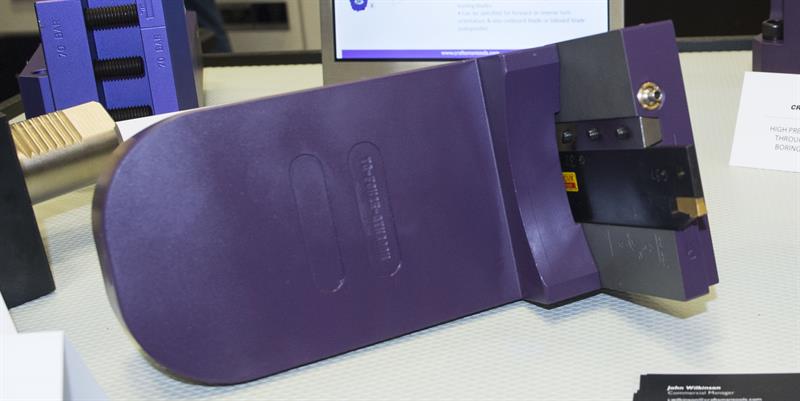 Toolholders for high pressure coolant: Craftsman Tools (01943 466788), has developed a range of turning toolholders, working with Mazak and Sandvik Coromant, that feature 80 bar high pressure
through-tool coolant delivery (for static tools) to improve cutting conditions. Incorporating a standardised front end to fit standard cutting tools, they are suitable for parting and grooving, internal boring and external turning.
This article was published in the January 2017 issue of Machinery magazine.