* Sliding-head lathe specialist Tornos' (01530 513100) Tisis 2.0 software package makes programming, machine monitoring, video streaming from the machine envelope and, using the plug-and-play video camera, tool set-up and measurement possible. Tisis supports Smartphones via Apple and Android apps.
The company's existing Tisis i4.0 already offers operators remote access via tablet and smartphone technology, allowing the viewing of all machine related data, as well as production monitoring data in real time, displaying them in easily generated, clear and uncomplicated graphics.
Tornos' Tisis offers users a connected machine tool

* Gripper expert Schunk's (01908 589506) products are designed to communicate in a network and so are said to be Industry 4.0 compliant. Not at MACH 2016, the company has a 4-tonne Industry 4.0 demonstrator cell that can be operated and monitored from anywhere in the world – it makes use of 350 Schunk components, too (videos : https://is.gd/7HU2nican be viewed here).
Schunk underlined its eGrip online design and 3D-printing service for special grippers. What would have taken months and cost a great deal can be delivered within one week in Germany, two weeks in the UK, at an attractive price.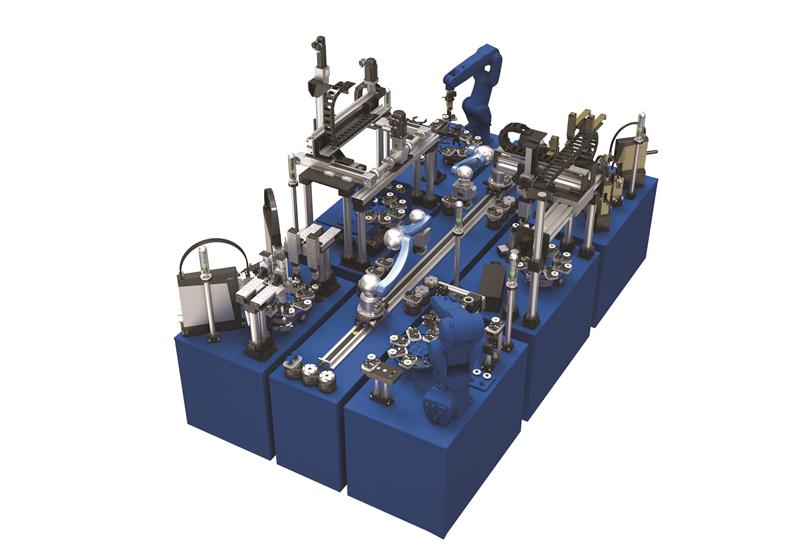 Schunk's four-tonne Industry 4.0 demonstrator
* Shopfloor productivity software specialist Forcam (01606 833837) supplies Forcam Force, software that provides the crucial information flows and analysis for Industry 4.0. A foundation of the smart factory, it can deliver productivity gains of 20% or more during the first year.
To speed the transition to Industry 4.0, Forcam has produced a starter kit – Smart Factory in a Box – for a low-cost, low-risk trial. It offers: cloud connectivity for up to three machines (via Forcam I/0 Box; IBH Link, Siemens CP direct); smart data, transformation from big data to smart data in milliseconds (CEP-Technology); and real-time reporting through in-memory-technology and complex event processing.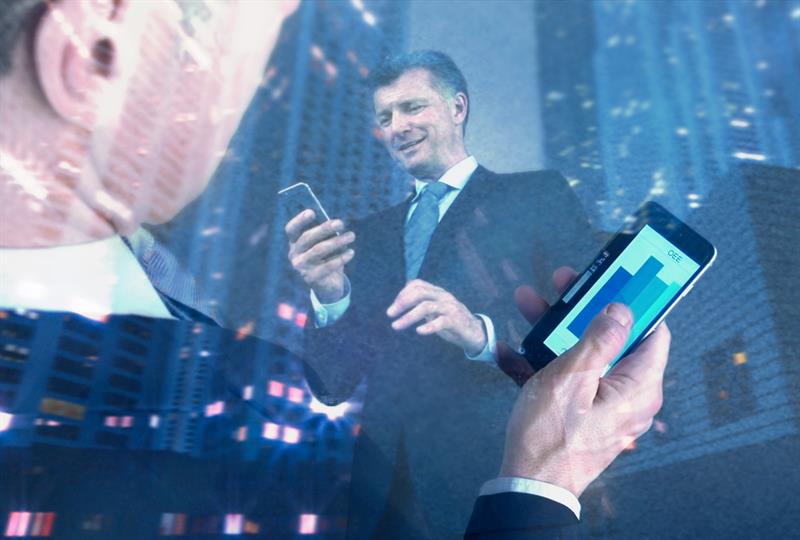 'Smart Factory in a Box' offers a low-cost, low-risk trial
* Heidenhain (01444 247711) demonstrated the ease with which digital data can be transferred to and from its high-end TNC 640 CNC system. Functionality enables a paperless communication environment between staff in, for example, design, programming, simulation and production planning, as well as machinists on the shopfloor.
Standard features provide access to manufacturing process data through a CAD viewer, PDF viewer, image viewer and built-in web browser. Operation of web-based documentation software or ERP systems is possible, as is access to a user's email inbox.
And Remote Desktop Manager allows the TNC 640 to become a Windows PC that can connect to a network and access management systems, documentation and visualisation information. Even CPU-intensive CADCAM tasks do not affect machining performance, the company says.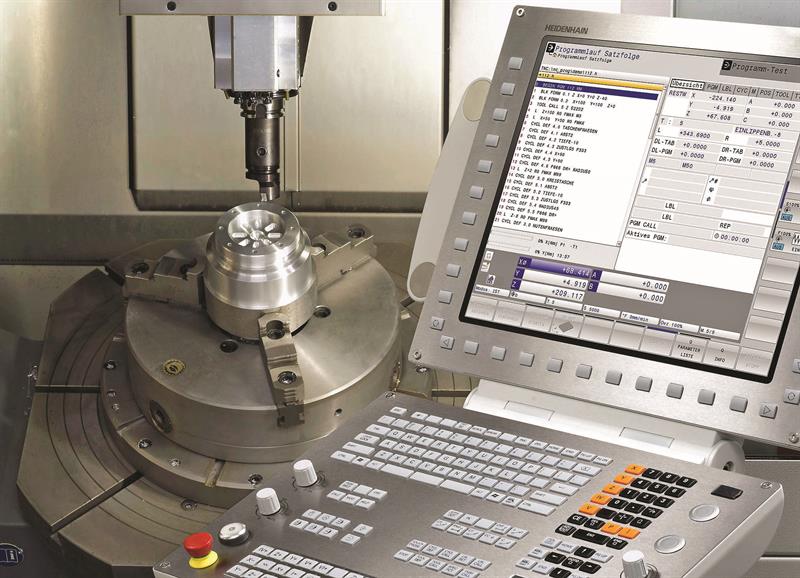 Communication between shopfloor and office is easy with Heidenhain's TNC 640
* Highlighted at MACH, DMG Mori (02476 516137) operates the Porsche Motorsport CNC Competence Centre at its Seebach, Germany, factory. All the machine tools are fitted with DMG Mori Celos CNC interface.
Designs supplied by Porsche are all solid models, "enabling Industry 4.0 integration of data through the CAM system down to the machine". All NC programming is undertaken with Siemens NX CAM software. Michael Pidde, team leader Porsche production, says: "All the NC code, fixturing, tooling and other information required is all contained in one Celos knowledge database, which we can access at the machine, ensuring that we can easily find the information we need and that it is presented in the correct version."
And the team leader concludes: "Porsche engineers are continually learning from us, building manufacturability into their designs, while we are being challenged to come up with innovative machining strategies. In one instance, two parts are assembled and then machined, which is faster and more accurate [than before]. Previously the two parts were machined individually."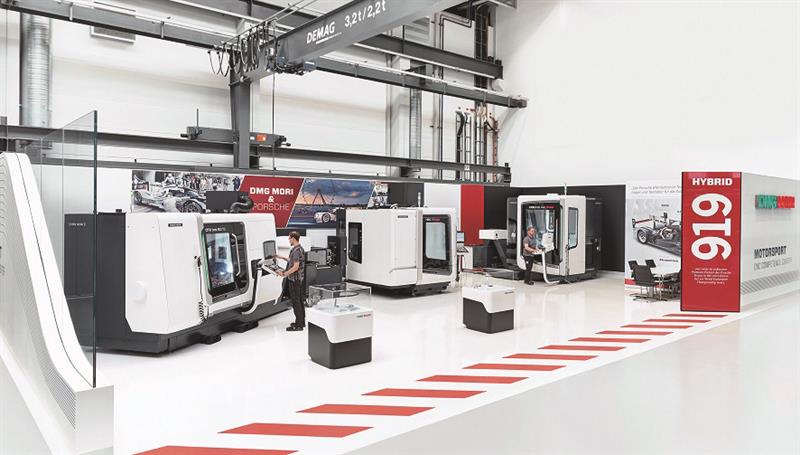 DMG Mori's Celos is part of the Industry 4.0 environment, offering integration between shopfloor and office
* Says Dr Martin Kidman, safety specialist at Sick UK (01727 831121): "Dynamic safety is an enabler of improved productivity in the Industry 4.0 smart factory.
"Instead of cumbersome fenced-off areas that exclude personnel and introduce long downtimes when access is required, Sick is developing its industrial safety products to enable better human-machine collaboration through safe motion control and uninterrupted production with flowing protective fields." A number of displayed products supported this.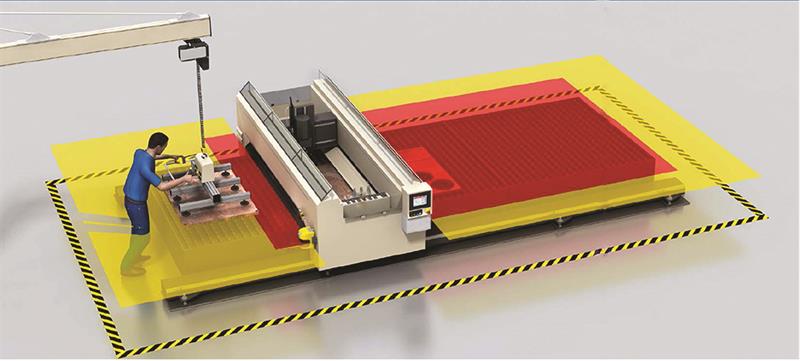 Safety products to support better human-machine collaboration is Sick's Industry 4.0 thrust
* Cutting tool expert Sandvik Coromant (www.sandvik.coromant.com/uk) sought to underline its Industry 4.0 credentials, highlighting "digital transformation, intelligent machining, digital product and application recommendations, and tool data offered in ISO format". In addition, it pointed up its acquisition of Prometec GmbH, a process monitoring company, and the opening of its Additive Manufacturing Centre (Machinery, June 2016, p44).