This month, cutting tool expert Gühring UK hosted a gathering of some 350 at its new 55,000 ft2 manufacturing and service centre on Birmingham's growing Advanced Manufacturing Hub. Located just off Aston Hall Road and below the Aston Expressway, as a signal of future intent there is already adjacent land available to add a further 25,000 ft2 to the current footprint.
German company Gühring has its roots in the late 19th century as a twist drill manufacturer, maintaining that focus until the 1980s, in fact. Today, the family-owned firm is an €800 million turnover, 7,000-plus employee organisation whose product range, while still strongly focused on solid HSS, carbide and PCD-tipped/carbide body hole-making/rotary tools, has broadened to take in milling and, most recently, an exchangeable tip grooving tooling range (https://is.gd/ofizun). Replaceable carbide tip tooling from Hollfelder- Gühring is also available (www.hollfelder-cuttingtools.de).
Gühring UK's new home within a 3.5-acre site is the culmination of a UK journey that started in 1973, in Abingdon. Mike Dinsdale, who joined the company's then Manchester stock operation in 1979, has been managing director since 1987 and has overseen the company's progression from UK stockist to its current position of important UK-based tool manufacturing and coating, and tool regrinding and recoating centre (he has spent a lifetime in the cutting tool manufacturing industry).
In fact, it was regrinding and recoating that was first to be established in the UK, in 1992, as increasingly complex solid carbide tooling geometries demanded professional regrinding, and coated types recoating. That saw the Castle Bromwich, Birmingham, site, from where the company has just moved, gain three machines and three people – the 20,000 ft2 Castle Bromwich facility had become the consolidated Gühring UK operation in 1990.
MANUFACTURING ARRIVES
That location was expanded in the mid-1990s with the addition of CNC machinery to support regrinding and also the manufacture of new tooling of mostly carbide tools. The next major addition to the company's operations was PCD tool retiping, in 2012, with a separate 6,000 ft2 unit taken on at an investment of £1.5 million.
Based in two facilities, continuing to grow and with HS2 forcing a necessary move, action was required and a decision taken in late 2012/early 2013 to seek new premises. More protracted than hoped, with land difficult to come by and unsupportive officials, it was Birmingham City Council and the then Manufacturing Advisory Service that finally saw progress. The new £11.5 million location is the result.
Currently employing around 80, over the next five years this is expected to increase to 125, with machine tool numbers growing, too. This will be driven by UK demand, with Guhring UK now able to respond quickly to that, says Dinsdale. It is local production that is seen as growing, rather than standard product, which is supplied out of Germany. Today, some 30% of turnover is generated from UK-hosted manufacturing and coating activities of special design cutters, with 70% satisfied via its local stockholding of Germany-produced items (Germany also supplies high volume specials) – stocks stand at £3 million-plus. Batch sizes at the UK plant are low; for new tools, three to five for PCD tools, and 10-15 for carbide, with regrind batches half or up to those same figures, reports the managing director.
The key sector serviced is automotive, followed closely by aerospace. These two make up some 80% of the company's business, with customers increasingly focused on cost per part and handing over process ownership, wanting a single-source solution for tooling advice (via the firm's 15 sales engineers – "really field production engineers"), tooling supply, onsite management (via tool vending units) plus regrinding/recoating, including collection and delivery.
As further support for local customers, Gühring UK's new site has space for machine tools, a Nakamura-Tome mill-turn lathe and a Bridgeport vertical machining centre (ETG), that will allow the company for the first time to offer onsite tooling trials. Machine delivery was imminent as at Machinery's mid-May visit.
Exporting product back to Germany is not ruled out, particularly in relation to PCD tooling retips, due to the smaller UK organisation's nimbleness, flexibility and speed of turnround. Regrinding/retiping deliveries are between two and three weeks for carbide and PCD, while manufacture of new tools takes from six to eight weeks.
Main article ends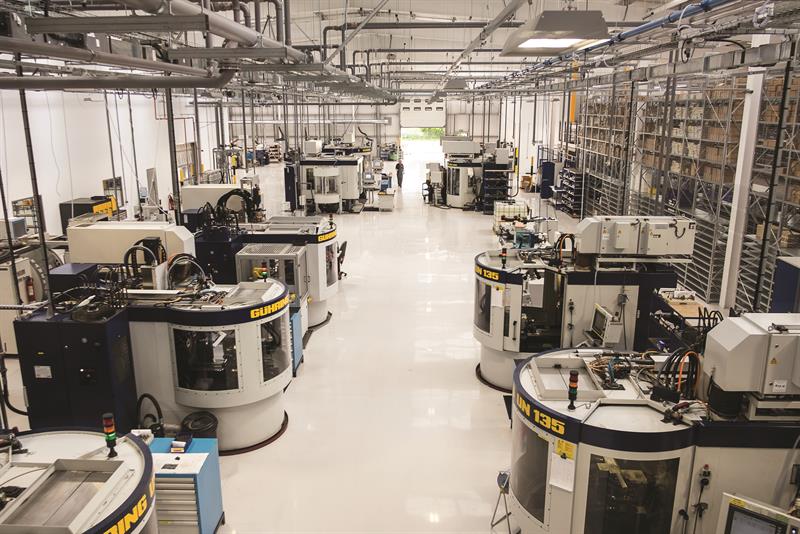 The main carbide tool production area, with clean, polished floors. Four grinding machines will arrive over the next 18 months, more as demand grows. Guhring makes its own carbide tool grinding machines, as wells as its own coating plant – Guhring was the first tooling company in Germany to introduce TiN coating, says Dinsdale (Birmingham's in-house plant offers all eight of the company's coatings)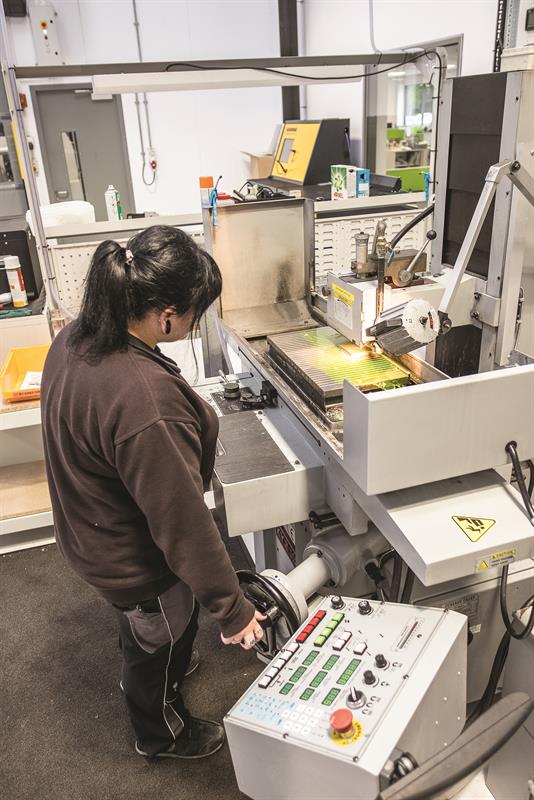 Apprentice training is key. Here, Sophie Sparrowsmith, now having completed her training, is seen working in the PCD tooling area. A highly skilled workforce is critical to Gühring UK's operations; the company takes on one apprentice each year but wants to expand the numbers to four, looking to work with the EEF's local training centre on this effort

PCD technician Alan Pearce inspects a tool; the UK facility's expertise in PCD tool retipping area may see it provide a service to the German market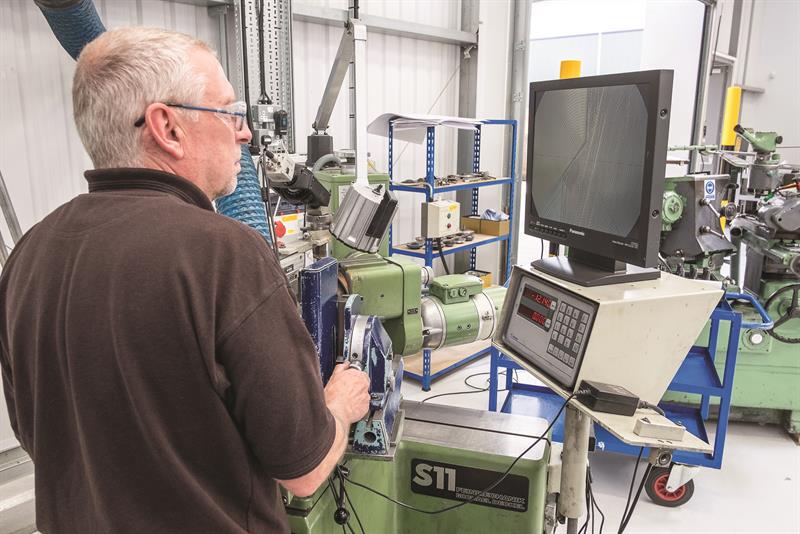 While CNC machinery is important, manual grinders and related expertise can still better them for complex cutting edge production tasks. Kevin Betts, with 15+ years' experience in the craft, makes it look easy. (All apprentices initially learn on manual machines, incidentally)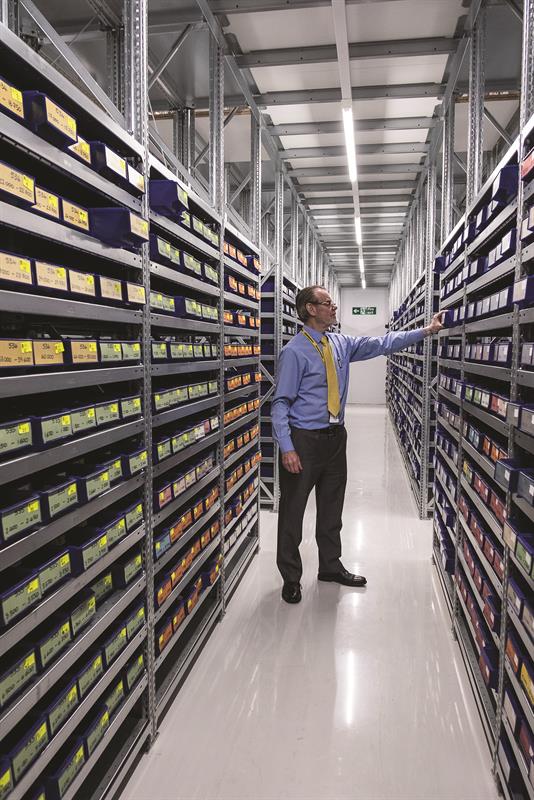 Mike Dinsdale, pictured in the firm's stores where £3 million-plus of mostly standard tooling is held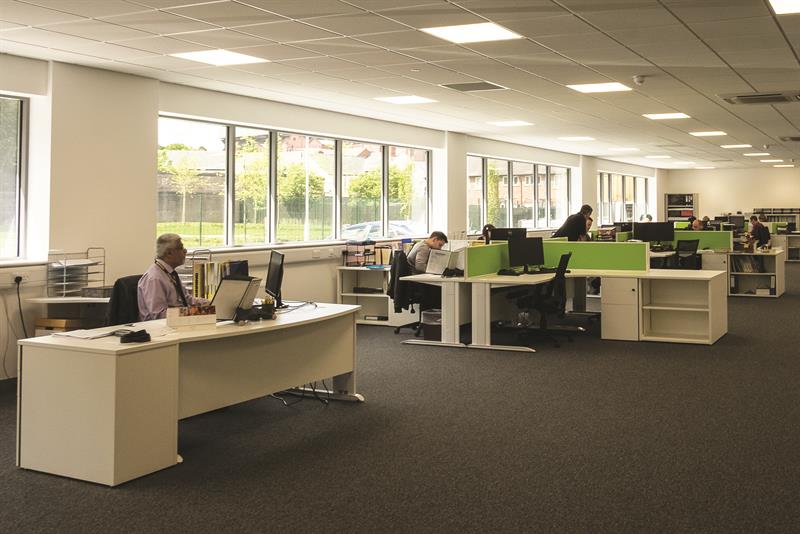 The commercial office, with longest serving employee Kiran Parmar, commercial manager, in the foreground; he has been with Gühring UK since 1978

Article first published in Machinery, June 2017