Element Six is a DeBeers Group company (the latter well known for its diamond heritage stretching back to 1888) that focuses on the manufacture of both synthetic diamond and cubic boron nitride (CBN) grits and, thereafter, their downstream resulting composite materials of polycrystalline diamond (PCD) and polycrystalline cubic born nitride (PCBN), discs of which are used by toolmakers to make inserts for cutting toolsFirst synthesised in 1953 by Element Six antecedent company Industrial Distributors Ltd, founded by Sir Ernest Oppenheimer, volume manufacturing of synthetic diamond started in South Africa in 1960 and in Ireland three years later. Today, natural diamond makes up only 0.6% of the annual industrial consumption worldwide.
For PCD, oil and gas drilling is a major industrial market, and it is also used in the manufacture of many products, including glass and ceramics for consumer electronics like TVs and mobile phones. In addition, some 150-diamond-containing products are used to manufacture the average car, says Dr Wayne Leahy, head of applications cutting and grinding at Element Six and one of several PhD-level staff at Didcot engaged in the hunt for better material performance. He also adds that 50% of the cost of a solar cell is related to diamond machining processes, similarly for sapphire-based LEDs. "Consumers just don't know this," he says.
CBN, the second hardest material after synthetic/natural diamond, came to industrial prominence in the 1980s and 1990s, initially for grinding, and gathered pace in the first 10 years of the 2000s with hard part turning the focus, but the "low-hanging fruit" has now been "picked". Interestingly, some of the PCBN grades supplied by Element Six today date from 30+years ago, AMB90, for example, although much improved. And Element Six's PCBN grades are based on the established ABN800 grit, used by grinding wheel makers, which is "the most popular [CBN grit] in the world", says Andreas Malmquist, product manager, PCBN. Incidentally, all Element Six PCBN is supplied uncoated, it is for its customers to pursue that avenue. For both PCD and PCBN, the automotive market is the key manufacturing sector.
Last year, the company attended Europe's biennial manufacturing technology show, EMO, for the first time ever, to underpin the launch of two new product ranges in the PCD and PCBN area (more details later). The company will attend other major exhibitions around the world this year, advises Hubert Koegel, global sales director, automotive and aerospace. This is part of the company's effort to better connect with the end user market – its customers are cutting tool makers in the main. It's a bit like the 'Intel inside' situation, although many cutting tool makers prefer to keep the link private, to stave off low-cost copy-cat competition, offers Leahy. Indeed, Element Six develops specific composite materials in collaboration with its customers to deliver unique capability, as well as suppling standard PCD and PCBN materials.
CONCENTRATED EFFORT
The Didcot Global Innovation Centre (GIC) opened in 2013 and brought together some 40 top brains from existing Element Six centres, including from Ireland, Sweden and South Africa, topping that up with further recruitment. There are some 40 languages spoken by the resulting mix, Leahy reveals. With commercial services added in 2015, the total headcount is now around 180.
Apart from this concentrated brain power, the facility brings together world-class equipment in material synthesis and sintering, mixing facilities, material analysis laboratories, tool manufacture and test machining. Element Six has seven high pressure presses, comprised of four cubic presses and three belt presses. Among this tally, one cubic press was developed by the company, together with leading European engineering and development companies.
It took some 40 subcontractors to produce, including a shipyard. A completely new press system, it is employed in the synthesis of synthetic diamond from graphite and CBN from hexagonal boron nitride, boasting 5,500 tonnes per ram capability. Heavily instrumented, as are all such pieces of equipment at Didcot, this allows the team space to experiment with temperature, pressure and time profiles in the search for interesting microstructures, Leahy advises.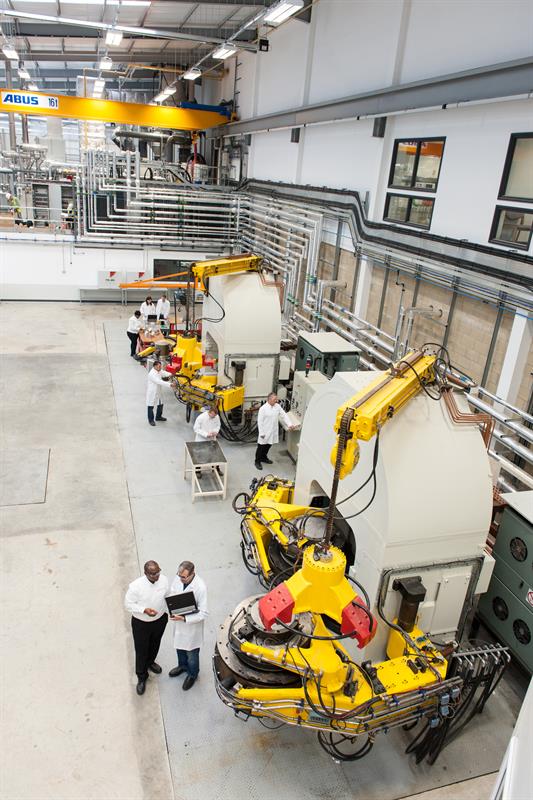 Belt presses at Didcot, where PCBN discs of up to 100 mm diameter and thickness of 10 mm are produced
The company mainly uses belt presses, however, a proprietary technology developed in house over the course of many years. These have a single ram with its force contained by an opposing platen and surrounding steel belt, hence the name.
Collectively, this Didcot equipment allows for the production of PCBN discs up to 100 mm in diameter and up to 10 mm thick, while PCD discs up to 74 mm diameter, the world's largest, are also produced.
In addition, 14 CVD (chemical vapour deposition) reactors are used for diamond grit production for general purpose PCD grades, as well as EDM-workable PCD material. CVD diamonds are also used for a wide range of high technology applications, including electronics, sensors, lasers and thermal management. But Didcot is a development, not a production, site – manufacturing is distributed globally, including, locally, in Shannon, Ireland.
The centralised set-up also makes equipment that one part of the business might not be able to justify available through another business channel's need, Leahy adds, citing X-ray tomography that is essential for the rock drilling oil and gas side of the business, but which is a "nice to have" for the cutting tool business.
And all of this, he underlines, offers an end-to-end capability; from raw material synthesis through to test cutting and analysis. Working back from three wear mechanisms in any target machining situation – crater, flank and notch wear – grits and composites are engineered to support improved performance. So, what has been the result of this facility's work?
As part of a major European launch at the Hanover-held EMO last September, Element Six unveiled one new PCD grade, CTB004, and two new PCBN grades, PureCut DHA650 and DIA500.
Offering high speed machining advantages, CTB004 delivers optimised workpiece surface finish in both engine and chassis applications. The grade is said to be ideal for cutting aluminium alloys when high surface finish is required alongside higher wear resistance. Consumer electronics was the lead application, with a need to machine a more abrasive aluminium alloy, but the automotive market has a similar demand in milling, turning and drilling areas.
A key product feature is the grade's 4 micron grain size, which places it between products with larger (10 micron) and smaller (2 micron) grain sizes – at the smallest and largest extremes are sub-micron CMX850 and 30-plus-2 micron CMT302.
Delivering the optimum balance between tool performance and resistance to abrasion and chipping, CBT004 is suggested for complex machining requirements and offers commercial advantages for end users, due to the reduction in downtime and improved productivity. Says Richard Townsend, Element Six product manager – PCD: "Cutting-edge materials that offer considerable advantages to our customers is our constant focus. The push in the automotive industry to make vehicles lighter and more efficient while retaining durability has meant that aluminium use by the major OEMs has significantly increased."
The 'mix' that produces PCD has fewer variables than does PCBN, cobalt being the binder that acts as a catalyst to allow synthetic diamond grits to fuse together, although there may be other materials in the mix for the new grades, Townsend reveals. So, innovation in the PCD area in recent years has more recently been in terms of form, 3D not 2D. This means tube or shaped, rather than disc, material, allowing milling and drilling tool innovation. This is reflected in the company's aerospace-focused Aero-Dianamics range, which takes in its AD-M3 Tube and Helix, for milling, and AD-D2 Chevron, AD-D3 Planer and AD-D3 Cone formats for drilling.
Uptake is still growing, Townsend reports, with the phenomenal performance in carbon composite material edge milling and hole drilling proving attractive to the aerospace industry (full data sheet here https://is.gd/goxaqu). Titanium machining in the aerospace industry is another growth area for PCD, in place of carbide tooling.
In addition to Element Six's material innovation, wider reach and cost-effectiveness of PCD tooling is being boosted via the increasingly complex geometries that can be machined into Element Six's PCD round tools by evolving electro-discharge grinding machines from, for example, Vollmer and Walter, as well as such machines' increasing processing speeds, Townsend adds. So the PCD tooling is a growing market globally, he reports.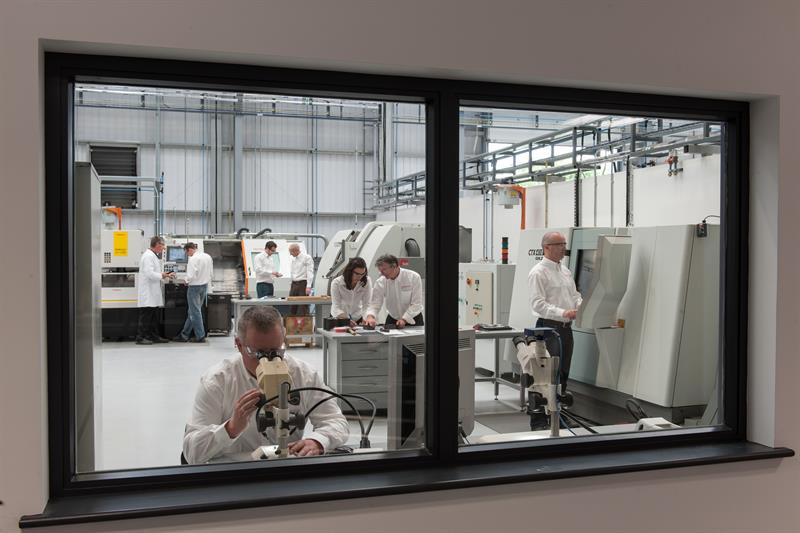 The GIC's application test area applies the developed materials in tools and measures resulting wear factors for given cutting data
For the new PCBN products, the clue is in the name – PureCut. While the core CBN grits employed may not have changed greatly across many years, the mixing of the grit with additional binder materials (a well-known choice of seven) and their processing, up to 14 steps, is where the magic is, Leahy underlines.
PureCut breaks with the industry's iterative development of PCBN and delivers a step-change via a more homogenous material, using, for the first time, residue-free binder material that is also nanometre not micrometre in scale, together with optimised CBN grain sizes. This delivers a stronger bond, allowing the material to absorb up to 80% more impacts and deliver higher productivity of up to 50%, with reduced crater wear a principal factor in this.

L to R (not all same scale but structure comparison possible) - PCBN early structure; industry standard structure, including impurities(white); PureCut eliminates the impurities
For example, turning at 220 m/min is possible versus the current 80-100 m/min speeds. Designed for the turning of hard materials, the two grades cover light to heavy interrupted cutting and can be used in both wet and dry environments – not only for the automotive industry but also within aerospace and general engineering.
Coated PCBN grades offer much less benefit for interrupted turning than they do for continuous turning, incidentally – probably 20-30% versus 100-140% tool life improvement – but Malmquist expects the new grades to be coated by some Element Six customers to get even better extended life for PureCut-based tooling.
Fundamentally, these latest grades now suit tasks that earlier ones were not able to satisfy, so users should revisit the suitability of PCBN, if that characterises their previous experience. And, as with PCD, the PCBN market is growing, strongly, reports Malmquist: "Double digit in 2017."
These PureCut products are the result of four years' effort and accommodate all global region requirements; more will join these first two grades, he reveals, adding that "given the novelty, this [four years] is relatively fast… we couldn't have done this before without this [GIC], plus the concentration of PCBN manufacture in Shannon and associated investment there".
Elements Six's UK-based GIC is clearly the foundation on which increasingly high performance PCD and PCBN cutting tool developments rest, but for the final tooling products themselves, Element Six is often hidden in plain sight, it seems.
Extended feature from here
Automated testing - In the GIC testing area, a tool could be taken off a lathe to measure it off-machine around 20 times/day, meaning much reduced spindle running/cutting time versus theoretically available hours. To offset that, the company is to install an Alicona cobot-based inspection system that will be able to perform measurement on the machine, automatically, with even lights-out running considered a possibility.
Solid PCBN inserts more cost-effective - PCBN in turning inserts is mostly employed as a small piece brazed into a larger insert body - a complex task, but Element Six suggests that a solid PCBN insert can be a better economic bet. The cost of an Element Six 4.76 mm thick solid PCBN insert is reckoned to be 50% that of the conventional route.
First published in Machinery, February 2018